Fiesta Motors
Used car dealer Fiesta Motors, 220 W Holt Blvd, Ontario, CA 91762, United States:
157 reviews
of users and employees, detailed information about the address, opening hours, location on the map, attendance, photos, menus, phone number and a huge amount of other detailed and useful information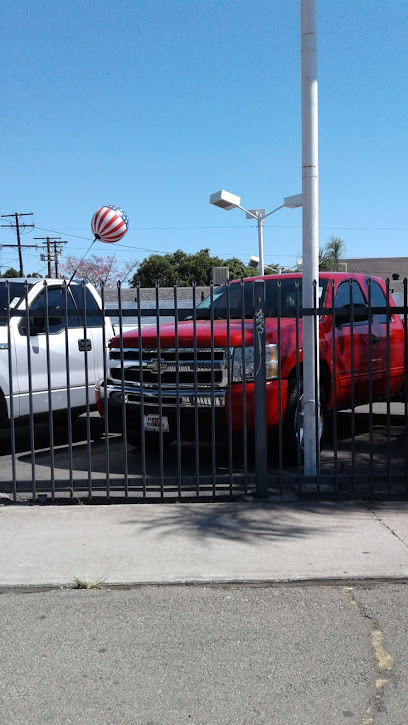 Address:
220 W Holt Blvd, Ontario, CA 91762, United States
GPS coordinates
Latitude:
34.0635455
Longitude:
-117.6532315
Location on the map
Reviews Rilriia Kilurden
I called fiesta motors & Spoke with Izzy he made my car buying experience less stressful. It was a super simple process got the car I wanted the very next day. He works hard to get you approved! I highly recommend Fiesta Motors Ontario.
8 months ago rupesh patel
Bought a new Honda Accord here. Fadi was energetic and helpful, and intentionally not pushy. We had a test drive, checked out the car top to bottom, and it was entirely clean. Small requests and negotiations were reasonable on both sides. Nice. We went through the paperwork process (which was admittedly long, but it always is). We were offered water and snacks which was also a hospitable gesture. Fadi was proactive in making sure that my experience before and after was pleasant. I easily stayed in contact with him in the weeks following to ensure my new license plates were on their way. I would recommend shopping at Fiesta Motors. If you have an experience like I did, you'll get a great clean car at a great price.. and yes, great trustworthy service. Thanks guys!
11 months ago Sunshine Ramsey
Thank you Vito, Izzy and Javier. Look forward to doing more business with you in the future. If there is an issue they will do their best to make it right.
8 months ago Rhonda Thomas
I highly recommend this place to first time car buyers or anyone honestly from good credit to bad credit whatever it may be they'll work with you, people here are extremely helpful, apart from that they make it easy no back and forth. For example I came in spoke to Izzy he broke everything down for me and told me how things were then bam same day I left with a new car no problem the people here are about their business 10/10.
9 months ago Kristi Chambers
El mejor dealership de Ontario desde el manager hasta Los vendedores... y el mecanico Juan they make you feel welcome as a family... you guys are a great business people thanks to everyone and everything
7 months ago S karma
I wanna send a big THANK YOU! out to Izzy!!!! The process was quick and professional, very knowledgeable, honest and straight forward!!!! Will be purchasing again with him and Fiesta Motors!!! I am in love with my Benz!!! Thanku again Izzy!!!
8 months ago Sandra Klitzing
I wanna give thanks to all the staff. A special shout out to izzy. Thank you guy's for making my first time buy a good 1.. Great job guy's. Thanks
11 months ago Rebecca Hatt
I went to a few dealerships looking for a car this week and each place was a different kind of bad experience. But, when I came to Fiesta Motors I found exactly what I was looking for! Izzy helped me out and gave me the space to check out the cars without pressure but was readily available to answer all of my questions. Totally helped ease the stress that comes with making such a large purchase. The prices were reasonable and they had a great variety of cars for any budget so I was able to find a car that met my needs. Finally, when it came time to finance, Vito was able to offer a deal I was comfortable with and didn't try to push anything I didn't need. He really came through for me in the end! I will definitely be coming back the next time I'm in the market and if you're looking for a car now I recommend you start here to save yourself a headache.
9 months ago Amanda Snipes
My saviors didn't leave sad , I got the car I wanted and better insurance with Izzy help so grateful Great dealership very honest
8 months ago Charles Little
Thank you Vito for promptly and respectfully helping us with our situation. Thank you to Izzy and Javier for their help in getting us into the vehicle we love.
8 months ago Regla Garcia
If I can give zero stars I would !!! Do not go here !! They don't care what's wrong with the car they just want to sell it. I financed a Dodge Charger 2007 not even 2 weeks the engine light turned on. I called them and they said they can't do anything about that it's my problem now I have been calling and they say they will call me and never do. I took it to a mechanic and it was a cracked head gasket! I don't understand how they can sell people cars like that and don't even care.
12 hours ago Zander Varricchio
Nice service:... help me get my car thanks Izzy real nice people !!
8 months ago Kristian Boehmer
My mother was ecstatic with the service that sales agent Gerardo and general manager Ryan gave us. She was able to make the purchase of her vehicle effortlessly. I definitely recommend fiesta motors.
3 days ago Timothy Forbush
Got called "stupid" for respectfully rejecting the price that we were given for a car. It's just not the price range we were looking for. Awful experience. Maybe they thought we didn't hear their comment, but we did. At least the sales rep that helped us in the beginning was nice.
11 months ago Chelsea Robertson
Overall excellent experience with Izzy!! We found exactly what We were looking for and a great price!!! Low miles and I've never been more happy with a vehicle purchase!! He made sure we were absolutely happy!! Best buying experience ever!!!
2 months ago Arika Chambliss
I had a helpful experience definitely am happy with how buying my first car went
9 months ago Universal Visionz
The brothers here are awesome!!! My bike had a flat and they helped me fix it. On a more awesome note, one if the guys turns out to be the brother of one of the ushers at my church!! Very respectful, very helpful and genuinely appreciated. Thanks Fiesta Motors!!!
1 month ago Deb Pfab
Shout out to Gerardo and Izzy for helping me buy a new car I definitely recommend buying from here they'll help you buy a car the same day
10 months ago ImMooful
Absolutely fantastic, Izzy was so helpful and informative, helped us on every level and very positive and friendly to work with, been literally looking for a car for a year and got every iv been looking for at Fiesta Motors
10 months ago David Gibbs
I just financed a 2018 Hyundai Sonata from IsMael Moreno...all I can say his was so very help and processing was quick and easy. I'm so happy with my purchase...thank you guys so very much
9 hours ago Janice Ward
Izzy at fiesta motors is awesome got the truck I wanted hassle free thank you fiesta motors
11 months ago Rob Cole
Izzy was very helpful and knows his stuff!! I am overall very satisfied with my purchase ????
10 months ago Jack Criddle
I had an excellent experience buying my first used car here! Izzy was super helpful and was upfront and honest about the van I was purchasing. They allowed me to take it to a mechanic and make sure the van was in good condition before I took it home. All in all I was very pleased with the customer service, and I can't wait for the future adventures in my new van.
6 months ago Unicorn Lover
Had a wonderful experience here at fiesta motors. When it looked like nothing could be done Javier did everything in his power to help me and I got to drive away with the car I came looking for. Highly recommend asking for Javier when coming into Fiesta Motors.
3 months ago Shane OMara
They clearly don't inspect vehicles before selling them. Car I bought didn't last two weeks before the check engine light came on. The only reason this isn't a one star review is because they did fix the issue for free; I was almost turned away because Ishmael, or"Izzy", didn't tell the owner I was coming. Ryan was very understanding and sent me to the mechanic. However, the check engine light came on again after I had there mechanic check the car a second time for an oil leak a week later. Conveniently a day after the 30 day warranty expired. The car was sold to me at full kbb value when it's not worth anywhere close to that. My fault for not checking prices. Pretty bad look for them though. Do your homework before coming here, as they will overprice you. Btw, if you already bought a car here, don't use there mechanic! He forgot to put oil in my car after doing work and I was driving with no oil in it for like a week before the oil pressure light came on.
2 months ago Mrs Grown
They got the hook ups. Very good customer service.
1 month ago Eric Collins
Izzy and Ryan are great. Bought my second car from here and I send everyone that's looking for a car to them. Great deals and great cars
6 months ago Ibraheem shaik
This is the second vehicle I buy from them it was a smooth process. Izzy helped me even went out of there way to accommodate my husband with the paper work because he works nights we just had a baby came to my house have him do the paperwork. Obviously there reviews speak volumes.ryan is super helpful and nice everyone here.i highly recommend this business
6 months ago Brad Egeland
Just went yesterday. Izzy was upfront and honest. He made the experience well worth it and helped me out tremendously and expeditiously. Would definitely recommend anyone looking for a car to go here. ALL FOR IZZY!
6 months ago Steven Easom
Izzy and Javier and Ryan did an awesome job! They were friendly and worked with us to make our purchase happen. We love our new truck!!
4 months ago Kevin Peele
We had a very wonderful buying experience with Gerardo Sanchez. He was very helpful and made our car buying enjoyable. His knowledge was stellar. Thank you so much Gerardo.
7 months ago Laurie Hoppe
Came in and Izzy Moreno helped my fiancé and I. He was very professional and super friendly. He got us in and out in excellent timing. Would definitely recommend buying a car from here!
1 month ago Erika Sloane
This is the second vehicle I bought from Fiesta in 3 years. They make the process simple and very straight forward. Neither time did I have to haggle. Izzy was the best, professional and fun to have as the one to help you get the car you can afford as well as want. Before making a final decision somewhere else, do yourself a favor and at least go check out the selection and see what Izzy can do. Love my new explorer!
10 months ago Allie Traylor
One of the worst dealerships I been too. Not only did the guy try to push another car on me to buy instead of the one I went to look at specifically. He had the never to call me dumb because a car he's had there for a while won't "last" a week. Don't bother coming if you also want workers who don't wear mask and if they do have a mask remove it to talk to you.
5 months ago Bdhd Hdbd
I want to say Izzy was has outstanding customer service. He is helpful and reliable I referred a friend and received $150 and she walked away with the car she wanted with a low payment he is the best!
6 months ago Arka Datta
Very happy with my new family car been a customer when I was younger bought a car off Gerardo Sanchez yesterday me and my family are very satisfied with new ford flex Gerardo Sanchez is a very up forward and honest , salesman I highly recommend him if anyone is in search of a new/used vehicle. ????????????????⭐⭐⭐⭐⭐
7 months ago Mark Stanford
Great serviced, thanks to javier and ismael they helped me get a 2018 Hyundai within the hour they gave me the keys
4 months ago johnny mccuiston
Thank you IZZY for not understanding me ... after having my car for four months barely driving it any where your mechanic shop lies and said they fixed many issues With my vehicle I had to come out of my pocket $1200 I shouldn't have had to. You smiling when you see up coming to buy , but we return to discuss the problem you're a whole different person. I'm ????.
11 months ago Rico Byrd
Fiesta Motors Is Great ! Ryan Is A Great Honest and Reliable Salesman. Ryan Made Sure Me & My Husband Were Satisfied With The Cars We Chose.. Our Expierence With Fiesta Motors and Ryan Were Great ! We Most Definitely Will Reccomend . :)
1 month ago Karen Batalka
I love this place!! Izzy was so helpful and he really made me feel very comfortable with the whole auto buying process. I walked in with a few hurdles to overcome in order to purchase the car I wanted and I walked out with a 2012 Acura. My biggest fear was not being to get financed because of bad credit and a repo but Vito the finance manager was amazing! He went out of his way to help finance me and get me driving the same day. I would definitely recommend this dealership to anyone looking to buy with challenged credit. These guys are great!! Remember to ask for Izzy and Vito!!
8 months ago Matt West
I had a very positive experience purchasing a car from Beverly Hills Unique Sports Cars. I recently bought a used 2014 Nissan Versa with low mileage. The car was in very good condition and the price was just right! Neil assisted me and was very friendly and accommodating throughout the whole process. Neil worked with me and my family to finance the car the way that worked best for us and he got everything processed and filed in a very timely manner. I am very satisfied with purchase and look forward to working with Neil again in the future.
9 months ago Frank Quintana
Izzy gives you the great service and he's a very cool person great cars too and good deals
5 months ago Eric Scott
Javier was great super nice fast and most importantly got me the vehicle I wanted. The owner is also very nice and helpful explained everything
8 months ago Alex L
Izzy Moreno was very helpful, respectful and helped me get the car I was looking for at a affordable price.
6 months ago Carolyn Venable
Izzy was a great salesman. The deal we got on a Chevy Volt was unbeatable. I highly recommend checking in to Fiesta Motors first for your car buying journey.
7 months ago Brenda Cortes
First off just wanted to say thank you Fiesta Motors Family with helping me with my truck, So first off I went into the lot talking to Javier Ugarte at first I couldn't find the truck I wanted but I explained to him what I was looking for and 3 days later he found EXACTLY what I wanted, So I went in right away after work and he got my approved and now I'm loving my truck! He made my dreams come true thank you brotha !!!
7 months ago Ahmad Omar
Great they really work3d with me.
2 months ago David Halls
At first I came to this dealership and everything was going well. I even recommended family and friends. Yet the only thing that annoyed my family was that the contract had a different price than agreed on. They fixed that after 10 minutes of going back and forth but than everything was fine. We left with the car and everything was good until two years later we got into an accident and ended up having my car being a total loss. We were happy we had gap but than saw an extended service contract which was not disclosed. what we were told is that the charge was part of taxes. To make it even worse the gap doesn't cover everything only covers a part of the amount left and after looking into the extended warranty it doesn't cover anything either which is pointless. We called to resolve but all we get is a run around but nothing ever gets taken care of. Honestly do not buy the cars they have problems and don't the let them squeeze extra stuff. Also do not work down payment and payment just ask for online price plus taxes with no extras. Good luck if you step in here, you will face problems down the road guaranteed.
9 months ago Rachael Mesler
I recently financed a 2018 camry from fiesta motors, the staff is very professional, has decent rates and financial prices for vehicles. I highly recommend fiesta motors if you are looking for quality vehicles at very affordable prices!
6 months ago najat atieh
The best experiance I've had with a dealership. Mike /sales, Ryan/Manager & another salesman ( sorry forgot your name) applied no pressure. Offered suggestions. Got the car I was looking for at a decent price. Far better than any large dealer. Word .
10 months ago
Popular places from the category Used car dealer