Interstate All Battery Center
Car battery store Interstate All Battery Center, 822 Berry Ct, Upland, CA 91786, United States:
69 reviews
of users and employees, detailed information about the address, opening hours, location on the map, attendance, photos, menus, phone number and a huge amount of other detailed and useful information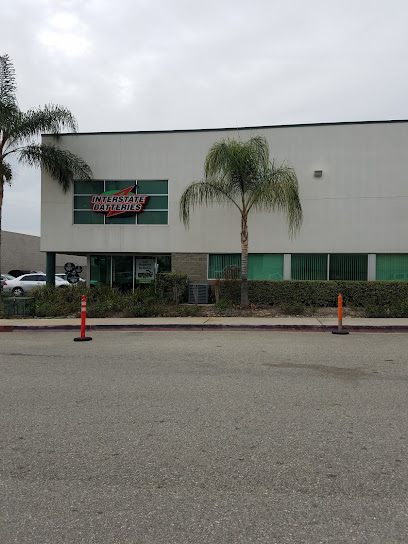 Address:
822 Berry Ct, Upland, CA 91786, United States
GPS coordinates
Latitude:
34.1039570
Longitude:
-117.6865644
reviews Marcos Alves
Had a interstate battery that never held a charge,was referred to these guys for reimbursement (or any kind of service) that would satisfy my needs as this was a Original battery from day one that never held a charge,needless to say could not settle an agreement to supply me with a battery I could use not even offer prorate the battery they just referred me back to where I got bad service to begin with..........stay clear of this shop fair warning and only delt with over the phone what does that tell you. Interstate batteries junk service junk batteries.
2 months ago Ameyalli Torres
They handled business as usual i installed it it worked great as always
8 months ago Hunter Trump
Very brief experience due to covid 19 protocols. I already knew what I wanted so didn't really need help from the associate. But he was friendly and quick getting my battery.
5 months ago Kerill K
Good service helpful staff 2 1/2 yr free replacement and 6yr warranty for under 200.00good deal been a interstate customer for years they even lined tools to install the battery????
4 months ago Garrett Bradley
Wow. Excellent service. I'll be back.
2 months ago Dana McKnett
Good quality Professional Service. They will check your battery in your vehicle but they will not replace it you have to do that to yourself.
6 months ago Karthik Shekar
Great prices and excelent quality.
2 months ago ray stumpfy
Dolores, the lady that answered the phone was AWESOME! I had called a couple of other places that were less than friendly, so I appreciated that.I thought the great customer service experiencewould end there, but it didn't. I went to pick up my batteries, and Jim helped me. He was very friendly, very helpful, and I appreciated that as well. I recommend this location for sure. Thank you all.
1 week ago Joshua Stern
The Claremont hike to t heh top of the hill is a very nice hike. It covers 5 miles plus and has a great e at view from the top.
6 months ago Evelyn Lee
Knowledgable, courteous and professional...thanks Interstate
2 months ago Sean Cook
Shoutout to Jim for having excellent customer service! He definitely was a huge help for me today ????????
9 months ago Kenna Greer
Very good service!! Nice people
6 months ago donna rucker
5 has been best
3 months ago Jose Irizarry
With each visit, they come through for my request. They are worth 5 stars.
9 months ago Bailey Walter
Better price and better warranty than AutoZone or Pep Boys
4 weeks ago john vance
Reasonable battery prices
3 months ago Allen Gerbermann
Chip was super helpful
4 months ago Michael B
I do not recommend this place at all they made people wait out in the heat when all they had to do was reach for the batteries and give it to people but they would collect the money first and let everybody wait an hour outside when that goes against the law the law states does practice COVID-19 regulations you can't throw people out of the building and leave them out in the heat collect your money don't let them wait an hour for something could be put pulled off the shelf and gift to them in three minutes
1 month ago Gavin Wu
Great service, friendly, professional. Thank you!
11 months ago Rene Hernandez
Great place and great product never have problems there always polite and batteries last a long time....always going back
4 months ago Patrick Aregano
They have a good crew, and they are very helpful. I found out that it was not my battery it was my alternator they recommended advance alternator exchange in upland 1700 West foothill boulevard.
4 months ago Reynaldo Molina
I got used battery for a reasonable price,great service!!
5 months ago Victor Smog
Amazing place to get a battery very good prices for a fast and professional service
6 months ago sara ganji
Want to thank the Manager and Technician(s) at this location for assisting my daughter today(11/21/18 at approximately 1015-1030 hours). They honored a warranty on a battery purchased at this location and charged a reasonable price for the replacement. Thanks and God Bless during this Thanksgiving Holiday.
6 months ago Jules Metheney
I buy a battery from interstate batteries in upland paying for core charges (taxable)and when i return the core i get a refund with no tax ..person in charge said by laww they keep the tax on a core ..that doesn't sound right
6 months ago kristi boyer
Plain and simple. The batteries at the San Bernardino location are MUCH cheaper. BUYER BEWARE...Call and compare Same battery; Interstare Upland 189.00 Interstate San Bernardino 129.00 The stores are independently owned franchise, prices are set by franchise owner.
2 months ago NAVEETHA KOWSER
Not the same anymore
3 months ago Nathalie Datska
Fast and helpful. New laws prevented them of physically changing out my battery. But they loaned me the tools to do it myself.
4 months ago a pina
Good service and good product. They have what you need when you need it. Just across the board a bit pricy.
3 months ago Devin Cooper
I stopped in here on my way back from the Lake Arrowhead area about a month ago from a Google search I did and their staff here exemplifies the meaning of customer service. I told them I was on my way to work and that I needed a new battery really badly, they loaned me a wrench so I could take out my old one to get the core charge discount and then put in my new one with it too. They then told me there is a location closer to me in East Los Angeles, so I was elated to learn of that as a previous Google search didn't bring that up... weird huh?
4 months ago Lee McCullough
Great people
8 months ago Lynn Hollinger
In Vegas, where I don't live, I broke down and had to also purchase a battery. Two years and one month later....the battery just died. I found this place in Upland and after the gentleman saw that I could not just drive over to Vegas and deal with that service garage, they honored the warranty when they didn't have to and replaced my battery no questions asked. They were kind and quickly attended to my need of a new battery. I would definitely recommend this location for Interstate batteries! Thanks guys for everything! Great customer service!
2 months ago Rajesh N
Great batteries!
9 months ago JOVON HARLEY
Good and quick. Service with a smile!
3 months ago charles rollins
I purchased a battery quite a while ago from another interstate vendor in LA County. The interstate vendor in Upland went out of their way to help me warranty my battery. In short take care of my problem. The young man behind the counter had a great attitude and treated me very well. I won't go any place else to buy a battery in the future. It is nice to actually receive customer service without a lot of grief and spending half of the day with an exchange.
11 months ago William Freeman
Great batteries at great prices
4 months ago A Coronado
Larry Burke was the worst employer to work for. He lied repeatedly, made promises and never delivered. This was compounded by his bravado being full of outdated and/or false knowledge. His treatment towards women I saw was demining except for his wife. His lack of integrity made it difficult to work with and his outburst in the lobby, office, and warehouse were abusive. During my limited time working there I have never seen so many employees come and go due to lies, abuse, and miss management by Larry Burke. I will stand by my words supported by documentation.
2 months ago Leonaldo Paixao
Unwilling to honor valid warranty without receipt (battery was original equipment on RV) even though battery tag indicated 9 months since purchase. I pointed out that Interstate printed warranty did not require proof of purchase. I requested to talk to owner. In the end after I left owner intervened and warranty was honored upon my return. Manager said stamped mfg date code was over one year. Total time at store over two hours. Unpleasant time wasting experience. I appreciate that I was called within five minutes of leaving.
6 months ago Denise Piat
Great customer service, knowledgeable staff to get your battery needs taken care of. Will do business with again, reliable batteries that will last through heat and cold.
7 months ago nay mickie
I came here for the first time today and was very happy with the service and prices! Going here saved me $30 as I was originally going to go to AutoZone. The staff was very friendly and they chanced my car battery in about 10 minutes.
5 months ago Barbara Porter
I purchased a battery just 9 months ago and after sitting last night, the car would not start this morning. I had the car towed to the mechanic who attempted to charge the battery so they could diagnose the problem. They informed me that the battery was bad and needed replacement. I called Interstate Battery and told them what the mechanic had discovered. I borrowed a vehicle and removed the battery only to find out that they not only wouldn't take the word of the mechanic, but that they wouldn't take the battery back without putting it on a charge for two hours. Who has time for that? I was told that was their policy. The mechanic told me that Interstate Battery had a terrible reputation because of their very poor customer service, which is the reason so many dealers don't carry the battery anymore. Don't risk a time consuming breakdown and the resulting runaround from Interstate Battery, buy a Optima or a Duralast instead, no questions asked guarantee.
5 months ago Mohamad Zein
Good battery for the van and a good price. Fast in and out.
6 months ago Don Williams
Very impressive. They have the best technology & know-how, and can handle warranty issues quickly. This is the place to go for batteries. (and no, I have absolutely no connection to this store or Interstate, other than as a customer).
8 months ago Bradley Kenealy
,Need a battery good deals good interstate is a good brand.
10 months ago Daniel Messett
I've purchased several batteries from them over the years. Great service with a great product. If you are considering O'Reilly or Autozone for a battery, call Interstate first. They offer what I believe to be a far superior battery for a similar or lower price.
5 months ago Jessie Santos
Buyer beware. This company will not uphold warranty plus definitely mediocre, overpriced batteries in my experience and I'll explain why. I bought two higher end batteries from this outfit. Within months I had issues. When I took them in for repair/exchange under the warranty they would not repair nor exchange and the reason they gave me was that the battery terminals might have been loose and corroded. I explained that I needed a wrench to take battery off my boat since terminals where on tight so the terminals could absolutely not have been loose, and as far as corrosion it was visible that the ends where clean since the batteries where only a few months old. Their response? "My word against theirs". Wow, I was stunned at such bad customer service. I re-iterated that I personally took battery off with a wrench, so no they where had not been loose, and same outcome. Just seemed like a total copout. Very disappointed at every level of this purchase experience from customer service to price to quality. Buyer bewhare.
11 months ago Daria Lytvynenko
They are the best all purpose battery company on earth! I have never had a battery need which they couldn't fulfill and I send all my customers there as well!
2 months ago Brian R
Batteries and accessories of all kinds. Helpful staff that can assist you with any battery need.
6 months ago Delta S
Service is great they're very helpful they have everything you need
6 months ago Christine Earls
They helped me out & were very polite. They know batteries . thanks guys
6 months ago
Popular places from the category Car battery store