Social services organization Coalition for Humane Immigrant Rights
Social services organization Coalition for Humane Immigrant Rights, 2533 W 3rd St #101, Los Angeles, CA 90057, United States:
110 reviews
of users and employees, detailed information about the address, opening hours, location on the map, attendance, photos, menus, phone number and a huge amount of other detailed and useful information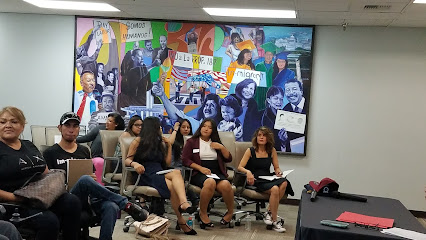 Address:
2533 W 3rd St #101, Los Angeles, CA 90057, United States
GPS coordinates
Latitude:
34.0654030
Longitude:
-118.2772678
Location on the map
Reviews Allison Harper
Ely Canseco was the paralegal that helped me with the application process. The senior attorney I worked with was Karla Navarrete. The attorney that helped with my process was Zaira and she was very helpful in planning out everything that was needed. The translator Nancy also helped whenever I was asked questions so that everything was clear and made sense. It was a pleasure working with them and the people at CHIRLA and I would recommend them to anyone who is interested in their services!
9 months ago Tim Robbins
Called on Wednesday in regards to DACA renewal and requirements. Was given the information needed except for the detail that they were closing Thursday and friday. So after work I went straight to CHIRLA and waited from 10pm to 7am only to find 9ut by the janitor that CHIRLA was going to be closed due to a Staff event. The only flyers with the notice were inside the main entrance doors. No notice of this change in schedule on their website or Facbook pages. The lady I spoke to on the phone on wednesday failed to mention this important detail to me and other people waiting with me.its really upsetting.
9 months ago Esmeralda Sanchez
The attorney that was assigned to my case was Brian. He showed exceptional effort in making sure all the details were ready and in order. The rest of the staff members I Came into contact with were really generous and helpful. They are doing a great job fighting for their mission. I would recommend their services to anyone that's looking to work with them. 10/10
5 months ago Full Mortise
These Are Fighting The Good Fight ????????????????
6 months ago josh dunnick
They make this place look amazing & helpful on the news but they are all rude!!! Giving it a 3 star because of the experience I had with one of the lawyers. I was requesting to get a advance parole about 2 years ago had my letter from the doctor my grandmother was being seen by & when the lawyer saw it she laughed at me & said that she's here to win that she likes to take the win when she's in front of boarder customs & that even they would laugh at my letter. She also told me that if I had $2,500 on the spot that she would have a letter for me & that I would get approved for the advance parole. I laughed & told her that I didn't have that money she said ok you're wasting my time I even feel sorry that we charged you $40 go back for a refund. I just laughed & walked away because I felt so hurt by her words. Can't believe I went through that I've been to chirla multiple times to renew my daca but the one time I wanted help for an advance parole I felt so unwelcome. Last time before covid I was there to renew my daca & she still works there I hope & pray no one else goes through that. Thanks chirla for always helping me even tho some are rude.
1 month ago Rebecca Samuels
This review is long over due.. Brian at Chirla helped me with the process of renewing my DACA. Every time I have to renew I start panicking as this is something that not anyone can do for you and do it right. The process was smooth, he answered all my questions and was very helpful. Due to Covid this was done via google meets and it was so easy. Thank you soooo much!!!
1 month ago Butti Almazrouei
They recently helped me renew my DACA, the paralegal who assist me was extremely helpful and was a pleasure meeting him. They've handled my case since day 1 and I would not change a thing!! LOVE the amazing work they do for the people!!
6 months ago Carl
I authorized a one time charge to my credit card for $100 contribution during an ABA meeting in Palm Springs where the organization was given the opportunity to highlight its work. Instead of accepting my ONE TIME CONTRIBUTION, the organization has taken advantage of having my credit card and continues to charge my card each month despite my calls requesting that it stop. STOP NOW!
10 months ago Jen McNamara
Brian did an exceptional job with helping me renew DACA through CHIRLA. Great attitude, nonjudgmental and very patient. Everything was explained thoroughly. Will definitely recommend. Thank you.
4 months ago Sharon Putney
First time renewing my DACA got contacted by Brain after reaching out to CHIRLA via instagram which only took Brain 20 min to give me a call since the start he was SUPER helpful and specific in the process! He was professional and patient wish I knew about this sooner. I would give him a million stars if I could thank you so much Brain.
5 months ago Jose Jaime
They helped me renew my DACA and help me get all my documents in order ! Brian was super helpful throughout the whole process and made it a breeze. Definitely will come back for my next renewal!
5 months ago John Bauer
So thankful for all your help chirla and thank you so much Brian G Guzman for always answering my calls and email and for always keeping me updated on everything.
1 month ago Kristopher Donovan
I renewed my DACA for the thousandth time, it seems. CHIRLA assisted me through the process and aided me monetarily by covering processing and mailing fees. Once I contacted them via Instagram (@Chirla_org), Student Legal Services Paralegal, Brian, was quick to respond and guide me through the process. Even during the current pandemic, we were able to complete and submit my renewal paperwork within a week! Brian was also very responsive and detailed, which eased the procedure.
4 months ago marvin wilson
Great team of people + really helpful w/ the entire process in order to renew my DACA. Brian was super patient and welcoming + really broke down everything as far as how the process was going to go. Thanks y'all!!
7 months ago Sheila R
spent all morning calling about some information and no one answered. I tried calling again and again and I kept being sent to some answering machine that wouldn't even take a voicemail. Definitely not the best center to call in these difficult times.
7 months ago Amanda Lavallee
They dont help you at all i called this guy named jorge luis galindo and he doesnt do a goob he doesnt know how to recieve emails and hes very unprofecional doent explain you step by step how to fill your application i rather pay a good layer than doin my immigation papers with them
8 months ago Ashley Wilson
Good non profit organization, always fighting for a better sociaty.
3 months ago Anvesh Reddy
If I want to apply for daca for the first time, what are the documents that they ask for to take ?
3 months ago Sydney Dawson
I believe that these organizations should be investigated. The money they receive to help people in need is not giving it. Carecen and chirla need an investigation
6 months ago Being Real
This is an organization always ready to help. Thank you for all your work!!!
6 months ago davinder duggal
They are very helpful don't let those bad reviews get to you yeah you have to be their early to be able to get in and out right away and yes some times they are fully booked make sure you make an appointment because if you dont then you will have to be their early in the morning to be helped but besides that they are awesome
7 months ago Mary Kuniski
I DONT HAVE A NEED FOR CHIRLA BUT AM HAPPY THAT THE IMMIGRANTS ARE BEING HELPED. SOMETHING NEEDS TO BE DONE TO STOP THE MISTREATMENT OF IMMIGRANTS ESPECIALLY THE CHILDREN BEING SEPERATED FROM THEIR PARENTS
5 months ago Carolyn Jones
Thanks to them and for sponsoring me I was able to get my citizenship. So much positive feed back. They're the best! They were patient, gave me feed back and called to make sure everything went well. It took me less than a year for the entire process.
11 months ago Dot Watkins
It's such a wonderful organization, I have had the oportunity to work and receive some legal aid assistance thank you CHIRLA
7 months ago Missy Bird
I don't recommend this place .. I went at 12:30 am to be in line? And when they saw my permit that expired 3 years ago and they said my case was different from the other ones he said that I need to make 3 different appointment so I needed to wait until January.. I told him it was fine and he stared to say excuse that on January or February they will end the daca and we stared it to talk and I was explaining the situation.. he said they couldn't help me the guy was rude and didn't let me talk that much and when I wanted to show him the papers he didn't want to see them .. he said if we help u it will be wasting money because they will not give it to you.. he didn't try to help . So why you guys say u will help.. to be honest he made me feel so bad .. so now all my dreams went to the trash I been trying to fix it and I can't .. Tuve esperansa que me ayudaran es deficil cuando te coren del trabajo porque se te vensio y lo mas feo es cuando no tienes a nadie que te ayude.
7 months ago Dawood khan
Knowledgeable, friendly. Keep doing what you do CHIRLA. I would HIGLY recommend to be a member. Worth it!!
7 months ago Alejandra Valencia
Very disorganized to start out Came for the DACA renewal 2 hour drive standing in line and to only find out they couldn't take us in to be helped. Why make everyone wait outside and instead could have made people call and schedule themselves instead of making all of us wait out. Sadly now I have to drive back wasted gas money for nothing. Hopefully next time everyone who made this happen can come up with a better plan. So disappointed!
7 months ago Gazer Zhang
I have been working with this organization since i graduate high school so that's about 10yrs ago and all i can say is that this organization has your back if you ever find that you're works rights are being violated, plus other social justice services like immigration services. They also have a student branch with student led organizations throughout most universities in CA
8 months ago AD Cabral
Chirla biggest scam there is. They only care about the many they are getting from donations... they don't care about people. If you are seeking their help. You are better off going to the bank and get a loan, and find help somewhere else. Peor mierda que he visto...
7 months ago Desmond White
The day I was there, there weren't too much people . The lady who took care of us was reliable and helpful, she gave us a 5 stars treatment and help us to get answers to our problem, even she got another person to help us in our case, thank you for your service.
7 months ago Michael McTwigan
They supposed to help other people's on this times but not enough phone lines to help you out
6 months ago Andrea Elizabeth
Long wait for an appointment, but very helpful and excellent support. Variety of services provided.
5 months ago Diana Arp
Make sure to make line around 4 am. Take some portable seats, some snacks, and a fully charged phone or tablet. Also take a blanket.
10 months ago rickey tollar
This organization is amazing. The staff is so patient answering questions and repeated questions at that. Yes you have to wait outside for hours be prepared. People that complain really oh well come back and wait again. It's an organization that helps people with everything from DACA to becoming a US citizen. From filing out the application to your interview and you are going to complain about the wait or return. Ohhhh wait of course you know that the programs are either very low in price or free for low income people. The people that complain why don't you obtain a lawyer pay for the consultation, for phone calls, for meetings, and fees for your documents to be filled out then you can complain. For your info. I got there at 5 I was the 6th person in line. I took a chair and my phone at 8am I was told to come back at 10 with a number waited in line again for 2 hours got in was helped with starting the process heard people ask the same question over and over and was out of there at 1. I am asking for their assistance not the other way around. Plus it all depends on attitude which the staff doesn't need.
9 months ago Eneisha Smith
I was referred by a friend at first I felt happy that they could help me but a year and 2 months later I'm very disappointed with the lack of interest they have on my case and how many times I have to call and try and speak to someone to help me out. And check my case . I applied to renew my work permit and adjustment my work permit takes 2 months to show up I've renewed it about 15 times the past 23 years. This time its 1 year 2 months and counting. I've been unemployed this entire year thanks to the lack of importance they show to my case .I've called . I've tried to set up appointments but since I am unemployed single mom of 4 kids UNEMPLOYED money is an issue to get to their office. I really wished they took the time once in a while to get in a computer and check their clients cases and figure out if theres a problem instead of waiting for years for a response. I've had to stop calling them and start trying to call uscis myself but I cant figure out why I'm still not receiving my permit. I'm disappointed I'm sure they could have cleared this up if they had wanted too
1 month ago MOHIYUDHEEN KUNHIMON
Great organization that does extraordinary work. I consider it my second home ❤️
11 months ago Emmanuel Perez
Extremely rude employees. Every time I want to renew my work permit I try to use their services but I always end up going elsewhere. They always give out inaccurte information too. Feeding people lies about other office locations. Lying and saying their office is the ONLY place to get helped out at (not true) but once you visit their office they are completely unwilling to help. They also made me feel completely discriminated against and made me feel completely unappreciated by telling me that just by donating yearly to their foundation does not make me an "active" member. Their exact words: "No sirve de nada que pagues anualmente si no asistes a los eventos. Con solamente dando donaciones no te hace miembro activo." And this all aside from having to wait out side their building hours before sunrise just go have them open their doors hours later only admitting the first 10-15 people and asking everyone to come back another day. Like hello people have jobs we can't afford to come everyday of the week and take days off of work. Trust me people if you can, AVOID THIS PLACE AT ALL COSTS. There is other places you can go. Do you research. Other places where they are much more friendlier, helpful and REASONABLE with the people. (p.s. This review is solely on their employees' customer service. This review does not reflect the lawyers capacity or service.)
8 months ago Ashley Maleson
I'm very thankful I came across this wonderful place the folks here are so nice and so helpful I just submitted my petition about a week ago with Anna Hernandez I'm very comfortable with the way they are helping me and the way the explained my case process I pray that my case go smooth and for anything else that I might need I definitely will come back here!
9 months ago jp ma
I've been calling this place so many times and leave a message but still theres no answer.
8 months ago Lost History
By far the best organization to help out people with citizenship process. They only take 20 cases per day so make sure to be in line by 1am cause it does get crowded. #campoutsideearly #donate #theytreateveryoneamazing
11 months ago Charles Keener
This place is not here to serve the community. It helpers and workers only here for a their checks. Waste of time, not resourceful or effieciently operated. [Dont bother] line starts at 5 am(they wont help if ur not standing in line 2) shame
11 months ago Ashley Phillips
leading innocent people to bow down to the leftists ideals who destroyed their countries! In the age of information, ignorance is a choice.
8 months ago Hunter Ogden
CHIRLA takes activism and advocacy to a new level. Among their many organizing and legal assistance activities, they also have summer outreach programs that train high school aged kids to be advocates. Support CHIRLA!
3 months ago Paul Mueller
If you have any doubts about your status in your right call them I go there
11 months ago Clint Martin
Great place, very helpful and hard-working people. Thanks for all that you do!
1 month ago Matilde Castro
Only go there if you have an easy case. Otherwise they make you wait and go on a wild goose hunt just to turn you away.
5 months ago Kotb Hassaneen
The lawyers make an excellent job. They work really hard. The the cost is cheaper than a private lawyer or sometimes free.
11 months ago Z ZY
CHIRLA the best place for help inmigrants.
8 months ago Amanda Roberts
This organization is very professional and polite, they kindly helped my case, I would certainly recommend them.
8 months ago Jasmine Hawkins
Sherlan very helpful takes a few tries to get in...but they will break into your locker if you go for couple of days other then that...is a shelter
9 months ago
Popular places from the category Social services organization