Insomnia Cookies
Cookie shop Insomnia Cookies, 137 Marshall St, Syracuse, NY 13210, United States:
108 reviews
of users and employees, detailed information about the address, opening hours, location on the map, attendance, photos, menus, phone number and a huge amount of other detailed and useful information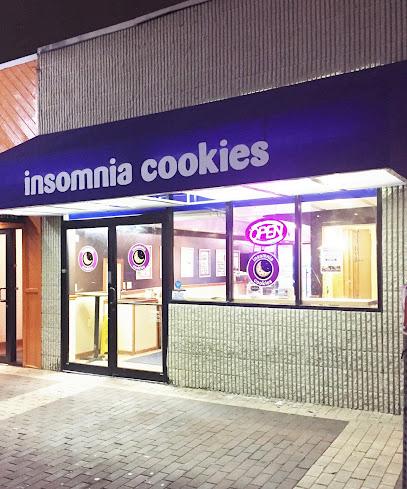 Address:
137 Marshall St, Syracuse, NY 13210, United States
Website:
insomniacookies.com
GPS coordinates
Latitude:
43.0417268
Longitude:
-76.1356559
Location on the map
Reviews Mary Young
I love their cookies! But when I went in the last two times I was served rock hard cookies, which rarely ever happens. I was disappointed with the cookies, not sure if the service has changed or the people on that shift was unaware of what they were serving. Maybe I should've asked for fresh cookies.
6 months ago Edward OConnor
After working here, I know this location is not sanitary. There were multiple occasions where staff members never washed hands after a smoke break and did not sanitize equipment. I think it's an expensive "ice cream" or "cookie" shop that does not respect its employees or the cleanliness of fast food service. Simply complain to corporate Insomnia if this store messes up because they do and even when working there I experienced many calls from the actions of coworkers being unprofessional.
11 months ago Angela Gut
The cookies were really good but when we picked up our order 1 cookie was missing and the girl behind the counter had a serious attitude. Definitely recommend trying the cookies regardless of the experience but double check your orders before you leave
9 months ago Fred Smith
Amazing. Give everything a try. I personally love to end a night with the deluxe bigwich with the frosting. Delicious warm cookies. If I didn't have this place I'd probably be less diabetic... ????
7 months ago Sarah Lewis
Insomnia Cookies is the best! If you are in Syracuse and have a sweet tooth, stop in and get the Triple Chocolate Chunk! You won't be disappointed. The cookies aren't cheap, but you get what you pay for!
7 months ago Leagh Janell
Cookie connoisseurs rejoice! This place is conveniently located on Marshall street near Syracuse University. As soon as you open the door it always smells like a fresh batch of cookies were made. The prices can be a little intimidating, but I promise that it's totally worth it. Excellent cookies, excellent service, and excellent staff. Will be back!
6 months ago Keziah Morris
Just had my first cookie-wich from here & it was great! I love the concept of having this available late at night. I feel like I should apologize for not getting here sooner! It just popped into my girlfriend head!
9 months ago Velvet Royal
Fresh baked cookies straight from the oven! Service is fantastic too!
7 months ago Delia Hernandez
Cookies scheduled for delivery at 2:00, my daughter stayed in waiting. I called at 6:00 and was told the order was being prepared. Called at 8:15, was told out for delivery. It's 10:08, on hold for 20 minutes. Still no cookies. Check order status function is useless. Disappointing Valentines desert for my daughter.
9 months ago adam peabody
Great late nite treat
6 months ago Lauren Matthews
I try to be more understanding of customer service issues and orders taking a bit longer than planned, but this case was frustrating and unacceptable. I had some coworkers who had graduated from Le Moyne and raved about this place. My boyfriend wanted a cookie cake for his 24th birthday and I thought that a cookie cake from insomnia cookies would be a great surprise since neither of us had been before. I put in my order on Wednesday to be picked up on Saturday at 2:30 pm. I figured this was enough warning and time to prepare. I got to the shop Saturday at 2:37, not even early and the door is locked to the store. A few moments later a woman comes out and says that there are no more cookies and to come back later. I mention to her that I have a pickup and she goes inside. Comes out a few minutes later and says that they haven't started my cookie cake that should have been picked up 10 min prior. After waiting inside for 30 min for a my order to be finished. Some people started coming in, small children are entering with their parents and the music that is playing has so much profanity in it to the point that every other word was a swear word. When I finally got the cookie cake and brought it home, it was a good cookie with it still being slightly chewy in the center and the frosting on top, but i don't think I would buy from them again due to the wait time for an order placed 3 days in advance and the customer service. Pretty disappointed with my first experience.
4 days ago Lisa Grabowski
Ordered a gluten free cookie and got so sick. They warn about cross contamination on their website but I have eaten at restaurants with cross contamination before and not gotten sick. I have celiac and was violently ill like I ate a regular chocolate chip cookie.
9 months ago Jimmie Porter
I've been going to this place for years and all of a sudden my cookies are starting to be brick hard when I purchase them. I was told to put them in the microwave for a couple seconds for them to soften up but they were just warm and hard. Very disappointed in my last couple visits. Probably won't be going back.
8 months ago Ribhav Bose
Excellent service. Requested delivery for a surprise birthday gift 3 days before which is kinda short notice and everything went well. The cookie cake was in perfect conditions, looked beautiful and had a great taste. Recommend!!!
3 months ago Patrick Papakee
It's sooo gooooddddd
6 months ago Heath Coile
It took 2 and a half hours to get my order and the cookies came cold. I live very close too. You will be better off just driving there or ordering somewhere else.
8 months ago Marc Rigo
I thought the peanut butter chip cookie was excellent. The young lady at the counter was very nice and helpful. I did not know they did delivery until I saw someone come back with a car delivery sign. Who orders cookies for delivery, I didn't know that was a thing.
8 months ago Stephen Martin
Couldn't even get any cookies :( wait was wayyyyyyy too long. Each customer was taking 5 or 6 minutes. Line barely moved in the half hour i waited.
6 months ago Troy Torrey
This place is awesome. I wish I could eat everyday but then I'd have diabetes. Sometimes I think it'd be worth it
3 weeks ago Kristyn Porter
Very good cookies.
7 months ago Isaias Santiago
GREAT COOKIES, WORTH WAITING FOR. !!!!
8 months ago Ozzy
You will find a new addiction here
8 months ago Rick King
Open until 3 am most days. Open until 1 am on the weekend? Not sure.
1 month ago Dublandu Alemu
This place is a must when we go through Syracuse! Again satisfied and full! Thank you for being open late!!!
7 months ago samuel gomez
Hits the spot every time! We get these at work often and no one ever complains. How could you? Every cookie is like an explosion of deliciousness in your mouth.
9 months ago Gary Brooks
Despite the prices sometimes I love the cookies here. Didn't have a great customer service experience Monday night and was overcharged for my cookies. No number to call for direct store. Went back the next day had a very pleasant experience with a girl Essence. She was understanding and helpful. Need More customer service representatives like her!
7 months ago Destinee Fulk
This was my first experience with Insomnia cookies. We had a rough day and decided warm cookies would hit the spot. We placed a scheduled delivery through Grubhub. We requested that the cookies with nuts be placed in a separate box (one has a moderate nut allergy). Our order was over 40 min late with no time updates, they weren't warm, and the nut cookies were mixed in & touching most of the varieties. To top it off, the driver didn't even get out of the car, I had to go to his window to get them. I wish I could adjust the tip to reflect the service. I doubt we will ever be ordering again. Incredibly disappointed
8 months ago Alonzo Johnson
Always warm n tastey but slow to deliver
7 months ago Wild Lee
Every kind of cookie is very good, the taste is different, the purchase never stops
6 months ago Andressa Marlan
The snickerdoodle vanilla ice cream ice cream sandwich was absolutely delicious. Soft warm cookie. Silly ice cream. Warm and cozy little shop. Friendly employees. Their website doesn't work very well nor does their app.
9 months ago Elizabeth Bear
Great cookie large hard eat
8 months ago Claribel Padilla
Both of the girls were working were very rude, we couldn't even tell if they were paying attention to us while we were ordering. And what's worse is neither of them were wearing their masks! I wouldn't go back in there again if I saw those two working.
2 months ago Chesley Easton
Dear Insomnia Cookies, you have delivered cookies multiple times to our apartment complex because my wife got high and got the munchies. ???? I don't smoke personally, but anyways, your cookies are really good, always perfectly cooked and somehow you can deliver them still warm from the oven. They are a little expensive but I don't think we've ever had an issue with a delivery. Also, my wife likes to put cheesey messages but you stopped taping the small cards on the boxes, please resume doing that. I would recommend Insomnia cookies to anyone and their products are very good! We will continue to order them as long as you continue offering delivery.
8 months ago Marc Rich
Best cookies ever and they deliver
6 months ago bapurr
When 3 employees stand at look at each other, yell at each other at who should help the customer... bur no one moves... yes! Excellent service.
7 months ago Estefani Ridimann
This place is so overrated! Oh my goodness! These cookies are mediocre at best. When you factor in the price, they are terrible. I got a dozen assorted traditional cookies. They were baked way too long and ranged from plain crunchy to crunchy with a little chew in the very center. The double fudge cookies look super fudgy, but do not pack a chocolate punch. The rich buttery flavor I love in a simple chocolate chip cookie was no where to be found. Do they use shortening as opposed to butter? I am beyond disappointed. Don't waste your time.
10 months ago Randy Babcock
There is nothing better on a cold winters day than a warm cookie. I stopped in for the first time on such a day, the employees were kind and friendly and they picked a fantastic cookie for me that really hit the spot. I will be stopping back again.
8 months ago Ches Pety
The cookies are super amazing! ???????? Ice cream is alright, but nothing to write home about. Great little stop for a quick takeout dessert.
10 months ago Stepfun Musiq
Well what can I say? When it's late and you want cookies, this is the place! Super friendly staff and cookies are always warm! Can't beat this place!
10 months ago Clint Shedd
Cookies are always on point, fresh with a nice classic selection. Very pricey for a specialty cookie. Not worth it. Stick to the classic, better value and just as good.
8 months ago Kevin Readman
Expensive but really good cookies. Warm and gooey and really delicious. Would recommend.
10 months ago Surya Kuruturi
Frsh baked cookies anytime you want. What's not to love.
7 months ago Damini Patil
Amazing cookies! Very nice staff.
10 months ago Roberto Marinelli
Outstanding!
9 months ago Sissel Smith
We are in town and haven't been to the Cookey shop in a while so we are headed there for some sugar cookies with icing on top to our dismay they only do sandwich cookies so two cookies with icing in the middle I didn't understand why they couldn't do two cookies with just icing on the top and not put them together very disappointed walked out empty-handed manager seemed put off by the questions alone
5 months ago Shannon McMahon
The smore cookie and the sugar cookie are bomb, ibwouod highly recommend thisnplace to anyone
8 months ago Jeff Cibulka
This is my first time writing a Google Review but I'm cranky enough to do it and let people know how this business handled my order. I wish I could give them 0 stars! This was my first time ordering from Insomnia Cookies in Syracuse. I loved the idea and figured I'd probably be using it a lot - WRONG!!!! I placed my $40+ order online, which was super convenient, then received the tracking information. On average, it said the delivery was between 30 and 45 minutes. Well.....almost 2 hours later my son still does not have the order! When tracking, it said the order had been delivered - not true, no cookies. I called to find out what had happened and they said the delivery driver still had them and would be calling my son in moments. 15 minutes later...no call, and no cookies. I had to call customer service for a second time! This time they said the cookies came back to the store?!! They were going to box up a new order for him and have it delivered. My son had his phone with him the entire time and never got a phone call. This will be my first and last time ordering from them. I am extremely dissatisfied with this company and will tell my friends, whom would like to do the same thing for their children, to not even bother.
8 months ago Dan R
Best 3 AM munchie potential
6 days ago Chantal Saida
I love the peanut butter cup cookie. Everything I've tried there so far has been great
2 months ago Ron Hampton
Love Insomnia for a late night cookie stop. The staff here are great and really helpful. I was able to drive to Insomnia and back to a home full of sugar addicted children before the entire home descended into anarchy.
8 months ago
Popular places from the category Cookie shop