GC SUPPLY
Building materials store GC SUPPLY, 2521 NW 17th Ln #1, Pompano Beach, FL 33064, United States:
220 reviews
of users and employees, detailed information about the address, opening hours, location on the map, attendance, photos, menus, phone number and a huge amount of other detailed and useful information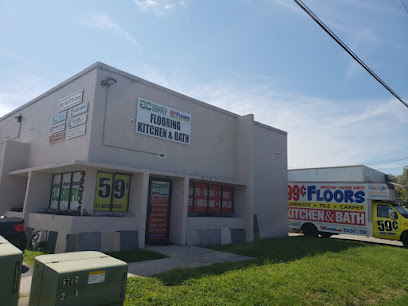 Address:
2521 NW 17th Ln #1, Pompano Beach, FL 33064, United States
GPS coordinates
Latitude:
26.2622801
Longitude:
-80.1479826
Location on the map
Reviews Alex Baker
I met David 4 or 5 years ago, working in the remodeling business, you really need a guy like him in your corner. Great prices and very helpful staff. If you haven't been there you should go.. Popcorn, coffee, and water while you wait. The mouthwash in the bathroom is a great touch!!
4 months ago Tipu Sultan
Great place and customer service. They had the best prices in all of Broward!! Bought the flooring and baseboards from there and everything was ready the same day expect the special order transition molding. I worked with Patricia and she was wonderful, answered my million questions, and changed the order several times until we got it right. I wish I found this place sooner in my renovations process. Very highly recommended!!!!
11 months ago James Cook
GC Supply has been very helpful and professional. Their prices are great and quality is awesome. Definitely beats Home Depot every time when it comes to flooring, cabinetry and mill work. I have purchased from them a few times already and will continue to use for all my remodeling projects.
1 month ago Dieter Heck
What a find! My contractor recommended GC for some crown molding I needed. They had good product, very good prices and a very friendly/helpful staff.
11 months ago kristian bakaloff
Great customer service! Great prices! Beautiful products. One stop shop.
1 month ago Sultan Klk
The staff is amazing and the price is unbeatable. Christian is one great worker, my favorite guy there
10 months ago Dom Allen
Great staff, great prices for contractors. I highly recommend them.
10 months ago Jimmy Floyd
Great customer service. The suppliers delivered the wrong color of tiles. The owner called back within an hour and went back to the vendor they did not have the right color that we wanted. David the owner went out of his way to pick tiles that would match our liking no extra cost to us. The new tiles arrived within 24 hours. Very satisfied costumer. Thank you
6 months ago Myrna Renteria
Kesli was exceptional, they went over designs and prices several times. They were the best priced and most friendly experience. Would recommend them to anyone looking for cabinets. We ran into a issue with ordering another cabinets. They made the process easy and well managed by allowing us to exchange to cabinets. They're customer service has been nothing but outstanding and very friendly. They truly care about their customers.
5 months ago Sheena Hester
I highly recommend this store, Milena was very helpful and attended my requests very professionally with great customer service. Thank you so much to designed my dream kitchen!!!!
2 weeks ago Jessica Berry
We purchased our kitchen cabinets from GC Supply in September and the initial order process went smoothly. After that, issues were emerged that we did not expect. The original cabinets we ordered were out of stock so a (former) employee suggested that we choose another manufacturer. We were told that they were the exact same cabinets we originally ordered. Note that this transaction was completed over the phone so we did not see the replacements. When the cabinets arrived we noticed they were not the same and some parts were missing and/or not correct. There was a lot of back and forth on how this should be fixed with absolutely no support from the manufacturer. After about three weeks with no results David Belovicz, the owner of GC Supply, came to the rescue and fixed all of our issues at his expense. His approach to the problem was definitely customer service oriented and the fixes were completed to our satisfaction. Since our situation seems to be an isolated incident, we would definitely use GC Supply again. A special shout out to Kesley and Christian for coordinating the necessary fixes.
3 months ago Patrece Vaughn
We were purchasing from other vendors and found GC Supply and they have much better pricing. We were able to save lots of money and have been remodeling for many years. They are quick, professional and friendly. I highly recommend to everyone. Thank you GC Supply!
7 months ago Eric Tyndale
It's the place with the best prices that I know. 100% approved.
1 month ago Gary Moederndorfer
GC supply is the best. I travel from WPB and it was worth my trip.I'm a regular here. They have the absolute best prices. And the customer service is the best. Christian was my sales associate and he is the best
4 months ago Dan Hetrick
I started at floor & decor & went up & around to everywhere. I had my samples when I went to GC & they were able to give me discounts ie 3.14 sq ft to 2.59 . For 1500 sq ft that's a big savings. Customer service is great. Julie finalized order but everyone pitched in.
5 months ago Vitaliy Levit
Davi our sales rep was patient and very informative. Appreciate his expertise and guidance. Would highly recommend this hidden gem of a company for anyone wanting Shaker style cabinets in stock and ready to go!
6 months ago Dyana Salas
Amazing place! Nice staff, fast and good price!
2 months ago Mark Drew
This place is amazing. I was dealing with Keslie, she was awesome. This place has amazing prices and great service. I will be buying all of my supplies here.
6 months ago Angela DeLeonibus
Always very helpful and a very good price
1 month ago Jerry Howe
Super fast friendly service! Best of all great prices! I definitely recommend them for you house upgrades!
5 months ago Faye Ngai
great prices, excellent service
11 months ago Jessey Perkins
GC supply offers the best service along with quality my sales rep Julie and Maria Patricia worked closely and patiently with me on getting my order correct from start to finish I will definitely shop at GC supplies for all my building needs
4 months ago Tanya Lawrence
Since my first time buying at GC Supply it has always been a pleasure to walk in and have friendly stuff come up to you and go about and beyond to help and serve you with great prices and good quality products, ask for my good friend Patricia, she knows is always helpful to with us customers.
4 months ago Yancey Prosser
Tile Installation PRO recommended! Great place to get tile!
1 month ago John Sheafer
Extremely helpful personnel. They had a huge variety of choices, and super great prices. I recommend this place to anyone looking to do any kind of remodeling in their home or business.
7 months ago Erin Spake
So glad we found gc supply they have a wonderful selection and amazing customer service. Would recommend to anyone looking for great prices and service Kinsley was exceptional ????
6 months ago Lauren Mayfield
I highly recommend GC supply . There very knowledgeable on there products and supplies and have great prices. Let's pass the word and keep them going as our go to supply company for cabinets and stone supplies for your kitchen and flooring needs .. thank you again GC supplies .
7 months ago Maurice Bell
Its good store. Vos al año good people. Very nice and important good price
3 months ago Sametria Ellison
These guys do deserve 5 starts. Great customer services, prices and products. Unfortunately I had to return my purchase but definitely coming again and recommending in to everyone. I met a contractor that installed kitchen cabinets an he said the ones they have here are one of the best. So looking forward to remodeling my kitchen :)
10 months ago Sue H
I have had MANY FANTASTIC experiences ordering and installing their incredible line of top quality products. Patricia is a valuable addition to their team, and my go-to advisor at their Copans Road location. Highly recommend!
4 months ago Andre A
Patient staff, great designers, and unbeatable prices for plywood cabinets!
7 months ago Sergey Lazarev
Great customer care skills where used for all floor material best price around.
5 months ago howard Bell
Good place and the best price!
10 months ago Denise Hubbard
Great products and excellent service! David was súper knowledgeable and kind to us! Definitely purchasing from here again!!
6 months ago Brian Katke
Amazing customer service Product selection Highly recommend gc supply Kesli.is the best along with all staff Ten stars Great prices also my cabinets are of high quality and the price beat any other place I looked Valarie also gave great customer service Love gc suppy
4 months ago Tom Mynes
Great Price Great Customer Service
1 month ago Lynne Morgan
Valerie was very helpful to help us with our order as new customers for GC Supply
4 months ago Jonathan Eliza
This place is the best. Great customer service and everything is ready on time! Will be back!
5 months ago Sam Mangieri
Very friendly and welcoming employees! Had just what we needed for a great price!
7 months ago Ernesto Nieto
Very friendly great place to do buisness with.
7 months ago S Rombow
I buy here all the time and they always have great customer service!!!
5 months ago Tanya Corbin
Great selection at the best prices. You NEED to check this place out.
3 months ago Amiena Sallie
O my valrie did an amazing transaction she actually correct me on a order that would have been ordered incorrectly thanks....
8 months ago Luciano Cifelli
Leanna was very helpful and made sure we got everything we needed for our order! And she's fast, very nice young lady!
8 months ago K C
So glad we found this place as we saved so much with the pine trim for our new house. Friendly staff and great prices
8 months ago Kevin Thompson
Great services all the Time, same energy everytime. Love these guys .Hey Jeff & Dre
8 months ago Jamisha Zeno
Jeff was a great salesmen, I came here and everyone was really nice , he offered a sample to take home and it's a really clean place
9 months ago Wanda Knows
Great customer service. Delicious snacks, water coffee, and water provided while you shop. Very reasonable prices and quality items. Exactly what we needed!
10 months ago Sam Sullivan
A wonderful experience! Personable staff and great prices.
11 months ago cleo hollis
Ok so my name is Ozze and ive been told about this place and never got to come in till I saw the Billboard ... You can't miss it... Went in and wanted to get a estimate on a client of mines cabinets... I got to say... Quality, services, hospitality, prices... Wowww! Leanna helped me personality and I got to thank her individually because I couldnt be happier. The time she put in was jaw dropping for me. I know where to bring my clients and myself when I need supplies. You guys Rock!!!
7 months ago
Popular places from the category Building materials store