California Men's Colony
Prison California Men's Colony, Colony Dr, San Luis Obispo, CA 93409, United States:
19 reviews
of users and employees, detailed information about the address, opening hours, location on the map, attendance, photos, menus, phone number and a huge amount of other detailed and useful information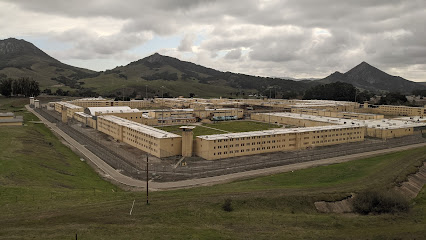 Address:
Colony Dr, San Luis Obispo, CA 93409, United States
GPS coordinates
Latitude:
35.3253675
Longitude:
-120.6944703
Location on the map
Reviews Ahmed Mohamud
Overall a really good place to unplug and unwind. And a pretty good view for a 12 imch by 12 inch window
8 months ago rimmi Kohli
Beautiful place to visit nice staff, clean, safe for everyone. Hiking, fishing, turkey trots. Put this on your bucket list for sure. ????????
1 month ago Ashley Mathis
I have heard nothing but good positive feedback from offenders that went there. Great place. I Love My Man Jonathan Weiner
4 months ago Wayne Dossin
Boys rule girlz drool - no girls allowed in the MENs colony
11 months ago Leo Wang
Visiting staff is very professional, the food in the vending machines R better than any other prison I've been2 but very very expensive. The view driving there is beautiful. There's turkeys outside the prison lol
1 month ago Patrick Chico
I had a nice vacation , In the summer of 88, they even gave me a job, real nice people , food was good , back then the yard had weight's to work out. If you want to book a vacation here, Talk to your local police, There's lot's of room for you, Bye
9 months ago Janet Ward
Staff at visiting check in plays a lot of favoritism & does not follow visitation guidelines. But staff inside actual visiting room are always very helpful, courteous, sensitive to visitors needs & requests, & nice. Makes it more of a welcoming environment, especially when taking children to visit.
7 months ago Rodrigo Zelada
Avoid this place … definitely in the lower third of the CDCR chain of 33 bed and breakfasts. I make it a point to stay away from any guest home that has a house vintage made in a stainless steel toilet.
3 days ago Kryss McCarley
The view from the train was spectacular. Although the name "colony" seems a bit deceiving. I would be excited if a judge sent me to a "colony." I loved Jamestown.
1 month ago Sarah Hill
My needs were never met here. I was here for a little over two years, It's a very large rundown facility, it was terrible there, very low quality food, cells were unconstitutionally small, the last warden was caught In a corruption scandal, this facility Has been in the media for numerous Corruption scandals, staff falsified Numerous documents while I was there, officer wyand, mohammed, brophy, diaz, hill, bender, are corrupt, As well as lt. Cortez, cc2 pham, captain for d quad, sgt. Ward, the medical staff was horrible, they falsify paperwork to deny medical treatment, that's what the cdcr does Its their policy, no wifi, Parking is difficult, very inhospitable place In need of shuttering. Not recommended.
8 months ago Harpreet Sharma
Much better than Donavan or San Quentin. I highly recommend this facility for future guest of the California prison system.
1 month ago Janine Entwistle
In 2006 I was a prisoner at Solano State Prison and I went to a surgery at UC Davis doctors told me I needed a cataract removal what have visual cortex and macular damage right side brain injury UC Davis doctors and Cdcr officials committed medical malpractice in mis led me to making me believe a cataract removal would be a cure it's not a cure CDC officials and UC Davis put a semiconductor a Wi-Fi semiconductor for surveillance fields and emp Wifi fields with dangerous Direct Energy satellites tactical high energy satellites to burn light into the brain to control my brain using lights and fiber optic systems discovered Neuroscience of a case already was serving time and discharge from parole from I did not know about the implant after the surgery while I was on Parole and Redding California from 2007 to 2013 I'm 2013 to 2016 I moved to Ventura and discover the I'mplants from 2016 to 2017 was the final discovery the implants the satellite prepared a legal defense for my case you can't bring a cell phone into the county jail if the sheriff entraps you with the satellite im plant so I prepared evidence and secured evidence to prove I'm a victim of a police Stingray wiretap operations using a dangerous satellite against illegall implant I did not sign for I'mplants victim of medical malpractice in a misconduct sting operation by police on Facebook's in Google Plus and YouTube evidence on the matter to help myself prove for full pardon millions of dollars in compensations and proved BAE Systems in a laser implants could be the cause other entrapments police are using a dangerous satellite against people involuntary against our will I'm not military I'm not police the government's trying to make the satellite look like I am I'm not a snitch I'm a disabled person that did two terms 5 years total and four years on parole I prove cdcr misconduct by police misconduct and if this satellite en traps you or cause you health damages you may be entitled for full pardon and money for compensation I'm on my business I don't talk to people people need apologize to me dude it's not my fault that I go into a surgery and Trust doctors and they put a police tracker a police Tracer in my case without my knowledge so we could cause me false imprisonment in police entrapment and cause other people problems that's not my problem dude I'm not a snitch I told you people what this is and police are using li fi brain geometry using photonic systems every light source with a semiconductor is a photo sensor 4 Wi-Fi fields and what is that Wi-Fi fields data Communications and YouTube and video streaming every light source is a WiFi field for this laser and this laser is in Geo orbit and it's above your prison and the City I believe other inmates may I had this implant before me and they may have been a entrapped this I'mplants the government has to kill me in order to take out the implant it's in my brain and it's in my wrist they have to do major surgery to take it out the government had a premeditated plan to murder me with BAE Systems in a laser implants because of the Prejudice of a black judge parole they know they can get in trouble of the discovery of the implants a YouTube video worth 2 dollars under Troy Kenneth Pollard YouTube videos will explain the circumstance s Department of Corrections in Sedgwick claims in UC Davis have a claim for $2000000 us Court in Southern California has the evidence the same evidence that's on your webpage for $2000000 US Department of Justice as a claim for 70 million dollars because darpa's WiFi field and darpa's EMP Direct Energy WiFi feels is tracking the implant for Direct Energy attacks and cognitive attacks on my brain the first tort claim with the federal department of justice for personal injury was denied for $200 million when I have physical proof and health support systems in the physical proof is also on your webpage Superior Court and Alameda County Superior Court in Solano County Superior Court in Shasta County
7 months ago Ghost Wolf
ONE DAY AT A ????! !! RESIDENT AND H. & I. !!!
10 months ago kelvin anderson
Went to see my uncle staff was nice
1 month ago William Matheson
Beautiful experienced
11 months ago Mark Bingham
Worst hotel I've ever been to
7 months ago Irina Khartova
Law suit law suit writing all over it. Management cells? Wow
11 months ago eshwar persaud
Difficult to get innate info.
4 months ago Meg Stewart
Great shower facilities!
7 months ago
Popular places from the category Prison