Los Angeles County Registrar
City government office Los Angeles County Registrar, 12400 Imperial Hwy, Norwalk, CA 90650, United States:
116 reviews
of users and employees, detailed information about the address, opening hours, location on the map, attendance, photos, menus, phone number and a huge amount of other detailed and useful information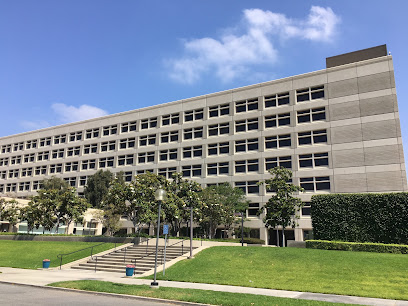 Address:
12400 Imperial Hwy, Norwalk, CA 90650, United States
GPS coordinates
Latitude:
33.9161562
Longitude:
-118.0678560
Location on the map
Reviews Steve Perillo
This is area is nearly the furthest east I had walked from Union Station. I went here so that I could get a birth certificate. In order to better navigate around the Los Angeles area, I perused through the library adjacent to this building. I printed maps from the library computer. Aug-Sept 2018
7 months ago Jeff Zuban
Don't waste your time coming all the way here. Offices are close to the public. Request anything online Lavote.net . Wasted my time!
7 months ago Yuriy Yoriki
If I had any choice, I would never return to this office. We got turned away for a marriage license over a matter of 5 minutes! We had to make an appointment months in advance. We took the day off from work. We drove over an hour to get there. Then, because there was unexpected traffic and construction near their building, we got there 10 minutes after our appointment time. The security guard told us that if we were only 5 minutes late they'd still let us in, but 10 minutes? That's impossible! The supervisor Miguel was completely unsympathetic and of absolutely no help. We asked if there's any way to still be squeezed in, he said no. We asked if we could wait around and have someone else's appointment slot if they didn't show up, he said no. He just kept telling us there was nothing he could do. No, Miguel, there's plenty you could do, you just chose not to do it. All we needed was a marriage license. Miguel probably could have processed it in less time than he spent stonewalling us. You'd think in times like these people would show a little compassion. But instead, because of 5 measly minutes, Miguel made my fiancee cry on what should have been a joyous day. I hope he's proud of himself. P.S. If you are unfortunate enough to be forced to deal with this office, be sure to bring your checkbook. They add on an extra fee if you want to pay by credit card (something no private business is allowed to get away with). And even though their website states quite clearly that they accept cash, they in fact refuse to do so. Look, I understand not wanting to handle cash during a pandemic. But if that's going to be your policy, spend two minutes updating your website so people know.
3 months ago Patrick Penniston
Theres ppl there but no one is avail becasue its closed to the public...what a waste
1 month ago fedrico chrisnanda
Good service.
8 months ago rickey tollar
As a Realtor, Broker Associate. The office has always come through and recording closings for all my customers in a timely manner. Thank you all to all of the staff at the recording office for all your hard work.
3 months ago Dylan Manz
Voting process was super easy & well-organized. Environment felt clean. Staff is friendly. Clear directions. No confusion. No long lines at 10am on 10/14/2020.
2 months ago Silvestre Arriaga
I had an excellent experience with the LA County Clerk's office in Norwalk, CA. I am in Louisiana but needed the marriage certificate of my grandparents which was in Los Angeles records. The office said online that it would be 3-4 weeks before I could obtain the record. But to my surprise, I received it in around 10 days or so and with a cover page on the document to prevent damage to it. I phoned today to tell Maria Uribe of that office how pleased I was with this transaction. Good job!
9 months ago Aaron Rauen
You guys are so unorganized. It is difficult to get any information for you. Also, I registered to be a Poll Worker Mr. Alvarez gave me a location to work, but I have no had training. So I will not be working next week for two days. I have been a absentee voter for years and still have not seen my packet. I am very disappointed with you. I think you need to train your workers better. This is horrible. Please help Mr Dean Logan.
9 months ago Macy Stork
Last time I went it only took me less than half and hour finish. I had to wait outside, but that's cool. Bathrooms are not open to public.
5 months ago Anthony Palma
Friendly helpers available at multiple points, free parking, easy access, ZERO lines to vote. ❤❤❤
3 months ago Richard Fitts
No problems if you have an appointment. Staff was very helpful and friendly.
8 months ago jorge caballero
You should specify that this office is closed!
11 months ago Christian Wolfe
THANK YOU DONNA. GOD BLESS YOU
5 months ago Jose Frias
The best office in the WORLD. You will spend more time ordering a Big Mac than requesting a birth certificate here, probably 3 mins. (As long as you have printed the confirmation number at home, otherwise, you will have to do it there)
9 months ago Chris Beck
In-mail and online services are extremely slow/non-existent!! This office needs to reopen so the public can resume utilizing all services that our taxes pay for!! Its a joke that I have waited 2 months for my birth certificate application to be filled without any response. Its a joke that a company cant file any lien notices... reopen soon!
7 months ago Brajan Ilievski
Came here for my fingerprint to be scanned this lady with black straight hair and glasses told me they don't know how much it cost but it ranges 20 to 100$ and don't take card but says I need to take out 100$. I asked can I get a confirmed amount from the technician that does it? she said when I'm seen I needed to be ready to pay. I only took out 40 let's see how this goes. Frankly it's a bad practice to bind someone to pay something they don't know how much it costs. Update it starts at $57
9 months ago Liza Anderson
My visit today deserved 5 stars. It was quick and efficient. For birth, death, and marriage certificates, just head to the right side computers to enter your info and request, print a receipt, then wait in the cashier line to pay and get your form. It took 5 minutes on a Friday at 4pm. If only the DMV was this easy.
1 month ago Yolanda Turner
The LA county registrar is closed during the pandemic, however there was an employee at the entrance answering questions!
1 month ago Seth Foster
I came here for an Officiant training session. Angela was nothing short of fantastic. Really easy to locate and park here. Plenty of spacing for anything needed. I had been here a couple of times for some other things. I was very satisfied with the location and the staff here.
9 months ago Sadiq Lias
I've been coming here for decades! I love the fact that we can now enter our information into the computer to make our request and once we reach the window...our documents are ready for pick up!Great service!
7 months ago Debra Petrey
Places like this rarely get good rep. However this one is trying hard and succeed. I was there for a trust record. And I had it done in 30 minutes. The girl in the window was so helpful. She was strict but right on point. She saved me money. Even though this place is further from my house than another location, it is worth a drive.
7 months ago Steven Reed
No one is their whenever I seem to call
3 months ago Lisa Sherwood
Marriage records department are the best! Very helpful and efficient :)
11 months ago Wes Jenkins
Marlo was amazing. I work with several County Recorder's offices all across the country and Marlo was THE most helpful I've come across. She went out of her way to help me and spent the better part of 20 minutes looking for the information I needed. Thank you again, Marlo. :)
7 months ago donna willis
Took about 5min to get a copy of my birth certificate same day. Ordering on their computer system was only a couple of minutes and everything was straight forward.
4 days ago Rhonda Wood
Excellent location and fast service. I've been able to handle business in this building without issue. If you need a birth, death, or marriage certificate, then all you need is an identification and you're in and out in a hurry. As soon as you walk into the building you turn to your immediate right and jump onto a computer terminal to enter the information of the person you're searching and then you walk to any of the open windows to retrieve your order. Don't forget... CASH or CHECK!!!!
2 months ago Anthony Oliveri
My husband just experienced discrimination probably because he's not Caucasian and looks Latino. The employees at Norwalk office allowed a Caucasian man to cut in front of my husband and a long line of people. This occurred around 2:30 pm today, which is a Friday. Maybe have employees retrained on prevention of racial discrimination and cultural sensitivity. Or maybe create number system for each person in line. Norwalk needs to bring it's A game in customer service and legal protocols.
11 months ago Valery Barrera
Very helpful and (all things considered) very quick too. We went on a Tuesday at about 11AM and were out by noon. The clerk handled my transaction in a friendly and timely manner. After the transaction I went for was concluded, I had a question about an unrelated topic. She immediately went to get the answer for me and brought me back the answer WITHOUT sending me to another window, which is a very nice touch! I recommend that you do as much as you can from home and printout the filled out forms BEFORE getting there, though.
7 months ago Lynsie Holt
I Look forward the day when "public records" such as real estate, business filings and others can be accessed online. I understand personal records (death, birth, marriage certs) but business'? Employees are a charm, no complaints there.
1 month ago Romas Mitchell
Good and fast experience getting copies of docs. They have computers in the lobby to complete application forms in person. Tons of parking.
4 days ago greg hengler
I paid $52.50 for a certified copy of my birth certificate. That is NOT what I received. My first & middle name was correct, but my last name was wrong. My birth father's name isn't even on my birth certificate. Instead, it lists my adopted father's name as my birth father. My mother's name is correct but her signature is not on this copy (her signature & my birth father's name was on my original birth certificate). I now question the integrity of the Los Angeles County Registrar-Recorder/County Clerk's office & competency of their staff. I expect to receive an accurate certified copy of my "real" birth certificate immediately or I will take further action. Isn't it funny that the receipt that I received for my $52.50 included all of the correct information that should have been listed on my birth certificate. Amazing!
7 months ago Scott Crabb
When I knew I had to come here and saw all the horrible reviews I was already expecting the worst! I was so wrong! I had the best service I could imagine! My paperwork had mistakes and they were so patient and helpful! I am beyond pleased! No names are mentioned in any reviews... but I certainly feel that Charlotte & Sam went above and beyond to help me, they deserve the extra recognition... I am so happy that there are such genuinely good hearted people out there!
3 months ago John DiPlacido
I was able to walk in and out within 30 minutes! I arrived at about 10:30am and was in my car by 11:05am. The parking lot was pretty busy, but luckily people were constantly leaving. Like other reviews said, there are a couple of people outside of the people asking questions and "harassing" the crowd, but nothing too problematic. Definitely fill out your forms before your arrive. All I needed was a copy of my birth certificate and I thought I was going to be stuck here for about 3 hours, but since I filled out my paperwork online I was able to walk directly into the line. The price is $28 plus a $1.75 fee for paying with a card. They also take cash.
7 months ago Elizabeth Albert
Received in my mailbox a vote by mail ballot for someone who has moved to another state. Tried to get info on what to do with ballot. Sent an email but so far there has been no response from County Registrar-Recorder office. I guess I could trash it.....is this how "voter fraud" happens? I do not know the person but was informed that he moved to east coast well over two years ago.....so he can't have been voting in all the local elections etc----why isn't he off the rolls? And- what is the best way to handle this "legal" piece of mail?
7 months ago Ivan Spitznogle
Cool place and easy to get things done for years. love it. keep it up people. Thank you for the service. We love you, model county gov. employees...
1 month ago Goppert Manfred
Parking available, the system to request birth certificate is very simple and fast. The information girl was helpful with all my questions. I went to request a birth certificate two weeks since my baby was born and they didnt have it, I just paid for my copy and will be mailed.
10 months ago Doug Kemp
Prior to arrival, I warned my daughter that, being a governmental agency, she should expect to keep herself mentally preoccupied for an extend period. This agency made a liar out me. The woman at the front desk actually smiled at us when we entered, and we were in and out with birth certificate in hand in less than 20 minutes. Just make sure you have the information necessary to complete the forms, and you are good to go.
9 months ago pretty things
I was very impressed with how organized they were through all of the chaos. There was an information desk at the entrance to direct arriving guests and plenty of computers to request vital records. I was in and out in probably 15 to 20 minutes.
4 months ago Rainy Campbell
Paid with card & screen with my info disappeared
1 month ago Gene Dancer
I went in for birth certificate and was scared of a long wait with my 4 kids. I was in and out in 15 minutes. I like how you check in all your information on a computer, then when you get too the clerk your half way done with the process. I recommend going the last half hour before they close it was pretty empty.i am sure this place is much busier at earlier hours.you can also get married here.i was sad to find out i was still married when i tried to get married again.the paralegal made me fake document and could have got me in big trouble had i somehow got married with the new guy while thinking my divorce was settled.
1 month ago Robert Mirabella
Your level of service depends completely on when you visit. If it's not busy, they will be nice. If it is busy, the service will be terrible. Like any government office, do not expect any leniency.
7 months ago Megan Eidem
Staff was exceedingly friendly and helpful.
9 months ago Sanjuana Colunga
Beware of outdated forms on the County Recorder/Registrar Forms download site. In February 2016 I downloaded a form entitled "Affidavit of Death of Trustee" which needed to be filled out, notarized and recorded at the County Recorder/County Clerk Office. It was missing a specific declaration that has been required, by California Law since 2014, on all notarized documents . I had obtained a form from another source that had the required wording, but I thought I should use the form provided by the county, assuming it was the form the county required. I completed the form, had it notarized at my bank. Then I drove quite a distance to the County Recorders office. Waited in line for one and a half hours to record it. Then I was informed by the clerk at the window of the missing required wording and told to come back when I had a notarized form with the required wording. I wasted many hours of my time due to the fact that the County hadn't bothered to post the updated form. Now I have to do it all again. I check several of the other forms on the download site that require notarization, and none of them have the required wording. I could find no contact information for the webmaster, so I hope someone in the County office reads these reviews and will see to it that the download site is updated.
1 month ago wolfanimaltv
Very disappointed at employees not able to tell you how things are managed over the phone so you get there and find out you can finish what they said you could and their STUPID "sorry" we CANT FINISH your case today come back next week?!? And is only NOON?!?
1 month ago Nelly Ortiz
Anyone working there making over the minimum wage is a complete waste of taxpayer money, get ready for rude county workers, ungrateful clerks, and unhelpful staff at every line and and door you go through over there, good luck because the taxpayers are paying for all of this! What a joke.
10 months ago Pradeep Mishra
It was fast getting, birth certificate. No long lines.
10 months ago soapy Jay
I drove over to pick up petitions for a group. Everything was very fast very staff friendly. Everyone that goes there should be satisfied.
5 months ago Paul Led
I hope everyone understands that the 15 - 20 days means that they may not even start the process until the 20th day! If you're ordering a Birth Certificate for prior to 1964, they have to search for it. I ordered and paid in person May 4th at the Norwalk Office, called this morning to track it, and was told that the process started on May 7th and as of today May 25th it has not been located yet, but they have 5 more days to search and find it, and they're closed for Memorial Day so call back Friday June 1st to check status. Mailing could take another week or two! The Clerk was very pleasant and professional which helped me to remain calm. So if you're going to need Records for future use, I recommend that you order them now before you need them, because we are at the Mercy of State Employees and their work flows and processes.
7 months ago Rebecca Hallahan
Where you register business - it's not crowded (at least not mid-day) and line goes fast, people are courteous and professional.. Where you go for marriage certs and other 'civil' matters, that part is crowded
1 week ago
Popular places from the category City government office