Greyhound: Bus Station
Bus company Greyhound: Bus Station, 138 S Ridgewood Ave, Daytona Beach, FL 32114, United States:
220 reviews
of users and employees, detailed information about the address, opening hours, location on the map, attendance, photos, menus, phone number and a huge amount of other detailed and useful information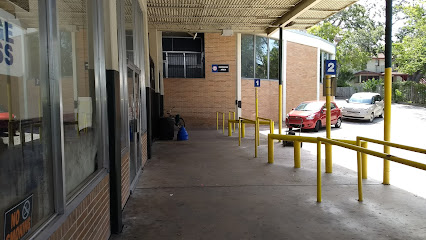 Address:
138 S Ridgewood Ave, Daytona Beach, FL 32114, United States
GPS coordinates
Latitude:
29.2090829
Longitude:
-81.0232574
reviews Sowmya Lingala
The gentleman working behind the counter was extremely helpful polite and courteous. The bus was relatively on time and very clean the bus driver was extremely friendly and got us where we needed to go safely.
8 months ago Kellyn Todd
Love to know when this place was built? Definitely time for an upgrade... Staff friendly & helpful is this place's saving grace...
11 months ago Emily Steinkraus
The inside of the station was cleaned and the chairs were marked off for social distance. The agent was also nice and friendly. Our bus was delayed and she was helpful in keeping us up to date. However, the parking lot has a lot of holes in it and it's no place to sit outside if the station is closed.
10 hours ago M Prut
was a little confusing pulling up to see the station being torn down but there is an actual check in on site poorly labeled
5 months ago Staci Glover
A very clean and suitable bus station.the lady working was as kind as could be.ty
8 months ago Kimberly Dolan
The lady at the front desk was so nice and pleasant.
8 months ago Vanessa Yanez
Picked up my boo!! Greyhound has my partial seal of approval
8 months ago Estelle Thomas
Poor service went 3 times to get ticket and they where closed when they should have been open
6 months ago Eddie Lukes
Bus was for 7:30 i showed up at 7 am. Location closed due to employee showing late. This location is supposed to be opened at 6 am. Location opens shortly after i arrive at 7 i pick up my tickets to find the bus tracker on app shows the bus wont be there until 11:40 ????. I leave go get a coffee and a sandwich i come back sit down inside to eat and being told at 8:20 that the employee is going back home? For a break. And that we have to exit the building and she will be back at 10:00. This is crazy bathrooms are inside and we have no access and there are absolutely no seats outside feel so bad for these older folks forced to stand out here in the heat.
8 months ago Matthew Bott
The lady at the ticket desk was very nice it was a great experience for the neighborhood it's in it's a bad neighborhood
1 day ago Jose Ruiz
Not many seating and always if transferring buses verify your bus and its location
7 months ago Black Raven
Just south of International Speedway Blvd on US1. Next door to a 24 hr WAWA. Parking in the rear of the bus station. Votran ???? Bus Service to Greyhound Route 4 until 7pm. Route 4N from 7pm to 11 pm M thru Sat.
6 months ago Efraim Shapiro
It's a bus station. No bells or whistles. There's a vending machine, water fountain, restrooms, and the service desk. The staff are friendly and helpful. The facility was decently clean for a bus station. It was everything I expected it to be. Overall it wasn't a bad station.
11 months ago Dwight Gary
Greyhound is polite, professional, helpful and I appreciate their knowledge of transit and community. Great company!
5 months ago Alexandra Schrubbe
Did not have the information needed.
6 months ago jason noh
Staff very helpful...!!!
6 months ago Lisa Brooks
Dirty with trash everywhere and just not kept up
8 months ago George Lusczek
Clean and attentive employees.
9 months ago Sharon Milton
It's alright. The food served should be actual food for the price, people traveling need more than empty calories. I may contact greyhound and ask them who their food supplier is, because they are horrible. The vending machines are all full of fake food. It's 2019, real food vending machines exist, this is a missed money making potential. Some of the staff are a bit rude as if asking questions is an inconvenience. However some of the staff are amazingly helpful like the woman behind the ticket counter who printed my ticket when greyhound app logged me out. There are cigarette butts instead of mulch out front. The best thing about this place is its pretty safe and the sheriff's office is right near by. Pretty centrally located.
8 months ago Trish
The Bus was clean, only by the corvid-19 going around i felt like the buses was alittle crowded, meaning some one or somebody's didn't do their homework when it came down to seatings, and i think people should leave their pets home if they dont plan to drive traveling.
7 months ago Tan Hamilton
Poor customer service and inconsistent punctuality of buses, both arrival and departure, make traveling with Greyhound unpleasant. Their food monopoly results in a total lack of competition and seriously poor quality food. If you do not eat fried foods, prepare to starve. I prefer Chinese buses because they visit a variety of rest stops and their equipment is top-notch. Greyhound, by comparison, gets a failing grade of 20% Time for this corporation to do their homework. You have some serious competition which should not be ignored. Your bus station waiting area has all the charm and comfort of a prison waiting room.
9 months ago Abby Webb
Worst place to get on a grayhound
10 months ago Matthew Knight
They didn't allow me to ride the bus (around 2:00p.m) because the bus driver wanted me to be dressed the way he wants. I was dressed appropriately and he didn't like that. I had to wait for the next bus which came all the way at 6:00 a.m the next morning. I was stranded for the night and there were no hotels in the area that I know of.
6 months ago Rania Shehadah
The customer service is always great. Answered all my questions patiently and passionately.
7 months ago Klodian Nezaj
As far as sending packages , DONT. I sent a bin out to Wisconsin Feb 2.. Here it is Frd 22, and its lost, they cant find it, no help what so ever at the station, on the phone. . Oh to file a claim ( which says fill out at station they send it) .the ladies there have no clue what they are doing. Both times I was there they have to call supervisors. Well claim takes 60 days..Never use my local Daytona Beach office again.
6 months ago Kennedy Bennett
Great driver clean bus courteous service 06/07/2020 bus #FL86697
7 months ago Nick Boyden
The staff was very helpful but the building itself could be updated and landscaped a bit
7 months ago Will Puckett
If I could rate a negative 100 I would! We booked this because we stayed in Daytona and wanted to go to Disney for a day and thought it would be nice to take a greyhound and relax and not worry about the driving! We got there it was dark and the 1 man working was rude. Very rude. Also it's in a BAD AREA! My first thought was our vehicle is gonna be broken in to while we're gone. I was offered drugs at 7:30 in the morning.. "boy" to be exact. I have never felt so unsafe in my life, And I am from Youngstown, Ohio! So yeah it was bad. My husband and I ended up leaving because we were so uncomfortable that we drove ourselves to Disney. We were out the 50 bucks we got for bus tickets but oh well, 50 bucks is nothing compared to what could have happened! NEVER NEVER GO HERE
5 months ago Sina Safayi
As far as getting fast from any city or state. Greyhound bus is by far the best. The rides are so very comfortable. I trust no other
8 months ago Nate Hiestand
Ugg they are always nasty. Plus their prices are high enough you can fly. But sadly the flight didn't leave until the evening.
7 months ago Elmer Chiplinski
It was just closing when I got there from my trip.Limited hours because of the pandemic.
4 months ago Todd C
Easy access for handicapped people
5 months ago Sayana Ts
I want to recognize Destiny, an employee at this location. She went above and beyond for her passengers tonight and it wa a greatly appreciated. Thank you Destiny !
6 months ago Jackie Sherwood
Bus was supposed to arrive at 6:30. We had to leave at 7:15 because we found that it wasn't going to arrive until 9:14!! We found this out by tracking the bus online. The employees were nice but didn't know the whereabouts of the bus until we showed them what we were seeing on the tracker. They did contact their supervisor at this point and confirmed that the bus was not going to arrive until 9:14. We had a flight in Jacksonville and we left plenty of time by choosing the 6:30 bus. We would've missed our flight if we stayed and waited for the bus.
1 month ago Chetto Arruda
Station needs a serious update/upgrade. It is dark, filthy and old. Staff from what I seen were friendly but not many employees.
1 month ago Shahin Jamali
A good bus stop
1 month ago harrisdwjr
Last Wednesday I went with a friend to buy a ticket from Daytona Beach thru Atlanta, Georgia. The lady who was in charge took my friend out of the offices and closed the door calling him Hispanic and telling him bad words. I told her I want to buy a ticket she said no and make videos with her camera and said she called the police. I am US citizens since 1917. All Puerto Rican are citizens. Of course I have accent. She is suppose to sell us a ticket. Bad employee the company has.
6 months ago Richard Arthur
The driver were very rude
10 months ago Jonathan Baron
I've been through this station multiple times and it's horrible. If you have a long layover here, especially if you're going to be here after 4pm (building closes at 4) try to find some other way of traveling. It's in the middle of the worst part of Daytona. Drug addicts begging for money, hookers walking through and propositioning me. Cops trying to tell me I was loitering and trespassing, even though I was sitting there with all my tagged luggage and my ticket! I've traveled all over the country with Amtrak and this is the second worst station I've seen in the US, with the worst being Wilmington, DE.
5 months ago Orlando Torres
Run down and old but it serves it purpose. Has a bathroom and a few vending options, Wawa is right next door so if you have a long wait then you can get whatever you need while waiting for the bus to come.
7 months ago David Mehaffey
Not good
6 months ago Alicia McConkey
Good service, buses were late but the staff were friendly and did the best they could of the situation!
11 months ago Emily Gil
Went to this Grayhound station back in June. I was able to take a morning bus and a night bus and get the feel of what the environment was like in both times of the day. My overall experience was uncomfortable. The building and parking lot look like it hasn't received any maintenance in years, the area was not so great, and the lack of security (especially at night) was very concerning. The best thing going for that place is the very new and well-lit gas station next to the bus station. Overall, my experience was okay and the bus ride was fine, but next time I would find another option. I'd only visit again if there was no other option.
11 months ago Joe Moss
If by any chance your bus is going to be late be prepared to be thrown out of the building. They lock the place up at 8am reguardless
7 months ago Marlon Duncan
Lost the luggage but the ride was nice. Free Wi-Fi on buses!!!
7 months ago Andrey Mikhalev
This place looked like a crack house down to the gild toothed employees that spoke in there own language you can understand. And also run down, dirty and you feel unsafe
7 months ago Hristo Yotev
This is how I get to work. Customer agents are helpful. Passengers can be very difficult Very difficult.
7 months ago Jackie Michalek
Need accurate hours and open/close sign. Had issues with accurate tracking on parcel as well. Station worn, not overly clean, not on street address states making it challenging to find.
5 months ago Pat Long
Took Wayne Jr after he came to see his dad for a week before he passed away on January 14,2019 and got to spend his dad's birthday with him, we all had a great visit
10 months ago Cynthia Suffern
The security measure is strange here funneling me through an area they'd cordoned off. They we're also disrespectful.
7 months ago
Popular places from the category Bus company