Upland Auction
Auction house Upland Auction, 1265 W 9th St, Upland, CA 91786, United States:
69 reviews
of users and employees, detailed information about the address, opening hours, location on the map, attendance, photos, menus, phone number and a huge amount of other detailed and useful information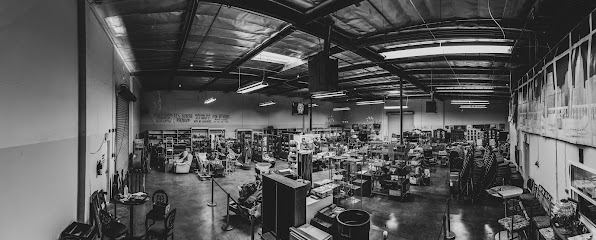 Address:
1265 W 9th St, Upland, CA 91786, United States
GPS coordinates
Latitude:
34.0976333
Longitude:
-117.6720147
reviews Noe Saavedra
Great place the people on this place are like your best friends for many years even if you just join their adventure. We all have tons of fun ,customers and staff. We get great deals and if it wasn't enough we are treated with respect and integrity keep it going. Places like this is what America needs to be together again. God bless everybody that is involved on this awesome place. Augie Press
7 months ago Kenny J
I grew up going to auctions with my father and have developed the same passion for antiques and collectibles that he still has. I enjoy old radios, pocket watches, advertising, sports collectibles and coins/paper money. Upland Auction is a great place to find all of these things plus more! Ali and his staff are very knowledgeable and friendly. Ali even gave me a copy of his book on international currency after one of my purchases! Great place to find interesting items and I look forward to learning and growing in the hobby with them.
6 days ago joshua watters
Purchased some stuffs & shipped to my address in UAE Everything received in excellent condition Highly trusted & recommended Very reasonable prices
8 months ago Mike Mo
I have been buying and consigning with Upland Auction for about a year Ali & Karima are very nice and run a smooth business. A great place for treasure hunters and a safe and secure place for sellers to consign their items. The auctioneers and "the crew" make the experience fun. They are very helpful. Upland Auction has done a nice job for their customers transitioning from the live auctions to different avenues for us to participate safely during these different times. I for one am looking forward to the live auctions again in the future!
3 months ago Crystal George
Great place for collectibles and to pick up a new hobby. Owners and employees are super friendly and helpful. Never had any issues or complaints. If I did they are willing to assist. Thanks Dr. Ali, Karima, Chris, Brittney, and everyone at UA team. - Mark S And yes that's a real Italian Ronzan
8 months ago Karla Andino
Ali is the best his crew was so down to earth I needed support and they came right away upland auction I strongly recommend to use them! I wish I had more to auction off but I don't at this time!!! I give 10 star if I could definitely sharing and spreading the word! Respectfully
6 days ago Melissa Lafond
One of my favorite places! Ali and Karima are Very knowledgeable and truly kind! I've found a great amount of Star Wars collectibles in excellent condition, currency from all over the world! Old and new! It almost feel like you're transported to another era when you find some things that were made Generations before you! It's history and heritage but also cultural awareness of how much diversity we have in California! Thank you!
9 months ago Topher Boss
Upland Auction is such a great place. Ali, the owner, works very hard to bring a really nice and wide variety of things to buy. The auction staff is friendly and knowledgeable. The Facebook auction moves quickly and is just a lot of fun. Ali is the expert on paper money and coins and has even written a book about the collectible money of the world. Thank you Upland Auction! Keep up the awesome work you've been doing.
7 months ago Beverly Claburn
Best auction! They have an amazing variety of things for a price you can't beat! I highly recommend this place. Great service and even better people!
7 months ago David Crespo
These auctions are professionally run and very user-friendly. The auctioneer and staff are so helpful to assist us and the other customers when we have questions about the merchandise or bidding procedures. Access online and at the Auction house is much improved now and each time we find at least a few items worthy of bidding.We highly recommend Upland Auction for anyone looking for a real bargains and savings.
7 months ago Andrey Ka
I have been an antique lover for decades and this is my favorite auction house of all time! The crew is amazing and provides superb customer service. They have a mouth-watering selection of antiques and collectibles of all kinds, many at bargain prices. I thoroughly enjoy participating in their online auctions - it has been a bright spot in my days during the COVID-19 restrictions. And my house never looked better with all of my Upland Auction treasures!
3 months ago Gurman Randhawa
I absolutely love everything about the Upland Auction. They have everything you could possibly be looking for. Literally something for everyone. Great prices to. Also the owners Ali and Karima are by far some of the most knowledgeable and nicest people I have ever met. If you have never been here you should most definitely take the time to go. You will be so glad you did.
6 days ago Becky Rippetoe
Very reliable place that will take you in a journey through time with the diverse collection they provide. Had a real special experience. I highly recommend this place if you seek quality.
8 months ago Michelle Kramer
If you like collectibles, antiques, and vintages, this should be your go-to-place! Upland Auction team is the best. Very knowledgeable, helpful, professional and trustworthy! Don't miss out on their live online auctions these days due to COVID. Can't wait to attend their in person auctions!
8 months ago E Mainey
The Upland Auction is amazing. The items that they auction are great and you never know what will show up, but you are for sure to know it will be great. The staff is very kind and helpful. A++++
2 months ago Katie Collins
Mind boggling and possible unethical practices, this auction was amazing when it was run by Ray and Chris and others, it was taken over by Ali and Karima. I am an avid sports card collector. I had consigned over 300 boxes of cards of sport's cards, keep in mind I know what is in each box, they were all 80s and 90s and I had to clear out my inventory and needed college books. I consigned them to Upland Auction – everything was loaded and then I got a text from Ali saying there was mysterious bidder and $750 was the price, keep in mind this is a live auction where you actually get to see your auction bid on – it was also Christmas time and I was feeling charitable, Ali texted me and said he had an expert come look and trust me from the looks of the place I can tell I am the better expert at their stuff than they are but sure lets run the auction, imagine that if it sold for $500 – I want to see the paper work, then latter on I consigned 3 cards all in super lockdown hard cases with full descriptions, it does not sell so I went to pick up my items 3 times, this time Karima the wife tells me its somewhere around here come back and pick it up, no problem, I also bid on an item so I went again to pick up my items and check on my card to pick up, nothing its gone. I have since sold the cards to an outside buyer since it die not sell at UPLAND AUCTION and then Karima tells me it sold and they paid me – keep in mind every auction is done on Facebook so there should be video right, show me the video, she said I got paid show me the original bill of sale and the amount it was sold for, nothing. Hey if you want your items oversold by Upland Auction and you got one pf those mystery texts – PS I HAVE EVERY TEXT FROM ALI AND KARIMA , I WILL BE CREATING A FACEBOOK AND POST ALL THE TEXTS. Do not do business with this company, there is something drastically wrong and they sell your items and say its lost and possibly keep the money because they sure as heck wont show you any receipts – it seems very unethical I sent nice messages not being upset, just asking to see paperwork on my items and was denied so I am out of $800 and the card they say I picked up which they possibly sold and claimed I lost plus who knows what your items sells for since Ali said>>> according to his soon to be available text he has a buyer ready and then the price goes off way different than what your expecting, the auction looks staged, they bid on their own items to raise the prices up, each auction is videotaped and sold on facebook and you can see them bid on their items to drive prices up…ask questions people, if you want to see any specific screen shots of our conversation please ask. Once again fair warning -- use Upland Auction at your own risk the owners shadows has its own shadow.
3 months ago Andrew Chung
Great selection of items with great prices. A lot of rare, collectible and antique items. The crew are amazing. Watching the online auction is so much fun and a great idea during the COVID restrictions. Don't miss out!!!
11 months ago stan kosinski
I consigned to Upland auctions things that I've had for years but no longer use. A golf set, some antiques, a sword , and few other things. I was pleasantly surprised when Ali texted me two weeks later and asked if I prefer a check or wire. The selling prices were much higher than my expectations. I would have been happy with $10 for the sword, but it hammered at $200! I also gave Upland Auctions a bunch of US silver eagles in original packaging, and some sold that same day, the rest all sold the following day. Overall, it was very easy to do business with them. Professional all the way, strongly recommended
8 months ago Odey Nagy
Highly recommend!!!! This place has very unique and beautiful pieces. The service is great and the owner is very knowledgeable and kind. It's definitely a fair and trustworthy antique shop.
7 months ago Dave Pettigrew
Upland Auction is the #1 place to go when looking for all types of Treasures around the world. ALI and his team are always dedicated to give you the best service and answer any questions..when looking for treasures.. look no further than Upland Auction House!!!
6 days ago joel daskal
This is one of the best auctions in Socal, has an excellent staff, and Ali does an amazing job running the place. Everyone is super friendly and very knowledgable. I enjoy the atmosphere and browsing through the collection of rare and unique merchandise. Current online auction setup is fantastic. If you need to buy or sell, Ali is your man. I have read his books about replacement bank notes and his collection is the largest that I have seen vs anywhere else. Very passionate individual and a great store to visit at every opportunity. Will definitely keep coming back. Highly recommend this auction to everyone. Thank you Ali, and always looking forward to your next treasure find.
8 months ago James Baldwin
I love Upland Auction! I have found real Treasures here! From antiques to new items and collectibles! I am always happy to see what's new! It is always a different and positive experience! Specially with Karima and Ali, they go way beyond when it comes to helping their customers and the consigners.
9 months ago Maria Ho
As a buyer and seller to the upland auction, I've had many positive transactions..I have read that some of you are dissatisfied with the prices they may sell your merchandise for but you, as the seller can put a minimum price you will accept and if the product doesn't sell for the minimum price you will be notified and can pick up your products..The owners and staff are exceptionally friendly and helpful. Great place!!
2 months ago Winfred Wallace
The staff is very knowledgeable and easy to work with. I found some beautiful Treasuer at a great price. Also they make it simple to sell your products! ! I yesss say to this wonderful place.
5 days ago Barbara Sloat
The person I talked to online was super nice, especially up to the end of our interaction, where they thanked me for my "cooperation" when they sold a camera I had already purchased to someone else a day later. I don't know how much I actually cooperated considering their choice to sell to someone else was not my idea. They refunded me after I asked about it almost immediately, but still not a cool move by anyone. Edit: After posting the above review, the person contacted me again saying that I "Lied" on the price evaluation they asked for for the camera. I gave my most honest price evaluation. I was told I "never deserve trust." Honestly, if you ever are thinking of dealing with this guy, I would highly caution against it. 1/5
10 months ago Joseph Benedetto
Really enjoy the live feed from home. Great merchandise variety and the workers are very friendly. Always looking forward to the next Auction. ❤️❤️❤️????????????????????
6 days ago Clayton Sackett
Wonderful experience. I am very pleased with the products and services, looking forward to doing more business here.
7 months ago Natasha Enam
Upland Auctions really came through for me when I was dismantling my mother's estate. There was just so much quality furniture that needed a respectable home. During Covid lockdown Upland Auctions opened their doors for me and sold the majority of my items within a few weeks. Their staff was so helpful. It's so hard to go there and not look around because everything they have is so unique. Lots of collectibles, vintage, retro items. The warehouse is huge. If you love nostalgia this place is your Disneyland.
7 months ago Greg Godfrey
The owners and staff are a pleasure to work with! We have received a lot of very nice items! Thank you for all the fun!!
7 months ago Laura TheHockeyFan
Great place for collectors, buyers, and sellers. They do facebook live while keeping everyone safe. We all cant wait til they have live auctions in person, but please join their facebook and check it out.
8 months ago Evgeni Enchev
This is a gem of a place to find unique items and the new owners are always there to help. Very happy with our purchases and the ease of their process.
2 months ago Ron Baker
Wonderful place , great management. very friendly. you can't go wrong with it
8 months ago Nelson Basden
One of my favorite places! Ali and Karima are Very knowledgeable and very nice.
5 days ago Kurt Hinds
Great experience, best auction house in the region, good deals, very friendly staff, would treat you like family... I recommend it.
9 months ago Nathanial John
This auction house is awesome. A nice variety of treasures with very reasonable prices.
9 months ago Farah Waleed
GREAT PLACE, FRIENDLY STAFF and QUICK ONLINE SERVICE Thank you for your excellent service.
8 months ago ahmed dinari
it is a pleasure knowing Upland Auction, pleasure dealing with them, pleasure enjoying the different stuff i bought from them, definitely i'll go for it again and again.
7 months ago taylor s
Great place for auction, excellent service. Highly recommended!
8 months ago Sean Julien
The "go to" auction house for the area - Ali and his team are friendly, helpful and go out of their way to serve your consignment needs. They welcome newbies like me who are still learning about the process.
8 months ago Roxana Alequin
A really neat place. Friendly and inviting
9 months ago DeeAnn McClanahan
It's not my first experience with Upland Auction and everytime I'm getting more impressed by the unique and high quality stuff and the incomparable affordable prices ????????
8 months ago Yossi Biner
Very responsive , reasonable price , they have a lot of collection you can pick and choose what you need including rugs, sceneries, lamps , desk, dining table and chair and lot more, they work options to pick up time and makes the purchasing transaction easy for customer, highly recommend Upland Auction
9 months ago karendpt
Great place for collectible , rare pieces and very reasonable prices .
11 months ago Jay Baldwin
Great place and great prices you never know what you can find on there auctions!! pickup and viewing is on Monday and Tuesday
2 months ago Azhar ahmed
Very friendly and great people to do business with.
9 months ago Valerie
Great management ,friendly ,organize and good variety.
8 months ago Deatra Parker
Awesome place,great management,staff very helpful
9 months ago Cassandra Knapp
the products were outstanding, and customer service was wonderful
7 months ago Tyrone Robertson
This business was recently bought and the new owners have no idea what they are doing... They sell fake signed items as authentic and designer knock offs as authentic. They are running an online auction on Facebook. They do not fully describe the merchandise. Only after someone asks if there is any damage or does the items work or is it complete do they disclose. Many retracted bids. Many unhappy customers. I have no idea how they are allowed to keep running. My next stop is the Chamber of Commerce and the BBB.
3 months ago Tianesha Drayton
Great people and amazing items to choose from
9 months ago
Popular places from the category Auction house