Blue Cross Animal Hospital
Animal hospital Blue Cross Animal Hospital, 10593 S Mills Ave, Montclair, CA 91763, United States:
220 reviews
of users and employees, detailed information about the address, opening hours, location on the map, attendance, photos, menus, phone number and a huge amount of other detailed and useful information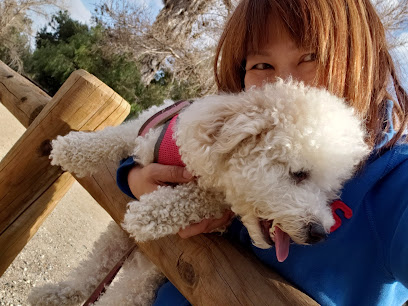 Address:
10593 S Mills Ave, Montclair, CA 91763, United States
GPS coordinates
Latitude:
34.0615287
Longitude:
-117.7172921
reviews ALMA HERNANDEZ
The vet here is a rock star!! He's intelligent, kind and has a big heart for animals and the community. His staff are also just all amazing and sweet in their own right. However, due to Covid and their very reasonable prices they are extremely busy and it's very hard to get in for an appointment. Plan ahead!!
5 months ago viet dao
they have a great group of people attending all our furry critters,with care and love ???? great place!!!!
8 months ago T Bird
Sean the Veterinarian was awesome with my Rottweiler which we were putting her to sleep so she didn't suffer anymore. He explained everything to us about the process. He even sat on the floor with me, my 2 girls, my wife and our dog Lady while he gave her the shot to put her to sleep so she wouldn't feel anything, then he gave her the last shot. Very compassionate with us. Definitely the best Veterinarian i have ever met and we'll definitely be taking all our animals to him.
5 months ago Samuel Flatman
The entire staff at Blue cross animal hospital is great. Went during a Wednesday walk-in day. While I waited as expected, my pet was seen and cared for as a regular scheduled appointment. Dr. Rodriguez is friendly and extremely professional and descriptive in his assessment. Would highly recommend visiting their office.
6 months ago Deepankar Garg
I have an American BullyThat needed a medium sized Mass removal. I went to 2 other vets 1 in Montclair and 1 in Pomona. They're estimates were ridiculous over 1500$. I came to appointment here met with Dr Rodriguez and he was straight up none of that bs.and best part I actually got to go in with my dog and talk to him face to face about what was necessary and not.i was so happy with the estimate just can't thank them enough.now my dog is recovering fine and mass is gone and he even removed a skin tag while my dog was under and it was something I wanted to do next he didn't even charge for that part .the whole staff is great and nice
7 months ago Raphael Rodriguez
Everyone one here is so kind and compassionate. My Sophie got the best care and recovered well from surgery. Very affordable as well.
5 months ago Indigo Gordon
No problems here, awesome service from everyone!!! Highly recommend this office to anyone!! Dr. Sean is great, always takes his time to go over every option for your animal. Great staff, very kind and very professional
6 months ago Krse
Very good. Did not wait long. Everyone was very friendly. I will be taking my baby back there. Pricing is very reasonable. Much less than other places I have taken my pet.
6 months ago Susan McNerney
I took my cat in for shots and did a walk inn! It was a wait but when I went in love the staff and the vet was amazing! He showed compassion to my cat! I have been to other vets and they don't really show that much compassion and they always rush off! The price is very reasonable and I really recommend this place to anyone who needs a good vet for there pets!!
9 months ago Terry Keith
I took my dog there yesterday, the staff and doctor is so great. Welcoming, very pleasant and professional. I will always take my pets there and deserve much praise. Thank you
6 months ago Ariel Ferreyra
I brought my moms puppy and my cat to be fixed here. The staff was very friendly and took the necessary precautions to make sure everyone was safe. Very well priced. I would recommend and will be coming back here to have my other cats vaccinated.
10 months ago Danny Wolfe
Excellent animal hospital. Patient staff, outstanding medical professionals giving exceptional care to my. Husky mix dog- Gus.
6 months ago DM MY
Best Animal Hospital!! They are always busy but well worth the wait. And they treat "my boys" great.
9 months ago Frank Sasso
I love this place. Took my son's dog in for him and was pleasantly surprised by how nice the staff was and how thorough and communicative the Dr. was. The prices are more than reasonable as well! FYI: This place is busy, a very big business base. Make your appts. knowing that it will be about a 2-3 weeks down the road. If it's not an emergency it's worth the wait. ????
10 months ago Brittany Sheckles
The best Vet in California. ???? I have 7 dogs and he has taken good care of my babies. ????????????????????????????
6 months ago C Black
Personally, I appreciate ppl who are nice and helpful. The young lady who helped me was both! They treated my fur baby with love. Prices are good
11 months ago Quinlynn Porter
The best animal Doctor around. Fair, knowledgeable, and the best part, my dog loves there. Plus it is super affordable and you are getting high quality care for your pet.
9 months ago Forrest Pommerenke
So far we have taken 4 pets here. The folks here are friendly and knowledgeable. The prices are reasonable. They won't try to rip you off. The nurses and the Dr are very gentle and caring. They are efficient and perform thier duties in a timely manner. If you make an appointment you don't have to wait.
1 month ago Laith
Never had a bad experience at this facility. My dog has been seen by both doctors and they always show a genuine concern for my pet. The staff, as busy as they are, always take the time to answer any questions I have. I have recommended this place to so many people. One of my friends took her dog there and chose to change vets and make Blue Cross her #1 go to for her pet care.
3 months ago Iolanda Iandolo
The veterinarian was super nice and really gave our black Labrador the care that he needed. My dog was limping and he guided us exactly on what to do so that we didn't have to spend a lot of money. What you have to pay here is like nothing compared to other vets, hands down. The only thing is that you have to book an appointment a month early because they are very busy. That's understandable since they're service is so good. I highly recommend!
3 months ago David Iordan
I love this place! Sean (Dr. Rodriguez) is very knowledgeable and great with animals. They also have the BEST prices around! I have been going here for several years now and will never go anywhere else!
1 week ago Charlotte Weeks
Very friendly, understanding and accommodating. I was able to be seen in a time of need, thank you!
8 months ago Allison Rae
Got me in fast after someone cancelled. 5 Star Dr. Rodriguez very good with pets.
10 months ago Sara Mohamed
They are so affordable, and incredibly patient and compassionate with my misbehaved dog. The only problem with them, is it's hard to get an appointment in because they're so busy, but there's a reason they're so busy! They really took excellent care of my girl, and I don't think I'll ever use another vet.
2 months ago Cherry Sopin
I only come here for big treatments for my dogs since I live pretty far from this office. This office has saved me lots of money when my 12 year old dalmatian needed a big tumor removed from her stomach & doctor did a very good job. Everyone is nice & caring, place is clean, price is affordable, I couldn't ask more except I wish their office were close to my house :)
5 months ago Elora Apantaku
Dr Rodriguez takes his time to listen and then examine your pet. He's very thorough with his exam. He's not a typical Vet who wants to push every new medication and vaccines on you so you are able to be relaxed and comfortable with his evaluation of your concerns. Thank you to the staff and Dr for taking care of our Callie-Girl. Nice to see you again Sean ????????.
5 months ago Mirza Hussain
I love Blue Cross Animal Hospital! They are always so good and gentle with my Diesel. They are always super busy and you should expect to wait either if you have an appointment or you go in on their walk-ins only days. Just know that your pet is in good hands. I highly recommended this place. I recommended this place to my best friend and she said they were so good to her puppy.
6 months ago Henry Lau
Please... Acknowledge Special Awesome Professional Loving Caring ❤ Compassionated Respectful Hard working ???? invested Doctors & Nurses Very impressed since day one, that was almost three years ago. Soo Thankful, Grateful, Blessed.
11 months ago Chad Meyer
Wow! Amazing! I was highly recommended to go visit Dr. Sean Rodriguez from my sister in law and her husband. I'm so happy I listened to them. Dr Sean was very pleasant, caring, and knowledgeable. He took his time to examen my yorkie ( this was our first time meeting him) and answered all my questions. He's very caring and passionate about his patients. I will definitely be bringing my yorkie back with Dr Sean. Prices are reasonable and staff is very welcoming and nice.
2 days ago Rachel Dewhurst
I've been a client of Blue Cross for many years. My dogs always received the best professional and highly companionate care. Slightly cheaper than most other vets so sometimes crowded. Appointments.
2 months ago Nick Chen
If I could sum up this place in one word, I would say Honest... Yes, the staff and doctors here are very knowledgeable and friendly, but that's par for the course for every veterenarians office. What makes Blue Cross Animal Hospital stand out is the way they conduct their business. They are up front with what your pet needs and doesn't need. Most of all, they're honest with their pricing. It's no wonder they are always busy. I will recommend strongly that you schedule ahead of time unless it's an emergency.
2 days ago Carlye N
Blue Cross is the Gold Standard of Veterinary care.
8 months ago Di Jin
Excellent customer service. We've been taking our pets there for years. It's budget friendly
11 months ago lisa moyau
Canine teeth cleaning at a very reasonable cost.
11 months ago Jason Landry
Nikko and bruno spot
6 months ago Megan Ross
I just love the way they treat our cat and us. So welcoming and very dedicated to they jobs. I have been taking my cat there for almost 4 years. The prices are good.
8 months ago Travis Kennedy
They are compassionate animal lovers here. The wait is a little long but it is like that in any Dr office you go. Thank you for taking the time to check my pets throughly.
2 months ago Susan Dunaway
The staff are friendly and caring. Dr Sean and Dr Jonathan treat our pets like their own. Always informative.
3 months ago Allan Boyd
Best in the game oh and affordable ????????
8 months ago Anne Schmelzle
I have been calling for my dog's blood test results but besides they do not respond and have no way of leaving a message because the voicemail box are full finally a Hispanic woman picked the phone to tell me that I need to give them 24 hours to call me back when we had been trying to talk to them for several days. When I told that tothe Spanish-speaking woman was rude and cut the call. Too bad the very good reviews start to drop due to poorly chosen employees. Hopefully the clinic takes this into consideration before they continue to lose good references. I have to say that I live one hour from their office but I was almost to go to pick up the results since my dog is getting worse
8 months ago Dale Morrison
Excellent care. Dr. Rodriguez is the best. They are so popular there is usually a wait, sometimes sizable, but it is well worth it.
1 month ago Gigi sanchez
Friendly, informative staff. The Veterinarian staff here does not make you feel dumb when asking questions they've probably heard a thousand times. They are very helpful and understand that not everyone has a million dollars in the bank. They give you options.
4 months ago Fedor Ponomarev
It definitely recommend I've been going there for years probably since they opened back in beginning of 1990
9 months ago Cyndi Delmage
Best service and so gentle with dogs
6 months ago Jason Ring
Always good I should my drink leaving it feel out of the target doing carry they replaced it for me very kind thanks girls
2 months ago KATIE
Been bringing my dogs here since my first pup. Always provide the best care and service.
11 months ago Ella Karcher
There's nothing to make it better. You guys are the best!
11 months ago Kimberley Krumm
I love this place. I can't say enough about how wonderful the doctors and staff are. Thank you!
1 month ago Matthew O
Go when they open or make appointment would be better. Very popular place. Cheaper than most vets.
2 months ago Jaime Teague
love the people who works there keep up the good work
11 months ago
Popular places from the category Animal hospital