Dickerson Park Zoo
Zoo Dickerson Park Zoo, 1401 W Norton Rd, Springfield, MO 65803, United States:
220 reviews
of users and employees, detailed information about the address, opening hours, location on the map, attendance, photos, menus, phone number and a huge amount of other detailed and useful information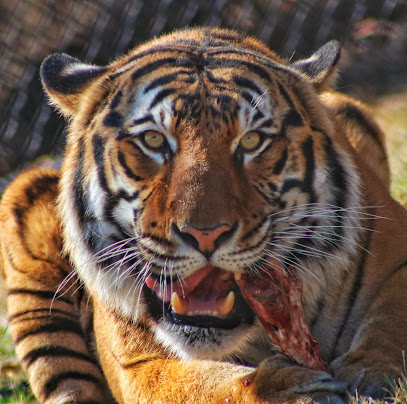 Address:
1401 W Norton Rd, Springfield, MO 65803, United States
GPS coordinates
Latitude:
37.2541466
Longitude:
-93.3064575
Location on the map
Reviews ROBERT WEILAND
Great place for the family! Spent 2 hours there walking around looking at all the amazing animals! They also have a playground, food, soda machines, and plenty of trees for shade. Definitely wear comfy shoes for the long walk, it has some uphill and downhill sloaps. Also has a small train rain towards the end $2 bucks a person. Bring 1 dollar bills to get tokens so you can feed the ducks.
8 months ago karthik m
It was unusually chilly but a lot of the animals were out and about! Loved seeing them all! Great family place and can see them all in 1 day.
7 months ago Chris Gardiner
Great zoo. Always enjoy coming here and seeing all of the new and current animals. The zoo has so much potential and could use a lot of updates but still has a nice layout. Plenty of options for food a drinks. Many exhibits to go in and explore. The line was crazy long but wasnt more than a 10min wait. Plus they offer military discount!
8 months ago Mindy Hamilton
Great it was a nice size. Intimate but there were lots of exhibits. There was a playground in the zoo which was great to let the kids stop and play for a few. It's next to the food area so you can grab a bite while they play. The exhibits were very kid friendly. My toddler had no problems viewing from his size. The zoo was also filled with beautiful peacocks. There's a petting zoo as well where you can feed goats sheep and donkeys. Or you can go to the giraffe exhibit and feed them. It was a great experience me my son and daughter had a lot of fun.
9 months ago Ross Nelson
Love the dickerson park zoo! Lots of animals and beautiful trails. Many animals to interact with and feed, the giraffes are amazing! We love feeding the them!???? The mini train is adorable, we ride every time we go! The kiddos love it! The price is fair I definitely recommend for good family fun!!
11 months ago Christina Pendergrast
We love going to this zoo. It is always a fun time. They have a snack bar area and park for the kids to play. You can buy food with tokens to feed the ducks and goats at the petting zoo portion. You can also purchase crackers to feed the giraffes. They also have a little ride that is additional purchase. All of the animals seem to be well kept. They also have a gift shop. The employees are nice and friendly. You can purchase memberships as well which is great if you plan to go a lot. There is a pavillion, park and restrooms in the parking lot. We usually bring a lunch and enjoy that after we walk the zoo. Great experience
8 months ago Andy Bunch
It was an awesome experience. The animals seemed happy and we'll taken cared of. Only real complaint is human error. People (woman wearing a bright yellow dress) were throwing garbage into exhibits.
7 months ago Michael Michael
Awesome selection of animals. All areas for the most part are wheelchair accessible. But be prepared for some steeper grades to get to some of the animals. Wish the train went thru the park though.
7 months ago Cody Becker
Good zoo for its size and a nice spot to kill a few hours. It was so neat to see the Cheetahs interactions through the fence. One thing I'd change is that the gift shop is VERY kid orientated, but they still had some neat options. Btw the Elephant poop beer shirt is hilarious. Also have to note that for a zoo that has NO support through Taxes I'm REALLY impressed with what they've achieved. Springfield should really think about the opportunities here and make some smart changes.
8 months ago Ichigo Ryu
It's a good value for the yearly family pass if you want a place to take young kids. They can get fresh air, some good exercise on the playground, and see a lot of animals to stimulate their imagination. The petting zoo area is always a hit.
8 months ago Vera Dupont
All the animals were out. 2 were sleeping. But they were out where you could see them. The bear and otters. It didn't seem to look pretty like it usually does and some cages just looked yucky. I always hate to see the elephant and the bobcat. I'm really worried about one of the Bobcats. The last 2 years, he just paces back and forth really fast. I hate to see the animals do that.
8 months ago Edgar R
Wonderful experience. Employees were very nice.
9 months ago Brandon Knitter
It's been a long time since I have been there and the improvements they have made are phenomenal. Wonderful place to take the kids and grandkids. We had a wonderful time!
10 months ago Sarah Hamilton
It was fun. Lots of animals to see and my 4 year old LOVED feeding the giraffes!
8 months ago Java Developer
Had alot of fun considering recent closures for covid. My 3 year old was excited throughout the facility.
8 months ago Sarah Jaminson
Dickerson Park is a nice zoo to take kids and offers several activities to interact with animals. While DPZ is not the best zoo we have visited, it is good considering the decently priced yearly memberships. Pros: -There is a great park for kids to play in right next to the food pavilion, which is the perfect spot to relax between exhibits. - There are a couple exhibits that allow you to feed animals, which my kids love. You can feed giraffes or farm animals, such as goats and alpacas. The giraffe deck is very popular, so on really busy days it might be hard to get up close to see/feed them. - The train is a big hit with our family and at only $2 a ride, very reasonably priced. It goes around a pond two times and is a very relaxing ride. Cons: - While the zoo is handicap accessible, the paths can get very steep, making it difficult for people with strollers or wheelchairs. - Some of the exhibits with only one animal are sad. Although they each have a good area to roam, the elephant and tiger seem lonely and visiting them can be a little depressing. Overall we really enjoy our membership to Dickerson Park Zoo and it is definitely worth the money if you have young kids that you can take throughout the year.
9 months ago Janey Creson
While we have a pretty awesome zoo here in Houston, it's always fun to visit other cities' zoos and see what they have to offer. This zoo definitely didn't disappoint! While it was a little chilly when we visited (we're from Texas, so 37 degrees is cold, okay?), the animals were totally used to it and out and about in their confinements. Our favorite animals we spotted were the giraffes, kangaroos, and lions. It was also really neat to see how the peacocks were just everywhere! They were wandering all over the place - but steering clear of the tiger cage of course. This is a great place to visit if you have little ones or are an animal lover yourself.
2 months ago michael barry
Lots of beautiful animals. Fun. But unfortunately some animals are in rough shape. Many look so incredibly depressed. Particularly the cheetahs. The babies are separated from the adults. The poor things just paced back and forth while calling each other. Cheetah cubs depend on their mother roughly 3 yrs. They need that affection and support. (Unless something happened to the mother) they shouldn't be forced to be apart. Only interaction being through a fence. The animals don't appear to be the zoos main focus.
8 months ago Ronald Sisco
Not a bad zoo, not the greatest. Enclosures are so small I felt awful so some of the animals. Definitely not wheelchair friendly. Took my disabled mom with us and while she loved going, it was insane going up and down the hills. Some paths end in stairs without warning and we had to go all the way back around.
8 months ago Suzanne Johnston
Kids had tons of fun. Slightly bummed by the space the eagle has. (Zoo persons should look at the grand Rapids mi zoo eagle area!) The rest of the animals well cared for. Clean property & the family season pass pays for itself after 2 trips for a family of 4. Kids had a blast!
8 months ago William Donnelly
Fantastic zoo with excellent views of the animals. Exhibits are well spaced so you're not walking long distances without seeing the animals. Interactions with the giraffes is always a family favorite, and the free- range peacocks are charming. It is a bit windy and hilly (this is the Ozarks after all) so if you have little ones, bringalong the stroller for those longer treks to their favorite animals.
9 months ago Jeffrey Schmitz
Great Zoo in Springfield! They did a great job making you feel like you are in the wilderness walking from exhibit to exhibit. The train was fun and the most exciting part was feeding the giraffes. The kids loved it!
8 months ago Thomas Buchanan
Been going for a while now, while it's a nice zoo for the area, the staff's total disregard for their resident free roaming peacocks ruins it for me. I've been to several zoos with free roaming peacocks, but this is the only one where they've been consistently in such poor shape, with staff regularly ignoring abuse by visitors, watching kids chase them and rip out feathers, even blood feathers, without saying a word, as though it was business as usual, even engaging in casual conversation with visitors showing off the day's feathers on their way out in the gift shop. Thirty years of AZA accreditation doesn't mean anything if every time I visit I've been treated to the sight of animals being abused in front of staff who show no concern for their welfare whatsoever. Every other zoo I've seen protects and cares for these animals, this one, just watches disinterestedly and carries on. Perhaps it's time the association review their standards.
8 months ago ali saadi
Amazing zoo! They have great exhibits of all sorts of animals. Best part was feeding the giraffes!
8 months ago Valerie
It was ok we really didn't see alot of animals and I guess due to COVID-19 the soda machines didn't work restrooms needed a little more TLC
8 months ago Bryan Guilliam
Really fun, lots of animals, they even had a petting zoo for the kids. Highly recommend it
8 months ago James Gonzalez
Lovely mid-sized zoo set in a beautiful park. Most enclosures are large and the animals look very healthy. Absolutely worth a visit.
8 months ago Mike Fieweger
Had a blast with the wife and kids! The place is set up really good you can go different routes and see everything without taking the same route twice. Restrooms we're well spaced animals seamed happy monkeys tend to be little show offs.the elephant was a character and the bear was in hibernation
10 months ago Becka Olson
A simple zoo with family favorites, like elephants, monkeys, tigers and bears. The perfect 90-minute outdoor adventure for families with littles in Springfield.
9 months ago Eliot Ladmirault
Fun day trip, younger kids love it! The petting zoo and feeding giraffes were definite favorites.
9 months ago Niharika Singh
We really enjoy our little zoo here in Springfield. It's 15.00 for adults and teens and $10 for kids. The pathways are in the shade throughout most of the zoo. Everything is easy to get to and maneuver throughout. We went on a busy day and everyone flowed throughout nicely without a major jam in any areas. We loved the giraffe area the most.
6 months ago Bar Wolk
Love love love this zoo. We had a great time walking through even in the rain. They want you to wear masks and stay safe, so that's nice too!
8 months ago Humberto Solano
Nice little zoo with a variety of exhibits, good for strollers. If you are a family, season pass is definitely worth it.
10 months ago Shin A
Loved it, we had so much fun for my sons 3rd birthday!
8 months ago Praveen P
Like I've said before I don't like leaving bad reviews. Especially for a zoo that needs support to feed, house, & care for animals we wouldn't see if they didn't exist. So, maybe it's the time of year we went, or day of the week? Idk? But I was disappointed. My main disappointment was no tiger(s) weather it was gone, sick or injured we dont know. I wish they'd inform the public of animals unavailable before you entered. But they didn't, & don't. Other than that it's a small zoo, with not a lot of animals which I knew before hand. It just wasn't fun like I thought it would be. & I knew food prices were going to be high, & were. Which I don't mind because their supporting their zoo. But after eating a way overpriced combo meal, I was still starving! They could at least make it a little more food especially for the price & still make a big profit! After all that, I still highly recommend going to see the animals & support our zoo! So they can continue providing for the animals! Enjoy!!
9 months ago Weerapong Seeworasa
It's been a long time since I have been there and the improvements they have made are phenomenal. Wonderful place to take the kids. We had a wonderful time!
8 months ago Sally Hall
This zoo is a really great value for the low cost of $15 and offers a really attractive annual membership option as well. The zoo has a lot of animals considering the cost of admission. They have lions, tigers, bears, cheetahs, elephants, kangaroos, giraffes and many other amazing animals. They have many feeding options available too ranging from goats to giraffes. One criticism that I had was that the zoo has four elephants, but because of the way the facility is structured, you can only view one of them. It would be nice to extend the trail further back and allow more opportunities as many other zoo's have done. Hugo was the elephant outside and he is the one to see right now, if you can only see one. Love him! Still, it would be nice to see all of them, if the zoo is interested in making any improvements. One other note is that it's Missouri and as a result, the zoo is very hilly with a few very steep paths. Be prepared for lots of walking up and down Ozark hills. Overall, despite the very hot day, we had a wonderful time and enjoyed the zoo a lot more than we were expecting to. Peacocks roam the zoo's beautifully landscaped entrance freely, adding a very unique feature to the zoo. We hope to be back and will happily encourage anyone thinking about visiting to do so. We were not disappointed and I don't see how any reasonable person could be. It's a five star zoo.
3 months ago Kyrie Davis
Great zoo to bring the family for an up close experience. Staff was very nice and helpful. Our grandchildren loved the petting zoo and feeding the giraffes.
8 months ago Kim Peters
Nice little zoo, go you'll be glad you supported the zoo community!
8 months ago Jill Lucas
Great little zoo. Just the right size for a,half day visit.
8 months ago Timothy Richard
It was so much fun getting to see all of the animals, especially with a group of kids. But it would have been nice if we'd been allowed to bring our lunch cooler inside.
8 months ago Troy Woodruff
Loved this zoo! Such a cool place to go to and just experience the wildlife. Good for any nice day.
8 months ago Sunitha Domathoti
We love our family time at the zoo! The variety of animals, clean park, and friendly staff make us excited to go back again and again!
9 months ago Barrett Burns
Several exhibits closed in the buildings. But most are open that we saw. Animals seemed to be visible most of the time. Great family outing. Military discount.
8 months ago Josette Jones
It was a busy day at the zoo today but we had a lot of fun. Staff was friendly and animals adorable. It was a beautiful day.
8 months ago Rohit Verma
A lot of walking, some mask wearing depending on what building and or ride you participated with. Kinda an average experience even though this March 28th 2021 day was beautiful and cool outside. Some exhibit's didn't have anything - there were a few exhibit's being maintained. It'd been 8 or so years ago since the last visit with young kids. Before that about 6 - 7 years taking a group of MR and DD men and women to visit. In all fairness I really don't recall what Dikerson Park Zoo was like then due to these distractions. I suppose I was expecting a little better experience.
9 months ago Nick Summy
A nice place to spend the day with the family and children
8 months ago Dark Shade
For a smaller zoo, it is a great place to take my daughters. The reason for the four stars is because the train ride just went around the lake and the train was very dated. Other than that, we are looking forward to our next visit.
9 months ago Keith Plasse
I enjoyed the day, but it seemed as though I picked nap time for most of the animals ????. The peacocks & giraffes were GORGEOUS!! And, the otters were super cute & playful ????
8 months ago Rahul Bajaj
There weren't to many animals out to see, but the ones we saw we enjoyed. The playground is the most dangerous playground I have ever been to. It is so high up that it is dangerous for bigger kids but horribly dangerous for smaller kids. There should also be 2 play areas so little kids aren't trampled all over by big kids. The train ride was a circle around a pond instead of through the zoo area. I was not impressed at all. The cost of getting in would be the same cost to travel to St.Louis and the zoo there is free and way better. Probably not going back unless there are some improvements made. I will say we met some nice people and the shop had reasonable prices.
10 months ago
Popular places from the category Zoo