Chihuly Collection
Art gallery Chihuly Collection, 720 Central Ave, St. Petersburg, FL 33701, United States:
220 reviews
of users and employees, detailed information about the address, opening hours, location on the map, attendance, photos, menus, phone number and a huge amount of other detailed and useful information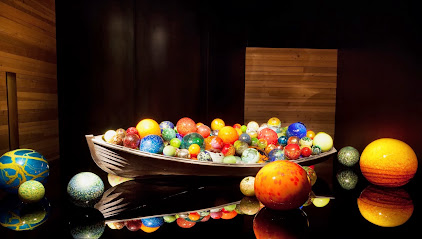 Address:
720 Central Ave, St. Petersburg, FL 33701, United States
GPS coordinates
Latitude:
27.7710159
Longitude:
-82.6443525
Location on the map
Reviews Rebekkah Navarrette
I love Dale Chihuly and have seen his exhibitions all over the US. However I feel the price for what you get is a little questionable here. I feel like the exhibit was very small for the premium price they charge here. It is definitely NY prices but not the NY size. When I pay these prices in NY at the Met or Moma I can be in there for hours and still haven't finished.
9 months ago Wilfred Taino
I loved the collection, I've always been a big fan of Chihuly, and swing all the pieces they have there was truly wonderful. A great spot to learn about him and see his magnificent work. Amazing picture spots
9 months ago Lisa Strout
Very nice items. Liked it but i must say that i enjoyed the Chihuly exhibit at Franklin Conservatory Park in Columbus much more.
10 months ago Aaron Tanner
So, it's been almost a year since I witnessed this exhibit and it's still in my mind. The scale and overall amount of glass is mind-blowing. Colors, whoah! If you are in the area don't miss out. Included in your ticket price is a glassblowing demonstration just a short walk from the exhibit in the local artists' studio which also has works on display for sale.
1 month ago Brenden Thomas
Beautiful artwork. Chihuly is a master! Small collection but worth the stop. Artwork is highlighted well by lighting choices. Staff was very friendly and helpful. And they were masked for safety. $20 will give you access to Chihuly and several other nearby gallery stops.
1 month ago Lacie Christian
The Chihuly Collection is definitely a great place to visit as the glass art is awe inspiring. We really enjoyed ourselves and highly recommend stopping in. Sure, it is not a huge exhibit that will take you hours to go through, but quality over quantity is very fitting here. You can easily walk through and finish in 15 minutes, or you can stop and examine the beauty that resides deep within. Initially this stop was meant more for my wife, but both myself and our daughter had such a great time as well. It is nice to move at your pace and dig in for some really nice pics. I attached several pics, but this is just a fraction of what I was able to take. Seeing the pictures is great but definitely does not replace seeing it in person.
8 months ago Victoria Butska
A really collection of Chihuly. Plus they have is original paintings, something I haven't seen in previous Chihuly exhibits. Also a nice museum store with local glass blower's art.
10 months ago Alan Frumkin
Glass artwork can be mesmerizing as this Chihuly Collection will show. The craftsmanship and elegance of some of these pieces is mind blowing or should I say glass blowing? Admission is $20, but it also includes entry to the Morean Art Center across the street and a glass blowing demo around the corner at the Morean Glass Studio. A very great deal if you ask me! Dale Chihuly is very well know up in the Seattle, WA area so it's cool that he as an exhibit right in St. Pete. Definitely worth a visit if you appreciate the art and especially this one since there aren't many that specializes in glass sculptures.
1 month ago Isaac Darragh
His glass collection was amazing and I have never seen anything like it in my entire life. His main display piece is indescribable the complexity and artistic design is something to be seen. Something everybody should see at least once in their life.
9 months ago Lisa Robinson
Wonderful glass arts. Feels other-worldly to be inside. Had a ton of fun browsing but the collection is not too big. You'll finish in a short amount of time - in that aspect, tickets are kinda pricey but I guess it's the maintenance fee.
1 month ago Kaivalya Gawande
I have never seen so much beautiful glass blowing in my life. Very special and worth the trip
9 months ago Erika Hampton
We love Chihuly's work and have visited exhibitions in many towns including Dallas, OK City, Tacoma, and St. Pete. The St. Pete installation is well done and includes more design drawings than I remember seeing elsewhere. It took us about an hour to walk through and read the cards and take lots of photos.
10 months ago Elettra Ranno
What a beautiful exhibit! We drove 1 hour but so worth it!! Great way to spend the afternoon!
11 months ago Wayne Libby
This place is amazing. It is on the small size but you actually get admission to the Chihuly Collection and the Morean Art Center. Trust me you want to go.
1 month ago foufou akhrouf
The collection here is very strong and covers Chihuly's career well. The pieces are lit and displayed very well. Price of admission is slightly high, but it includes admission to glass blowing demos. You might want to check ahead of time to see if a demo is available on the day you're going, since they are not done every day. Otherwise, this is a great museum.
10 months ago Flakita Bella
This place was amazing. They even have a demonstration of how they make these pieces that was remarkable to watch. Check them out for sure!
3 months ago Benjamin Cronin
This place is amazing! The glasswork is beautiful...very articulate. What an imagination...the colors and shapes.
1 month ago Sean Clarke
Excellent place to visit and don't miss the demonstration
9 months ago roger trump
A very nice collection of Chihuly glass. They are all displayed magnificently. We were very glad we went.
1 month ago John Hoetjes
Great artist, well laid out collection on display. Includes admission to a cool glass blowing demo across the street.
3 months ago Isabella Perez
What a talented man! Make sure to watch the movie about him too. It's very interesting.
9 months ago Hatem Alhawi
It's been maybe a year, but I still remember every detail. I just remembered it today. Excellent work. What a fantastic selection there is. A true master!
11 months ago Emily Elliott
Amazing to see so many beautiful pieces of Chihuly glass. The glass blowing demonstration was very informative and enjoyable to partake in.
9 months ago Selena Castillo
Very nice experience. Go at your own pace then check out the glass blowing down the street its awesome.
2 weeks ago Steve Smith
Beautiful stunning work, I don't know how he made all that but amazing!
9 months ago Dede Seward
Great place to visit if you are in the St. Petersburg area! Do yourself the favor of going across the street to see the glass blowing demonstration, it's wonderful to see the love and knowledge these artists have for their classes. My only gripe... The video that would be the perfect introduction to this collection, is at the end.
1 month ago Hollywood
Beautiful. Thoughtful. Educational. What a treat to see!
2 weeks ago Mathew Moreland
Second visit and it's still so great! Love the video of him explaining how he works and exhibits.
10 months ago Varun Singh
Excellent display of his work. Wonderful video in which he explains his methods & inspirations. So worth the visit
10 months ago Patty Griffin
The museum is awesome! I take my family everytime they visit Florida. The live demonstration afterward is the best!!
10 months ago Diana Kirby
Gorgeous. Absolutely take the time to visit
10 months ago Nathan Price
While the artwork is absolutely beautiful, the exhibit is extremely small. We took our time, viewed all of the art and were done in about 15 minutes. We walked over to the glass studio to see the glass blowing demonstration which made the ticket price a little more acceptable- however, it didn't seem like they were really checking to make sure everyone that entered actually had a ticket. After having visited the Chihuly museum in Seattle, I feel that the $20 ticket price is too high for what you're getting- especially if you are unable to do/get into the glass blowing demonstration as it seems to fill up quickly.
1 week ago Arthur Hicks
Great artwork but the collection is small, I was out the door in under 15 minutes.
9 months ago M Potter
We almost didn't come here because it would have cost us $40 for 2 tickets which we thought was quite pricey, but we're so glad we came. Even though there are not that many exhibits, we ended up spending over 3 hours taking our time photographing the amazing colourful glass sculptures (beautifully lit by the way) & watching all the fascinating films about Dale Chihuly. I would definitely recommend this museum. 2nd in St. Pete's to The Dali in our humble opinion!
3 months ago Roberta Cross
Such an incredible artist. The glass installation is amazing.his paintings are so unique. Check out the glassblowing demonstration incredible
11 months ago carrie wisniewski
Small collection of high quality Chihuly art. Enjoyed our visit along with the glass blowing demonstration.
10 months ago Lisa Griffin
Although the museum is small, the Chihuly pieces are amazing! The museum's setting for the pieces bring out the best of them! (I worked at Van Andel Institute for 20 years. The founder, Jay Van Andel commissioned a Chihuly DNA strand in honor of his wife Betty. It was so cool to see that as I entered the building every day!)
1 week ago Jamie Clark
Great little spot in St Pete. The artwork is very neat, but be aware you can walk slow and only be in there for an hour. Our tickets came with a live glass blowing demonstration which was one of the best parts!! Wish I'd gone back through after getting that understanding of the process.
2 months ago Hoi Dag
Nusel away in downtown St. Petersburg, FL was this little exhibit. Charming and beautiful to behold. I enjoyed all of the warm colors and artistry.
2 months ago Michael Guetzko
Great place to see some of Chihuly's outstanding work. Very enjoyable, good covid protocols and good flow.
1 month ago Sarah Murray
Nice place, but too small and overpriced by my opinion :)
9 months ago Sridhar Srinivasan
Nice small collection of Chihuly's art. I've seen several of his installations in other parts of the US, but it was cool to see a bunch of his work in one place and learn more about the artist while checking it out.
2 months ago Runlyt
Fascinating collection of Chihuly art glass. Beautifully displayed. Shop and demo across the street also well worth the visit.
2 weeks ago Richard Procise
A must for an art lover, the glass pieces are fantastic. Make sure to visit their glass blowing studio across the street, it's included in the ticket's price.
9 months ago Irit Bashan
Was cool some really good work of art.not worth 20 dollers.very little art work for sale.
10 months ago Nate Chertack
Beautiful! The design of these pieces, let alone the time and energy of creating them.
10 months ago alyssa bronner
It's one of the best places to visit in St Petersburg — not only can you learn a lot, but you can also take picture and videos of anything you wish. I love all of the beautiful glass pieces that are perfectly placed in the exhibit.
11 months ago Jay Antonelli
Beautiful...but pricey. Especially because it doesn't take long to see it all.
9 months ago Keith Leonard
Really nice presentation of glass art creations by Chihuly. You can also observe a live glass blowing event. Very interesting.
1 month ago Chandramoon maharjan
That was a last minute decision in our vaccinations in St. Pete. Highly recommend, you will not regret!
10 months ago
Popular places from the category Art gallery