Signarama of Wilmington
Print shop Signarama of Wilmington, 2509 S College Rd A, Wilmington, NC 28412, United States:
33 reviews
of users and employees, detailed information about the address, opening hours, location on the map, attendance, photos, menus, phone number and a huge amount of other detailed and useful information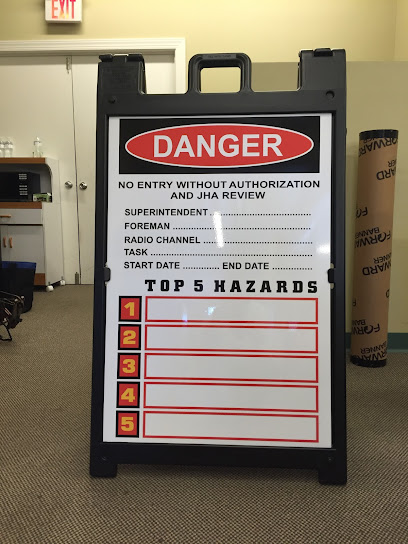 Address:
2509 S College Rd A, Wilmington, NC 28412, United States
GPS coordinates
Latitude:
34.1992840
Longitude:
-77.8878709
Location on the map
Reviews Andrew Nash
We were getting way to much morning sun in four of our windows. We covered those windows with a vinyl photo which was visible outside and not in the house. Stopped the brightness of the early morning sun immediately. Also it looks great.
6 months ago Deatrice reason
Rebecca and Len have done a wonderful job for me in the short period of time I've been doing business with them. They lettered my vehicles, they manufactured site signs for me and now they've made signs for our office marquee. The service has been impeccable! All requests have been handled in a timely manner and they have a great attitude to go along with great work. I'm very happy with their work and I recommend their services if you're in the market for signage. I look forward to doing more business with them in the future.
10 months ago Krystal Nagorka
We needed a logo sign for our podium and wow did they do a great job! Everyone was so professional and helpful with our design. We will do business with them often in the future.
6 months ago Brenda Geiler
Signarama of Wilmington provides the best customer service and a great finished product. I have worked with them on several projects and their work is fantastic and good quality!! I appreciate their friendliness and accuracy in what the customer wants for their finished product.
2 months ago md jakaria
My experience with Signarama has been excellent. First we had a large sign designed and made for The Ormond Center, an outreach project of St. Paul's Episcopal Church. It turned out to be wonderful. Then we had individual signs for each of the four agencies occupying the Center. They were just GREAT!!! Rather than hanging them on the uneven brick surface the staff recommended placing them on a substrate and hanging them below the sign. They look individual and have the appearance of floating. The staff team are all professional, helpful, and experienced in their field. I highly recommend Signarama for any of your sign needs.
11 months ago tammy b
I had a last minute need for a custom banner and found these folks via a Google search. I spoke with Rebecca. She was very eager to please and we quickly came to an agreement. I emailed my graphic that evening and picked up the finished banner early the next afternoon. Very nice product, competitively priced, and super responsive! Wouldn't hesitate to do business with them again.
3 months ago Deepali Garg
Rebecca & Len were wonderful to work with, they have made signs for us before and now recently updated them with our new logo. They were prompt and attentive. The signs came out wonderful !!
1 month ago Trina Morrison
I was extremely happy with the service I received. Rebecca was very attentive and a pleasure to accommodate me with my advertising needs.
2 months ago Mandy holeman
Signarama is a quality company with great service, product and price. Highly recommend .
9 months ago Gary Chen
My experience was excellent. Len and Rebecca was awesome. Details were explained very explicit. I was very excited about my sign,it was terrific,very happy. I would recommend you my friend , family, associate.
11 months ago Michalis Sotiriadis
Great to work with Len & Rebecca. They handle all my commercial building signs. They are prompt and responsive to changes during the proof process. Quality and installation are always excellent and reasonably priced.
8 months ago Chris Lee
I have loved working with Sign A Rama! I reached out to 5 different local sign companies and sign a Rama was not only the cheapest but also the friendliest and their designs were the best! They also were very proactive in all of their responses as well as installation. Other locations would say that would call back the next business day and I would have to run behind them numerous times to even get someone to come out for a quote! I have the complete opposite experience with this company! I highly recommend them to anyone & look forward to future business as well!
7 months ago kamalika chakraborty
They are so creative, reliable, and amazing quality work! They did life sized cut-outs of my husband and I for a party as well as massive signage, a banner, and they even customized the wine and liquor bottles for the occasion. I would recommend them for any sign needs- big or small. They truly are the best in town.
7 months ago Treg Cunningham
I inquired about a yard sign for my graduation senior on Monday and had the sign ready for me for pick up by Thursday. The quality and workmanship are outstanding and my senior was very proud when she saw it. Thanks, Rebecca and Len!
11 months ago robert church
Great customer service and professional work!
1 month ago Samantha Brown
We have been using signarama for a variety of needs for years, mostly stickers and signs. They are easy to communicate with, always responsive with updates, and have very good quality products. Signarama will continue to be our go to for custom signage!
7 months ago Rose Brandt
Recently I volunteered to decorate a tree for Hospice. I had an idea of a banner to hang on the tree. I knew what I wanted to say but I didn't have an actual vision for it. The owners were so helpful and able to make me The Perfect Banner! It was just perfect. I would highly recommend them. They are creative and very nice to work with! A five star business!
8 months ago Russ Ault
Rebecca and Len are excellent to work with. Their expertise on printing materials and signs to promote our new business have been instrumental. Will continue to order all my signs from them.
8 months ago Krystal Nagorka
Signarama Wilmington has all to capability and skills to perform just about any signage needs that you have. The staff is friendly and motivated to assist you. I love these guys!!!!!!
5 months ago Erin Spake
My company did a re branding and changed our logo so Rebecca & Len did our exterior signs, interior signs, business cards, and logo mats for the floor. They are terrific- everything was perfect!
7 months ago Tre God
Very nice people to work with, they really know what they are doing! Highly recommend...
7 months ago Tom Szudarek
Everyone is very friendly! I would highly recommend them!
7 months ago Andrew Nelson
Sign A Rama is the best! The graphic designer took a collection of images I provided and laid out a professional yard sign for my real estate business. The material they used is of high quality (not your typical sheet metal) and I anticipate it lasting for many years to come. I was so impressed, I went back the following week and ordered several other types of signs.The signage looks great thanks to Sign A Rama!
5 months ago Virgilio Abdulio
Love these guys! I don't often write reviews, but the Signarama on College Rd in Wilmington, NC does outstanding work. They're professionals. They know what they're doing, and they get the job done on time. If you need fresh ideas, talk to them. They've helped me a lot.
10 months ago Joyce James
Excellent people to deal with. They know their business and make it easy on their clients to choose the most effective sign to meet their needs. Quality is top notch.
9 months ago Ashley McKnight
Signarama is by far the best sign shop in town. Not only do they produce the highest quality signs, but their customer service can not be beat! I highly recommend!!
2 months ago Anil Javde
My wife opened a store in Wilmington and reached out to Rebecca and Len to help her. They made some great suggestions and provided us with a solution at a very fair price. It has been 2 years and the signs are still holding up and we continue to use the store for all of our signage and printing needs.
2 months ago Volein Hart
I ordered a trade show banner for an event and Rebecca and Len saved me $ and wowed me with the banner!It is light weight,packs up easy and the resolution was beautiful!!!Thank you!
8 months ago Mason Herr
Len and Rebecca are a class act. If you want quality and actual customer service this is your place! They did a complete design of our logo and handle all of our trade show displays time after time. They are an amazing team and reasonably priced. This is a home run in my book. Thank you so much Len and Rebecca. My time is valuable and you nail our projects every time. Greatly appreciate your efforts! Thank you.
1 month ago Kiara Eickmeier
We have been doing business with Len and Rebecca for years and have always been very satisfied with the work ...even when we had rush jobs on short notice they have always come thru for us. Real pros.
9 months ago Katherine Brown
When one walks in the door to Signarama of Wilmington you are greeted with the most friendly of greetings. This team easily and professionally plans out and handles all your needs from business cards to party banners! Rebecca and Len are fantastic! I have always been happy with Signarama's of Wilmington's quality of work!
11 months ago Markai Pickett
Took 2 weeks to get boat letters. I ordered Royal blue and yellow to match my boat. Got purple and yellow. Not pleased with customer service overpriced would not recomend!
5 months ago Jason Campbell
Best vehicle wrap ever!
1 month ago
Popular places from the category Print shop