Boone Laser Wash
Car wash Boone Laser Wash, 921 Mamie Eisenhower Ave, Boone, IA 50036, United States:
35 reviews
of users and employees, detailed information about the address, opening hours, location on the map, attendance, photos, menus, phone number and a huge amount of other detailed and useful information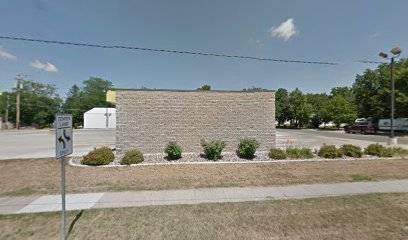 Address:
921 Mamie Eisenhower Ave, Boone, IA 50036, United States
GPS coordinates
Latitude:
42.0597772
Longitude:
-93.8786974
Location on the map
Reviews anthony delmasto
Money / wash time ratio is really good considering the bays are large , clean,, take cards or coin,always have had soap ,wax and plenty of constant pressure, very easy for large vehicles to get in and out.
7 months ago Michele Cole
Always clean and taken care of I seen them even take a elderly woman thru because she was not sure on how it worked so one of the staff drove her car thru that's something I've never seen. Keep it up guys
7 months ago German Mikhaylov
Nice facility for a quick wash. The price is very expensive for what you get. Need convenient vacuums for customers. The best in Boone that we could find.
1 week ago jason clarke
Good place to go to get your carwash
8 months ago Ginelle Mohrhardt
Like most brushless/touchless car washes, it does not get your vehicle 100% clean, especially the tire rims. The air dryers are not powerful, or are just too high, too get most of the water off cars and smaller SUVs.
10 months ago Kathy Dukes
Car wash has two automatic bays. 1 double manual bay and 2 manual bays. It also has a pet wash area in the middle. Automatic bays are touchless and has a complete undercarriage wash when entering the bay. I use this car wash atleast once a month.
10 months ago Kayla McNally
Prices are very high for the automatic, but the manual bay was in good working order and has good pressure.
1 month ago James King
Missed the center strip of my 3/4 ton pickup
8 months ago Liz Libby
Was here in December, put in additional quarters, received no additional time. Had to call owner and fill out paperwork to request refund (still not received after 2 weeks). January 4, 2021, out of order sign that I put up has been removed, but machine pulled the same thing.
11 months ago Matthew Sargent
I live in Ames and drive to Boone just for this car wash. It is well maintained, priced well, and the owner and workers are always quick to help if you need it.
3 weeks ago Travis Howe
Of the washes in town this is probably the best. Prices are reasonable and works the best.
7 months ago Vera Pool
Great wash! Excellent service ????
6 months ago Petteri Kippo
Went to automatic car wash and paid $11 for the machine to glitch and car was not washed completely and blow dry fans turned on while I still had soap on half side of the car. Tried calling because no attendant was there and there was NO voicemail, this place is a joke.
4 months ago Roger Shepard
Decent priced and never had any problems.
5 months ago Tomtnt Lovett
Great thanks!
11 months ago Kaiden Vlogs
Somehow I am happy when my car is clean, at least on the outside. Laser Wash is conveniently located. The Wash menu was easy to comprehend and paying was simple with the swipe of a card. Touchless wash and dry took just a few minutes. I am happy until my next trip down the freeway.
6 months ago Rayyan Anwer
Great dog wash bay thank you for having one
8 months ago Dhruv Phatak
Great place to get a car wash
7 months ago Scott Dahnke
Stopped by to wash my bike. The attendant was friendly and was busy keeping the place clean. After i was done drying my vehicle, i drove off leaving the remainder of my change on the ledge. I rode back up after i realized i left my change behind. The attendant flagged me down and returned my change. It wasn't much money but the fact he returned it was huge. Honesty is alive and well in Boone, Iowa.
9 months ago Kamal James
Back of car was still dirty. Rest of car looked great.
7 months ago Pravika Joshi
great price and all machines work good
7 months ago Xenia Covas
I think they have put some new equipment or made some kind of adjustment, seems tp be doing a better job washing.
9 months ago Sara Burnett
Best car wash in town!
7 months ago Saara Anniina
Got the winter dirt off. I love the dryer!
6 months ago Krzysztof Zielonka
clean, good prices, nice clean car
7 months ago Sam Skowronek
Quality service!
7 months ago Basm Farraj
Best car wash in Boone!
8 months ago Sophie P
Doesn't have brushes , still does fare job
3 days ago Gokul prasad
Great for a quick wash!
4 days ago Agustin Gomez
Car Wash does a fabulous job!
9 months ago Jonathan Hartzell
Very nice!!!!
8 months ago Sabrina Fennelly
Clean the first time.
8 months ago X Starr
Works ok.
1 month ago Terrance Wessel
Great car wash
4 days ago Victoria Warren
Gets the job done.
3 months ago
Popular places from the category Car wash