Olsen's Danish Village Bakery
Bakery Olsen's Danish Village Bakery, 1529 Mission Dr, Solvang, CA 93463, United States:
220 reviews
of users and employees, detailed information about the address, opening hours, location on the map, attendance, photos, menus, phone number and a huge amount of other detailed and useful information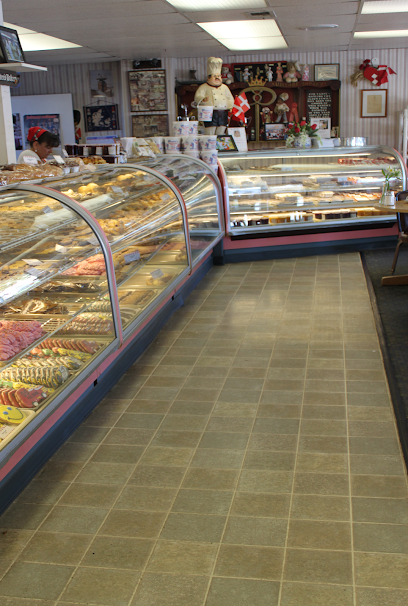 Address:
1529 Mission Dr, Solvang, CA 93463, United States
GPS coordinates
Latitude:
34.5962580
Longitude:
-120.1442240
Location on the map
Reviews Lexii Fewer
Clean, ABUNDANT choices!, friendly and polite staff, and those that eat gluten said it was a wonderful bakery! Free street parking, sit in or out, free public restroom just across the street. Travel tip: buy lots of tubs of Danish butter …
7 months ago Maegan
This bakery just celebrated 50 years! They have so many varieties of pastries and goodies. What impressed me most was they had gluten free variety as well and the lady specifically washed her pans and tongs before handling the gluten free …
7 months ago Sue Strasenburgh
Nice little local cafe in looks, but there seem to have so many tourist in there with me. Many great selection of pastries. We like the Coconut Macaroon, Almond raspberry tart, Napoleon hat, the chocolate on it was perfect. Love the coffee too.
8 months ago Madeline Murphree
Delicious Danish pastries and jellies! So many to choose from, apple strudel, cherry strudel, yummy coffees and hot chocolate. Bought enough for our family of four to share for the weekend.
7 months ago Anthony Clark
Great bakery with a huge selection. Because they make their own apricot and raspberry preserves, I would recommend these flavors of Danish pastry. The staff were friendly and honest to also recommend trying another Danish-run bakery in town …
9 months ago Ayeeshah Speakes
Everything is delectable and so fresh. I had a bearclaw that was so good it didn't need frosting. They also serve crusty rolls with creamy cheese. The bakery has been in Solvang as long as I can remember and the lines outside attest to it's popularity.
7 months ago Mike Dixon
Lovely bakery in Solvang. Wonderful pastries, danishes, cakes, cookies, breads. Friendly staff, reasonable prices. It's a popular bakery so go early in the day for more choices. Always love Olsen's!
8 months ago Montia Sanford
This place is 50 years of place and I must say it had an authenticity for sure!! Loved their almond bear claw, blueberry Danish pastry and these cookies. It has a long wait to get in but worth it. I am sure there will be many other items worth to try. Must go,, if in Solvang!
1 month ago Dayvid Brooks
So good! Everything here was amazing. I got a bunch of random things to try and it was all so good, you just can't go wrong.
7 months ago Debbie T
This Bakery is number #1 in my book, the pastries, cookies, bread All fresh. Yes! We had to stand in line for about 30 minutes but it was worth it we came from seal Beach to work on a commercial shoot I will definitely return to this Danish bakery. Thank you Olson's you guys rock!
9 months ago Mason Boutis
Amazing fresh baked goods. Yummy. Long wait but totally worth it. One of the originals of Solvang. A must to visit.
8 months ago Luke Kikukawa
After a delightful stay at the Hadsten House, the continental breakfast brought me to this even more delightful bakery. Charming inside and out, staffed with friendly, efficient workers and delicious pastries and coffee it was the perfect end to a lovely stay.
7 months ago Mags McGarr
The continental breakfast was such a good deal. Their cheese and jam are sooo good! I liked their rolls as well.
8 months ago Oyebisi Abiodun
Fresh baked danish delicacies and gourmet coffee in a very cozy environment. Can't ask for more. We had almond horns and butter cookies with house and it was so yummy.
9 months ago Finla Biswal
Amazing sweets and treats. Love the baked goods here. It's hard to go wrong
8 months ago Jeffrey Humphries
Visited this place September 12, 2020 and enjoyed every pastry we tried. I don't know what the problem other reviewers had but obviously some of the pastries are going to be sweet, duh they're pastries! Also the selection is enormous. How …
3 months ago Jennifer White
Have always loved Olsen's but this visit was somewhat disappointing - the Kringle didn't taste as rich as had 13 years ago. I also noted the ingredients listed Margerine not Butter as the owner had told us they used 13 years ago. Was still better than can be found in most but in Wisconsin we use real butter for authentic Kringles.
7 months ago Jeff Hollar
Everything we got here was super tasty and fresh! Swedish desert was the best! Thank you!
7 months ago Sanjar Nurilloev
What a delightful shop. Very difficult to choose an item. Be sure to take home a bucket of butter cookies for everyone on your gift giving list and one for yourself.
8 months ago Stephanie Kingery
Great pastries, service is excellent, always look forward to stopping here to get something special on the way home.
7 months ago H Harris
Always love stocking up on Danish favorites from this place. Apparently so does everyone else with the long line to get in! Dropped $100 easy that will last only about a week. LOL
9 months ago Raj Dom
Excellent variety of delicious pastries and food. Service is also excellent.
7 months ago NM karimi
This bakery is the best. Always fresh and always great chouces...!! I come here eventide I'm in the area. (I may be here too often!!) Don't pass this place up.
9 months ago Collin Evans
Great value, service, and quality. For those people that rated this place poorly because the desserts are too sweet....I don't know what they were expecting. Authentic danishes are supposed to be sweet
4 months ago Sumit Patel
Nice Danish bakery. The bakery was busy and had lots of tourists. Recommended stop on 101 south.
8 months ago Gary Collins
The best authentic Danish Almond Kringle in Solvang. Great customer service, best to pre-order for pickup. It gets crowded in morning.
8 months ago Emily Grenier
A must-visit while in Solvang. Tasty pastries, cookies, and other delicious, sweet treats await you at this great bakery.
7 months ago Espen Rodsjo
Great bakery. Wonderful coffee. Carried home the raisin bread. Stayed fresh!
9 months ago Remo Carbetta
Customer service was horrible the cashier forgot to give me my coffe when I ask for she just said oh it's right there amd walk oway not even a sorry she forgot half of my order
7 months ago Mike Baggett
Fantastic foods in Solvang wonderland. Especially, you should buy its butter.
3 months ago Breher Meier
The place had a charming vibe and the desserts were good if a little overpriced (which is to be expected in a tourist place). The only issue I had was the lack of eggless or vegan or any kind of dietary restriction based options.
7 months ago Selena Deloera
Great little continental breakfast. Wonderfull Bakery. Thank you Hasten House and the Chumash Hotel & Casino for the overnighter.
10 months ago Adam torres
This Danish Almond Kringle will melt in your mouth. The almond paste is perfectly made and the pastry overall has a delightful crunch. SUPER FRESH!
4 weeks ago Kyle Thomas
The pastries are nothing to crow about. Tastes like what you get at you local grocery store. The lines are long and they run out of varieties by late afternoon.
8 months ago Kevon Hughes
One of our favorite stops when we visit Solvang. We always get the apple strudel, but then we usually try out a few other things too, and they're all tasty. Some are a bit too sweet for my taste but I'm sure others will prefer those.
2 months ago Di Roberts
One of the best Danish bakery places I've been. Loved their coffee, rolls and cookies. Must try when you are in Solvang.
10 months ago Velkumar Thangavel
Number of items seem to have reduced a lot now and the items tasted pretty average for us. Nothing unique really to come back here.
8 months ago Ali Mohamed
We asked what was most popular, and they mentioned a few things including the "waffle" (not at all like an American waffle). We ordered that for $4.25. It's definitely hard to describe... The cookie part of it was like... like a fried, …
6 months ago Lace Stokes
Almond tart was good. Cinnamon crunchy thing was great. Mocha roll was meh. Kringle slice was good
10 months ago Anna Blossom
You must visit Olsens when you are in solvang. The pastries are amazing !!!
10 months ago Dhan
Never disappoints, no matter how long it has been one has not been there...
8 months ago shirley johnston
Love this place! I have driven up to solvang quite a few times, and I have not done ANYTHING except get food at Olsen's baceri. I always get swedish delight, and they do an amazing job here! They do serve coffee, also. They do have a …
9 months ago Zuko
I come specifically to Solvang because this place is sooooo delicious! Have not found other places that have this quality of baked goods.
9 months ago Brad Kingsbury
Lots and lots of bakery in Danish style. Mostly famous for the butter cookies.
4 days ago Dae Sheils
We love their Danish cookies! Good to buy three tubs of their cookies for more savings. Nice ambience with so much pastries.
9 months ago Lynda Pearse
It's an amazing place with great crowd. Amazing service. The items we ordered were so delicious. Its my first time having eclairs and waffle of that store and they are so amazing. I was lost into another world tasting them. I felt that the coconut macaroons are little more sweet.
9 months ago Hannah Holte
We wound up eating breakfast here several times during our stay in Solvang. All of the pastries are delicious, and they offer a very inexpensive breakfast with coffee or tea, pastry, a roll, and cheese. Will definitely be back next time we're in Solvang!
3 months ago Lin
The taste was just so so. In fact, some of the thing we bought were pretty bad. We bought a lot and this is our 3rd time trying because we figure all these people can't be wrong. I still gave this a 3 since maybe it's just an individual taste thing.
10 months ago Cynthia Giliberto
Really really sweet pastries. Even the least sweet items recommended by employees are too sweet. It's a popular spot right on the main part of town. Most pastries taste the same. There is a wait usually on weekends. Most tourists visit this spot but I wouldn't go out of my way for it.
5 months ago Tyler Walton
Love love this bakery. A bit pricey but worth it.
8 months ago
Popular places from the category Bakery