Monona Terrace Community and Convention Center
Convention center Monona Terrace Community and Convention Center, 1 John Nolen Dr, Madison, WI 53703, United States:
220 reviews
of users and employees, detailed information about the address, opening hours, location on the map, attendance, photos, menus, phone number and a huge amount of other detailed and useful information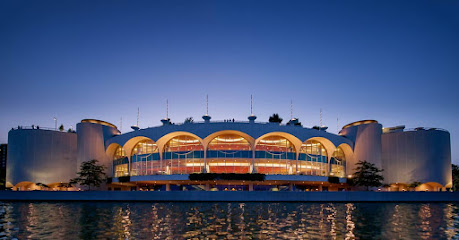 Address:
1 John Nolen Dr, Madison, WI 53703, United States
GPS coordinates
Latitude:
43.0716832
Longitude:
-89.3801502
Location on the map
Reviews harpreet kaur
It was beautiful out there! There were people out on Lake Monona. They are out voting and just having fun! A bunch of walkers, also or out there! A bunch of bicycle riders also!
7 months ago yaser ibrahim
Love coming here for the sunrise after work
7 months ago maura greaney
Was very happy with how they managed attendance flow, minimizing exposure between groups
8 months ago Nick Dusil
This event was so heart touching to see the work that the students from different schools in the communities worked so hard to build a replica of what they felt was in Madison. I brought my daughter here and she had the opportunity to build …
8 months ago Guiselle Mora
This place looks amazing. Just a good place for nice walk around and enjoy the design of the famous Frank Lloyd Wright.
9 months ago Victor Torres
While out on an 8 mile walkabout.. I meandered through Monona Terrace. F. Lloyd Wright inspired and inspirational and beautiful vistas in EVERY direction. Now imagine when they reopen all the amenities and it is fully functional. Yeah, probably too busy. On a deserted Sunday Morning, it was wonderful.
4 months ago Harold Besser
Beautiful views! Historic, iconic F. L. Wright envisioned architecture flows gracefully with the natural landscape and the cityscape. Elegant incorporation of public art. Tremendously helpful and friendly staff. Great catering and tech support!
8 months ago Jeff Lenney
There are excellent Madison views in many different directions here. The $5 parking fee is a ripoff. I was here less than an hour and got the full day fee. Wow. Still the views are great and worth seeing once.
9 months ago Jubal Slone
Frank Lloyd Wright designed it many years before it's been built. Great view to a beautiful Lake Monona! Two story conference rooms w/ escalators to lower big exhibition hall. It's a great place to host an event or conference in winters. …
7 months ago Tyler Leigh
Wasn't sure what to expect when I my daughter mentioned this "Monona Terrace" thing, ended up being a very cool little visit. Nice facility, nice view, pleasant walk on the lake. If it wasn't a holiday would have liked to ate at the cafe. Seemed like a nice relaxing way to end our weekend in Madison.
4 months ago Laurie Elliott
I decided to book Monona Terrace for our wedding back in August of 2019 and I think it was one of the best decisions I've ever made. We decided to attend Dane Dances as a Rehearsal Celebration (in lieu of a rehearsal dinner) the night …
10 months ago J Jakubo
We went to the Pokemon Regionals tournament and had a great time! The staff were great and the extra events and games for people not participating in the main event were great! The announcers had great senses of humor and were kind. We'll definitely be back again next year, thank you!
9 months ago Hannah Ellingson
Beautiful place to have a business event. The view is pretty amazing and the facilities were clean and well kept. I can only imagine how cool it'd be to host a wedding here. They also do concerts up on the top terrace overlooking both the lake and the capital. It's really nice
7 months ago Jean Tugwell
What an awesome location and resource. We were here for a convention, and felt very well taken care of the entire time. Parking is extremely simple and convenient. The food is delicious. The waiters and staff in general are polite and very …
8 months ago Sean Meyer
This curvilinear complex linking the shore of Lake Monona to the State Capitol by Frank Lloyd Wright is perhaps best appreciated from the water. Taliesin architect Tony Puttnam redesigned the interiors. Orange and curves, oh my!
1 month ago Deborah Farr
Convenient on site parking...Spacious area to conduct Dane County Presidential vote recount..
7 months ago YU ZHONG
Lovely views. Spacious rooms. Good food.
4 months ago Jaganntha Mondal
Wonderful place to have an event. Right on the water with a beautiful view of Lake Monona. Clean. Courteous and friendly staff. Food is good.
5 months ago Rahav Eppstein
Snow on Halloween didn't dampen the experience of attending a conference at Monona Terrace. A wonderful event venue and a historic location in its own right.
8 months ago kim p
Beautiful view of the lake and easy to navigate to different rooms.
7 months ago Jarrett Smith
An ode to concrete and to Wright's ego. It could have been a beautiful landscape park with the road hidden below. So much for Wright's communing with nature - not much greenery to be had except a few sad trees in concrete containers. At least the roof doesn't leak on this one. The cult of personality wins out again...
7 months ago Harsimar Singh
Building designed by Frank Lloyd Wright with various event spaces and wonderful lake views.
11 months ago Cindy Glaze
Nice views, upbeat and friendly vibe. The restaurant has decent food with prompt counter service. Avoid the ice cream as it is portioned in advance. Individual portions are served frozen hard with some freezerburn. Overall seems to be a positive for downtown Madison.
1 month ago Lisa Hall
Beautiful View and location. I don't like paying for parking normally... but this place is so well kept and manicured, I didn't mind (in hindsight).
2 months ago Diane Stephens
Amazing convention and meeting venue designed by Frank Lloyd Wright in the heartbeat of downtown Madison (in the shadow of the capitol building and on the edge of Lake Monona)
4 months ago EARL SWEENEY
Beautiful lake view, easy parking. You can park here and walk downtown.
3 months ago Mark Cosby
Beautiful location, with an epic view of the lake. Have been here when they had a wedding. Must have been a beautiful location for this- ballrooms look very elegant. Honestly though, that view of the lake. Windows overlooking are huge and …
7 months ago Carlos Dominguez
My favorite venue in the state. Every year I've attended and been a part of the glassblowing tradeshows hosted there it's been wonderful. The architecture and views inside and around the building are great. The atmosphere is very professional and friendly. Location on the lake is pristine.
8 months ago CE Behr
Visited this place in a full moon! If you want to enjoy a magnificent full moon over the lake this is the exact view you want to have, bonus with a peek of the Capitol building.
7 months ago Kaloolah Felver
This facility is always great. The Winter Art Fair Off the Square was very nice. Our 4 year old daughter loved being able to shop for art, no adults allowed, in the kid area. She's very proud and happy with her first ever art purchase!
1 month ago Justin Mcgowan
You have to time the weather and your mood right - bad weather (or even really hot and muggy weather) could ruin the experience, and you order and pick up your own food so don't expect table service. But the food was quite good, the drinks …
2 months ago Rajesh Kumar
Great for the whole family at Madison, Wi
2 months ago Todd Miller
Nice walk from state capitol. Nice view of the lake and roof top flower garden.
7 months ago Barri Ali
Beautiful building right on the water...great place to host the annual Ironman race!
8 months ago Mareaeric Campagna
Place is beautiful the particular even not so much a lot of vendors that had nothing to do with the theme (building remodeling and landscaping) for an example. Women's make up? What how... Why... But the building is amazing with an amazing view
9 months ago Edward griffin
The music is great the weather is fantastic food ok
9 months ago JP M
Very nice place. Our family company was nominated for the Wisconsin Family Business of The Year Award and the ceremony took place here. Parking was around $5 for about 4 hours. The main hall has a beautiful view over looking the lake, while …
7 months ago Jessie Santos
love the terrace. it's open all the time so I come here to disassociate late at night. also great view of the capital (the lake is better). each lake has a different feel, monona's being more melancholic.
9 months ago Bloom
I went with some friends to the BritBeat concert on the rooftop. The part of the building I walked through, the bathrooms, and the event area on the roof were very clean. The staff was friendly, and the location was gorgeous.
2 days ago allison maxwell
Amazing really beautiful views attended builders home show. Convenient to the Hilton don't even have to walk out in the cold to get there and hotel has hot tub!
10 months ago Barbara Lourdes
I loved it. It was so relaxing and I'm looking forward to going again.
7 months ago Joseph Ciborowski
A place to watch the beautiful views I'd the lake. We spent many summer evenings on the terrace watching the lake . My only con is the food options that are available there. Wish they had more options and hygienic. This problem was solved by taking food from near by restaurants.
7 months ago charles rollins
Great venue for all sorts of events, easy parking and helpful staff.
1 month ago Marilin MP
Half of the terrace was blocked for some event, enjoyed a cold brew coffee on the other side
10 months ago Sheena Ibanez
Great venue for events. Roof top garden has great views and a cafe.
11 months ago britny button
Was a great day, my best bro in Wisconsin got clean. Off to another journey
9 months ago Candy Jolin
Great view lake & Capital!
9 months ago ISHIMWE Samuel
Great urban space by great architect Frank Lloyd Wright. Really enjoyed the view of Monana Lake there.
7 months ago Veroni Adkins
We were here for a work function for my wife's company. It was an excellent venue for holding such a function. It also has a wonderful view of the water which adds to the whole experience.
10 months ago Adam L
Excellent tour. The guide provided the background on all aspects of the Convention Center coming to fruition. Stunning structure. The landscaping and plant selection is incredibly varied and suits the structure beautifully. Loved grasses used at pedestrian/bike path waving with the breeze.
9 months ago
Popular places from the category Convention center