Remai Modern
Art gallery Remai Modern, 102 Spadina Crescent E, Saskatoon, SK S7K 0L3, Canada:
220 reviews
of users and employees, detailed information about the address, opening hours, location on the map, attendance, photos, menus, phone number and a huge amount of other detailed and useful information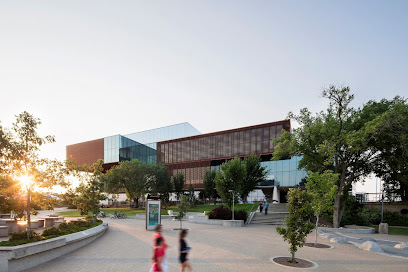 Address:
102 Spadina Crescent E, Saskatoon, SK S7K 0L3, Canada
GPS coordinates
Latitude:
52.1228780
Longitude:
-106.6670177
Location on the map
Reviews Juan Guerrero
I have been visiting the Remai Modern Art Gallery for about three years now and I have loved seeing all the different exhibits that have come and gone throughout the years. Recently I visited the Thelma Pepper photography exhibit and it was one of my favourites that I have seen thus far. The day admission prices are decently priced (around $12 for one adult).
10 months ago Lauren Mayfield
Beautiful space and thoughtful rotating exhibits. This is the perfect place to explore and has something for everyone. If you live in Saskatoon, get a (very reasonably priced!) membership and go often. I always notice something new and it is great to be able to pop in for 30 min and not have to worry that I can't see everything during that visit.
1 month ago Sean Dennis
Enjoyed the members' preview of Thelma Pepper show. Great views of the river at night as well.
1 week ago Kathryn Donahue
Came up to see "Borderline" and was not disappointed! Such a fantastic show. The curation at the Remai is always top-notch, and having facilitators present in the exhibit space was such a great experience! They were wonderful, knowledgeable, and I had some great conversations with them about the work.
4 months ago Luis Calderon
Nice way to spend an afternoon. Local artists have terrific displays.
10 months ago Damian Bracks
So I have travelled quite a lot and have seen many art galleries, some of the greatest in the world and some hidden ones. And I myself am an artist with my work having been at the Mendel Art Gallery and others, so after finally being able to park near the Remai Modern I thought I would check it out. After an astonishing $24 for the two of us to get in, I was expecting something magnificent. I don't want to seem to trash this gallery, but a little foreshadowing, I felt so ripped off, let down and robbed. The art showcase was a joke, the artist was not only terrible, his work inspired no thought, showed no creativity and generally the more I saw the more I hoped it would be over. But nope, it kept going. Perhaps I am not a modern art guru like others in Saskatoon but when I see art I like to feel inspired, in awe and really taken in. The main showcase seemed more like a backyard junkyard with underwear put on old car parts. The artist was even nice enough to include his old mud filled buckets with stinky rags in it. Perhaps his sign of what was more to come. There was one room that actually had some art in it, art where you can tell there was talent and effort working hand in hand. All 8-10 paintings. The Picasso lithographs were never a big draw for art collectors other than the name of the artist, there are a handful here. Nothing like the Picasso art you would see in his better known works. So my experience, this is terrible. The best art is the building itself. To charge people this much to have such a bad experience, it really takes away from the artists who put effort in. What really caught me off guard was when I heard it being a world class facility?! Perhaps those who feel this way should travel more. Art is in the eye of the beholder, but this is really pushing it. We finished off for food at Shift. It really went hand in hand with the art experience. The food was bland, unseasoned and tasteless. Boiled potatoes tossed on a hot plate quickly, burnt toast with no butter or jam. I thought it was a joke and out server appeared to be under the influence of something. The server was kind enough to talk to us for 5 minutes about all the bad reviews but that there was a Shift in Toronto. Somehow that is supposed to make me think its good. They try to be upper scale but I can't see this lasting either. Perhaps Chef Dale McKay can turn it around once the newness of this place turns off.
9 months ago Terri Clark
Best place for art lovers in Saskatoon. Largest collection of Picasso. Modern architecture is amazing. Outdoor scene from gallery to Saskatoon River is so beautiful. I like the portion of paper art and stair case having LED art work. Accessible for handy capped people and washroom available on each floor
10 months ago evan zee
I absolutely loved attending the Remai Modern art collective on Tuesday! The building is very nice and always clean. Staff are also friendly ????
2 weeks ago Omar Reynoso
Amazing museum! No doubt that it is a gem of Saskatoon and Saskatchewan! This museum have one of the biggest collections of Linocut Prints of Picasso so you can imagine how great it is. Some of the rooms are sub used in my opinion but I'm not an artist. The store is great too and a lot of nice people working here. Sunday's are free! Important to let you know that detail!
9 months ago prakash srinivasan
I had an excellent experience at Remai Modern museum. All the galleries were full of awesome works from different artists. We definitely have to go back. Highly recommended.
3 months ago Diego Conde
Good to take your kids and for going yourself and enjoy the nice arts in display.
1 day ago Megan
Building gets 5 stars! Exhibits get 1 star! Disappointing. The Picasso exhibit was very interesting, but all others were nothing more than fillers. Nothing of interest, local pieces were disappointing. There was a lot of wasted space also. I'm a little embarrassed to say this is my Museum in my City!
3 months ago Geneva Sides
Would not pay to go. Did not like that exhibits were hidden away behind doors. Huge space, but very bare. Would have liked to have seen the walls covered in beautiful, colourful art. Biggest complaint is the emptiness for the building size.
3 months ago J Harris
It's a piece of architecture you will love the building from the first sight . When you enter you will be taken by the atrium and the interior. Then there is around 4 exhibition areas were you will see a lot of art works from a lot of artists and architects including picasso. I recommend passing by. The only thing that I did not like was the lighting over some art works it was not focused to show the beauty of if. Such as the Eril lighting collection. So I appreciate to reconsider lighting design again.
10 months ago Megan Hill
Great gallery of modern art. It was very educating and exciting.
11 months ago Jamie Round
Excellent COVID safety protocols in place. The exhibits were wonderful, they had a children's craft on Sunday which my daughter loved, and the staff were all pleasant, friendly, and went above and beyond in kindness.
3 months ago Rick Texas
Beautiful modern museum located on the banks of the South Saskatchewan River. Incredible collection of Picasso lino cuts. Very interesting installation pieces that work well with the building's architecture. Small, but interesting gift shop!
11 months ago Janet Ward
Looks like a great modern art museum. Nice place for a conference dinner. Beautiful view of the river from the front and first floors.
2 weeks ago MORROWIII
Had trouble enjoying sara cwynars beautiful exhibit about feminism, censorship and perceptions of reality while security guards were leering at me and following me around making me and my partner feel extremely uncomfortable.
1 month ago christine sharlow
Cool stuff lot of art and a interesting building
10 months ago Russell Martin
Wine, yoga riverview! What more could you ask for? Oh viewing the gorgeous exhibits! A perfect evening.
3 months ago Matthew Miller
Great place to visit and experience the works of Canadian artists. They had a special Picasso linocut exhibit which was amazing. The building itself is stunning.
3 months ago Erik Schmeltz
So fun!! And so beautiful.
3 months ago Nelly Mate
would be 5/5 stars if i didn't find a hair in my water
3 months ago Em dontask
Wonderful day spent!! Amazing art!!
9 months ago Arati Puppala
An amazing new art gallery with beautiful architecture. World class venue with huge potential of being an event centre, to host a wedding or gala. Parking is a pain especially underground since the spots are quite tight for an average SUV so you may have to park further than you want to. Will be even better once all the construction in the area is complete.
11 months ago Adam LeSarge
This is a lovely modern museum. There is so much open space in the exhibit rooms which is refreshing. You can really take in some of the bigger pieces they have. Super awesome that the audio guide came free with admission. The admission was also very reasonably priced.
3 months ago MItchell Nguyen
My mother used to say if you cant say anything nice, don't say anything at all.. so ill leave it at that... here's some pictures of my favourite pieces of "art". In all honesty, it was just not my thing. A friend i was with really enjoyed the experience. She would have given 5 out of 5 stars.
3 months ago nadine khawaja
Not q whole lot of things to see, but nice facility located near the river,, love the movie exhibition where they had 6 screens showing different angles of the same scene. Fairly small and limited things to see, i hope they can build on this great Foundation further.
3 months ago jen online
Lovely art gallery! Come here occasionally!
11 months ago Raza Manzar
Modern art is fantastic. If you accept that art is more than paintings you will find your appreciation expanding so much further within this space. I enjoyed the stories the exhibits are telling.
1 month ago Holden Starks
Great food! The view was nice too. Will come back again to celebrate our special occasion.
10 months ago Denis McInerny
Nice gallery, great views to inside and outside. Was between shows so didn't see it all. Picasso lino cuts were great to see but highlight was original Mendel collection of true Canadian masterpieces, as well as Maple Leaf Foods building art. Diminutive written acknowledgement of Mendel legacy disappointing. Will definitely come back.
1 month ago Alex Cifuno
Great museum located on the banks of the south Saskatchewan.
3 weeks ago Carrie Sands
Beautiful space, thoughtful exhibits, great staff. Loved the creator space activities
5 months ago Kelsie Noe
Seems to be a bit of a work in progress, but regardless, I throughly enjoyed myself. A beautiful building containing many different types of art ranging from modern to traditional. I'd definitely go back whenever I'm in town!
1 month ago David Lawrie
Nice open spaces to view and enjoy the art. Staff is friendly and knowledgeable.
4 months ago Kim king
I've changed my view on this building. The more I look at the building the more I come to love it. It fits perfectly where it is. I hope it welcomes many to our city as a key place to visit. Also hope it inspires future artists and designers. Well done. Look at the beautiful building at night
10 months ago Anna Schafer
Lovely place. Great views in addition to the art!
9 months ago Lu Hileman
Perfect place for art lovers. Overall not an attractive place for typical tourists.
11 months ago Michael Dillingham
World class art gallery. Some amazing works from big name artists. Definitely worth the visit. The building itself is worth the visit.
11 months ago Mark Mark
This place is a good start for Saskatoon. The building is interesting and handsome. Collection has some big names, but not necessarily many notable works. Lots of ready mades.
11 months ago Andrew Basinger
Very nice place, and very nice staff!!
1 week ago Jeffrey Basaoh
I love the Learning Center! And the building and layout is amazing
2 months ago Robert Airaudi
It was an interesting series of exhibits and the building is a beautiful space.
2 weeks ago Nicole Dorie
Awesome exhibits! Wish there was more available.
2 weeks ago David Bruno
Very pretty and engaging small gallery. Brunch was delicious!
11 months ago Melanie Clawson
Lovely museum in a beautiful location by the river, great gift shop!
11 months ago Matt Maskill
Interesting museum. They have a beautiful gallery from Mendel and Picasso. A lovely space to children show their talent as a artist ????‍???? called the Paint room. They also have other entertainments there, but didn't have time to see more. I'm definitely going back.
9 months ago Mirta Arroyo
Shift is a nice, cozy and quiet place. It's good when you plan to chat, which we did. The service could use improvement but the food was fantastic and the prices were very reasonable.
1 day ago
Popular places from the category Art gallery