Remai Modern
Art gallery Remai Modern, 102 Spadina Crescent E, Saskatoon, SK S7K 0L3, Canada:
220 reviews
of users and employees, detailed information about the address, opening hours, location on the map, attendance, photos, menus, phone number and a huge amount of other detailed and useful information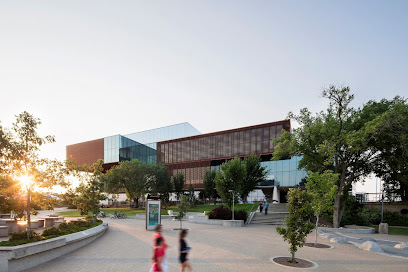 Address:
102 Spadina Crescent E, Saskatoon, SK S7K 0L3, Canada
GPS coordinates
Latitude:
52.1228780
Longitude:
-106.6670177
reviews Peter Aungle
What a great location to spend a sunny afternoon! I love the sitting areas overlooking the river to digest and discuss the exhibitions, or to simply read and have a coffee. People go just to hang out. Stop into Shift for coffee and a scone or one of the daily desserts specials.
4 months ago Ellie Goo
Amazing new art gallery in Saskatoon. Took students here for an afternoon tour and they loved it too. Great stop to visit in Saskatoon.
2 months ago George V
An amazing display of modern art in a spectacular building and setting on the riverbank in beautiful Saskatoon. Take a guided tour to get the highlights and then spend more time with your favourites...you will probably be surprised at the quality
2 months ago Sam Skowronek
I liked the stairs exhibit with all the lights, however the rest of the art peices were super boring. Super over priced for what should be a public exhibit.
2 months ago N Pate
Quite an eye opening experience. They have a special children entertainer performing on the Family Day who was a great artist. People visiting the place me included enjoyed ourselves a lot. And they also have a beautiful view to the river with coffee shop and souvernir shop.
5 months ago OSMAN SANNI
I've been here twice now and would definitely go back again. Great place to take visiting family and friends. Have a great meal at Shift in the lobby of the Remai, and then take a gander at the many art collections and views of the river from the floor to ceiling windows overlooking the South Saskatchewan River. Such a great addition to our city.
3 months ago Existential Outdoorsman
Amazing design. Picasso.
4 months ago Amer Ammari
The place is very quiet and peaceful.We had a great time!
2 months ago Todd Brandon
A place where you can let your mind wonder around. Lots of art pieces and just an amazing, soothing experience for the soul and mind. I love spending a few hours just taking in the view not just the art but also the the river and downtown. Very neat and clean, you are guaranteed a fun experience there.
4 weeks ago Teresa Finley
Disappointed, actually. Higher expectations. Need for dedicated indigenous art display area/room/hall. As a taxpayer, there's a better way to profile our real community h
2 months ago Philip True
I was blown away by the quality of this centre on our first visit. Really stellar art and facilities.
4 weeks ago Betty Sanborn
Amazing space, great art, awesome experience top to bottom!
2 months ago Lisa Garber
When my wife and our family went we only went on a free day, because we probably will never spend money to see it. Like we aren't necessarily art people, but we do like things that look good. And stuff like a bunch of old speaker guts hanging from a ceiling beside feathers and rocks that are also hanging from the ceiling, do not seem like art to us. As well as about 20 pages with just writing on them. They don't even say anything. It's just writing. My wife also really liked the concrete statue of a womans leg which had a fishnet stocking and a rubber Walmart flip flop on it. Very artsy... But don't get me wrong. There was one room with actual art, it was actual paintings that belonged to the Remai family. But seeing as that the price tag for building this place was so large. I'd expect a little better art.
4 months ago Tab Bryan
This art museum awakened my interest in art again, it was really nice!
2 months ago kofi mawue
Awesome addition to the city. Beautiful views of the city from the second floor! I would highly recommend a stop at this gallery. Watch out for free admission days as the price may be a little high..
4 weeks ago connie campbell
Beautiful new facility..lots to see and do. Love its location along the river
2 months ago MIKE FARRELL
Not much for displays for the size of the building very disappointed large rooms that could have held more
4 weeks ago Will Waddell
Beautiful building in a gorgeous location right on the river. If you love modern art you will enjoy a visit here
3 months ago Roy Quek
It was unique and different from other usual gallery. I could say it is weird. But anyway I enjoyed it. Inside was so clean and I liked their lockers for the coast as well, they were so convenient.
8 months ago curtis hinton
Beautiful building. Disappointed in the artwork. Not my thing but maybe would be yours. It was I guess neat to view some of Picasso's work. I can't comment on the side restaurant as didn't utilize it but it is nice to see one available. Having a room full of ping pong tables seemed odd to me in an art gallery. The gift shop was incredibly expensive. Overall, relieved that I went on a free admission day. I would have been more than sad otherwise.
5 months ago Timothy Forbush
Good food. Worth checking out.
2 months ago Altaf Mughal
The gallery inside is modern, stylish and well conceived. It offers an exceptional space for thought and exploration. I am looking forward to seeing what exhibits they bring through. Being understated is the gorgeous event and conference spaces and the added potential those bring. I can't say I am thrilled with the color they chose for the exterior but that is minor in the grand scope of things. Overall a exciting addition to our city.
6 months ago Anton Melgoza
Gift shop was great. Not sure about some of the installations but all were certainly entertaining and thought provoking.
2 months ago Crystal Thomas
Try to imagine Saskatoon without the Remai. It has become an iconic landmark. Already increasing the profile of this quaint city, many more will want to visit as its reputation grows, further cementing Saskatoon as a mini metropolis. For the future generation of the city, this gallery will be a hub of culture and art. Let's hope it continues to stay committed to giving back to the community in which it resides.
5 months ago Natisha Fauntleroy
Small yet cool place to see beautiful pieces of art. Nice for families with kids.
2 months ago Michael Chau
The building, location and art are wonderful. It was worth the wait. I hope that more can be done to provide additional days of free admission and to make it seem less like an institution only for people who are financially secure. I bought a two-year membership before it opened and am glad I did. The movies that are free with admission or membership are also a great feature of the Remai Modern.
5 months ago Love Kifa
What a nice addition to Saskatoon! The space is beautiful, with big windows that let in a ton of light. The exhibits were well organized and there was enough diversity in the art that there was something to suit different tastes. Love the kids craft area, too. Will for sure get a membership!
6 months ago Marcus Daniels
This is a wonderful art museum! A gem in the rough! The staff is extremely friendly and go above and beyond to ensure a insightful, easy and full experience! It is a lot to take in for one trip so plan to get a membership, which is super cheap for all the perks that come with it! There is a excellent restaurant on the ground floor that also serves coffee and has saskatoon's only patio on the river! I look forward to many more visits to this museum.
4 weeks ago Rashad Carter
The Remai Modern Gallery is an immeasurable treasure that will become more so, as time passes. The people of Saskatoon should be proud of this world-class facility given our modest population size in comparison to other cities across the continents. I thank the generous donors and the vision of the Remai foundation for creating a wondrous light-filled space that all can enjoy for a lifetime. Art is in the eye and heart of the beholder, but if you don't look, you won't know what speaks to you. Cast off the belief that you have to like everything that you see, for I have been to many different galleries over the years and some stuff I think is simply meaningless to me-no matter what it's worth. On the other hand, many a piece has caused me to pause and wonder at the genius and the beauty that a fellow human has created. Inspiration, humility and a sense of contentment can be found in art as well as their opposites; find what stirs your emotions at the Remai Modern and any other Gallery you come across and you will find a piece of yourself you never knew you had. Give it a visit and see what it is all about. I recommend it.
8 months ago Kavita Bargujer
Neat and tidy. Modern look and always friendly staff
3 months ago sofia april
What a beautiful place! The open concept makes it feel warm, inviting, and spacious. It offers areas to reflect, relax, eat, and converse with friends. It also has one of the largest Picasso collections, which is amazing in itself. I look forward to my next visit.
4 weeks ago Jason Kline
Complimentary lockers and audio guides. Some galleries were "in transition," so the entry fees were discounted. Many Canadian contemporary artists plus Picasso works.
6 months ago Welson Cavalcante
Attended the opening weekend to see the building. Very disappointed in the building design and layout. No attempt to have a design that blends into or enhances the beautiful riverbank setting. While the natural lighting inside the building was very bright, I found the building itself to be sterile and cold. Nothing inside connected to the riverbank setting, and not even a potted plant to bring some naturalness inside. There are many large windows overlooking the riverbank, but most are covered by a dull brown metallic grating, so the viewer must squint through holes to see the fantastic views. One of the only windows NOT covered by the "cheese grater" covering was on the main stairwell to the second floor. That window provides a wonderful view of the side of the freeway bridge. The sterile feeling and lack of connection to the natural riverbank area does, I guess reflect the intent of most modern art, which seems to want to separate art from the natural world. On that part, this new gallery excels. It is truly "the cheese grater on the river".
8 months ago Rob Kingas
I highly recommend the interactive audio tour for a date night. It is very well done and brings so much insight into the art and museum. Bring your kids on Saturday or Sunday for activities. The family pass is a no brainer as well. Saskatoon is lucky to have this place.
5 months ago Royanna Jones
The Remai is an amazing experience! If your looking for a relaxing day and some fantastic art, I would recommend visiting this gallery.
3 months ago Pete L
Beautiful space. Great customer service. Love the architecture and the views. Can't wait to try the new restaurant. My favorite was the art piece hanging above the stairs. Good mix of art for everyone!
4 weeks ago Dale Strand
Wonderful architecture, terrific collection... And had a catered meal here which was sublime
2 months ago Sharon Spence
Went to Saskatoon to see the new art gallery. Very disappointed compared to what I remember of the old Mendel Art Gallery. Beautiful building but some of the art literally looked like garbage. And some pieces of art - things my kids could have done better at the age of three. Did see a lone painting by the group of seven painter which beautiful. Saw a couple more things I liked too but overall didn't like the present exhibits. I wish I had gone to the zoo instead with my 20 year old son. He enjoys art too. The best thing is that we were able to laugh a lot that day at some pretty poor excuses for art work. Cheers!
4 weeks ago Ashish Sharma
Very cool building. Friendly staff. Even the guy who gave us heck for standing too close to the Picassos was very polite about it. World class facility.
4 months ago Alyssa Watters
Had a great tour guided by "David", he is very knowledgeable and explains the art very well! I'm not an arts person but he explained the meaning behind a lot of the pieces which was great. We became members thanks to this!
4 weeks ago PRIMA DONNA
Beautiful building w giant windows let in lots of sunlight & great river view -ideal for a plant conservatory & landscape art. Too bad its modern art (chicken wire on a trash can = $3 million piece). Security everywhere to make sure u don't touch the linoleum Picasso copy or the old rubber boot on a conveyor belt. :(
6 months ago Eddie Williams
Wonderful decor and open modern tasteful dining
2 months ago Romain Gaudron
Beautiful building in a gorgeous location by the river. The visit started off nice with some wonderful pieces donated by the Mendel family and some Picasso prints that were interesting. Then it went downhill from there. Hated the main exhibit. Definately not my kind of "art".
4 months ago Charles Ballard
Love the art program for kids and the creative space to use your imagination!
2 months ago Shawn Burks
Went here and had an outstanding experience. Every art piece was very unique and cool. Would come here on a rainy day and is worth the price.
3 months ago Karthik L
Seems better than Edmonton's Art Gallery..
2 months ago Tom Gray
Amazing building, beautifully connected to the river.
4 months ago LUBIMOV
great gallery, was hoping to see more art, couldn't read much about the artists and their artwork since the descriptions font size is tiny so do carry magnifying glasses..
2 months ago Brandon Gibson
Beautiful building and place to host meetings
2 months ago Stephanie Melito
Apparently if you can put a meaning behind any old piece of junk, suddenly it is art. There are some actual appreciable pieces of art, but too much "interpreted" art.
4 months ago
Popular places from the category Art gallery