Heartland Heating & Cooling
HVAC contractor Heartland Heating & Cooling, 3155 SE Miehe Dr Unit 1, Grimes, IA 50111, United States:
71 review
of users and employees, detailed information about the address, opening hours, location on the map, attendance, photos, menus, phone number and a huge amount of other detailed and useful information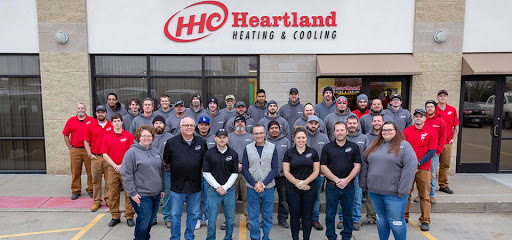 Address:
3155 SE Miehe Dr Unit 1, Grimes, IA 50111, United States
GPS coordinates
Latitude:
41.6621265
Longitude:
-93.7659684
Location on the map
Reviews Niharika Singh
Had issues with my ancient furnace a year prior. They came and fixed it then. A year later and it was time to replace it as it had finally given out. From initial consultation to completion- all staff, servicemen, and salesmen were knowledgeable, friendly, professional, and helpful. They did a great job all the way around. The follow up after the work was completed has been great. They were recommended by 2 others I know and it's been money well spent. Quality, consistency, and professionalism at Heartland all the way around! Highly recommend! I had 2 other well known companies -during the years time -come to give estimates and check out my furnace as well, and Heartland- was the only decent, honest, educated, fair priced company!
8 months ago little man
I recently purchased an older home in Des Moines, IA and invited my elderly parents to move into the lower level & convert it to a Mother-in-law suite. Since both my father & me are disabled America Veterans & find it hard to do things are selves any more I called my Son-in-law in Nashville, TN who is a certified HVAC installer himself he told me the best systems on the market are the Mitsubishi Mini-splits. He said there a little more pricey then the others but well worth the extra $$. He referred us to a Facebook ad about the Mitsubishi Mini-splits & said at the end there be some Factor Certified companies for you to call. My father & I watched the short fb video & thought this is exactly what they need. There where 2, companies listed; Heartland Heating & Cooling in Grimes, IA & Dayton Heating & Cooling in Urbandale, IA. My father & I chose Heartland because they seemed the bigger company of the two. BIG MISTAKE! Heartland installed a 20,000 btu Mitsubishi compressor & two Mini-splits excerpt the compressor blocks my side driveway & both 6,000btu Mini-splits are in my parents bedroom so now their bedroom is like a sauna and the rest of their house is like an Ice Berg! They did some other work for us, like cut a 4' round cold air return about 10' down from the ceiling on my WOOD wall! The ducting for the return was flexible tubing instead of solid aluminum. When I called about the way the system was installed I heard crickets from Heartland. When I called about the white cold air return I was told " buy some brown spray paint"! I am so frustrated with Heartland & this Mitsubishi system I just want it taken out & reinstalled correct! Heartland did the job the easiest way with NO regards for my parents at all, except they wanted their $6,500 for a poor job! David I told you when you and etal where at my home that my 89-yr old Korean war veteran father wrote two letters to Heartland & Mitsubishi electric American headquarters in Suwanee Georgia so you did NOT by accident get that letter you're talking about. You claim in you response that your company responded to all our requests which is untrue. Mitsubishi Electric contacted my father 5-times over 2-months via email, phone & us mail, nothing form heartland until me first online critique of heartland's work. You say customer service but while you and all where at my house NO asked what I wanted! Or what a solution we could come too. Instead from the onset of this meeting you told me You would "be doing most of the talking in this meeting." Why can't you listen? You're right the Mitsubishi Mini-split is installed fine that's not my beef; except for the driveway, I'm not a expert in HAVAC, you're company is so even though I suggest where the mini split could go it's not where it should be for my parents comfort. My 89-yr old Korean war veteran father, and 85-yr old mother of 5 children home will not be livable come winter because of where the mini heads are placed. My father paid good money for a system that doesn't suit their needs; though it could have, have you're expertise ever came into play! So no I will not remove my post because did you ever ask me what I wanted? NO!
3 months ago Boston Stout
I contacted Heartland Heating & Cooling regarding general maintenance on our geothermal system. We were also having a problem with the cooling component. They were able to help me in a timely manner, and they were very polite and professional. Would highly recommend their services!
8 months ago Myungha Jang
The service men were professional, courteous and knowledgeable. They did a great job. We will use them again if necessary.
8 months ago James Seymour
On a Thursday, our AC stopped working. Heartland H&C answered right away when I called and they scheduled an appointment the following day. The tech arrived early, was professional throughout the entire appointment and resolved our issue swiftly. Impressed with our first encounter, we scheduled a maintenance appointment for our furnace a few weeks later. A different tech came, but we had the same great experience. He also arrived on time, was professional, and very knowledgeable. On top of the great service, their pricing was very fair. I will definitely use them again!
5 months ago John Paul
My AC was freezing up and after some simple checks of my own I had to call Heartland. The service was great. He ended up putting some freon or whatever in it. He did a very thorough job of inspecting everything and explaining a lot to me. My AC is older but said everything else is working great. There was no false claims of needing a new unit or parts. I will use this company from here on out because of the honesty and great service work.
8 months ago Ariel Hadar
We've used Heartland Heating and Cooling since we purchased our home several years ago. Each Fall and Spring they come out to inspect our system to ensure everything is running as it should. Most often the system is running as it should and no repairs are needed, but occasionally there is something that needs our attention. The two or three times this has happened, the representative has explained the situation to us, provided options if we repair it or not, and provide a quote so we know going into the repair how much it will cost. Trevor came out this week and did our Fall tune up. He was kind, courteous, on time and made sure I knew what I needed to about our system. He's one of the best at Heartland Heating and Cooling, and we intend to use them each Fall and Spring for many years to come.
3 months ago Ray Lipham
I have been using Heartland Heating and Cooling for about 8 years now... that alone should tell you something. Always pleased with the work they do and in the manner they do it. Can't say enough good things about them. I highly recommend!
2 months ago Tyler Grieve
Jeremy was on time and knowledgeable about the system and how to test. He kept detailed records and explained to me in terms I can understand. I would recommend Jeremy and Heartland as the best value for HVAC systems and maintenance.
2 months ago Glenn Barker
We are new owners of an existing zoned geo-thermal system. Alex answered all of our questions and explained how the system works. We received a detailed copy of both his report and our invoice. Great experience!
2 months ago Sweety Chowdhary
Alex was on time & was carefully masked & gloved with shoe covers as well. He was polite & professional. He was obviously well trained offered helpful suggestions.
4 months ago Mary DeFazio
My military disabled husband of 64 years and I just moved into our son's bi-level home here in Iowa. We hired Heartland Heating & Cooling to solve our A/C and heating basement problem. They, being the pros, recommended and installed a Mitsubishi double headed ductless unit improperly for over $6,600.00. After several months waiting, they still refuse to come and retro fit their system to sound HVAC standards, and Mitsubishi hasn't offered to fix their gold star dealer mistake! Leaving us w/o heat, and no useful A/C. I would not recommend Heartland for any HVAC job. Nancy F
4 months ago Nathan Sohriakoff
Alex was very helpful in explaining about my fireplace and furnace and helped me with my smoke alarms. He was very thorough and efficient!
3 months ago No Scope
Rheem furnace, 20 years old, was not firing. Alex came out and relocated an igniter and cleaned/checked the burners and the heater fired up. Great job, great work and great value! Highly recommend. Thanks!
3 months ago Saikat Som
Prompt and professional. Showed up on time. Practiced good covid safety measures.
2 months ago EZ TechTalk
Alex did a very thorough evaluation of our heating system and shared everything he found in terms that were understandable. We feel safe in our home knowing Heartland Heating and Cooling hires very thorough professionals.
3 months ago P R
My parents recently moved to Iowa, and thought they'd hired the top notch local HVAC dealer to install their new Mitsubishi ductless A/c and heating equipment. Well, as it turns out , this Heartland Heating & Cooling company was far from professional, and turned a cold shoulder when my parents found several amateurish, and irregular moves by their installers. When called on it, Heartland's president said everything was done correctly, and walked away. Heartland has VERY POOR CUSTOMER SERVICE, and a "heartless" President. Mitsubishi hasn't stepped in to reprimand their gold star dealer Heartland for not following good HVAC standards, nor giving poor customer service. My parents are at a loss as to where to turn for satisfaction. Jody H.
4 months ago Cody Koeppen
Our furnace quit heating, and when we called, they had someone to our house within the hour, and he had the part needed to complete the repair within a few minutes. I can't recommend this company any higher than 5 stars, but if I could, they would get 10!
10 months ago Anthony Rizzoni
Very good service. Friendly. Helpful
3 months ago Megan D
The technician was on time and gave a good explanation of the work. They explained the repair vs. replacement options. They treated me and our home with respect. The new unit works great. Super quiet. Thank you.
9 months ago Jessica Johnson
Fair, honest HVAC contactor in the Des Moines metro area. Highly recommend!
4 months ago Alex H
Trevor did a great job. On time, courteous, and pleasant.
7 months ago Priscilla Llerena
Im so glad I called Heartland! I had no heat this past winter, it was below zero & all of sudden & Jeremy came out to see why. He fixed it fast & I couldn't believe how reasonably priced it was. Thank you Heartland
5 months ago David Patterson
Dave Demmerly has done all of our maintenance thus far and has been a pleasure to work with. Very knowledgeable and friendly!
7 months ago Elquin Sanchez
Trevor was very professional and thorough and friendly which made it a pleasant experience.
2 months ago Victor Lee
Heartland Heating & Cooling has been incredible to work with! They do quality install work and their service has been great. Jeremy is a great tech by the way. I would highly recommend this company for your heating, cooling and indoor air purification needs.
10 months ago Tyrell Simmons
Great service! Always professional and takes the time to answer any question in detail!
8 months ago Faith Baum
Company was out a year earlier to do some work. Just came back out since we've been hearing noises for some time. Found out a nut was removed or fell out from a dampener, which is something only the HVAC technicians, in my house, would ever touch. They want to charge extra to fix it. It's a simple fix - just a nut, but they should do it. Frankly, I'm not sure a heating tune up or inspection was even properly completed. My recommendation, don't use this company.
8 months ago Reedah Kasim
The people at Heartland were great to work with. Everything you would hope for and should expect from a dealer. They will be my go-to company in the future. I would highly recommend them to anyone.
9 months ago Wei Guo
Very easy to work with and responsive to customer input!
3 months ago Travis Munger
Our installers were very efficient in getting the old furnace out and the new one in. The young man who set up the thermostat on my phone was very helpful. (I'm not the best at anything technical) Mark Dorris explained the new furnace thoroughly to us as well as warranty, etc. Our heat has been very comfortable and QUIET!
9 months ago Jacob Sweeney
Have used them for 8years. Always courteous and quick service. Would recommend their services.
7 months ago Elliot Brook
Inspection and installed within 24 hour's! I've already saved with the new efficiency in just a couple of months! Installed both air and heat Good job!
10 months ago Glenda Eades
AC died, had to have it replaced. They had it replaced in no time. I was given options with no pressure, Mark made a recommendation and we went with that. They showed up on time and were extremely helpful. This new unit works so well we now leave the Tstat at 75 whereas we set the old unit at 70. Couldn't be happier.
8 months ago Frances Scott
Dave and his crew were awesome! Dave came in and laid it all out on what was needed and the options to get what we wanted done accomplished. We even had a few hiccups from other aspects of construction getting into the a/c unit and they were there to help us right away! Couldn't recommend enough!
10 months ago Kaitlin Giuglianotti
Very happy we chose to work with Ivan and the Heartland team. We had a great experience and will use them for our HVAC needs moving forward!
9 months ago Raquel Guerrero
Fast service and fair price.
9 months ago Annabelle Lewis
Tech was on time, very familiar with system and taught us how to get better use of our system. Great service.
7 months ago Joshua Levitt
Heartland has been our go to service since moving to West Des Moines and we have been very pleased with their service and friendly technicians. Thanks guys!
8 months ago rachael smith
Dan did an excellent job with the service and took the time to explain everything he checked and the results.
11 months ago Frank Haferland
Amazingly thorough and professional. Great communication. Arrives right on time.
8 months ago John Everett
I had an air conditioning unit installed by Heartland about 3 years ago, along with checkup services since then. The experience working with them has been excellent. They are professional and courteous each time I've dealt with them.
2 months ago Willie Tillman
Super impressed with their customer service, price, attention to detail and timeliness.
8 months ago Dan Nordmann
Alex was very knowledgeable and was very thorough on troubleshooting our air conditioning problem. He did not rush the repair even though it was on a Friday night after normal hours. Thank you Alex
8 months ago Eric Gwyn
I would recommend Heartland Heating & Cooling because they did a really great job and they were very honest. What I like most was how quick and timely there were and did not take up any extra of my own time to get the job done. The pricing is fair and the have excellent service.
2 months ago SERGioS
Ivan was great and so were the installers. One thing to note, there is a lack of communication between sales and the installers. There were a few things Ivan and I talked about that the installers had no clue when I asked them. They were able to accommodate but it was unexpected but nothing that would keep me from using them again. Overall, great prices and service! Robbie
9 months ago John Messiha
We have had nothing but great service from Heartland Heating & Cooling! All the service tech's we have had have been very professional and I've never felt like I couldn't trust what they were telling me! Way to go Heartland and keep up the great work!
7 months ago Brian Mcavoy
My experience with Heartland Heating and Cooling has been very pleasant. I was able to get an appointment the same day, it was great. It was very hot the day I made the appointment and I was concerned that they were going to be a while. The technician was very quick.
7 months ago jane liu
Very professional and I like the pictures they take during their service process. All info from service visit is emailed for my records. I like the paperless factor.
9 months ago Linda Leppanen
Dan was professional, efficient, knowledgeable and friendly - thank you, Heartland!
8 months ago
Popular places from the category HVAC contractor