Dayton Heating & Air Conditioning
HVAC contractor Dayton Heating & Air Conditioning, 3509 104th St, Urbandale, IA 50322, United States:
216 reviews
of users and employees, detailed information about the address, opening hours, location on the map, attendance, photos, menus, phone number and a huge amount of other detailed and useful information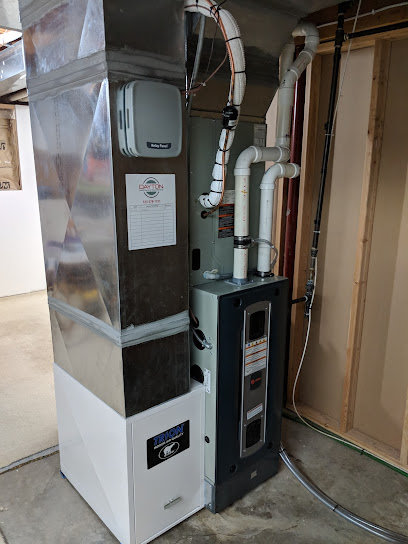 Address:
3509 104th St, Urbandale, IA 50322, United States
GPS coordinates
Latitude:
41.6274699
Longitude:
-93.7603840
reviews Tad Howard
I was very impressed with Mark and Dayton's staff! On a Thursday night I requested for a quote to have an Aprilaire humidifier installed and by Friday morning Mark had sent me a response and was willing to meet that afternoon to provide me an on-site quote. That following Monday they had a technician on-site installing the humidifier/routine furnace cleaning. Overall I was very impressed with their customer service and quality of work.
8 months ago Greg Sorensen
Very responsive to my requests for electronic filter options. Took the time to answer all my questions and present details/prices for all possible solutions. Wasn't pushy when waited to make a final decision, but then was available the next day to install the electronic filter. Made sure the install was perfect and even left to get a different part to make sure everything was installed exactly as the manufacturer requires. Fully tested my system and made sure everything worked properly before leaving. Some of the best service I've ever had!
6 months ago anju mm
Mark is the owner and met with me and was professional, honest, very friendly, and helpful. He gave me a very competitive bid very quickly and scheduled it quickly as well to meet my needs. His team of Drew/Sean and others were on time and managed the job very effectively. The level of customer service, quality of work, professionalism, and care was above any expectation. I would highly recommend them to anyone looking for the many services they offer.
6 months ago Krishnaswamy Ravichandran
Great company, great service, fair price. My heat went out on a subzero evening and they were able to get me up and running yet that night. To be honest, I first called a competitor who happened to be booked up and they referred me to Dayton. A competitor giving a referral? That alone gave me good peace of mind calling these guys. Jason was great. So thorough, up front and never forced anything on me that I didn't need. He stayed until nearly midnight to make sure my furnace was firing correctly. Can't say enough great things about these guys!
10 months ago Lekile Mbongwe
The team from Dayton are friendly and knowledgeable. They did excellent work with competitive pricing. My water heater failed on a Friday morning. They shuffled schedules to get it replaced for me that day so I wouldn't be without hot water all weekend. I had a lot of questions and they answered them all (shout out to Scott, Mark, and those I talked and texted with). This is a top notch company that employs the kind of people you'd like to have as neighbors. Highly recommend!
6 months ago Andy Sherman
Mark and Nick were very helpful in designing the right system for our house. The installation crew was very professional and pleasant. They followed up after the installation to make sure everything was good. Would definitely recommend them.
6 months ago Darren Ward
I waited a bit to write this review so that we could run both the new AC and furnace a bit in the summer and the winter. I have to say I've been very impressed with the performance of both. This winter has been a real test and the system has passed with flying colors. We had the technicians basically install a whole new mechanical room as well as rearranging things for much easier access. They did a fabulous job with the installation. Despite having to deal with an extra supervisor (me). I've been a happy Dayton customer for around 20 years and would happily recommend them to anyone who needs top notch HVAC service.
9 months ago Steven Barsam
Everyone from Dana in the office, Nick the salesperson, and Jack, Jesus, Jason, and Mark the techs- everyone was very professional , knowledgeable, and patient with my long list of questions. I especially appreciated the fact that they followed up with me to see how things were going before and after the install. Throughout the process-everyone checked in with each other to see if they needed anything. That kind of teamwork really speaks to the company's values and dedication to customer service. I will be calling on them for any future needs. My house is very toasty now- Thanks to the whole Dayton team!
9 months ago Clifton Reed
Of course our furnace decided to act up when it's the coldest week! We were afraid it would take days for someone to come to check it out (came within hours on that Saturday). Technician gave us options to address the issue; made sense to us to replace the heating system all together, based on the age of the unit. Sales Rep came on Monday....new system was installed on Tuesday by two professional and knowledgeable technicians who had a thorough "check list" to go over with us as their last step of the process. Great experience with everyone we came into contact with....from owners, sales rep and technicians. Each took pride in their work and the company. Definitely recommend!
8 months ago Carol Devery
We were very happy with the service received from Dayton Heading and Air Conditioning. I appreciated that they presented all the options to us on repair vs replacement of our furnace and let us decide rather than just saying "you need a new furnace". They answered all of our questions very thoroughly and patiently. After the installation, they walked through everything they had done using a checklist and again asked if we had any questions. I highly recommend their services.
10 months ago Nick Summy
Mark and the entire team are fantastic!!! On time, very polite, very responsive and so knowledgeable !! They answered all our questions, and I really appreciate the follow up after our new equipment was installed. Our house is now cool in the summer and warm in the winter. The teamwork and dedication to perfection , speaks volumes of the values of this company. The absolute best!
9 months ago Olga Gorev
I hired Dayton to install a new air conditioner and furnace in my house. Their work was extremely professional and the price was reasonable. I recommend Dayton to anyone looking for HVAC service.
7 months ago cathy g
Dayton Heating & Air Conditioning is a excellent company. They're understandable, professional, attentive, patience, and FAST!! They're exceptional company to connect with & I would highly recommend them to everyone. Thank you for your services!
6 months ago Maryury Andrade
Great people to do business with from the sales representative to the service technicians great job, Thanks for helping us out!
5 months ago Emelia Boyko
I've had Dayton Heating and Air Conditioning out for a few annual maintenance tune ups and they are great. They are very knowledgeable, informative, timely, and reasonably priced. Thanks for your help!
9 months ago Mark Dietrich
Everyone at Dayton does excellent work, we will never use a different HVAC company. The staff are respectful, professional, and trustworthy. They provide prompt service and never try to upsell. We highly recommend Dayton Heating & Air Conditioning. Update 3/2021 - we called Dayton again to install an AC at our rental property that previously had window ACs. Sean and Drew did a great job, very knowledgeable and friendly. Quality workmanship, and my husband is very particular! We will continue to call Dayton every time!
6 months ago Justin Brubaker
Dayton just gave my bro. A quote if 11,500$ to finish an install that was about 90% complete. They come with an over priced quote. For just testing gas lines pressureswas 3k and 3kfor adding 2 zones . When the zones equipment is literally 500 $ and 5k to install zones and wire and finish 3 dart fans and a couple duct runs.. don't go with these company .. I found several way cheaper. N honest. They are only charging under 2k cause there's literally not much to do. So how do they figure 11k. Not trust worthy. Yes they do good work but there's prices are overpriced. They actually think we would fall for it. Come on Dayton we've done the research on what it really cost ..... have some integrity n maybe you'd get more business to grow n not be a mom pop shop for life.. very very very disappointed u should be ashamed. Last not least. They charged me for a quote just to be in my house for less than 5 minutes . Shall I keep going....bad Jim
9 months ago elissa sanchez
Always friendly and professional. Explained everything. I am very happy with Dayton Heating.
11 months ago Angelo Mtz
Exceptional service with their service contract. Our furnace broke down. Dayton loaned us three space heaters that evening and replaced our furnace the next day. Also installed a return vent. Very professional, experienced techs, incredibly thorough with installation and service.
10 months ago Christopher Vaughn
These guys are great, excellent customer service!! Our AC unit went out and we called them at 2 in the afternoon asking for a quote. They were to our place within a half hour and stayed late on the hottest day of the year to get the new unit up and running that same day. Very good to work with!
4 months ago Cashton James
Owner is very informative and provides you with enough knowledge to make an informed decision. The crew was quick, personable and consciences and cleaned up after themselves. Did everything they said they would do.
1 month ago Hussam Odeh
Selected Dayton Heating & Air Conditioning to replace my 21 year-old 80% efficient Tempstar furnace, with a new Trane 96% high efficiency unit with a whole-house humidifier. Obtained a quote after hearing good things from two friends who had used them previously. Nick came out and gave me very detailed replacement information and a quote for replacement at a reasonable price. He informed me what they could offer with no pressure to make a decision. Once selected he remained in touch through text up to, and after installation. Installation crew showed up on 12/5/21 and started by laying plastic down on the floors. Both of their installation guys wore booties and masks the entire time. Crew consulted with me on my expectations, and clearly communicated what they were going to do. Installation was done to very high standards. Very happy with the knowledge and professionalism of the crew and the work they did. Being a DIY'er I often feel like I need to look over my shoulder and make sure things are being done right. Was not the case with Dayton! January 15th, 2021 had the city inspector come and approve the install. He made the comment "Wow, this was a really good looking install". Felt good to know I selected a contractor who took pride in the quality of their work, and took the time to inform me about every step in the process. Definitely recommend to anyone looking for a heating & cooling company.
9 months ago Stretch
We have been a customer of Dayton for over two years. They answer questions and get the job done in a. professional manner. I would recommend them to everyone. Great people.
11 months ago Frank Schaffner
My AC unit needed replaced on a Sunday. Called them on a Tuesday after getting quotes from other companies and they were able to install on Wednesday. They were amazing! Even honored my request to meet my dogs so they wouldn't freak out and bark while I am WFH. Dogs loved them so much they hung out with them most of the install. Fast, reliable, and gave us a great price for such short notice. 10/10 recommend!
9 months ago Coby Ashkenazi
We had an excellent experience with our recent furnace/AC install by Dayton Heating and Cooling. We read a lot of reviews prior to deciding on them over our other quotes, and we are very glad we did. They were on time, professional, and went above and beyond. They even came back the next day to explain a few things we had questions on! They were the cheapest quote we received, but I have no doubt also the best quality service we could have received as well! Mark and his team did not disappoint and I would definitely choose them again.
6 months ago Jedi Master
We are very happy with the servicing of our air conditioner by a Dayton a/c technician! He let us know he was on the way, was prompt, and extremely helpful when we had questions. Though our a/c unit is almost 24 years old, he did not try to coerce us into buying a new unit but rather helped us understand what to look for when it does start going out and what our options would be at that time. Thanks for the great service!
5 months ago Angel Perez
Can't think of one bad thing to say about these guys! Extremely professional and very responsive when something is needed! Definitely a customer for life for all my Heating and Cooling needs moving forward!
6 months ago iAmLegendanny
Exellent response time. Let us borrow space heaters to get by until installtion day. Reasonable, honest up front pricing that they stick to. On time for installation, clean and friendly. Extra discount for paying with a check and timely communication all around. Couldn't be more pleased!
1 month ago Steven Fennessy
After getting three bids, Dayton had the best price. Mark was great to work with and provided a quality product and fair price. The installers, Shawn and Jesus, were very polite and professional during the install. We will contact them again for future HVAC needs.
3 months ago Krishna Avva
Shawn and Jesus were wonderful very professional. Explained both systems completely and cleaned up well. Would highly recommend them !
2 months ago James Horton
Installers were friendly and professional. Installation was top-notch. They did a great job cleaning up after the installation. Everything is working beautifully.
2 months ago Mohamed Mustafa
I had a great experience dealing with Dayton. Nick worked me into a busy schedule providing an AC install in less than 24 hours. The installers were so professional. It was clear they loved the products they install and the company they work for. Highly recommend.
4 months ago kelton phillips
I called on a Sunday when our A/C went out. I figured I would have to wait a day or two for service, but they were out within an hour or so. Jason was able to get us up and running on a temporary basis until he could pick up a part on Monday. We had scheduled an a/c install for the following week but they called on Thursday to say they could do it early if we wanted so we had them do it that day. Everyone we met or dealt with on the phone were extremely professional and efficient. Another bonus, both parts and labor were covered under warranty on the service call so no charge. Just an absolute first class experience and why we have been customers since the middle 90's.
1 month ago Floyd Moore
Always excellent service. Came home from out of town to find a warm house. They were at the house within 4 hours of calling and had the bad part replaced and the A/C working shortly thereafter. Very professional. I've used them for my home and a rental for over 10 years and have never received anything but excellent service. Specialists in tough to solve problems.
2 months ago Jermaine Jones
Dayton Heating and Air Conditioning has been my GO TO provider for almost 5 years! They are responsive, professional, have the most knowledgeable and experienced technicians and always provide you various options for your budget. I'm very happy with my service! I have utilized them for my home and my business needs.
5 months ago Logan Kurkimilis
We had a serious problem with another large HVAC dealer here in Des Moines, Iowa, and Dayton came to our rescue. We highly recommend Dayton Heating and Air Conditioning for any of your HVAC needs. We know first hand how professional they are. Fred, Nancy, & Jeff F.
2 hours ago Lindsey Joseph
Their sales representative, Nick, was great explained all of the options and associated costs. There was no hard sales tactics he said that it was up to us what system and options we wanted. The installation crew arrived on the date and time that we set up. Both were very respectful before, during, and after they installed the new furnace and AC. They cleaned up and made sure that we knew how to use the new smartphone compatible thermostat and assisted with setting up the wifi and phone app. I would highly recommend Dayton Heating and Cooling if you need repairs or a new HVAC system.
1 month ago Marcus Kristensson
After 20 years my geothermal furnace was slowly losing its ability to keep my house warm and cool. It was during a very cold snap and the house wasn't warming to a comfortable level. I researched several different companies customer reviews and the one with the most positive comments was Dayton Heating and Air Conditioning. I called Dayton's and Mark and Ben came out very timely to see what the problem was. They diagnosed the problem and clearly explained my short and long term options. Long story short we agreed that a new furnace would be the best solution. They completed a temporary fix to get me by until they could install the new furnace. In the meantime they sent me an estimate and info on the tax credit available to me for the new unit. When the new furnace came in they scheduled an install date and showed up on schedule. They arrived early in the morning and removed the old geo unit and installed the new one and were done in the afternoon. They cleaned up, went over the features of the furnace and new thermostat and were on their way. Their total bill was almost exactly what their estimate was. They were very honest, fair, timely and showed they really cared about their customer throughout the entire process. Thus another happy customer and another positive review. A one of a kind customer centric company. I would highly recommend Dayton Heating and Air Conditioning to anyone who wants a competitively priced , reliable and honest company for service or new installations! Randy
9 months ago Morgan Dawson
We have purchased two systems from Dayton. One for a rental and one for our own home. In each case the service techs showed up when they said they would and even arrived early. The techs where professional and got right to work. In each case the tech had the jobs done ahead of the estimated time. We had questions about one of the digital thermostats and one of the guys walked us through it and even called back to verify that it was working correctly. My wife has owned a number of businesses and we know if we are buying blue sky and Dayton gives you a service that you pay for that's why they received five stars.
4 months ago Sha ZHU
The team was very easy to deal with. Top notch from start to finish. They did a great job. I am glad they were willing to come up North and help us with our purchase. Dayton HVAC wish we had more companies like them.
6 months ago Audrey Summer
For many years I have relied on Dayton for all of my HVAC requirements, both for new equipment and for annual maintenance. They are wonderful to work with – very friendly, very responsive, and very timely! – plus offer top tier, reasonably priced equipment They just completed installation of a replacement AC system and were willing to take the time to work with me on the purchase of a high efficiency system that best fit my needs. The installation crew was fantastic – they arrived right at the promised time and completed the work quickly with professional competence and minimal disruption. When they finished, they cleaned the work area, took time to explain the new equipment and made sure everything was properly operational. Without reservation, I highly recommend them to everyone in need of any type of HVAC services.
3 weeks ago Shilpa Saraf
I have been in the construction business for 19 years and the owners and techs know their stuff. Competitive pricing honest and service that is impeccable. I would highly recommend Dayton.
6 months ago Mar Anadon
Great people to work with! I couldn't be happier with the service I've received from them!
11 months ago diana hilton
Jason provided great service!
9 months ago copsman
I have used Dayton Heating & AC over the past two years since buying a house, and they have been great. They have helped me with my furnace, AC, hot water heater and my fireplace. They are very knowledgeable. They instill confidence the job will done correctly and timely. They do a great job communicating the issue and what needs to be fixed. They are honest and trustworthy.
9 months ago Gagan Dangi
Old school level of service! Appreciative of my business. Punctual, honest and fair priced. Won't do business anywhere else. Don't waste your time with the other guys!
9 months ago Nick Tsamis
I called them at 9pm and they arrived by 10pm on a Saturday. Had me fixed and running in no time. Awesome service.
6 months ago Tim Brown
These guys were great to work with. From start to finish I felt like they genuinely cared about making sure we were happy and made the whole process painless. I would highly recommend them to anyone. Wanted to make sure to give a special shout out to Andy and Jason. They were super polite and professional and anyone would be lucky to have them come install a water heater in their house. ????
9 months ago Wynette Bryant
We have had trouble since we built our house over 8 years ago finding a heating and cooling company that would do a thorough inspection and maintenance of our geothermal system. When our basement in-floor heat quit working, we had an even harder time finding a company willing to fix it. We contacted a large company in the area and they told us to call Dayton. That says a lot about a small company when a big one refers to them! When they came out to fix the in-floor heat we asked about a maintenance agreement. As we were thinking about it, 2 days later, our A/C quit cooling. We called and they came out very quickly and found it to be as simple as the drain tube being plugged. They told us that is part of their standard inspection. SOLD! We told them to go ahead with the inspection and we could not believe how thorough they were. Never has anyone else put a meter on the water system for our geothermal to check pressures. No one has even touched that part of it since it was installed! These are some really great guys who love what they do and genuinely care about their quality of work and customers. They have my highest regard and recommendation!
9 months ago Mike Alston
When my heating failed on a very cold morning, I called Dayton. Scott came to check out the problem. He was courteous and very knowledgeable. When he found the source of the problem, he explained it and listed available options in detail, answering my questions and allowing me to make an informed decision and choose a replacement furnace without pressure. I was provided heaters to keep me warm until the new furnace was installed! Scott and Mark installed the new equipment quickly and efficiently, tested it and explained it's use. I would use Dayton Heating and Air Conditioning again and recommend them if you are looking for knowledgeable, courteous, and honest service with reasonable prices!
7 months ago
Popular places from the category HVAC contractor