Golden Rule Plumbing, Heating & Cooling
HVAC contractor Golden Rule Plumbing, Heating & Cooling, 904 NE Main St, Grimes, IA 50111, United States:
220 reviews
of users and employees, detailed information about the address, opening hours, location on the map, attendance, photos, menus, phone number and a huge amount of other detailed and useful information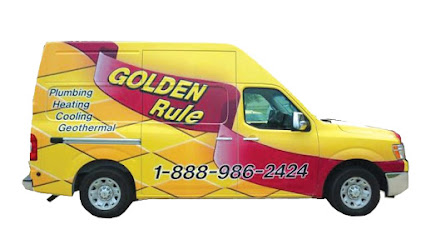 Address:
904 NE Main St, Grimes, IA 50111, United States
GPS coordinates
Latitude:
41.6954520
Longitude:
-93.7917624
reviews Ronald Sisco
They fixed my sump pump problem. I was leaving town and needed my sump pump fixed and they were willing to help me out and come out even though they were booked up. They helped me out a lot considering it was supposed to rain that weekend. They got fixed and done very quickly and tested it multiple times for me. They did a great job and they showed up on time and they were very friendly to me. The price wasn't bad either. Overall I had a great experience.
1 month ago Damian Simmons
From the speed of service, to the quality of the work, as a new customer I felt like "I knew somebody" and was getting special treatment. Golden Rule seems to be as much the company philosophy as it is the company's name. Corbin, Colton and Ramon are true professionals. Mine was no easy job and I appreciate the entire team who made it happen in one day. Great job and thank you
4 months ago emma gallagher
Denny from golden rule came out with his partner and they did an amazing job going into detail what was wrong, but so very personable. Such good customer service and so very nice. He also set up an appointment for the product engineer to come out and talk with us. I am very pleased with how they helped me and informed me of what needs done. Highly recommend Denny from golden rule.
1 month ago John Robertson
Installed both furnace and air conditioner along with new water heater. On time and worked throughout the day. Kept me updated on progress and very professional. Also walked me through all the work and changes after the work was completed. Would totally recommend these two, very personable and patient with me learning the new app and how to work my new heating and cooling system.
1 month ago Roger Sturgell
I'm that customer that is easy to work with, but is hard to impress. Well, I'm impressed. With so many hardships and disappointments this year, Golden Rule was a breath of fresh air [big shout out to Colton and his crew]. I had a horribly complex system that needed to be torn out and replaced (two furnaces and two outdoor AC systems in my house), with a rat's nest of duct work, vents, gas piping, etc. etc. They promised me a one day install, which I found hard to believe was possible, but they delivered on all counts. They tore out all of the old equipment and hauled it away, redirected all of the ducting (which had to be meshed together with new fabricated pieces to combine my previous two units into one), installed the new furnace and AC, capped off and re-ran gas lines, asked my opinion about how I wanted things done, made me aware of what they were doing the entire time, educated me on my new thermostat, and then cleaned up after themselves completely! All in the ONE DAY they promised! AND they were great on price. We need more companies like this!
10 months ago Cal Percy
Michale was very professional! He fixed a clog we had in our shower. He gave us several options for our issue and we picked what worked best for us. I'm a nurse and he offered us the gold member club for free for being a healthcare worker! Very happy with the service and highly recommend to anyone needing inspections, maintenance, or repairs.
1 month ago Cindy Cox
Golden Rule was able to come out the day after I called. The receptionist (who's name escapes me) was SO nice on the phone and Tyler who came out was quick, polite(even to my puppy who barked at him), and professional. The issue was fixed quickly. Since everything was so easy, we signed up for the membership! We'll definitely be using them from here on out! Thanks Golden Rule!
2 months ago April Wagner
We've used Golden Rule for several plumbing repairs / updates in our 1948 home. Service has been excellent. Our interactions with staff have been very positive and they have gone above and beyond to provide great service. Our home is fairly meager. We haven't been doing big, fancy work in new homes. The techs and professionals we have interacted with have been very polite and have gone to great lengths to explain everything that's been done.
2 months ago Cullen Rafferty
Bathroom repairs made professionally and quickly. Only complaint is that I made the appointment on line and received no confirmation of any kind and had to call the company to be sure the appointment was actually confirmed. Would have been 5 stars if there had been better communication.
1 month ago Dr bartoo
Royce was GREAT. He replaced my hot water heater. He was very friendly, patient and efficient! I also had my toilet replaced and part of my main water shut off pipe. His helpers Henry and Michael were also good! Thank you Royce and team. Loved how they sent me an email with his picture and name before hand. Will recommend GOLDEN RULE.
3 months ago Marielle Donlon
Royce came in timely and professional manner. Gave him the run down on what is needed and both him and the company were okay for using parts that I already ordered. Royce knew the process of installing kitchen sink, faucet, garbage disposal, strainer, and had to modify the existing plumbing. So ????
1 month ago Pascal Rettig
Golden Rule installed a new hot water heater. They were prompt and professional. They clearly explained the costs and the options. Landon was courteous, respectful and provided excellent customer service. The process was easy and we will definitely use them again and recommend their services to others.
1 month ago Chris Welty
Excellent Service! I called in the morning and was able to have a Plumber at our house the same day! Henry was professional and did an outstanding job for us! I appreciate the notifications via text and email letting us know who was coming to our house along with a photo. Highly Recommend!
2 months ago Mandi Klindt
Our water heater blew out and we needed it replaced quickly. Adler was there the same day! He was very professional and informed us of all of our options for replacement and install. Golden Rule was able to fit us in for a same day install appointment. All three men at the install were very professional and efficient.
1 month ago Rachel Schmidt
Keith was very friendly and professional. He took the time to explain what we needed and helped us find our best value. Much appreciated!
1 month ago Matthew Christian
We have Geothermal NOT initially installed by Golden Rule but luckily they have taken over service for us. Corbin came today for routine evaluation and I felt he went above and beyond to review our situation and find a way to help lower our utility bill which is much appreciated. Thanks!
1 month ago Vanessa Johnson
Adler and Mike were timely, professional, informative, and friendly! I appreciate their efficient response to our heating issue and their quick implementation to get things fixed for us! They broke down the cost variables and details in a helpful way and made this process so easy! We would hands down call Golden Rule again!! Thank you for taking great care of us today!
2 months ago Yessi Cornejo
We had a bathroom that smelled after every use. After having a previous business out 4 times we could never find the problem. Landon came out and immediately identified the likely culprit and put us on the right path to getting it fixed! Finally some help!!!
1 month ago Keith Jackson
Tom was personable, upfront, and educational. After talking with him I was comfortable about using them for my project. Install was done today and the technicians were polite courteous and personsble. They walked me through the finished install and went over the new thermostat with me.
1 month ago stephen hamerly
Landon did an excellent job. He explained everything clearly and presented options while explaining the benefit of each. He did an excellent job replacing an old toilet. Everything was done perfectly and the area was so clean when he left. Even better, my appointment was scheduled for tomorrow but they called around 3 today and said they had a plumber who finished early and wanted to know if I would like him to come today. Yes!
4 months ago Anne Goodrich
He was courteous and thorough and talked me through all my options. I needed a new tank and he went and got what was needed even though it was almost 5pm and came back and finished the job so we could have hot water that night. He made sure my utility area was clean and tidy after he completed the job and I very much appreciated that he stayed until 7 pm to take care of my issue. The price was reasonable and the service was great.
3 months ago Samir Bello
The technician was prompt and efficient. He explained the repairs requiring attention and what was done to make the necessary repairs. The technician was friendly and knowledgeable.
1 month ago Yudelkis C
I needed to replace my water softener by the water filtration system, so i called Golden Rule; they set up an appointment and told me I had to pay $72 for giving an estimate. I was told that this estimate would reflect labor hours, materials, etc. When Royce came, he gave me the estimate for $682 + tax. I asked him how many hours of labor it included. He explained that was the total price and that's it. Next, day, I called HERR Plumbing, they gave me a free estimate and the replacement was done for the price of $280 total (2 hours of labor). So, in the future, I am going to do business with HERR Plumbing, not with Golden Rule.
2 months ago Kay Zindani
We have used Golden Rule for years on regular, seasonal maintenance. Always appreciate the communication from our techs with concerns or tips for our 18yr old system to keep running. After the hot spell in summer of 2020, our AC stopped working. First call in the morning to Golden Rule and by the next day we had a new system installed. The crew was very respectful of COVID concerns and kept distance when possible, mask and enhanced cleaning processes. System runs great to this day. Now 9 months later we have them install new toilets and same high level of service we have appreciated over the years. Henry arrived on time, gave him a quick walk-through and he went to work. Very respectful of our pets to make sure they didn't get outside and kept everywhere clean. Excellent customer service and would recommend them to anyone looking for prompt, attentive customer service.
2 months ago Purple rain
We were beyond pleased with being able to get a tech to our house on the same day that we called for service! Our ancient water heater had seen better days and Royce, Mike & crew were able to start the install immediately, and they finished the job so quickly, too. Professional, friendly and efficient...can't thank you enough! We will definitely recommend to everyone we know, and will be contacting them again for all of our plumbing, heating and cooling needs in the future...thanks again!!
2 months ago Scott Cortis
Keith was able to come a day early and was very courteous and professional. He explained what he was doing as he checked out my AC.
1 month ago Katie Kosmetix
They told me everything that was needed to be done. Also let me know the prices before he did the service. And he took pictures for me to see his work when he was done I can't go down the stairs.
1 month ago anu Adegbola
Bobby came out yesterday to talk about furnace and A/C replacement. He was friendly and professional and explained our options fully. Today, Golden Rule came out and replaced two gas furnaces and two central air units. They did a great job of removal, installation and clean up. They took time to explain how things worked, including the new smart thermostats. Great job!
2 months ago WOODARICH
We have used Golden Rule for many projects from installing a new HVAC system, plumbing our kitchen for gas and most recently installing a garbage disposal. They are the least expensive option in town, but the quality of work is exceptional. I'll gladly pay for exceptional service and professionalism.
2 months ago Nick Calder
Han checked our furnace and AC for routine maintenance. Adler and Jordan did a great job with removing the old water heater and installing the new one. They even replaced our valves with more functional ones. I appreciated their friendliness while getting the job done and definitely happy that they left the area cleaner than when they first got there!
2 months ago tyt shaw
Emergency plumbing issue...kitchen line sprung a bad leak. Water leak for 40 minutes before we detected it so the kitchen was a mess. Called 3 places and no one could guarantee sending someone until Golden Rule saved the day. They sent Royce who was a life saver. He diagnosed the problem. Gave clear cut options with no surprise charges. He even looked at another issue in the bathroom and I was able to have that fixed as well. During a stressful situation where fast decisions had to be made, I felt no pressure from Royce. He gave me options and choices. Could I have gotten a cheaper deal? Maybe. But you get what you pay for. And after the chaos of this morning, my mind is resting easier that the problem is fixed right, fast and I have two less problems to worry about. Thank you Royce and Golden Rule. They treated me exactly as their name states...by living the Golden Rile.
2 months ago Kristin Tyler
Bobby and Tyler explained everything in great detail describing all of the options. They were very personable and professional and exuded trust from the start.
1 month ago Rod Norman
Excellent Service! Would definitely recommend to friends and family. JD was great, very professional and helpful. He explained everything in detail and showed me all the options I had available, rather than persuading me towards the most expensive options. Will definitely keep going with them in the future.
3 months ago Ruwimbo Malianga
Skylar did a great job repairing our sink in our basement bathroom. He completed the job in a very timely manner and cleaned up the area better than what it was when he arrived. Super great kid!!
1 month ago Derek Bizier
The water heater leaked and died on us over the weekend and they were able to come out the next day to fix it. Andrew was personable and got the job done. He went step by step of what he did and how to re-light the pilot if I ever needed to. The job looked god and everything was cleaned up.
2 months ago Kathlene Scalia
They were very good about letting us know when they'd be able to get here. They showed up at 4 pm on Saturday afternoon and they didn't leave until 9:30 pm. Our service rep, Adler, was outstanding! Great work and provided excellent service! We would definitely recommend Golden Rule!
4 months ago Marget Moore
Even though our appointment was overbooked on Monday 4/12 and therefore got moved to Wednesday 4/14 it was worth the wait. They were professional and knowledgable. We had a new outdoor faucet install and a natural gas line moved. Perfect!
2 months ago AFerr
Wonderful experience from start to finish. Have used different plumbing/HVAC companies around the metro and they were okay. However, we feel like we've finally found a company we are really comfortable with in Golden Rule. Every person that's come out has been friendly, professional and more importantly - up front and honest about their options and prices. The work they've done has been top quality and we see no reason to use any other company.
3 months ago Daniel Velaz
We called Golden Rule with a water leak issue, which turned out to be a minor problem. They responded immediately. Service was excellent. Techs were very knowledgeable and explained the process in very clear detail. I would highly recommend this company to friends and family for all their heating and plumbing needs without hesitation. They are AWESOME!!!
2 months ago Purnima Chaudhary
Nick did an excellent job for us! He was knowledgeable, explained everything and worked quickly and cleanly.
1 month ago ben step
Quick and efficient scheduling and work done. They have a membership that is free for veterans and nurses. I like that they give options and clearly explain the issues and repairs. They did try to upsell but weren't pushy.
2 months ago Jason Rabalais
We were some of the lucky ones that had a pipe burst in that we could turn water off to a small part of the house. Michael came out and made the repair quickly and expertly. Courtesy is obviously one of the things Golden Rule believes is important. Signed up for their Golden club because I am sure we will be using them again.
3 months ago Suri Rabinowitz
Have used Golden Rule for heating, cooling and plumbing. Have been pleased with their service for many years. Replaced heating, cooling, thermostat, humidifier, water heater, shower drain, toilets, sump pump and even the kitchen sink. Staff is always pleasant, provides options and doesn't make a mess.
2 months ago steadfastday
Eric at Golden Rule was very good at educating me on what the issue was. He explained everything to me in detail and helped me to understand exactly what he was doing. Eric fixed the issue and our sinks are working great now. I recommend!
2 months ago Danyil Peek
Came out to fix a corroded washing machine water line. Assessed quickly, explained plainly, and fixed quickly and cleanly once the part was acquired. Thanks golden rule, and Royce. A skilled and friendly technician.
2 months ago calvin mitchum
I was blown away by how professional and knowledgeable Nick was with our plumbing. His attention to detail and the quality of his work was amazing. Nick did an excellent job of describing all of our options and the process of his work. Thanks Nick! We are so grateful!!
3 months ago Marianne Craig
Purchased a new HVAC system and water heater from Golden Rule. They were prompt, efficient, and professional throughout the purchase and installation process. It was the best deal of several quotes we got. Highly recommend them
2 months ago Dovy Appel
We purchased a new toilet from Golden Rule. Also had several other plumbing issues. They were great. Got everything installed and fixed all the other plumbing issues in one day. Technician was so professional and pleasant. Can't say enough about Golden Rule.
3 months ago Rayhaan Surve
Very helpful, explained multiple options and price points. Scheduled install very quickly after decision was made and employees who installed were great. Very respectful, left everything how they found it, and friendly.
2 months ago Emily Rouse
They did a great job. I contacted them on minor non emergency plumbing repairs. Bad valve in toilet, broken pipe from outside spicket, and low pressure on hot water in a bathroom. Communication on timelines and service was great. They didn't give me a massive window of time that they might show up like other companies. Derrek Adams set me up with everything and had exceptional customer service. I thought the price for everything was very reasonable and would definitely recommend them.
1 month ago
Popular places from the category HVAC contractor