Heartland Church
Non-denominational church Heartland Church, 1212 NW 36th St, Ankeny, IA 50023, United States:
27 reviews
of users and employees, detailed information about the address, opening hours, location on the map, attendance, photos, menus, phone number and a huge amount of other detailed and useful information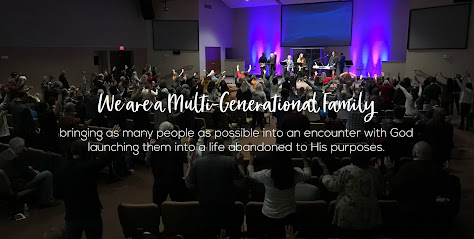 Address:
1212 NW 36th St, Ankeny, IA 50023, United States
Website:
heartlandchurchonline.com
GPS coordinates
Latitude:
41.7622155
Longitude:
-93.6150475
Location on the map
Reviews Jazmin Nicasio
The Kingdom of God is here! Love the worship, teaching, and the people. They are a genuine people who are intentional about pursuing relationship with you. They are passionate lovers of Jesus who seek his presence and his will to be done in every gathering. If you want freedom, I highly recommend coming because where the spirit of the Lord is, there is Freedom!!
3 months ago William Eddy
I love coming here, it's the best church I've been to but we should NOT talk politics at church.
2 months ago IMMINENT WAVES
We drive an hour every Sunday and Wednesday just to come to church here. Very wholesome body of believers that made me and my family feel at home from the first time we came. They have programs and events for every age and relationship status.
7 months ago Keith Leonard
A very spiritual place of worship. Pastor Dave is really nice, and family oriented. He is all a very good teacher as I always attend his midweek Bible study. The church preaches the real gospel in Christ way. The preach in truth and honesty, not just preaching posterity and preaching grace to give people ability to hide their sins. I will always recommend this place of worship. Good kids program too by teaching them how to recite and memorize the Holy Book.
11 months ago NITHYA NANTHAM
Very nice place
10 months ago Yulia Severina
Awesome active worshippers. Always a great Bible based message from Pastor David Olson and staff. Love the Mission Outlook and action of the Congregation.
8 months ago Michelle Rogillio
We started attending Heartland in April 2017. We love the worship time and prayer time. The reason we are still going to the church is because of the worship and prayer time and also my child loves Kingdom kids. I am giving it 2 stars because the it is such a cliquey church. If you are not part of their clique you are probably not going to be greeted. We have been going there since 2017 and I can tell you that there are only about 4 people that consistently talk to us every Sunday. The good thing is that we go there because we love the worship and prayer time and we are already strong believers in Christ so the click does not bother us. Besides that the church and service is great!
5 months ago P S
I felt the presence of God from the minute I walked into the church. There is such freedom to worship the Lord. My whole family has been impacted deeply by the preaching and teaching here. We have grown so much in our walk with God and we will be forever grateful!
11 months ago Greg Spora
The first time my wife and I visited this church we knew we were "home." I love their hunger and passionate pursuit of the presence of God. And I SO appreciate how grounded in the Word of God they are. It is the uncompromisable plum line for every beliver. They also highly value prayer/intercession. They long to see the earth look just like heaven just as Jesus prayed in Matthew 6:10! I LOVE this church!!!
10 months ago BJ DRAWH
Friendly people accompanied by wonderful message.
7 months ago bilkisu hamidou
Amazing worship, and messages. Allowing God to move in a servos and not on a time a crunch.
8 months ago Harry Walia
This is a church that balances the Word and spirit well. The atmosphere of worship captures the type of worship you see in the Psalms. I have learned so much about what it means to have a deep personal connection with God.
10 months ago Lindsay Packard
If you seaking the touch of the holy spirit your probaly gonna get it here ..
1 month ago Keith Griffin
Wow chili cook-off at church good through and through!
8 months ago Brenda Garcia
This place is friendly and really focuses on the presence of God. I have grown so much as a person here.
7 months ago Michael Graubart
Nice friendly people and wonderful facility.
9 months ago Zach Greenwood
Greeted by many people with a warm smile and endearing tone.
11 months ago Rosa Miranda
I had the most awesome Experience with God and healing prayer.
10 months ago Felicia Watson
Powerful messages, beautiful worship and loving people.
9 months ago Patrick Mayoh
Holy Spirit is in this place
5 months ago Christy Anderson
The best church in Iowa
11 months ago Alexandros Fats
great culture
9 months ago Juan Varela
???????????????? place is great
9 months ago Tamara Morris
Children of God here
11 months ago Garrick Wedekind
The church is crazy people jumping all around service goes on for hours. People screaming the entire service. No sermon just singing. Don't come here unless you have no respect for Christianity
5 months ago Eileen Rothstein
Very easy and direct instructions.
2 months ago Olivia ee
Me gusta asistir a esta iglesia
5 months ago
Popular places from the category Non-denominational church