Tippi Toes
Nail salon Tippi Toes, 5580 NC-42, Garner, NC 27529, United States:
84 reviews
of users and employees, detailed information about the address, opening hours, location on the map, attendance, photos, menus, phone number and a huge amount of other detailed and useful information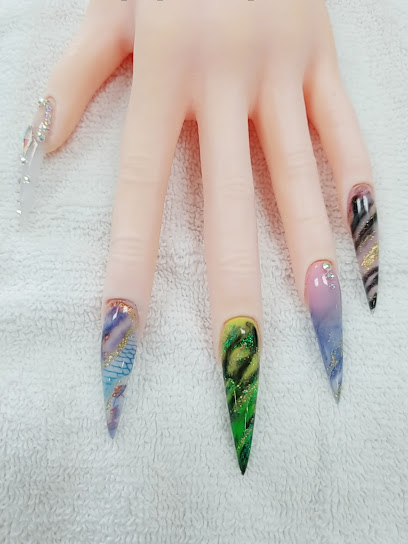 Address:
5580 NC-42, Garner, NC 27529, United States
GPS coordinates
Latitude:
35.6051639
Longitude:
-78.5683727
reviews Shawn Netty
Totally exceeded my expectations. Ben got the design I requested spot on! Live love love their nail salon. I will never go anywhere else.
2 months ago Hillary Bolter
Ben is absolutely awsome at nail art. I show him pics, get upfront pricing when I ask, and get what I want. He listens and will fix what you dont like. He also goes down to the cuticle when refilling and painting, so there isnt a large gab that looks like you need them done sooner. The shop is clean and they seem to have lots of availability, as I'm able to call and get a same day appointment. Pricing is fair as well. Would recommend to give a try! Please note, the pic is approx 1 week after I got them done and my nails tend to grow fast.
7 months ago virginia ocasio
I love going to Tippi Toes! All the staff are so friendly, like family. Lots of choices and pampering.
5 months ago Rudy Perez
My nails are suppose to be coffin its cut in the shape but it's not matching the other hand length some are fat and curved on the edges I will not be returning it was my first time here KEEP IN MIND I ONLY GOT ACRYLIC NO POLISH BECAUSE I CAN DO DESIGNS MYSELF AND I WAS STILL CHARGED 41 DOLLARS WASTE OF MONEY
6 months ago Ben Shipman
Ask for Hellen and Gabi if you need good feet massage.
4 months ago Niko Steele
Do not go here I went on a Sunday for a fill in with my granddaughter 3 days later my nails were coming off and my little one had gel mani and pedi horrible $150.00 later. Don't waste your money
2 months ago Adam Stith
The people that work here are really nice and make you feel welcome. They don't rush and do an awesome job.
11 months ago Cherie Blanchard
I luv this place
3 months ago Guy Juravich
This is the best place to get nails done and a pedicure. Try the place out and ask for Bear.
11 months ago Missy McCullough
Clean shop, nice environment- updated. Staff is always friendly. Best pedicures- they don't skimp on the massage. Helen is my favorite.
3 months ago Caitlin Snyder
Wonderful place! Very clean, and amazing work! Felt like I made a new friend! Definitely only coming here from now on!
4 weeks ago Jeff Field
Great service! Awesome because they'll do different designs. Not just the standard lines and flowers if you ask. If you want laughs and good customer service, definitely the place to go. Prices super reasonable too.
4 months ago Veronica Gilbert
I got the sloppiest manicure I've ever had in my life from some arrogant, self-righteous dude that talked down to me and spent the entire time berating me, blaming me for his mistakes, and generally criticising everything, even down to how I naturally held my hands when I got up to wash them. You won't get respect here. It's a shame I'll never come here again as the other staff were fantastically friendly.
2 months ago sheena basin
Bear is the best and always gives me exactly what I want! Definitely recommend ????????
6 months ago Baruch wolkenfeld
I love this place . their the best . I drive 30 minutes just to come here
3 months ago Michael Saia
My family came in as a walk in and they gave all 4 of us pedicures and 2 manicures. Very friendly and clean place. No strong smells. Highly recommend!!!
6 months ago Heather Gudenkauf
Fun atmosphere, very nice fun tech, good music, everyone working there seemed very happy. Tech took his time and gave a great massage! Will be going back.
5 months ago Adam Faulkner
I love TippiToes! Bear and all his employees are super friendly and very accommodating. Their salon is clean and the atmosphere is great! Would recommend to anyone looking a nail salon:)
3 months ago K AR
We walked in with our daughter and had her pick a nail style. Instead of confirming our request we were asked 3 times in a confrontational manner if we were sure we wanted that style because it was $70. She never told me if she could do the style that my daughter wanted... I felt very much disrespected and profiled. I would not recommend this place.
2 months ago margaret k
Amazing customer service. You will be entertained. They will keep you laughing. My man was very plz with his pedicure also.
3 months ago Amy ANGELICA
Friendly atmosphere, staff was great, my pedicure wasn't rushed
2 months ago Brian Oliver
They Try to get over on customers with ridiculous prices , the work is not worth it , and If Your Not Use to cleaning acetone or acrylic off of your hands by yourself I would not recommend this nail salon . Straight Bs!
1 month ago RJBaNKS Instrumentals
Very professional. My nails look great!
6 months ago David LaMarche
Good service, ask for Marjie.
10 months ago Nestor Duran
I'm giving only one star, not because there was no option for NO stars!! They at least had a color of polish that I liked. Was very disappointed on my pedicure. I got the deluxe one but there was no deluxe in it. The staff was was inappropriate in there actions with each other and there language. There was no relaxing to be had. Place was dirty, in need of a serious deep clean!!! Some of the staff looked as if he or she climb right out of bed " no personal hygiene ". Price way to high for the the less than 20 min. Start to finish deluxe pedi!! Awful!! Will never go back or recommend this place to any one!!
4 weeks ago Thomas Shoemaker
This was our first visit here and it was a pleasant experience. We didn't have an appointment but were greeted with a smile. The employees were cheerful and jovial. It was clean and sanitation seemed a priority, which is a necessity in a nail salon. I had my 14 year old niece with us and they treated her with such kindness. We will go back.
8 months ago Domnic Sickles
I am a nurse and a new mom, so my free time is very limited. I was so looking forward to a pedicure with a good friend and we decided to try out Tippi Toes. It was by far the worst pedicure experience I have ever had! The technician was rude, the work was sloppy and it was the opposite of relaxing and enjoyable. My nails were cut crooked and the paint job looked like a child's work. We will never return!
3 months ago King ShaykeEm
Had the worst experience. A roach crawled on my foot while at the drying table I jumped up told the nail tech beside me she laughed & tells me "they come from next door". Staff was nice but I won't be returning.
3 months ago Ann Sheridan
The place is for people that appreciate a good communication between tech and customer. Probably sassy-est nail salon in the south! All the techs are amazing. Best pedicures ever!
9 months ago Angel Phillips
This is the best Spa! So clean, so nice! They planned to be closed today for Memorial Day but someone took a reservation for me a week ago. Instead of just closing anyway Cindy and Lee came in special just for me and my Mom!! That kind of customer service is a rarity these days! My Mom had so much fun laughing and talking with them. They are such a gem! I HIGHLY recommend them!!!!!
4 months ago DokiDoki Panic
Friendly staff
2 months ago Pwarl Rideout
Excellent customer service!!! Tippi toes is the only nail salon ???????? I will go to get my nails done. Love Shawn and he does an amazing job on my nails ????. I don't let anyone else do my nails
4 months ago Leila Joslin
Oh my, I have been getting my toes done for years. I actually used Lee & Cindy probably over 10 yrs ago. When I walked in and saw they were back I was excited. But let me say....they have trained their boys WELL. Andy did an amazing job!
4 weeks ago Shannon Swartzendruber
My favorite place ever ! Bear is absolutely the best ! It makes my day just talking to him ! There work is the best and they all are very friendly . Only place I will ever go ! ????????
4 months ago gaynell osborn
Bear was absolutely awesome. The experience was fabulous. I will definitely come to this salon from now on.
5 months ago Flaky LMD
I am not understanding how this place has so many positive reviews. The wax room is so incredibly gross and unsanitary, the whole place is just so awful. Y'all I wanted a relaxing pedicure since I get one maybe 2xyear and this was sooooo far from that. Everyone is so unprofessional it's laughable I don't even have time to explain all the reasons just don't do it. Also super overpriced especially due to how run down it is. Go literally anywhere else.
4 weeks ago Ivan Munoz
The atmosphere was ok.. but i spent 97 dollars on a nail and pedicure service. This is why i do my own services, and thank God i know how. It is a week later and since then I've refilled my own nails and cleaned them up, and will be getting another actual pedicure this week..smh to much money gone and i can real break down the no nos ood this service. Plus i got my work done by the suppose to be owner..
4 months ago Paul Kim
Always professional, yet makes you feel like family. Beautiful results!!!????
3 months ago Alison Kavanagh
Shawn is absolutely amazing at what he does, and takes great pride in his work. Any time I walk into the salon I'm greeted by everyone and immediately asked what I need. Everyone is always so pleasant, friendly and make you feel like family. I love that they use new nail files and utensils on your nails as well. Many nails salons I've gone to before reuse them and it freaked me out because of the possibility of spreading germs and diseases. 10/10 on everything Tippitoes has to offer! If you're looking for a new nail salon, look no further!
4 weeks ago Philipp Buechler
My wife loves this place! I highly recommend it! Bear is always kind and kind on my wallet
4 weeks ago Ariel Peinado
Excellent customer service. Friendly environment. Recommending to to everyone around.
8 months ago Alexander Schmidt
Love this place they have the best service everyone is really friendly Cindy is the best
3 months ago lmia meeks
Nice place but service felt a little rushed.
4 months ago fern pal
I have yet to be disappointed here!!! Love them and my new chick..Susie is the bomb Elizabeth Clayton NC
4 weeks ago hector Silva
Love going here to get my toes done.... Staff is very nice and friendly
4 weeks ago Olivia
It was my very first time coming here after being recommended & we can say I was very satisfied ☺️
3 months ago Dhanya Sundaran
I wish -5 stars was an option.
4 months ago Joey
I will not be going back. I got a full set of acrylics with a gel polish. They did the most minimal job on shaping and were very rushed. I had bumps in my nails and the gel polish started peeling off within two days. No pride is taken here. If you are that busy then hire more employees so that you can service your customers.
4 weeks ago Maxime Paul
Walked in and got the perfect treatment and results I could have ever asked for. Ask for Trina or Tommy.
3 months ago Isiah Tatum
Customer service was a bit lacking. My manicure looked very good, but my sister's full set of acrylic nails were not done very well.
4 months ago
Popular places from the category Nail salon