Luxe Home Interiors
Interior designer Luxe Home Interiors, 2013 Olde Regent Way #270, Leland, NC 28451, United States:
36 reviews
of users and employees, detailed information about the address, opening hours, location on the map, attendance, photos, menus, phone number and a huge amount of other detailed and useful information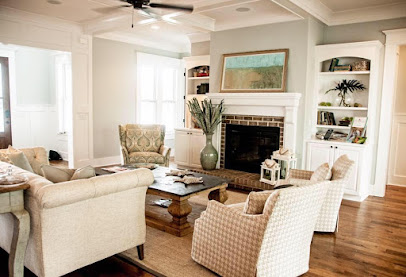 Address:
2013 Olde Regent Way #270, Leland, NC 28451, United States
GPS coordinates
Latitude:
34.2190437
Longitude:
-78.0195906
Location on the map
Reviews Mocha B
Working with Julie Bray has been a wonderful experience. She really took the time to understand my vision and worked with me to furnish my new home. Julie was always a great sounding board from color schemes and fabrics to furnishings and accessories. I'm just thrilled with the outcome and I highly recommend meeting Julie - she is a very professional designer and will enhance your home design immensely.
7 months ago shirley Schmelzer
It's been such a pleasure working with Joni Hitchens. Her design experience and expertise is clearly evident in her ability to understand our style and preferences as well as guide us through the process of furnishing our new home. I look forward to continuing our relationship and will definitely recommend her services to others.
7 months ago Emily Larsen
What a pleasure it was to work with Julie at Luxe. My husband and I went in to the showroom with a vague idea of what we wanted. Julie listened and offered suggestions. We liked that she grasped and clarified the direction we were headed. After she came to the house with samples, decisions were made, items ordered and delivered. We are very happy with Julie and Luxe and will use them again.
7 months ago Rebecca Marshall
Luxe and Julie in particular listened to what our needs were, along with goals for a particular room (s) over the years, kept us in budget as well. And when she couldn't provide an item or didn't carry a line we needed she was honest and didn't try to talk us into something we ultimately would but unhappy with later on. The quality of the lines they carry are top notch.
7 months ago Steven Wolf
We moved to Leland 2.5 years ago and we moved with bare necessities only...no furniture. A neighbor recommended I visit Luxe and suggested I work with Julie Bray. I have been extremely pleased. Julie a delight to work with, she listens to your ideas and wants and works with you to help make the right furniture style selections and color schemes. They do it all from furniture to decorating. Julie is fantastic, treats you like a friend/family and she does it with style and grace. She is a true professional. Luxe is a company you can rely on and you will never be disappointed working with Julie Bray.
4 weeks ago Hichul Chung
We moved from out of state to the Waterford community, building a custom home with an open floor plan. We kept very little furniture from our old home, as we wanted to start out fresh with a new coastal look. We stopped by Luxe Home Interiors store on a trip down to check on our home and had the great fortune of meeting Kaylee Estrada , one of the in-store designers! The store was lovely, with beautiful furniture that was also comfortable (something that is hard to find). We set up a meeting with Kaylee and sent her a copy of our floor plans, explaining the rooms that we needed help with furnishing. She worked within the color schemes that we had already established and helped us select the right size furniture for each room. Kaylee selected fabrics for our furniture that complimented each other and flowed between rooms that were beautiful to look at, wearable and fun! Having an education in art, was a huge advantage, as she was able to introduce colors schemes that blended together along with some fun pops of color! We are extremely satisfied with the quality, cost and functionality of everything we bought at Luxe Home Interiors! We were kept informed by Kaylee of the status of our order. When we move into our new home (about 4 months after having ordered the furniture) it was all timely delivered. We only had a coffee table that had been delayed in shipment and Luxe Home Interiors was kind enough to loan us a coffee table until the one we had purchased was delivered. With a few furniture pieces that we did keep and move down to our new home, Kaylee offered suggestions with painting and distressing some of the pieces, to give them a new life and coastal look. This was done with our dining room table & chairs set and a china cabinet, all pieces now look brand new and amazing! Many thanks to Luxe Home Interiors and especially to Kaylee for making what can be a very stressful experience, absolutely joyful and fun! We LOVE every piece we bought from Luxe Home Interiors! We highly recommend them and would definitely use them again!
2 months ago Suzy Davis
I walked in a few weeks ago after a friend recommended Luxe & met Emily for the first time. She's awesome! I love her ideas and suggestions. Looking forward to her continued help as we furnish our new home. Thx Emily!
9 months ago Nida Suresh
I really enjoyed working with Kaylee Estrada at Luxe. She was very professional, on time and always got back to me in a timely fashion if I had questions. She helped furnish our office, dining room and other pieces around the house always keeping in mind our taste, lifestyle and budget. She became a good friend who's opinion I could trust. All the employees were always warm and welcoming whenever I stopped in to look at their high quality inventory which was always displayed beautifully! I will continue to use Luxe in the future and highly recommend them to friends.
1 month ago Shirley Garland
We turned to Luxe Home Interiors based on a recommendation from a neighbor after we shared our experience with a local furniture store. Although the experience at the furniture store was "okay", we were looking for more. We found exactly what we were looking for at Luxe. Julie came to our home, looked at the pieces we had already bought and made suggestions to supplement and tie all the pieces together. On our first visit, she provided 3 storyboards of ideas, and quickly adjusted as she got to know our preferences and tastes. Rather than the piecemeal approach offered to us from the furniture store, she provided a room complete with furniture, rugs, artwork, lamps, etc. There was little to no pressure to buy and she quickly adjusted if we were looking for something a bit more affordable or decided to go a different direction. What we came to realize is that they provide the full spectrum of services, from design, to delivery to setup, which is exactly what we were missing. Richard's delivery and setup crew is professional and the most fun time in the process is when he has completed his magic and we get to enjoy the result. At the end of the day, unless you are a design professional yourself, it was invaluable to have an opinion from an expert who listened to us and adjusted suggestions based on our tastes. At the end of the day, we love our home and interiors and have Luxe and Julie Bray to thank for the assistance.
7 months ago Gordon Avery
We recently moved to Leland bought a home! I'm terrible with designing and seeing the vision for a completed room, so naturally I needed help. I'm so thankful for all of Emily's help with designing our house and helping to make it a home! They can help you with anything from rugs to furniture to smaller accessories. Emily was a pleasure to work with and I cannot recommend her enough! My home looks AWESOME!
5 months ago Sonny BONO
Had a wonderful experience upon moving to NC & having Elizabeth assist in the design of our new home interiors. Outstanding service and the pieces she selected & reupholstered existing ones created a welcoming & comfortable space we enjoy daily. Highly recommend Luxe for all of your home interior needs!
2 months ago Ronda King
The best shopping experience of my life!!! Amazing customer service. Our design professional, Julie, working with us from beginning until the end. She assisted us in designing our dream space. She helped plan, select and deliver our furniture, rugs and decor. She was involved every step of the way. They even hung the artwork. Richard and his guys are the best. The store sells quality merchandise and stands by all of their products. I highly recommend Luxe!!!
2 months ago Jake Burke
Luxe is my favorite furniture and home goods store. When I moved to NC and built my home I needed to get all new furniture. They carry high quality furniture with zillions of options. I was very specific about what fabric I wanted to use and Elizabeth and I poured over millions of samples. She went above and beyond for me. When my furniture, rugs, and bedding arrived they were delivered and meticulously arranged. Everyone who works in this store are passionate about their work and very knowledgeable about the lines they carry. I was so pleased that I had them furnish my house in Maine. They located a storage facility and helped arrange my deliveries. LUXE is the cream of the crop!!
2 months ago Whitney Clark
Love this company and especially working with Julie Bray. She is such a creative designer and has done a wonderful job helping me redesign and decorate both my primary home as well as my vacation home. I highly recommend using her and Luxe Home Interiors for any of your home beautification needs!
2 months ago Elysse Latimer
A beautiful show room with talented interior designers. Over a year's time Kaylee came to our home several times to mix new furnishings (both custom and floor samples) with our current items. She worked within our budget plus Luxe's frequent sales are a bonus! Kaylee's artistic background allows her to visualize each room based on your likes and dislikes. She is also honest enough tell you when she feels something won't work. Kaylee even guided us in selecting our kitchen tile backsplash!! She is magic!
4 weeks ago Payton Capone
Our design experience with Luxe Waterford was absolutely wonderful. Luxe offers an extensive selection of beautiful custom furniture and home décor combined with premier design services. Julie was our designer, and it was her guidance, expertise, exquisite style, and attention to detail that made our design process fun and easy. Julie perfectly created a beautifully warm, elegant design with bold pops of color and fun patterns. By designing such a beautiful space for us Julie made our new house feel like home. Mike and Tracy N Pinehurst, NC
3 months ago Jay Bale
Luxe Home Interiors did an amazing job helping me and my wife replan some rooms in our home. Real, authentic people focused on what we were looking for and getting us the best value!
2 months ago Anne Aav
The entire team was helpful from start to finish. The completed work was beyond my expectations. I never thought my hoke would be so beautiful!!
2 months ago Holli Greenlaw
Deborah was my designer. She was very knowledgeable and very skilled at designing my great room, dining room, and guest bedroom. She made wonderful suggestions and patiently answered all my questions. Richard and other members of the delivery team were very professional and took great care when delivering my furniture and accessories. I love my beautiful new rooms! I appreciate the excellent customer support that Deborah and other members of the Luxe team provided. Thank you for a job well done!
11 months ago Shanna Gibson
They are the best Designers! Love working with them!
4 weeks ago Sebastian Dina
Julie has been our interior design consultant and we are absolutely pleased with her help. She has great insight into what looks great and adds interest to a home. We will, without a doubt, contact her again for assistance. Thank you julie
9 months ago Paty Flow
I came in their Leland store and talked to Kaylee. She was very knowledgeable and friendly. I really appreciate her patience and professionalism! Thank you so much Kaylee!
9 months ago Bibek Neupane
Beautiful furniture and home furnishings, with wonderful customer service.
11 months ago Ivan Arbov
A few years back, I furnished an entire room through Luxe and the experience was top notch. When I needed to buy a new sofa for my living room, I immediately went to Luxe Home Interiors and found exactly the right thing at the right price. Lynn and the staff are incredibly helpful and they make sure your shopping experience is a pleasant one. The personalized service simply can't be beat. I'm thrilled with my sofa and can't wait for delivery! Thanks Lynn and Kate!
11 months ago Michael Chang
We had the best experience with Luxe from the first visit from our designer, Julie Bray, to the beginning sessions in the store to look at furniture styles fabrics and accessories to the beautiful finished product. Julie gave us a choice of floor plans for our room and suggested some ideas we had never thought of (we were stuck in the "let's do it the same" rut). We loved that our sofa was custom built to fit our specific space and are very pleased with it's quality and that of the upholstered pieces and window treatments. Julie made many additional trips to help with paint colors too. The delivery staff was very professional and knew the exact way to get our big pieces through the doors and openings. Julie was there for the delivery to make sure everything was perfect. We LOVE our new room and the complimentary design service that pulled it all together!
3 months ago Sylvia Garcia
I had a great experience at Luxe. I am not currently living in Wilimington but had a great experience with Heather and the team. She was great at answering all my questions via phone and email and when I did make it to the store, she had all my fabric samples pulled and was ready to show me sofas similar to what I was looking at. Everyone was very helpful and the store is beautiful. I can't wait for my sofa to come! :)
9 months ago Uriel Jaimes
Needed info on furniture restoration. Talked with Elizabeth and posed a question. They didn't do what I needed, but said she would research and call me back. Within 10 minutes she called back and let me connect with another firm which will solve my problem. The interesting point is that she knew this would not result in immediate value to her firm, but her enthusiasm and professionalism was impressive. If I have a need for new furniture I will make Luxe and Elizabeth my first stop. Well done and thanks Elizabeth.
5 months ago Roy Strauss
Purchased a gorgeous rug in November 2012. We also looked at a chair and coordinating pillows that were gorgeous. We settled for the rug only as that's all we really needed to complete our room. Luxe has high end products at very reasonable prices.....you always leave therer inspired and always, always wanting something that they have on their floor! The store is not huge yet offers an array of options with a friendly and helpful staff!
6 months ago mathew jadan
Beautiful show room. Gorgeous furniture!! Amazing staff.
11 months ago Linketta Dembry
Called to obtain some info on a sleeper sofa for mother-in-law. Left several message and never heard back once. Lack of responsiveness is disturbing especially since they are the only local provider for this vendor of choice.
1 month ago Martin Shain
Worst experience I ever had with a furniture store. I ordered a sleep sofa which was to take 3 to 5 weeks. They even called manufacturer to see if fabric was in stock and was told it was. Before leaving the store I was told I would be kept informed of the progress. After hearing nothing for 7 weeks, I called and sales person said "I thought you probably had it". It took another 3 weeks to receive the sofa. Within that 3 weeks I was emailing the sales person with my frustration and she said she would forward emails to owners. I heard nothing. No customer service, they take your deposit of 50% and forget you were even in the store.
9 months ago Ivan Lo
Julie Bray was great to work with. We met with her when we were building our home in Parkside at Mayfaire. I asked for a compromise between Coastal Living (for my husband) and Southern Living (for me). She understood exactly what we were looking for right away. I think we went with all her suggestions without making any changes. We purchased furniture, window treatments and she helped us repurpose a few pieces with reupholstering them. Could not have been happier with how everything turned out. I highly recommend Luxe for any size project.
9 months ago Miguel Nebot
Bought a dining table and sofa. Very professional and knowledgable staff. Great service
3 months ago Diti Sen
My wife and I went into this store and were shocked at the high prices on the cheap merchandise. You can find better quality at Marshall's or TJMaxx in their furniture section. Then we learned what a horrible experience our neighbors had in dealing with the "design" department of this store - overcharges, fraudulent charges, broken legs on furniture, extended delays in furniture delivery. And there is no customer service aspect of the store if anything goes wrong. Apparently nothing is there fault or responsibility. Go to a store with certified designers who won't rip you off.
9 months ago Chris Demeur
Luxe has helped me with several projects since they first opened years ago as Norwalk Furniture and I've always found the experience to be extremely professional and very helpful. Initially they helped with the remodel and redecorating of a home in the south oleander area of wilmington. Their designers met with me to get an idea of my taste and presented several different design layouts and options for the rooms that I was looking for. I found the pricing to be extremently reasonable and the turn around to be very quick. After that initial project, we have worked on several more. A farm house in the country and a chic modern condo in downtown. They are truely flexible to any budget or style. I'm always amazed at the style that this store brings to Wilmington! They have opened so many doors to different lines and looks that we've never had before. If you are looking for some of the hottest trends at market or for classic lines that will never go out of style, let the staff at Luxe direct your style. You won't be disappointed.
11 months ago Will Capuano
I love this place OMG I just Love it
7 months ago
Popular places from the category Interior designer