Books-A-Million
Book store Books-A-Million, 3737 Oleander Dr, Wilmington, NC 28403, United States:
220 reviews
of users and employees, detailed information about the address, opening hours, location on the map, attendance, photos, menus, phone number and a huge amount of other detailed and useful information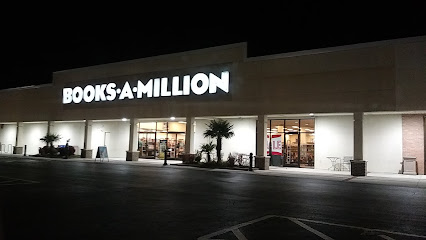 Address:
3737 Oleander Dr, Wilmington, NC 28403, United States
GPS coordinates
Latitude:
34.2162310
Longitude:
-77.9010448
Location on the map
Reviews Lynne Nunya
Love browsing in a brick and mortar book store! Bargain books, magazines, best sellers and more! Great place for gifts and maybe a little extra.
7 months ago Stacey Alterman
Great metaphysical books and awesome prices... I love how they have a table with sale prices and clearly marked categories... downside price stickers that leave behind gunk but that's ok...
11 months ago Jeremy Pohl
Great place to find gifts for everyone. Obviously a good book selection, but a lot of cool novelty items and merchandise from tv shows and movies.
7 months ago Tim Sowell
Customer Service was over the TOP, BOTH on the floor and at the register! My only problem was with the manner in which the Bible Section lacked decipherable organization, which not only challenge the Customer but the Customer Service personnel: ESPECIALLY WHEN THEY BOTH KNOW SPECIFICALLY IS THE SUBJECT OF THE SEARCH! I wanted options of The Amplified Bible, and found JUST two copies of ONLY ONE! In a city where Religious Bookstores have seemed to fade away, that's honestly a disappointing fact. I do, however appreciate the willingness of the Staff to assist in my search ????☺️!
8 months ago Bilal Syed
Literally everything that you could possibly want or need in a book store. They've got it all! And I carved out children's book area that my five year old loves. There are many times that I have found new books or magazines here before they hit the shelves in other stores. Very friendly and helpful staff. The only gripe I would have is that they push the BAM memberships very adamantly. It is good to have if you're planning on shopping there several times a year. But if you're only going a few times, you don't need it. A very clean and organized business and personally preferred over Barnes and Noble.
9 months ago Delyan Kratunov
They were nice and helpful. I went with my family while i was visiting from out of town (nyc) and purchased a walking dead book i thought i didn't have. We got all the way back to NY only for me to realize i had that copy. About a week passed when i was finally able to mail it to my sister in law. She took it to them all the way from swans ferry and they still exchanged it for me. Even mailed my correct copy directly to me. Now that was above and beyond customer service. I will be sure to visit them again in the spring when we come back.
10 hours ago Contrell Martin
Excellent selection and friendly staff. Good chai at the coffee shop too. I will only go here for my books.
8 months ago Laycie Adams
I could stay here all day.I love history.so much information in one place.and great coffee.What could be better?
8 months ago Eytihia Stavrianos
Very helpful to find the books I was looking or to order. Still don't understand why they don't have more Battle of the Books.
8 months ago Peter Rondeau
Found just what I needed. Staff was helpful. Books were easy to find. The covers make the books come to life, all in one store.
10 months ago alireza heidari
This place is fascinating! So much to look at! Books,cards, games, magazines, my and more. We will be back soon!!
8 months ago Wesley Rouse
Best games, playing cards, and strange book related gift items ???? ???? ????!
8 months ago Mohamed Saleh
Great store. Nice staff and love to hang out there.
9 months ago Mary Kleineberg
Was easy to find the materials I was looking for at a pretty decent price for bookstore
8 months ago Guadalupe Ascencio
Easy place to shop. I always find something.
9 months ago Beverly Taylor
Awesome! I love that they carry so much Harry Potter stuff!!
8 months ago Wreh Blamo
Great selection, and cafe staff stepped up to check people out to ou move people through quicker.
10 months ago M F
They had none of the books I went looking for. I use to buy from them all the time but now it seems like it more collectable than books. I'll stick with amazon
10 months ago Amelia Huckins
Clean. Plenty of books. Great gifts.
7 months ago Zoie Fuller
They have a great selection of Bible's.
9 months ago Ralph Steffen
If I'm not careful, I would spend all my money here!
7 months ago Nathan Beachy
The books are always so beat up!!! That is such a pet peeve of mine. I've placed several orders for pick up and the books always have tattered covers and little rips on the spine. You hand pick these books for an order but don't notice or care about the condition? If I'm paying for new books instead of buying used on eBay, then they should be in new condition. Especially when you are charging more than online retailers. Half of the time you can't fulfill orders placed online anyway. One must ask themselves why not just order from Amazon? Why are you not updating your inventory regularly? Finding books in store is such a chore. Quite often the book I am looking for has been pulled from the shelf and is being displayed on a table with a thousand other books. I don't want to have to scour the store or ask someone just to find what I want! Wait...is that how you get customers to browse? I go for the novelty of going into a physical bookstore because anyone who wants to save time and money will just order online from the big A and get their books in new condition, in 2 days.
10 months ago Dwight Robinson
Wonderful selection, but the bathrooms are a bit dirty. Not as big as Barnes & Noble, but more fandom items, collectibles and cool little items you may not find at Barnes. Definitely worth checking out if you live in town.
4 months ago oliver jodi
Great select on manga and comics
8 months ago TOTAL LICE
I like to go to book stores as much as I love going to stationary stores/office supply stores. It inspires my creativity side and imagination. Books-A-Million does just that. I recently visited this location because I was not too happy about how Game of Thrones on HBO; especially now with season eight endings. I went to pick up the fifth book of Game of Thrones: A Dance with Dragons. Along with that I found a nice bookmark that was on clearance. This book mark is a metal clip that has the first initial of my first name and it clips on to the page; to bookmark it and save your last reading location. As with all other bookstores this one is quiet and peaceful with lots of cool nick-knacks, candy etc. Just a place to enjoy some quiet time and explore your own mind and thoughts. If you are having trouble with that I recommend this place to you plus they have CBD products at the register to kick ya in the right direction. I haven't tried any of it but that is another whole world for me explore. Get a book, a magazine, toy, candy or just pop in to expand your mind and soul or to just be curious, either way the helpful and pleasant staff will help you graciously.
7 months ago Tiffany Payne
I little dissappointed in their lack of stock in advanced lego sets. Its not their fault , shipments not coming in front europe:(
4 months ago Jooho Kim
No poker books! Alot more toys and collectables now,
11 months ago Stephen Walsh
Found just what I was looking for. Great service and staff!
1 month ago Beth Bostick
Favorite bookstore ever. great service. Helpful/Nice employees.
11 months ago Chase Eliason
Great variety of book selections amd specials too. Great graphic novel variety. The new vinyl section is pretty good too!
6 months ago David Johnson
Bought a book here and it look like I will be reading it for a while because it's a thick book and I like thick books
3 weeks ago Yaser Elhabit
Helpful staff and a huge selection of reading material for the whole family.
2 months ago Takehiko Nakamura
Always a good time
7 months ago Tim Upham
Everything is expensive. The discount card automatically renews and cancelling is like a scam.
4 months ago robin woods
This is where I read my manga and relax
11 months ago Jeff Dickey
I love it here, very peaceful and easy to navigate.
1 month ago Asnath Thobejane
The staff here was very friendly and helpful.
1 month ago Michael Sobel
I went in to look for these really tiny reading glasses and they didn't have that many so Stephen took one of them scanned it to see if there's any in stock when they're coming in he said he would call around to other stores he called me back and they're going to send it to him so he can call me back so I can go back in the store excellent excellent customer service
7 months ago Carson Cotten
Lots of book choices plus games and gifts. We visit weekly to buy educational rewards for the kids
8 months ago Roger Parham
Great store. Well maintained.
1 month ago Brendon Fone
Was my first time to visit the store, was clean, workers were friendly, and is definitely go back
6 months ago Rachel S
The man that helped us choose books was so informative and helpful. This location is awesome. We will definitely revisit often
8 months ago A Y
Found a few good books and a massage thingy and head massage thingy. And the workers all helped me. Real fast got there at 8:45. And did fast shopping. The way I like it ,fast
9 months ago Joel Pierce
Staff is very helpful and courteous.
1 month ago Emily Gonsenheim
Solid bookstore with a variety of books and novelty things. They are consistent and a fun diversion for a few with the family. It is somehow always a little cluttered and messy when I come in, which gives it a feel of being cheaper than it is, but it's still quite nice.
9 months ago Christopher Eddie
Good selection for children and adults. Helpful salespeople.
8 months ago Tim Davis
Great store. Staff goes out of their way to help each and every time. If they don't have what you're looking for they will order it and send to your home.Great teachers discount too.
8 months ago Br Cr
We found everything we were looking for & then some extra items. Friendly cashier & sweet too.
9 months ago Katharine Maller
It's great that they have other things besides books. A lot of cool things that would be perfect as gifts! The store definitely needs an upgrade though
11 months ago Axsel
I like the store and location but the selection could be better or more organized. Books of the same series were in the right area but not all together so it is easy to miss stuff you are looking for.
11 months ago
Popular places from the category Book store