Aido Climate Solutions Inc.
Air conditioning system supplier Aido Climate Solutions Inc., 120 Malcolm Rd Unit #3, Guelph, ON N1K 1B1, Canada:
106 reviews
of users and employees, detailed information about the address, opening hours, location on the map, attendance, photos, menus, phone number and a huge amount of other detailed and useful information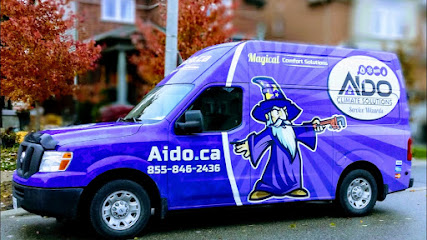 Address:
120 Malcolm Rd Unit #3, Guelph, ON N1K 1B1, Canada
GPS coordinates
Latitude:
43.5354419
Longitude:
-80.3231895
Location on the map
Reviews Peter Giza
I had a water heat and water softener installed. The old one was a mess and finally gave out. I figured it would it always bubbled after use. Brandon did a really good job. The piping is really clean and for sure will never leak. He got rid of the old mess that was there and it's just much simpler and cleaner looking now. He moved the softener to the corner too which is a much better place. My old one didn't work at all for 6 years so just happy to have soft water now. The old valves in the last pic started leaking and he came back and installed some new valves no questions. I might have to get new hoses but whatever I can do that. Anyways great service Brandon is a top of the line dude no issues with whatsoever. Aido is much superior to Air ZERO and their horrible rude customer service. I just had to put that in there those guys are horrible. I will recommend you guys to anyone I know and will be back one day when I need a upgrade or service help.
6 months ago Casey Jones
Brendan was very polite, knows his job and extremely friendly individual. Reasonable price and affordable repairs. He fixed a minor gas leak in the gas range and performed a dial test. I will definitely use him again!
6 months ago Gabriel Bedient
Asif's team arrived as scheduled. They wore facemasks throughout the installation. They replaced our AC quickly and professionally. They even fixed some things that were missed by a previous furnace installer. They answered all my questions and gave some helpful tips. Basically, they gave great service at a fair price. I highly recommend Aido for your HVAC needs. ????????
6 months ago Gerlie Polvorosa
An excellent install experience. Colin arrived at the promised time and went to work immediately. Brandon arrived a little later with the new furnace and air conditioner. These guys knew what needed to be done and they worked well together. Their ability to anticipate each other's needs made the install seemless They kept the work site clean and left with everything in good condition. Brandon took time to go through how each component worked and made sure all questions were answered. I have no hesitation in recommending this company for any heating or cooling requiements.
7 months ago Ashley Taylor
They did a great job on installing our combi boiler and water softener. Asif and his men were very professional, honest and knowledgeable. We were very happy with the service they provided with reasonable price. Yes, I will recommend Aido to everybody.
10 months ago Felix Malave
Would highly recommend. Furnace died Saturday afternoon and didn't notice until 8pm. I called four "24/7" hour service places. Two didn't answer, one took my number and never called back, AIDO on the other hand was there within an hour. They were through in diagnosing the problem and left us with a couple of space heaters. Returned our call about the quote first thing (on a Sunday morning!) and answered all our questions about a new unit. Highly professional service.
10 months ago david eckes
These guys really know their stuff and take the time and care to do the little things right! No cutting corners, like some other service providers I have dealt with. Our full furnace and A/C install genuinely exceeded expectations.
8 months ago Madison Luman
Stop. If your looking for HVAC or AC services, look no further then AIDO Climate Solutions. Asif and his team are honest, reliable and competitively priced. These guys truly care. With a newborn on the way, we moved into a home with major furnace leaks and a non operational a/c unit all in the midst of a serious heatwave. Asif worked tirelessly to ensure we had our choice unit delivered in time. When we hit a delay due to COVID restrictions at the border, Asif offered everything he could to ensure a great experience including daily updates, other stock model options and even offered to personally drop off portable heaters & fans to keep us comfotable in the evenings and day. Your not going to get this kind of care and service from the big guys. The install went smoothly and his guys were quick, efficient and courteous. Our new system is effective, efficient, quiet and we absolutely could not be happier.
3 months ago Tarin Trobec
we had an emergency call for no heat in february the technician arrived at the time he said and did a thorough job of reviewing the situation. he got my heater back up and running so we were not left in the cold. very professional young man would call them again.
9 months ago Hannah Young
5 star service great workman ship very knowledgeable good clean work ... Thank you Aido Climate solutions for making our new instal pleasurable... I highly recommend this company for all your repairs and intall needs they completely reorganized my whole utility room ... what a difference
7 months ago Chris MB
The people at Aido, including the owner, technicians and front staff were amazing! Friendly, knowledgeable and caring. My hot water tank was leaking. They came the next day to do a quote and installed the day after...on Christmas Eve! They took the time to discuss all options of water heaters and placement. They also noticed that my furnace air intake and exhaust pipes were installed incorrectly, which is a hazard. Even though it was unrelated to the water heater installation they fixed those pipes for free, keeping us safe by making our air healthier. They are very experienced and they were clean and respectful. Their work was excellent. The piping was done in a way to give more space and looks great. I can't say enough good things about these people and the company. I would definitely recommend them. I will be using them in the future for my HVAC maintenance, repair and new installations.
10 months ago Joni Schueitzer
This is a fantastic company. We have used them to service our furnace the past three years. They are excellent with communication, follow up and online bookings. Asif is always on time, is very personable, and does a very thorough inspection. We had an emergency repair situation last winter and Asif came by quickly, diagnosed the issue, explained our options very clearly, and then repaired the furnace efficiently. We are very confident in Asif and we highly recommend his company. We're grateful we found him.
9 months ago Carletta McGlone
After speaking to a number of companies and salespeople, I contacted AIDO upon the recommendations of others that get a quote. The price was fair (and for a better product than I had been received a quote for from other companies). The price alone wasn't what sold me, though. It was the confidence that Brandon (our installer) inspired. After meeting him, I felt -correctly- that I was in good hands. This was clearly a man who took pride in his work. After agreeing on installation (tankless water heater and water softener), the installation happened a few days later (very quickly). Brandon and Mike were fantastic - they truly treated my home as if it were theirs (and they even had to contend with some difficult circumstances - the rest of the basement was in a state of construction). The installation was quick (well, as quick as possible under the circumstances) - and the installation even LOOKS fantastic. Neat, organized - there aren't too many utilities you can get installed and actually just stand back and LOOK at because they're so damn neat - but this was definitely one. Brandon, Mike, and everyone at AIDO were an absolute pleasure to deal with. Friendly, diligent, professional. I would not hesitate to recommend them and should any other call be required on any other HVAC systems, they would be my first and only call. Highly recommended!
11 months ago Sana
Getting Red Tagged is never a good thing but carbon monoxide leaking into the house is worse. My furnace had a blocked secondary heat exchanger and got red tagged. These guys were back within day with a new furnace and replaced the 17 yo one. Very clean installation, quick and we were back in business. Very quiet Trane furnace installed earlier this week. Working great! Thanks guys.
11 months ago jay som
Excellent honest service, quick response on a Sunday, during a long weekend! Provides great followup reports to ensure homeowner has all information
1 day ago Paul Calcagno
Great team and great work. With the new system we actually had to turn the thermostat UP for the first time this summer. Big improvements to our comfort- Thanks for the quick response Asif!! Update - new humidifier installed over the winter - greatly enhanced the system and our comfort. Could not be happier
6 months ago Yianni Kosmides
The staff were knowledgeable and took the time to find just the right HVAC system for our needs and budget. They were on time, efficient and clean with the install, and importantly followed all Covid protocols when in our home. I would recommend them without hesitation.
11 months ago shubham goyal
My hot water tank was leaking so I looked into a tankless hot water system and I'm so happy I did! AIDO came on a Tuesday late in the day and I was so impressed with there knowledge and understanding of this system. Brandon from there company was so informative, knowledgeable about there products he showed me. The price quoted was reasonable for the best tankless water system so I accepted the quote. Today is Thursday and they came ready to work and removed my old water tank and installed my tankless water system! I couldn't be more happier with this result! The water is nice and hot! I actually had a shower and for the first time I actually feel so clean and refreshed! I should have done this along time ago! They left my utility area nice and clean, they were so professional and courteous, I will use AIDO for all my utility needs!
11 months ago Carlos Curtis
I would highly recommend AIDO. Before I called AIDO, I had two HVAC techs come to my house and not diagnose or fix my AC properly. The tech who came from AIDO, Brandon, was very professional and I could tell took pride in not leaving my house until our AC was working. He was thorough and made sure the job was done properly, explained what he was doing/why he was doing it (which as I new home owner was helpful). Price was reasonable. I'll definitely use AIDO next time I need help.
5 months ago Joel Firebaugh
We needed a new water heater and were having a lot of trouble finding anyone who could come quickly and do the work. Aido was quick, pleasant to deal with, did excellent tidy work and went the extra mile to get us back up and running. Best experience I've ever had in dealing with an appliance and repair company. They have a new happy customer in me. Thanks
8 months ago PRAGATI SINGH
Excellent. They take pride in their work, and are knowledgeable and professional.
8 months ago Tom Z
Very quick response, on time appointment , very experienced technician and hard work good quality
10 months ago Brandon Knitter
I was visiting family. Unfortunately, they had problems with their air conditioner. They called AIDO, and were greeted by very nice people, received prompt service, and we had air conditioning restored within a couple of hours. Very pleased with their great service!
1 month ago Moftah Souliman
Brandon did a phenomenal job. He was quick to assess the issue and fixed it, tested it and verified the fix. He is extremely friendly and curious. Thanks
5 months ago Diana Kizer
The technician Brandon was absolutely top of the line in efficiency, customer service, attitude, knowledge and skills. I will highly recommend this company and service to anyone or there. Thank you again Brandon, you went above and beyond your job scope to get my family comfortable again
5 months ago Barry Rush
Great job we're here right on time. Texted at 20 pm on a Friday night and were able to be here at 930 Saturday morning. Excellent service Witt tell everyone about service. Great excellent service definitely a ten out of ten.
1 month ago Jorgio sanchez
Great experience with this company. Great price too. Did a great job with our funace, AC, air filtration system. They advised us with the best brand to choose. Gave us an option of flexible payment. Quality job from a great company. I am confident that the products installed will last for a long time. Awesome job Asif.
4 months ago Marie Camacho
Was totally satisfied with the Company. Their promptness, neatness, and the skilful technicians with a thorough knowledge of what was needed to be done at all times. I was filled with confidence within minutes of their arrival to install my new AC and remove the old AC unit.
1 month ago gudi dhir
We have had AIDO out twice to do maintenance and each time they were prompt, professional and took the time to explain everything clearly. Our home was always left clean and tidy when they were done. While we appreciated the many other options provided to us, there was no pressure to upsell or purchase unnecessary services, especially during the pandemic. Our new furnace is so quiet, we have to run downstairs to make sure it's even on! Thank you Asif for your dependability and quality business. Special shoutout to Brendan for working so soon after a shoulder injury.
7 months ago Greg Tipton
Brandon did an amazing job on our new furnace and AC! Very personable and thoroughly explained all our options.
2 months ago Desiree Andrews
They are always willing to answer all of your questions.
11 months ago Noah Hall
AIDO had a technician at my house fixing my air conditioner before I could even get a call back from another company. They took the time to explain everything and have an excellent appointment booking interface that tells you who is coming and when, with all the contact info you could need. If you are purchasing a new appliance, they give you a very detailed online quote with information about all of the options they offer. When we decided to replace the A/C unit, they gave us a credit for the work and parts used to repair the old one, and had it replaced the next day. They also inspected and maintained all of our other HVAC appliances, so now we don't have to worry about something else failing unexpectedly. I would highly recommend AIDO for any heating/cooling needs. I've dealt with some very unreliable HVAC companies in the past and having a local, reliable company is great peace of mind.
5 months ago klosar
Excellent service. Was able to schedule a service call for the next day, came on time and fixed the problem. Honest and friendly service and I will be using them again.
4 months ago Enrique Rubio
Great service ... responsive, timely and on budget!
8 months ago Gloise Hunter
They told me that my furnace needed replacement said that the Heat exchanger was broken their estimate was very high I ended up buying elsewhere at a lower cost and when they replaced the furnace I found out there was nothing wrong with the old one should have called someone else to begin with have now paid out for a new furnace that wasn't needed
3 weeks ago melissa staltari
I have the best service ever with the most fabulous team who take time to listen and did the best job to help us have a better living air in our house, the best water heat system ever, thanks so much from our entire family
7 months ago David Kilgore
Super quick to deal with. Honestly went above and beyond. Honest trustworthy and communicate well.
4 months ago Leah Thomas
Great experience using Aido. Very clear communication and they arrived when they said they would! Brandon was friendly, safe and clear in letting us know the problem with our AC as well as providing us with all options for us to make a decision around.
5 months ago Fabio
He fixed my elderly mother-in-law's furnace. It job took two visits during our busy holiday season. In the end everything works perfectly. He communicated very well between my MIL and myself to get the job done.
7 months ago Ashley Klos
We needed to replace our central A/C and Asif came highly recommended by a family member who used him recently. From the handful of quotes we received, Asif was the only person who actually came to our home and spent the time to provide in person customer service while taking all the necessary precautions during this pandemic. His pricing was competitive and his level of knowledge, experience and skill was very evident. Asif and Collin installed our new A/C and we could not be happier. I highly recommended him.
4 months ago Mary Othman
Finally got A/C after nearly 4 yrs. Wow! Asif and his crew were more than professional. They were here just over 4 hrs, and the job was completed! We got one beast of a unit, and within 30 mins of installing, the house was already feeling cool. This summer has been so hot and humid, and our first night with A/C, we finally slept like babies! Dealing with Asif put our minds at ease. He was the most knowledgeable company we had met, and we met a few. He explained the unit thoroughly and supplied us with a unit much better than the other companies were offering, for a super price! And talk about quiet! All of our neighbours will be jealous, it's the quietest unit on the block! Thank YOU Aido Climate Solutions! Job well done!
5 months ago Joesph Williams
Asif was great! He was quick to diagnose the problem with our A/C and even left to go get the part he needed so that it could be fixed right away. He also took the time to consider the long term health of the unit instead of just a Bandaid solution and provided us with a variety of affordable quotes to replace the unit in the near future if we chose to. He was knowledgeable and professional and the option to receive quotes and pay virtually was a huge plus given the current global health crisis. I highly recommend Asif and AIDO Climate Solutions!
5 months ago Laurie Cherko
I referred family from Guelph to Aido and they couldn't be happier. It's been a few months and everytime we talk they're still raving about them. Top notch company here!
5 months ago Zeynep Ece
very knowledgeable, may even teach you a thing or two. Loved the service.
4 months ago Mary Cataudella
Knowledgeable, professional and friendly. Excellent equipment and expert installation. Highly recommended for any furnace, AC or water heater needs. Water softeners too - these guys can do it all and extremely efficiently (just like their products).
9 months ago Neel Patel
Could not be happier with the service and quick response to fix the problem we were having with our furnace. Definitely recommend and will call upon them again.
1 month ago Toni Six
Just had Asif and Colin here to replace my air conditioner. First of all, 2 days before Asif was here trouble shooting and this was the result. I am extremely happy with the professionalism and expertise that Asif provides. I was able to be accommodated for the install today and am so happy I decided to go with Asif. They arrived on time, their email service and response is the best I have seen with contractors. I have used his service last fall and highly recommend him.
6 months ago Jose Lopez
Asif is an expert guy who you can trust on. He is Very friendly, polite personality to explain the problem of leaking cooler. Well down the job and receive the cold air again. Thanks. Joe
3 months ago Ramon Sanchez
Asif is very friendly and knowledgeable. He took the time to review our system and recommend the proper solution. He was able to do the installation the next day. I would recommend him for any of your HVAC needs.
8 months ago Ebony Silas
Great service and the best price! We have a very old home and we were given quotes by other companies to get AC that were outrageously expensive because of the set up of our old furnace. With AIDO we got a new furnace and Central Air for less than the previous quote and they finished the whole job in one day!
7 months ago
Popular places from the category Air conditioning system supplier