Fullerton Church Of Healing Cannabis Dispensary
Pharmacy Fullerton Church Of Healing Cannabis Dispensary, 1112 E Ash Ave, Fullerton, CA 92831, United States:
220 reviews
of users and employees, detailed information about the address, opening hours, location on the map, attendance, photos, menus, phone number and a huge amount of other detailed and useful information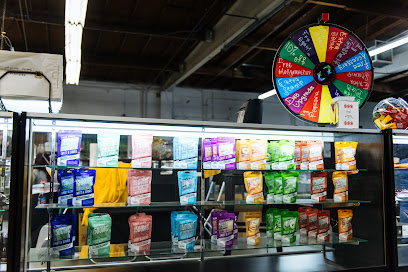 Address:
1112 E Ash Ave, Fullerton, CA 92831, United States
GPS coordinates
Latitude:
33.8649050
Longitude:
-117.9096307
reviews Lawrence Rucker
It was my first time visiting this location and it was just a great experience overall. I loved whoever helped me, she was extremely knowledgeable and provided the best customer service! I asked for the best Indica and sure enough, they had a huge selection on exclusive to choose from. I will definitely be coming back here soon. Definitely a drive from chino hills but I'm so happy with my visit, I don't mind the drive. Thank you!!
9 months ago Zita Samuel
Heard a lot good about this place, but I just got this adible which supposed to make me high. But It didn't hit at all ,and it has 500THC !!!. Hopefully they can refund it or exchange it with flowers.
5 months ago Everson Oliveira
This place is amazing everyone was so nice and helpful, I got a great ftp deal on some bomb flower too! I can't wait to come back! I will definitely be recommending y'all to all of my friends and family!!
8 months ago Pravika Joshi
I came in looking for some edibles and walked out with edibles and flower!!! Zee was very very helpful and recommended some of her favorite flower strains and I love them!! Definitely will come back and recommend people
8 months ago Sheer Glee
One of my favorite dispensary's in Fullerton ???????? Came in and got helped out by my extremely nice budtender! Very knowledgeable of the product they have here. A huge variety of products from edibles to pre rolls and carts! Will be back! I love the vibe they have here ????????
9 months ago Jaehm
The best place around to get your bud, I get mine from here weekly. The receptionists are always friendly and their shop has such a chill vibe. Wall to wall TVs playing awesome movies and some sick artwork too. My budtender Nicole is the best and I ask for her everytime, she hooks it up with the best deals and knows exactly what I want. She has the coolest style and today had an awesome Pans Labyrinth shirt, thanks a million. Can't wait to pick up from here again✌
4 months ago Linda S
They have good deals thank you stassie you were so nice will be coming back
8 months ago Chris Dunbar
Fullerton church of healing is my number one spot for my weekly medicine. I love their energy and good choice of natural herb. Olive is really nice as well. She's well knowledgeable and seems very well invested in her job. Thanks guys. Thumbs up
4 months ago KATHLEEN ACKERMANN
The flower selection was immaculate. Thank you stassie for all your help !!
8 months ago Cory Staples
If youre looking for dank bud for really good prices, this is your place. I drop by regularly to pick up some vapes and edibles, and some bud for rolling. I'm always happy with the bag I come out with. The staff are nice and my budtender Nikky was really great today, we talked about our dogs and she told me about her dog freeway. I'll for sure bring my dog next time, they have treats for them there
4 months ago Raul Serrano
I love this dispensary, they always give me the best deals for high quality bud. If you go there make sure to request for Z she is awesome! :)
3 weeks ago Ryan Baker
Looked up this place online and saw that it was near my work so I dropped by on my break. When I arrived the receptionist was very friendly and helped me through the first time patient application. The service here was great, my budtender was amazing and showed me some great indicas. She also recommended the Standard edibles and I'm looking forward to trying them. Just wanted to say thanks to her, she was so cheerful with her smile and her curly hair, thanks a bunch Nicole.
5 months ago Helen Araya
Great edibles, Stassie helped me out and she was great!
8 months ago Kok Cindy
Great place. Everybody was friendly and made you feel comfortable. Prices were very reasonable and I got a free jolly rancher! Defintly my go to now.
2 months ago Jacob Knight
This place is super dope. They have such a wide variety of pre rolls and bud. Nicole was super helpful showing me all the deals, will be coming back soon :)
11 months ago Daniel Edwards
Very friendly place to shop for some good cannabis. The prices are perfect and they have a high selected products. Mo is very friendly and very helpful.
5 months ago Sean Larusse
Thank you so much Nicole! She was very knowledgeable about stiizys and made me feel comfortable about switching from flower to a vape. Definitely recommend this spot every time I come in everyone is always so friendly. You can tell the budtenders love their jobs and actually are there to help you out.
11 months ago Claudia Felix
Visited the store on a Sunday evening and this guard on the front door thinks we are suspicious and carrying guns when we weren't . He chooses to ask no questions or turn us back but instead let's us in and follows us through 3 doors and while we are shopping with his hand on his gun all the time. And all this time we are thinking why is he following us like that. The situation could have escalated very quickly with us just putting hands in pocket or purse to fetch a wallet. Brought this to the attention of the security that if they had any concerns they should have asked the question or just not let us in. But their response was we follow all our customers with hands on our gun instead of stopping suspicious ones outside. CHOICE IS YOURS to go in with a guard following you with hands on guns.
2 months ago John Read
Thanks so much nicole for helping me out today! The art on the walls are awesome and make the experience super cool. Best flowers
1 month ago Almaz Satarov
Best dispensary ever ! The girls and guys are extremely helpful. The flower deal today was amazing ???? I can't remember who helped me but she was very patient with me. There's so much selection it was hard to choose what to get. I will definitely recommend my friends here. If you haven't already, stopped by this shop ! *tip* ask about the upgrade it's totally worth it !
5 months ago lornix nas
This shop is great. So many good deals and the fact that they have patient appreciation days! Nicole was my budtender and she was super cool. Will be coming back and recommending all my friends and fam!
5 months ago Sailor Beads
Thanks so much to Fullerton church of healing this place is the bomb and they have amazing deals and flowers!! Nicole was very helpful as well. Security was super chill and very good ambiance
4 months ago Lillian Rhodes
This place is my hands down favorite to go to, even during lockdown everyone is so nice and helpful. My budtender, Nicole, was just amazing. She helped me get everything I needed in no time at all. She always has the coolest tshirts from movies, cant wait to come next time and see what she's wearing, cya next time hun????
4 months ago Daniel Hernandez
Good spot great deals excellent staff..
8 months ago Sonja
Al gave the best, strongest potent top shelf that I could ever ask for today!! It's been a while and I know I'll come back home feeling good! I strongly recommend this facility to anyone looking for good quality.
4 months ago Polina Shumilina
I actually like this spot in the area. Very cool vibe inside.
1 month ago Millie Santiago
They have great varieties of things, They are nice and friendly
9 months ago Anthony Court
I love this shop! Nicole was my bud tender and she was very helpful she was so nice, I like all the bud tenders here! I recommend this shop 100%
5 months ago Caroli Morton
need better security.. stop customers on entry if you feel something suspicious rather than following them around with hands on guns & putting everyone's lives in jeopardy plus when u call them to explain the situation they simply hang up while u are talking. Not a safe place to go.
2 months ago andras szita
Awesome place. First time going this weekend and this is one of the best spots I've seen. I HIGHLY recommend this spot. Awesome staff also and great selection of products.
7 months ago DeAndress Green
thanks so much to nicole for being so helpful today on my visit. she helped me pick out a bomb top shelf. the art decor is really great as well!
3 months ago SR B
Thanks Nicole for helping me pick out some indica pop, she was very helpful. This place has such a good selection of different buds. Super awesome!
4 months ago Kimber Standridge
I always love coming here. The ladies are friendly and Jae is always the best! So sweet and makes sure I leave with the best. Highly recommended.
7 months ago Frank Moceri
Thanks so much Nicole for helping me out today! She showed me some really cool pre rolls and was super friendly. Thanks again
4 months ago Christine Whitmore
Thanks so muc to Nicole she really took care of me during my FTP visit and helped me find the best bud. The art in the walls are dope and the staff is super awesome. Will be coming back!!
5 months ago Lucille Nathan
Never had a bad experience here. Good bud, good prices and even when they are busy, they get through the line very fast.
9 months ago Abby Boyer
Nicole was my bud tender today. I got some exclusive flower and she was okay with showing me the different ones and answered all of my questions she was so helpful! Thanks to everyone here I love this shop
4 months ago Zhi Li
thank you so much for your help zoey. love this awesome dispensary. you're always so helpful! will definitely be coming back ❤️
3 months ago Taxi Plano
Thanks so much for helping me out today Nicole! The best flower in town. Also cool art on the wall.
3 months ago Tarun Kapoor
nicole helped me out today get a stiizy and she was lovely. they got me in and out super quick and were very nice! definitely come here!!
11 months ago Joaquin Mier
Matilda was so helpful and awesome to work with. I would recommend her every day. Service is great and quick!
3 months ago Pinkie Mfeka
Thanks to everyone at this shop! Nicole was my tender and she was so great, the guards were super friendly as well! I love this place and will be coming back soon :)
5 months ago Theresa laumeier
Wouldn't recommend very loud and can't hear anything. The flower i got is good but the vibe is not for me.
3 weeks ago DonnyFrusciante III
Thank you Nicole for helping me out today, very helpful and professional and answered all and any of my questions! Thanks again
4 months ago Joy Layton
We had a very very bad experience at this establishment. The security guard was eyeing us in a bad way and kept following us inside where we went, with his hand on his gun. He followed us around the establishment and it felt so uncomfortable and created a hostile situation. We also called the establishment and explained this and they were very rude to us and hung up on us. That's not how not to treat your customers. Also These guys have no selection of products. Their sales persons are also very lazy and can't even describe the product well.
3 months ago Bruce Rose
Decided to give this place another chance after giving them a few months to step up their customer service, but the disappointment continues. It doesn't even cost a penny to put forth even a little bit of effort to just be cool, but I don't understand why it's so hard for them. I will give credit where it's due, and John has been the only one who is cool to me. Everyone else that I've interacted with have terrible attitudes.
5 months ago allan ruskin
Thanks so much to Nicole for helping me out today. I was a ftp and she explained everything so easily for me. This spot is awesome thanks guys!
4 months ago Shirley Betances
Z was very helpful it's my first time here. They are very knowledgeable and really go out of their way to help! I will be back! Thank you
4 months ago Heidi Shook
Thanks to Nicole and all the girls at the shop for helping me out today! The buds were so nice I got some good top shelf indica to start my weekend.
4 months ago Jill Owen
It was my first time here and Celeste helped me pick out some great edibles!!!!! They have so much stuff here can't wait to be back !!
2 months ago
Popular places from the category Pharmacy