Azusas Finest
Pharmacy Azusas Finest, 16731 E Arrow Hwy, Azusa, CA 91702, United States:
49 reviews
of users and employees, detailed information about the address, opening hours, location on the map, attendance, photos, menus, phone number and a huge amount of other detailed and useful information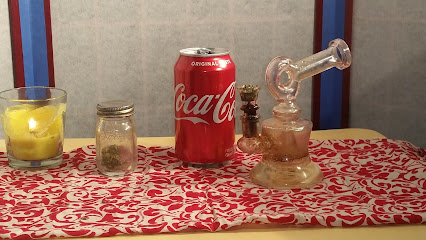 Address:
16731 E Arrow Hwy, Azusa, CA 91702, United States
GPS coordinates
Latitude:
34.1072582
Longitude:
-117.9192874
reviews Joe Maxwell
Love that store have so many things you could ever find is a Christmas tree and others like candle
7 months ago Anita Canerdy
The police were here the other day in the lobby. I overheard them asking to review security footage of an assault that took place INSIDE the dispensary...I don't know about you, but I don't go to the shop expecting to be in danger at any point...I couldn't help myself and told the police in the lobby that this place does feel unsafe and I have seen the staff there put their hands on customers to remove them when they're being "rude". I hope this place does get shut-down. I've seen a petition circulating online. I mean I will be sad it closes because it's so close to my house lol but enough is enough. There are much better places out there for herb.
8 months ago Yiddish Review
To the pretty girl waiting in the lobby at 315am on Christmas eve with me. That fart could have killed an entire Ethiopian village. You should hit me up.
10 months ago Jason Will
They sell FAKE stiiizy carts!! Do not buy from here
6 months ago Aaradhya Arkatkar
DO NO SHOP HERE THEY SELL UNSAFE CARTRIDGES!! Horrible customer service 0/10. Refused to help me at all with damaged products they sold me. As a business owner myself, their customer service and damage goods policy is an absolute joke. Don't waste your time.
3 months ago Brittany Schoolcraft
Best prices! CHERRY helped me out! Great service and awesome atmosphere! ????????
4 months ago Ethan Bright
Awesome selection of flower and edibles, friendly and helpful budtenders, amazing deals! I would call this a diamond in the rough part of town, but def worth the stop. Very little signage - it's the door under the BBS sign.
9 months ago Ben Powell
I've been going here for a while and it's usually a hit or miss. This time around I was given a batch with a stem that looks almost as if it could've weighed a whole gram. I don't mind changing my review if they promise to give me better service next time. I'm also probably one of the only ones that actually leave them a tip every visit.
6 months ago Venkat M
Don't think for one second that this shop is about quality. It is a hit-or-miss like so many have stated in their reviews. You must be very careful now that the covid thing started, you're not allowed to get up close to smell or get a good look, and I've been getting some low low-quality buds on my last couple of visits. If you want something that you know for sure isn't moldy or poorly grown, go elsewhere. There are dispensaries that take pride in their shop and in their product, unfortunately this isn't one of them. UPDATE: 7/19/20 My neighbor picked up some gorilla glue flower today and he showed me and I tried it to see, and I swear it was the worst yet. It tasted like sh*t and was so bunk, no high at all. It's all about delivery for us now. Don't waste your money They lable junk as private reserve, it's a joke..
2 months ago Kimberly Murray
I love this place because they're still around. Consistent and there is always something new. HIGH quality, Great Deals w/reasonable prices, wide variety PLUS 24/7!! They have it all here, except prerolls for some reason.
5 months ago Halis Duran
Great place to get your meds. Great customer service. I highly recommend
11 months ago Tyra Ware
Best place to get fit. They have all the stuff you need. Hope every one stays healthy. Come to this place if you do!!
7 months ago Andy
Favorite place been going there every since they opened which has been at least 2 years. Like your new place from the bag lady who always brings treats lol cinda
6 months ago Norbert Mildner
Alexiz and Xavier helped me. They were awesome. Awesome place to come shio
6 months ago Caroline Chen
Nothing really in stock and I purchased a pen that stopped working and they wouldn't return it idk about u but I hate spending money on things that don't work waste of time and money I won't be returning
8 months ago Jill Time
unfortunately I wear hearing aids and each time I try talking to the person behind the counter it is very difficult for me to hear them because the music is too loud
2 days ago Ron Bragg
THEY SELLIN U FAKE CARTS!! I have a real raw garden cart (confirmed) and the box and the font differs from the box i got from buying one here. AND siiizys are fake! no doubt about it. i've heard and also pretty sure that they use the same few strains in all their jars.. the private reserve same quality as exclusive. don't go here. save your money
11 months ago Emily Steinkraus
I love azusa finest Great customer service @selena @moezy @lolis
8 months ago Jesse Phillips
Great deals good dank Xander and Alexiz got me right
11 months ago Thomas Bifano
420 is Alive N Well Great Shop.. The Only Shop
11 months ago Kathy Ricker
Very friendly budtenders, great deals
5 months ago Katherine White
I have had no issue with the budtenders, very nice and simple experience.
7 months ago Ning Jiang
All the carts are fake
9 months ago Alma Torres
Bella great budtender
3 days ago Houston Hartley
Great product great service. In and out.
6 months ago Aaron Tanner
They are my 2nd choice. I love how they're 24hours now
7 months ago greg bowden
Since I live in Glendora this place has saved my Mom & I long trip to DTLA, Hollywood, Glendale, Silver Lake or other cities that I used to have to go to get quality medicine. Azusa's Finest has a decent selection of bud, edibles, vaporizer cartridges & other products. The prices are reasonable but the top shelf private reserve bud are a bit pricey for the quality. This still is the areas best dispensary. Hope everyone gets the medicine they need. Keep up the good work Azusa's Finest.
7 months ago Houston Hartley
Good quality tree, swift service
7 months ago Karla Ames
Very friendly good deals !! I love it
5 months ago Timothy Moseley
Great selection and great prices beautiful aroma
11 months ago Eileen Deremiah
Great quality, price and customer service!! Coming from Atlanta, GA!!!
7 months ago Adam Baskin
Are they still in business?
7 months ago Keyuri Galchar
Friendly helpful staff. But often low on inventory.
8 months ago Tavo
I have been smoking along time. I bought $100 worth of top shelf and it was moldy tasting.
7 months ago Nicholas Wong
Chill spot good service
6 months ago Amanda Burns
XANDER ALWAYS GOT DEALS ‼️
6 months ago Nithu Mohan
Dry weed and have no good options
7 months ago Pat Wilson
Deluxe place to go people..Annis
7 months ago Ordinary Muggle
I left their Lit!
5 months ago Keith Cadieux
It closed back to delivery service
11 months ago Prakruti Patel
Dankiest herb ever
7 months ago John Cito
Best Buds
6 months ago Mary James
): low q
7 months ago Denise Willis
Great great great
7 months ago Marlon Duncan
The finest in Azusa
9 months ago Merilyn Ojanen
Medicinal needs
7 months ago Ranp IL
No good
7 months ago Charles Freeman
Hugo Fernández Antonio 705 e arrow hwy apt 1acapulco Guerrero mi raza humilde por siempre de corazón éso nos ase megor que mucho poreso respetó sienpre humilde mi guente pobres orricos son iguales para mi humilde por siempre de corazón
8 months ago David Hanks
Literally ghetto af
9 months ago
Popular places from the category Pharmacy