The Picker Knows​ Antiques & Collectibles
Antique store The Picker Knows​ Antiques & Collectibles, 1208 Grand Ave, West Des Moines, IA 50265, United States:
220 reviews
of users and employees, detailed information about the address, opening hours, location on the map, attendance, photos, menus, phone number and a huge amount of other detailed and useful information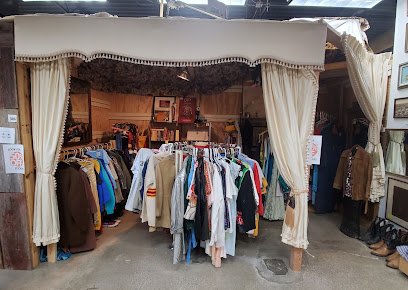 Address:
1208 Grand Ave, West Des Moines, IA 50265, United States
GPS coordinates
Latitude:
41.5806600
Longitude:
-93.7193395
Location on the map
Reviews Kyle Mccain
This is a fantastic antique shop. All kinds of antique stuff we need is available here. They have a wide variety of art objects. It takes more than one hour to look around. If you are crazy about old art sophisticated products then go check out this shop. There are also some discounted items(40%, 30% and 10%). I bought three beautiful flower vases for five rupees each. We have visited this shop many times but we are not bored with this shop.
9 months ago Jesus Lira
Best antique shop in the Des Moines area! The staff is always friendly, and there is always so much to choose from. It's very organized with great prices as well. I never leave empty handed when I come here!
7 months ago Caitlin Goncalves
Awesome place, lots of Unique and rare items. It has a huge selection, with probably close to 100 differen5 booths. Prepare to be in there atleast 4hrs min, especially if its your 1st time. Wish we lived closer to the area.
8 months ago Spk Spk
Best antique mall in Des Moines! So many well curated booths and fantastic employees! The price points are great too! I also would highly recommend being a vendor here! Was a vendor else where for two years and kicking myself for not coming here sooner!
9 months ago Caleb Allen
Great place to stop. Lots of items that, if you watch the show, you will recognize. Fun to look and buy a souvenir or two. The staff was amazing.
7 months ago DeeDee Clingan
Fantastic selection of items in the store. Everything from collectibles to everyday useful items. For us, there was so much great stuff to see that it took a couple of days to see it all. We found items that we have been looking for for years. Courteous an helpful staff really enhanced the experience.
2 months ago Bernardo Robles
Very knowledgeable and extremely friendly! I bought an antique furniture piece and they were kind enough to even load it into our vehicle for us! We will definitely be returning!
3 months ago Brianna Johnson
Great place! So much to see and pick from.
8 months ago Tierra Ball
Absolutely amazing place. I can spend hours here!
9 months ago Lee Bolinger
Fun place to find unique and antique items.
8 months ago Kasie J
Great staff and selection of antiques - many of which bring back memories from my childhood. Antiques are all by individual sellers so the selection varies by the seller's taste and interests. There's antiques, old furniture, toys, clothing - you name it they probably have it!
8 months ago Patty Griffin
this place is way cool!! its got everything! love love love!!
9 months ago Taneisha Christie
Lots to look at! Many cool things and a huge variety. Staff is very friendly.
10 months ago Daniel McNeill
Fun place to browse and most booths very nicely curated. Not too big or overwhelming. Prices run the gamut, but many are fair. Super friendly employees, don't be afraid to ask about pricing! Highly recommend.
3 months ago Holly Bees
Always love coming here! they are always super nice and super helpful. I always seem to find something cool here. I felt safe with everyone wearing masks also. I definitely reccomend this awesome place!
7 months ago Jamari Davisjones
Love this place! This was the first time I had ever been here. I have been to other consignment antique stores and this was the best. Amazingly clean and very well organized! I can't wait to go back!!!
7 months ago Jordan Scruggs
Absolutely love love this place. If there is something you think you might need, they might have it. I could spend a couple hours looking over all their stuff. I bought a blue chest from there. Got a good discount and was completely happy with it! Some junk is other people's treasures. Highly recommend stopping by and checking it all out if you like antiques, furniture, toys, and everything else under the sun. 5 stars!
9 months ago Paul Economon
This place is cool and there is always so much to explore. There is always something new and I always leave with something, new or antique. I love the shops by creators with products that are cool and out of this world, if you get a chance, go take a peek!
3 months ago Neal Martin
Large multi dealer mall. More "collectables" rather than antiques. Some interesting finds, but mostly mixed in with newer chalk art painted furniture, knitted scarves and hats, garden accessories, and all sorts of other assorted new and vintage stuff.
1 month ago American Auto
A fun place to wander back through time--looking at the vintage and antique wares.
4 months ago Mark Gilbreath
Nice local antique store. Wide variety of merchants with a even wider variety of items. Good location and ample parking with space for loading. Items are reasonably priced. They have a large selection of small items but also have large items and decoration pieces. Sometimes they even have a food truck in the parking lot.
11 months ago Gg
Great place. The inventory is always changing so you never know what you will find. I never leave empty-handed. This time I found a wonderful baby powder tin with great graphics from 1891. They have a combination of antiques, vintage and collectible items as well as decorator items at reasonable prices. The staff is very friendly and helpful!
1 month ago Sean Dennis
Has good comics but I didn't find that much stuff interesting
5 months ago Noel Aviles
Wow! Mind blowing amount of stuff to see. Vendor prices were reasonable and booths are very well organized. Fun place to shop. Staff is very friendly.
9 months ago Sheila Phelps
Very good place
8 months ago Jackie Morgan
Almost always a deal to be found here. Vendors usually take good care of their stalls and it's not dirty like some thrift places. Owner is very pleasant.
8 months ago Claudia Howell
Good variety and price
8 months ago Mayilvaganan Thaniakvelu
Huge space filled with anything you could think of for sale. Friendly and helpful people all over the floor. Great place to spend an afternoon, but you could easily spend an entire day.
11 months ago Manar Tushar
Love this store, always something new around every corner!
6 months ago Justin Taylor
Always a fun place to see neat antiques!
4 months ago Tony Gee
Found what I was looking for. No one in town had donut cutters but fou62 at the pockets for just 2 dollars each yea now I can try making donuts
3 months ago Cathy Purvis
This was our first visit to this mall. Lots of booths and cases. Pretty good mix of large and small items. Many booths were just "there." Most weren't very inviting. The place had much more of a flea market vibe than antiques. The prices were reasonable for what was there. So, depending on what you're looking for, this may or may not fit the bill. We were hoping for something more enticing
1 week ago Senthil Natarajan
Lots of overpriced junk. Never seen anything worth while but most of the stuff I've come across is insanely marked up vs its actual value
5 months ago Shenique Rushing
Bunch of awesome stuff here, I'll be back
7 months ago Elizabeth Frangioso
Lots of good stuff
9 months ago Tamara Fry
Lots of cool items
10 months ago Brandon Reed
Set aside an hour out of your day ASAP and browse the aisles in this treasure trove. Vintage items, antiques, and collectibles are displayed in a variety of booths and there is always something just waiting to be found. I am a pastry chef and my personal obsession is cake plates and cake stands... I have over a dozen of unique stands that I use for my wedding and celebration cakes that I have bought here. I love this place and usually visit/browse around at least once a month... and never leave empty handed.
10 months ago Asif Alam
It was an amazing store!
1 week ago Mike Edwards
Nice array of merchandise. Was looking for a particular chair and was told it had sold but I got home and contacted seller and it was still there but then it sold before I got back the next day. Sad about their lack of follow thru.
7 months ago Puja Halder
New case set up. Lots of jewelry. Case 810. Come take a look. I didn't walk away empty handed. Great place
9 months ago Joel Gauthier
It's a nice place to look around. Lots of great antiques.
9 months ago Mike Gray
Prices seem very high to me.
11 months ago Tanushree RoySarkar
Could spend a lotta time looking through here
2 months ago SmallBizReviews WMass
Great location for one stop antique shopping. They have a 1987 G.I. Joe Tom cat that I so want. Staff is really helpful too.
9 months ago Enzo Machiavelli
Love this place! Lots of amazing deals!! For a walk down memory lane, you need to go here!
10 months ago Christian Gibbons
Good variety with overall decent prices. A few of the vendors are really high with reference to their prices. It's a good place to kill a few hours in the air conditioning while reminiscing.
1 month ago harry gould
It was nice to look around but I didn't find anything I needed.
9 months ago Kirill Evgeniev
I always love walking around looking for little treasures. Prices very, but I found a great little table for only $20 which was awesome! I recommend this store to anyone looking for that special little treasures or even specific items. Prices are very reasonable
7 months ago Steve Alexander
Wow!! A wonderland of old stuff! It's great! Believe me! Visit it and you will see why! Just do it already!
8 months ago BEATRIZ SAINZ
Great variety of collectibles
2 months ago
Popular places from the category Antique store