Dr. Evermor's Sculpture Park
Art gallery Dr. Evermor's Sculpture Park, S7703 US-12, North Freedom, WI 53951, United States:
220 reviews
of users and employees, detailed information about the address, opening hours, location on the map, attendance, photos, menus, phone number and a huge amount of other detailed and useful information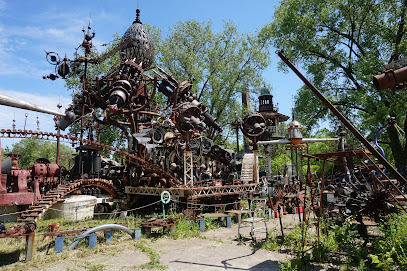 Address:
S7703 US-12, North Freedom, WI 53951, United States
GPS coordinates
Latitude:
43.3637374
Longitude:
-89.7710735
reviews Diana Dean
The talent and creativity is awesome! This is definitley worth the time to see. To me it feels like something right out of a Dr. Suess book, such imagination!!
3 months ago Dennis Walk
Dr.Evermore was one the most outstanding folk artists I've ever met. If your interested in American art , then you should be familiar with his work. If his sculpture were sitting in downtown NY. city , he'd be nationally known. His largest …
4 months ago Anushka Srivastava
Free, easy off the main road, quirky, artful set of scrap metal sculptures, great for a 40 minute walk through if you are near or in combination with visit to or from Madison.
4 months ago Naser Homos
One of the few American outsider/folk art masterpieces that is currently open to the public. Well worth a visit.
4 months ago Tricia Maslowski
A truly strange experience. I highly recommend visiting Dr Evermore's sculpture park. It has all the charm of a roadside attraction combined with the creativity and artistry of an avant-garde art exhibit. You won't be disappointed by your visit.
10 months ago Rochelle Brodeur
Lovely family! We got to meet the Mrs and their daughter. RIP to the Dr. Took my husband there for the first time as a surprise. I've been going for over twenty years.
10 months ago Ernestine Buster
Hidden gem that is a must!! The history in this place is amazing. It is also tied to the house on the rock. I highly recommend you grab the book if you can.
10 months ago Matthew Richardson
One of the most amazing lil known gems that deserves extraordinary attention! We were there for quite a while in complete awe and stunned at times to a paralyzing extreme as the art installations were far more intricate and fantastical than …
8 months ago William Patterson
Met his wife she was nice we bought a few gift items too
4 months ago super tuang
Dr. Evermore may have gone to his evermore, but the sculpture park remains. It does seem as if the weeds have started reclaiming the edges, but it is definitely worth a visit. Home to some of the world's largest and weirdest scrap sculptures, including an orchestra of birds made from musical instruments.
5 months ago Jenni Mykkanen
This place is amazing. Junkyard sculpture at it's finest. There is a whole section of birds made of various musical instruments, including a 50+ft guitar bird. Sadly Dr Evermore passed away earlier this year. Absolutely worth a visit, and check out the gift shop in the bus next to the Forevertron.
2 months ago William Waller
This is a rare and magical place for the right kind of person. It's weird, huge, intricate, and serves no practical purpose other than making you feel a surreal sense of wonder. I am so grateful that places like this exist in the world.
7 months ago Jeff Knight
Displays of insanely creative sculptures created with the most random scrap imaginable. I can't possibly imagine how many hours were spent crafting these things.
6 months ago Christopher Pritchett
Lots and lots a sculptures to see. Some kids might find it interesting while other not so much. It is free so a quick walk thru would be fine. They sell very limited merchandise but it is pretty pricey.
9 months ago Josie Chung
Amazing! Definitely worth a stop! A few tiny sculptures for sale next to the bus n sign in book. There isn't signs but if you talk w the people they will give you the info on what's for sale. Tip though being bug spray and water. You'll be there at least an hour looking at everything.
5 months ago Joe Labriola
This has the feeling of a park that costs money to enter, but is actually free. Walking in is honestly overwhelming. There's so many sculptures to see, it almost seems like you won't be able to appreciate them all. Things to know: it's …
3 months ago Rob Stebbins
Such an amazing hidden gem. I was so impressed buy the imagination and skill it to to create this awesome place. Lady Elanor was there And she was the sweetest woman ever!
3 weeks ago kc
Definitely worth the trip. One of the best roadside attractions I've ever been to.
11 months ago Christopher Botta
Wow, just wow... Little crazy but the kids loved it.
1 month ago Zack Hofbauer
Well worth diverging from I-90/I-94 on your travels to visit this one of a kind place.
7 months ago Karan Barnes
We try and go here once every year...Itvreally it an amazing sight ...I recommend this place to friends and family often..Staff are wonderful to be around also. Also, it has a surplus, with tons of amazing finds..Delaneys is great! Highly recommend!
11 months ago Kevin Spurlock
Weird and perfect. I miss the days when you could visit with Dr. ever more. But it's still a one-of-a-kind attraction
7 months ago Frank Harwell
Super cool and creative scrap metal sculptures. Free to get in. You'll spend between a half hour and an hour looking at stuff. Whoever built these things clearly had a passion for their craft. Check it out!
3 months ago Dorian Williams
Great time with the kids. It's steampunk meets Dr. Suess and classic Buck Rogers. It's also free so be sure to donate so they can keep it alive.
10 months ago Ryan Ranocchini
I was super excited to make a pit stop along my way to see the Worlds Largest Scrap Metal Sculpture...pulled up to a gate and quickly saw it was a life that once was...for curiosity sake I took a peek through the fence and was able to …
11 months ago g davis
Absolutely spectacular place! This man was a genius!
8 months ago Jeremy Beckman
Amazing metal sculptures. Highly recommend visit this place.
9 months ago Jason Korth
Definitely worth a visit! We always see something new and different. It is free but a donation is much appreciated to keep it going. There is a movie in the works that will be filmed here. Watch for it in theatres around 2021.
4 months ago Helen Maxman
If your tastes run somewhat quirky or whimsical, this place is for you! It's also free to stop and look around. They are open to contributions of course, but they don't pressure you at all. The story behind Dr. Evermore's art is fascinating.
6 months ago Yamana Uno
Very interesting and unique place to visit. Recommend taking an hour and doing a walk-through
11 months ago Madison Bullard
Sculpture garden full of strangely fascinating mechanical contraptions, some designed with hopes of time travel, others possibly more whimsical. There are entire orchestras and audiences of metallic bird like creatures.
7 months ago Lynn Heaney
A great place for Wisconsin art culture, a must stop. Lady Elanor is very sweet. As seen on American Pickers. Very impressive sculptures around the property. And idems for sale also.
9 months ago Phylicia Yard
A hidden gem. Fascinating sculptures made of discarded steel
3 months ago Sina Safayi
Absolutely amazing!! Such a pretty place!!
4 months ago Perfect Mixtue
This place is a hidden treasure. It's eerie in an awesome way.
3 months ago Kelli LaPoint
If you like some of the coolest metal sculptures ever constructed GO Here
10 months ago Noah Wilcox
One of the best road trip stops in the state. A very strange place that needs to be Experienced.
10 months ago Agnes Lee
If you want to see some really cool recycling made into incredible art...this is the place to go. There is Sooo much to see!.
1 month ago Jerry Cline
What a unique place. Amazing what some people can create.
7 months ago Peppe Ragusa
Very cool place, some really neat sculptures.
6 months ago Jared Navarro
That was a really neat and interesting art collection. Fun to see!
3 months ago Darrick Lee
Quite an imagination! One man's junk is another man's treasure.
7 months ago Jeff Carey
Fantastic Site to see. A little hard to find, but well worth the effort.
4 months ago Jimmy Chrisman
Very glad we went out of the way to see the sculptures, well worth it. The man's vision was phenomenal
4 months ago Andrea Dreismeier
Words can't describe the wonders of art here. You must visit it.
7 months ago Rut Albornoz
Loved this park! Wish I could have met him!Amazing ♡
2 months ago Kyle Ferguson
Really great place. All the work is really wondrous.
9 months ago Frank Schaffner
Very interesting place to visit, well worth the trip if you like a different place to visit.
1 month ago Rodney Spurlock
Made by just a couple of people, this sculpture park is a special place. Such a creative use if surplus material and waste.
8 months ago Rod Pitsonbarger
Beautiful artwork!
3 months ago
Popular places from the category Art gallery