Top Nails and Spa
Nail salon Top Nails and Spa, 11109 Plum Dr, Urbandale, IA 50322, United States:
117 reviews
of users and employees, detailed information about the address, opening hours, location on the map, attendance, photos, menus, phone number and a huge amount of other detailed and useful information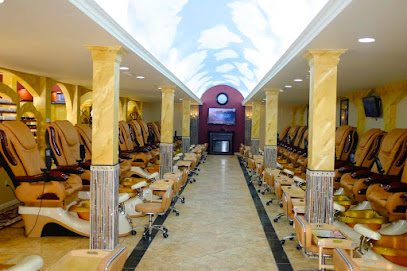 Address:
11109 Plum Dr, Urbandale, IA 50322, United States
GPS coordinates
Latitude:
41.6480847
Longitude:
-93.7703037
Location on the map
Reviews Jessica Attere
My daughter and I went to Top Nails for pedicures. We both requested the 45 minute pedicure. Her nail technician started before mine. I had some sparkle polish on my toes and rather than take the time to remove it, she got her electric sander out and buffed it off. Her work was fast and sloppy. My pedicure ended after only 30 minutes. She brought the card with her name, Diane, and my fee of $45. I sat for another 15 minutes and waited for my daughter's pedicure to be finished. Getting a pedicure is supposed to be a treat. A pamper. And when the technician's goal is to hurry up and get it over with rather than to provide the pamper service that a customer pays for, that is just plain poor service. I will take my business to a place who will give me the service that I pay for.
7 months ago Christopher Pundsack
So far the best I have been to. Still not somewhere I want to keep going back to. You ca. See my pinky is scuffed, but it is dip so I would have had to redo them. Two are like this and others have random flacks... it took almost 1 hour and 30 to do them. Didn't have time to stay to have them fixed. Plus the amount on my skin on my fingertips is unreal
3 months ago Preston Wright
went and asked for painted stars on my nails, my nail tech proceeded to put stickers on them that turned out bumpy and didn't really stick on. i was very disappointed but asked them to fix it and they took the stars off for me right away. wont be back, but i'm glad they fixed them for me.
7 months ago gaynell osborn
This is my go to place for pedicures. Will not go any where else. I've never had to wait for very long. And my nail polish always seems to last longer coming here.
7 months ago Karen Irene
Brenda and her mom are amazing. Love going here. Friendly environment, clean and they do an amazing job!
2 months ago Kassidy Smith
This is my favorite place for a pedicure. Little to no wait for walk ins. If you don't want to talk then they don't bother you. If you're feeling chatty, they'll chat.
10 months ago Latreccia Kelly
They always do a wonderful job here! It's the only place I go to especially for my eyebrows. They take their time and make sure they look great!!!!
3 weeks ago Mama Thornton
Very complete manicures with great atmosphere!
7 months ago Saleem Sirreyh
Always have a great experience here! Alisa does amazing French dip manicures; the best! Their pedicures are all amazing.
3 months ago John Ruys
Love me some Trang time she's the BEST! D'S????????
2 months ago Zac
Great place to get your nails done. They offer many types of service and even complimentary beverages. Always nice, clean, and up to date. Many of the staff speak English are very friendly. Pictured is ombre dip nails.
8 months ago Marion E
Anna does a great job, close attention to detail.
3 months ago Jeremiah Johnson
Love Brenda!! She does a fantastic job and super friendly!! New to the area and salon is always busy but have employees ready!!
8 months ago Sigitas Kuras
Great price point, but I didn't feel like the nail techs really cared about how good of a job they were doing and we're just trying to get through all of the customers. They had a great selection of colors and the way they had the gel and dip samples displayed in books made it easier to choose those colors. Nails look fine, but not as good as they could have been.
9 months ago Annorexorcist
Tammy is great! The team at top nail got me and my gals all ready for my wedding this weekend. Everything was perfect!
8 months ago James Miller
Safe and quick
8 months ago Ioannis Loizou
I wish I could give them 0 stars. I requested square/oval dipped nails, and specifically showed a photo of exactly what I wanted. My nail tech acknowledged the photo. She proceeded to start my nails. She cut them to my desired length and then clipped the sides. In that moment I showed her the photo again, and said I do not want coffin nails, it was essentially what she was giving me. Another lady takes her spot and her aura is completely off. She grabs my hand and rushes the process completely! I kindly tell her this is not what I wanted. She then tells me if I wants the square/oval nails I had to have get a longer length. I find this absurd because I've seen many dipped nails with the length and shape I wanted. At the end my nails were not neat, not the shape I wanted and I had product on my skin. Even though I did not appreciate the work I STILL tipped. Why? Because someone put in work. So I would not recommend this place what so ever. It's a waste of time.
8 months ago Leah Honsky
I went and got may nails done in Sunday one nail was crooked and she kept telling me it was my finger. Also while getting my toes done the lady had a dress on and that should not happen due to she kept flashing me not on purpose but maybe don't let them wear dresses. I did call they told me they where going to redo them and today when I got there here they didn't fixedo them they only fixed the one and i have 2 that are not same shape and 3 dont have paint on the top never again will i go back... lessened learned. I would also give a 0 star. The place is clean and I have been there before and have done a pretty good job but not again. Sorry lost this one... he
8 months ago Barbara Menke
Walk-in no waiting. Fixed a broken nail. Conscientious of a cut on cuticle. Back rub. Beautiful manicure.
9 months ago Lhm h
Always a great experience here. Bonus you get a nice little massage when you're waiting for your nails to dry. It's not long, but was a very nice surprise the first time I went.
8 months ago Divya Patel
LOVE this nail salon! They get me in right away and help me pick out a color. They start working on me right away. The last time I was there, I got Kathy and she did an amazing job! And the prices are so affordable. They even gave me a Christmas gift of lotion when I left. ????❤️
7 months ago Sallie Stephens
There are a lot of stations so even if you don't have an appointment you still won't have to wait long. They did a wonderful job on my nails. I took my 2 year old and she got a mani/pedi combo with quick drying gel polish for $20. She was adorable and loved the attention. She also showed off her nails as much as possible.
11 months ago AXL
I always have a good experience at Too Nails. They are willing to do my nails even if I walk in 15 minutes before they close and they always do a good job.
10 months ago Charles Love
I think molly and her brother are nice and really good at nails plus my mom always get molly to get her nails it's so clean there and good colors I actually went there today
8 months ago Jean Azzi
Very relaxing. The workers' accents can be hard to understand sometimes, but they are very nice. Also, when I accidentally messed up my nail, they painted over it! I would highly recommend.
9 months ago Teresa Cerutti
Mostly good. But, such inconsistencies between workers. Some are great and some mediocre to horrible. It depends so much on who you get. And my pedicure seemed pretty good until I got home and realized not such a great job on my heels. A group of us had gone, and all had different results. Will likely go back, but think I need to keep a list of who I like and don't like.????
8 months ago Robert perrin
I felt really rushed. I have never gotten a manicure that took 5 minutes from start finish! I like their set up. The place was very clean but moves in a faster pace in which I'm not use too!
8 months ago Cicely Washington
Large salon. A lot of service.
4 months ago Mike Pegg
This place was awesome! Just what I needed..warm friendly environment and they just took good care of me. I appreciate that because I don't live here and they it very welcoming!
7 months ago kimothy fong
Absolutely love the customer service you receive here. Cindy is always so kind, and never pushy on services. Ive seen many of the different techs, they all offer only what is needed and always do an outstanding job. Highly recommend this nail salon.
10 months ago christine chase
Excellent staff and awesome service. Brenda and Holly were great as well as the lovely pregnant nail tech. I'm so sorry I can't remember her name.
7 months ago bravo hash
I've gotten a gel manicure here twice and both times I loved it. Sometimes it can be busy during certain hours so make an appointment and even then know that you might need to wait a few minutes while they finish up with someone else. But it's still well worth it.
1 month ago Bayardo Silva
Love this place! Did a fabulous job on my pedicure and actually took the time to get hang nails. Always appreciate that! Huge place that is clean and great for large groups. It is BYOB!! Bring wine and enjoy.
4 months ago Michael Streff
Best experience I've had getting a pedicure and manicure. Kay helped me and she did a great job with my nails, plus she took the extra time to massage my legs and arms really well. It was much needed and very appreciated!
4 months ago Lisa Peloquin
Best place I've ever been, I've been going here for about 8 years. I have tried other places around the Des Moines area and places to closer to my home, and keep coming back to Top Nail and Spa because of the service. Literally the best experience I've ever had. I typically go to Brenda, but Anna is also amazing!
11 months ago David Green
With my crazy work schedule, I pop in when I get a chance. They always fit me in. It always looks amazing!
8 months ago Brian Hadler
I love this place. I go about every three weeks and have never had a bad experience. The salon is clean and the techs do a great job. Yes, there are some better than others, but even the "bad" ones are good. I think a lot of people don't speak up when they don't like something, so it's important to let them know. Also, if you want to engage in conversation, I have heard some really interesting stories.
11 months ago Em B
They are able to get in pretty much every walk in. Some techs are significantly better than others
8 months ago No Name
Absolutely the worst experience. Nails not painted all the way, I asked for square my nails are completely round. Every time I brought up dissatisfaction they acted like my expectations were too high. Went to dry my polish and noticed a couple of nails had bubbles in the polish all over. Called over Kelly the lady that did my nails. Showed her and asked her to fix them. She patted down the bubbles with her finger and slapped on some topcoat. Didn't clean from the underneath of the nail. Just looks gross, cheap, trashy and definitely not worth the price I paid. Will not Be going here again
11 months ago Brett Ellis
Very impressed with this salon! Clean and professional!! Kim took her time and did an excellent pedicure. I went with a promotion special ($40) and was very happy with the whole pedicure. Will go again!!
11 months ago Lee Hatcher
I love Top Nails! I have been going there for 10 years and the few times I've tried somewhere a little closer to home, Ive always been extremely disappointed. That's what happens when you're used to great service! No one does better work then they do! Pleasant staff , great service! I won't go anywhere else. I always schedule an appointment with Andy! Best nail tech they have!
7 months ago Nathan DeLong
Always a good experience here. Nicest salon in my opinion in the area. Very nicely decorated and very clean. Also expedient service. They offer complimentary beverages too!
10 months ago Mike Williams
It's always an outstanding and relaxing experience. It's a friendly and welcoming atmosphere and staff. Anna does a wonderful job and I will be a long-time client.
1 week ago Bailey Newman
Excellent technicians! The best pedicure I've ever had! Thanks, Shayla!
1 month ago Omar Fawzy
Probably the best nail salon in the metro area. Tommy and Cindy run a great place. Always a great experience.
9 months ago Sandrine Malard
Let me just say this place is great just to get away and relax the customer service is great and on top of that the employees are very skilled at what they do. I recommend this place for anyone who is trying to get a great experience at a spa. Ask for Cindy, she's the best!
1 week ago Brian Hertz
Have been twice and both experiences have been wonderful. The staff is friendly and extremely professional. All of the products are top notch and many products are handmade, like the scrubs & soaps.
7 months ago Mesfer Asiri
Anna always does a fabulous job. I am thrilled with the result each time she takes care of me!
9 months ago Greg Schwartz
Typically I love this place to get my nails done! They do great pedicures and my nails always look beautiful when I leave. But today!! Was not like that. I have all my natural nails except for one that broke. I asked for a tip and acrylic to be put on that one and then acrylic overlay to be put on the rest of my nails keep them strong and prevent them from breaking. I mentioned several times during this service but that's what I wanted! Yet that is not what I got. I don't know if she didn't quite understand what I was asking for! But I did ask several times for that to be done. She put the polish on my nails and one hand at a time put them under the UV light. Where my broken nail was I had to point out that I wanted a tip on that with acrylic. And that I again wanted acrylic over all of my nails. This was not done. My nails are very sloppily polished, there are gaps between the side of my nail and the Polish that you can clearly see comma it was just not the service that I asked for!
7 months ago J K
Great nail salon with a great selection of gel color. The place is clean and spacious. Staffs are very attentive and accommodating. I always leave with nice looking nails!
1 month ago
Popular places from the category Nail salon