Coastal Integrative Health
Chiropractor Coastal Integrative Health, 728 Village Rd SW, Shallotte, NC 28470, United States:
188 reviews
of users and employees, detailed information about the address, opening hours, location on the map, attendance, photos, menus, phone number and a huge amount of other detailed and useful information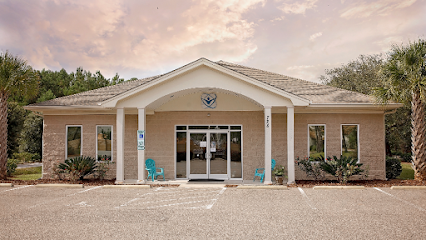 Address:
728 Village Rd SW, Shallotte, NC 28470, United States
GPS coordinates
Latitude:
33.9558196
Longitude:
-78.4023805
reviews Anaswara Prasannan
I have used coastal integrative health pt services as I recovered from 2 hip and a shoulder surgery and seen the chiropractor for my back. I have found them to be very talented, capable and extremely knowledgeable in their fields. I'm impressed by the welcoming friendly attitude of the whole staff. They are always helpful and I really don't know how I would have recovered from my injuries without their help and encouragement
5 months ago Aimee Hill
A truly caring and helpful staff. Dr Lank is great! Very attentive and concerned to my specific issues. He is great at pin pointing the problem and addressing and recommending treatment. I'm sure the other doctors are as well but I haven't seen any others personally. Highly recommend this practice.
4 months ago Sharie Black
I've been a patient of Dr Lank's for 3 years; he is professional, attentive and super knowledgeable. The staff are friendly and helpful. I would would recommend him without hesitation. ;)
2 months ago Jean Meyer
Comprehensive and thorough patient care. Attention to detail about history, current issue and creating a treatment plan together.
6 months ago Marilyn Foreman
I have been there for a knee problem and a foot problem - Lydia was my girl and she is awesome, sweet and professional at the same time! Olivia did my consult with my foot and she is also wonderful and professional. I was always met with friendly and welcoming staff! I would absolutely recommend this company and staff!
3 months ago Eva Isam
This office is awesome. Alex Humbert is the best. He is such a great chiropractor. The support staff Sarah, Sue and Taylor are all great at their jobs and kind, caring etc. I am so happy my husband and I found Coastal Integrative Health. Book your appointment now - you will be so happy you did!
4 months ago Joyce McKellar
I went to Coastal Integrative Health to receive PT. I've had a wonderful experience. The staff is so outstanding and will get you on the road to recovery very soon. So feel very secure in their care. Thank you everyone at Coastal Integrative for taking such great care of me.
4 months ago Ethan Yang
The staff at Coastal Integrative are the best. Dr.Lank has been there for me for over 10 years taking care of all my issues. The PT group is awesome as well. Thank you for the great care.
4 months ago Joe Grigsby
Every single person that works for Coastal has been so kind and concerned for each issue I have had. I first came in with issues with my back and have never felt better after seeing Dr. James. I am now in for a fall and again the same experience from Dr. Olivia, Dr. Lydia and Taylor to name just a few have been extremely comforting and gentle. I always feel like I'm at home but with people who definitely know what they are doing and why the body does what it does. I can't say enough wonderful things about this facility. We love you guys so very much!!! I haven't experienced Jen's massages but she is always so helpful and kind and always speaks when I come in. I've heard great things about her massages and hope to schedule in the near future. This post is long but it because without this group I would not feel or be who I am today. I would be still taking tons of medication and I would still be in a funk that I felt I would never get out of. I feel encouraged and so much better every single time I leave Coastal. Love all of you guys!!!! They always go above and beyond!!!
5 months ago Gloria Cunningham
I have enjoyed chiropractic services in San Diego, CA and Palm Beach, FL over the past 30 years. In my experience, Coastal Integrative Health offers the best of cutting edge services. The team is kind and friendly, from check-in to check-out. Taylor is always cheerful and makes laser therapy a very positive treatment. Dr. Alex is the best! Very kind and patient. He infuses a variety of modalities in his treatment that have given me the gift of an active lifestyle at 70 years young. Tank you, Coastal Integrative Health!
10 months ago Dean Johnson
very friendly, very professional, and very helpful knowledgeable people working there, from the reception desk to to the Doctors, PT, and staff. Have always been of help for my issues and scheduling . Highly recommend Coastal integrative Health. Dr. Patrick, Dr. Olivia, and Lydia have been very helpful
4 months ago Nicholas Bridges
I cannot say enough good things about Coastal Integrative. I have come here after both my hip surgeries and Dr. Pat, Dr, Olivia,Lydia, Sue and Sarah are awesome. I can't thank them enough for all their help!
5 months ago LillyPain
Always nice and able to get me in even on short notice. And I've felt much btr since I started going there really good!!
3 months ago Joel Northrop
Keeps my body going! Great bunch of folks that really are after your best interests.
2 months ago Enoch Mbatiah
I have been Dr. Lank's patient for 6 years and he is the smartest Chiropractor I have ever had. He always made my back better. Recently I had back surgery and Dr. Pat, Dr. Olivia and Lydia helped me with the rehab. They helped me so much getting me to move and showing me how to help my core. I personally think this is the best practice anywhere. Can't say enough about the entire staff.
8 months ago Danny Hazelton
I have been a patient here for 8 yrs. I have used all the services available. I strongly believe that CIH is by far is the best Integrated health and rehab facility I have ever had the privilege to use. The staff is great - pleasant and extremely helpful. Dr. McCauley and his technical staff are amazing. The facility is very well equipped with all the latest equipment to facilitate your recovery. You'll never find a better overall integrated health and recovery facility and staff.
4 months ago Nate Minnehan
Great staff and knowledgeable. Got my frozen shoulder back up and running in no time. Would highly recommend them for any issues you may have.
8 months ago Okie C
I have been coming here for 5 weeks of physical therapy and it's been life changing. This place made a major difference in my daily life, physically and mentally. Below is more information about my experience but all you need to know is this place worked for me where other clinics didn't. 4 months ago, I herniated a disk in my lower back and tore another. Was told based on it's location surgery isn't possible, so a recovery of 12-18 months. I originally started doing PT at another location in Shallotte which caused more harm than good, per my primary doctor and surgeon. The surgeon highly recommended Coastal Integrative Health and told me to never go back to the other place. Before my first appointment, I was defeated because I realized the last place set me back 3 months. At the other place I was never seen by the same person twice and none of them followed the plan. None of them were doctors either. I could not lift, could not bend over, and the couch would hurt after 20 minutes. I became extremely frustrated. Then I met with Dr. Olivia Jasinski, and I have improved after every single appointment. I've also only been assigned to her for every appointment, in which the Doc remembers everything we've done prior to include what weight/range I was at and the disabilities outside of my current injury. We identified what was true pain and what was discomfort that could be overcome with more work. Some days I went in stiff, knotted, and moving like a sloth; after the appointment I would walk out with a good sweat, no pain, and feeling a whole lot better about the process. Here you will work with a doctor, not a certification. They have the equipment and space to meet your specific needs. (Ex.) My last place for warm-ups I had to sit on a bike, with a severe lower back injury; here they have an elliptical, lower back beds, and they listen to you. They create a plan suited for your circumstance, not based on what they only have. In other words they adapt and have more resources than other clinics. The staff is amazing, they communicate extremely well. I had concerns about recovery and Dr. Olivia communicated with the other doctors and they had a plan ready at my next appointment. I was suggested a safe supplement and to my surprise, it truly has helped. They are extremely knowledgeable outside of what you are there for. Dr. Olivia took the time to provide me research and exercises for the pool, for my home based on what equipment I already had, & has made recommendations on how to heal and recovery in workplace settings. Now this didn't happen to me but if they feel you would benefit from the chiropractor or a massage therapist, they have always said they will set you up or recommend it if there was a setback or if I felt out of alignment. No new location, all these services at the same place. I don't think I will ever go anywhere else in regard to the services provided here. They really are great people.
3 months ago Matt Brown
Friendly team. Always have appointments available on short notice. Great Drs that help maintain my spinal health!
4 months ago Joe koy
Skilled and knowledgeable in both chiropractic and alternative treatment, Dr James listens and works with me on my healthcare. All the staff are the right combination of friendly and professional. I highly recommend this practice.
8 months ago Matthew Johnson
Highly recommend! Everyone is so nice in the office and Dr. James has really helped me get to be pain free. I'm sad that I'm moving away from the area though. He has been the best chiropractor that I've had so far.
7 months ago Pamela Grove
Staff is knowledgeable and office staff is pleasant and helpful. They work with you to solve your issues and provide exercise routines to continue your recovery.
3 months ago Geetha Prasad
I definitely recommend Coastal Integrative Health. I have used them for Physical Therapy and Chiropractic. The whole staff is wonderful and the facility is very clean.
5 months ago Christina Looney
EVERYONE @ Coastal is great, very caring & very knowledgeable. Always recommend to anyone with issues. So very glad I found them.
5 months ago Mindy Barger
Dr James Has done a tremendous job facilitating my treatment plan I have had great improvement and I appreciate all the thought he has put in to Addressing my concerns.
5 months ago Jamey Brigley
Great place and personnel. Clean and well staffed. Dr Morosky is so kind and knowledgable. He takes his time to listen and give advice. Also I had physical therapy there and I can't say enough kind words about lydia... She's the best!!
9 months ago Darcy Miller
They got me an appointment fast. The staff is friendly and the office is always clean
5 months ago Frank Bolden
This is my go to place for PT related to sports injuries. Their highly trained staff knows just what to do to get me back out there.
3 months ago Abdalah Qasem
I went to Coastal Integrative Health (CIH) when I was experiencing back issues. The MRI I had showed the cause mostly due to normal age. Before my doctor would consider any corrective measures he advised me to try several session of physical therapy. I elected to try CIH. They performed and initial evaluation, assigned me therapist -- Olivia The therapist worked with me to understand the source of my discomfort and to develop an action plan. Olivia could tell I was open to exploring my limits and took me right to that threshold then backed of slightly. I was at 100 percent of my old self in five short sessions. I was doubtful PT would be as successful as it was. I'm a believer in PT and wouldn't consider another provider. I recommended CIH to my wife, she is currently in PT and is equally impressed with the care CIH provides.
4 months ago thalatha Perera
Best Chiropractor I have ever had. We live in Virginia but I wish we lived closer so Dr. James could treat me year-round.
6 months ago Chuck Posey
Everyone here is awesome! They know you by name and always take care of you.
5 months ago Tre Customer
My wife and I are exceptionally pleased with the professionalism, expertise and attentiveness of the doctors of physical therapy and the staff of Coastal Integrative Health (CIH). As a result of three major surgeries, my wife has not been able to walk on her own or the past 16 months. In Feb 2020, she began therapy at CIH to transition from a wheelchair to walking with a walker. She continues her therapy to transition to walk with a cane with the goal of walking, without any device, sometime in 2021. I share this story as Dr. Olivia Jasinski and Dr. Pat McCauley have been instrumental in my wife's recovery and rehabilitation through their assessment and treatment plan. Their attentiveness, care, expertise and encouragement has provided my wife with the appropriate therapy and provided me with the knowledge of how to assist with her in-home exercise regimen. I'd be remiss if I didn't mention the courtesy and professionalism of the front office staff of Sue and the "two Sarahs" who are always upbeat and welcoming.
5 months ago Hannah Stimpson
I have been going to Chiropractor for almost 40 years, mostly for sciatic issues. I have never seen pain relief so quickly. I was in intense pain when I first went to CIH and Dr. James was able to relieve my pain instantly and within 3 weeks I had no pain and slept through the night. I HIGHLY recommend CIH and Dr. James Morosky! The entire staff from Front Desk to Drs. to Sue in billing are exceptional.
5 months ago Basil Grant
I've been a client with Coastal for 14 years or so during which I have experienced chiropractic, physical therapy, laser and dry needling services. Most recently I completed PT for lower back pain. Without exception, all the staff ranging from Sarah in reception to Drs. Brian and Pat, and everyone between, have been fantastic! Caring, knowledgeable, professional, personable, accommodating are just few adjectives that come to mind to describe the Coastal Integrated Health Services Team.
2 days ago Nic Hamstra
I have been a patient of Coastal Integrative health for more than four years. I have had been very pleased and thankful for the help I have received for my various back issues. I have had two back operations many years ago and since then have had to manage a "bad back" with various episodes of severe pain. The staff at Coastal Integrative Health have helped me though a number of those episodes with expert care and treatment. The attitude of all the staff is consistently professional, courteous and helpful. Thank you all, keep up the good work. I'll be back.
1 month ago amar saini
I cannot say enough good things about Coastal Integrative Health. After years of seeing different Physical therapist and finding no relief from the pain I was experiencing I called Coastal. I worked with Lydia and Pat who were both amazing. I am happy to say that I am pain free and I owe it to Coastal! I also see James for chiropractic care and recommend him for anyone looking for an excellent chiropractor. The entire team at Coastal are the very best and we are so blessed to have them in our county!
4 months ago Kathy Ambrosi
Always friendly staff and doctors. Always come formy monthly tune-up
4 months ago Matthew Bott
Great friendly staff. They take the time to care for you and try their best to make you feel better. My wife and I both go here and get treated. Must go place in Brunswick County!
9 months ago Lindsey Little
Dr Alex relieved severe back pains, due to back curvature, with a series of adjustments and after completion I was pain free. Ross H
3 months ago Runlyt
This is a great place! Dr. Lank is the best; he is responsive, caring, and enthusiastic every time I see him! Without exception, his staff is friendly and efficient as well. I have never had to wait more than 10 minutes in the reception area, which is very unusual. I would highly recommend this practice to anyone.
2 months ago K Mains
As a Snowbird, having good doctors in both locations is so important. From my first visit several years ago, I have been totally pleased with the chiropractic services at Coastal Integrative Health and highly recommend them to others. The staff works hard to get me in for unexpected back issues. Dr. Lank is amazing, explains things, and always makes me feel so much better. They are a 10!
3 months ago TOTAL LICE
Coastal Integrative Health was fantastic, they were very prompt with their scheduling for therapy. The therapists were very knowledgeable and had your needs in mind. I would like to thank everyone for the care that I received.
9 months ago olga BOKATCH
Beginning in April 2020 with a move to the area, I overdid it and injured an ongoing back issue. With the help of Dr. James Morosky and the physical therapy staff I am 100%. Currently in a maintenance plan and even though I have arthritis and degenerative disc disease, I feel fantastic. Thank you for giving me my youth again!!!!!
9 months ago JOANNE DOWNEY
They work you hard to help get you where you need to be. They are all so polite and even though you can't see their smiles you can tell in their eyes they are smiling
6 months ago Cari Bray
Not a pushy place, very informative and very helpful! I've only been to.Dr. Alex, he is a very professional and hands on Dr, that takes the time to understand your pains and listens to your expectations. Great!!!
9 months ago Justin Martin
I had hip replacement surgery back in Nov '19 and started PT 5 days later. Originally, my doc asked if I wanted in home PT but then I contacted Coastal Integrative Health to speak with Dr Patrick for recommendations for in home. He suggested I start with them ASAP instead. Which I did...my experience was amazing...3 times per week. The members of the team stay with you during your entire appointment to ensure you are doing the exercises correctly. With each appointment my therapy increased and changed based on my progress. 5 weeks after my surgery I was cleared to play golf at my follow up from my surgery. I attribute my total success to the therapists...Pat and Lydia took excellent care of me and I highly recommend CIH for all your PT needs. I will not hesitate going there again if and when I need therapy on the future.
2 months ago tony baloney
All the personnel were very friendly and professional. They worked me through my therapy with my abilities in mind and help me get to the point I am at presently. Would recommend anyone needing therapy to go here.
11 months ago Bridget Vinal
Always have been professional and are patient and tailor your therapy treatment plans to meet your specific needs
5 months ago Sandra B
Excellent place to go would highly recommend Dr. James hes great. Feeling much better.
9 months ago Ray Day
I went to see Dr. Paul, for a frozen shoulder, who was referred to me by an business associate. I was in a tremendous amount of pain and couldn't move my arm from my side. After Dr. Paul diagnosed the issue, he was able to quickly get my shoulder back in line and provide comprehensive adjustments and deep tissue laser therapy that reduced inflammation and provided long lasting pain relief. He is the best chiropractor and has a great personality. The staff are very friendly as well. My total experience at Coastal Integrative Health has been outstanding. It is great to experience a team of people working together, giving you their best so you can feel better. They have an entire team of people that take care of you, including physical therapists, chiropractors, massage therapist, and laser therapy, etc. ( a combination of services -creates long lasting results). From the receptionist to the team of health professionals they are extremely nice and caring. Lydia Smith and Dr. Patrick McCauley are excellent physical therapists. They are very caring, really listens to you, very encouraging, and explains the reasoning behind the exercise and stretches. They give you a printout of the exercises to do at home which definitely helps to continue with the healing. They give you the tools and knowledge for healing. Highly recommend! Thank you for the wonderful care I have received. You are the best!
6 months ago
Popular places from the category Chiropractor