Antique store Shop 501 & Company
Antique store Shop 501 & Company, 501 N Chestnut St, Chaska, MN 55318, United States:
47 reviews
of users and employees, detailed information about the address, opening hours, location on the map, attendance, photos, menus, phone number and a huge amount of other detailed and useful information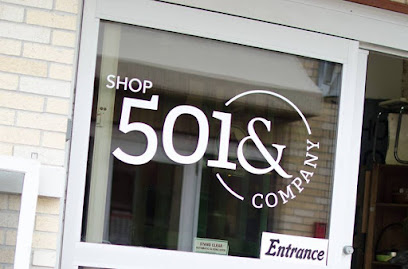 Address:
501 N Chestnut St, Chaska, MN 55318, United States
GPS coordinates
Latitude:
44.7889150
Longitude:
-93.6019361
Location on the map
Reviews Oscar Diaz
Amazing store, lots of different items, and furniture for sale. Great prices, and staff was very helpful, and friendly! Will definitely be returning soon!
9 months ago Nick M
Was fun. Had a good chat with the girls,about my miniature cabin and house. Found a great little ship for my mantel. I'll be back again!
9 months ago Aidan Noon
Quality antiques mixed with new finds that are thoughtfully chosen and displayed. And you can't beat the prices!
7 months ago Sidney Trammell
This is my favorite place! So much fun to shop here!
8 months ago Maitreyi Jha
the two ladies that work here are absolutely atrocious. i used to love this store, great people and nice stuff to look at. i WAS a customer until recently. the last time i went here was MONTHS ago. i came into the store yesterday with my friend and barely walked five steps in and was accused of stealing on my last visit. mind you the last time i came was MONTHS ago, and WITH MY MOTHER. the old lady accused me of stealing from them. really? is it my fault you can't keep track of our inventory so you have to blame it on a supporting customer? i have too much money to steal from small businesses. i don't know if it was because i'm asian and they don't trust asians because of the pandemic but it was absolutely sickening. i guess i'll never know because that was the last time i'm supporting store owners that act like that. absolutely disgusting and i don't wish well on your store.
9 months ago Brian Britton
Really great inventory of unique finds at great prices.
9 months ago Elahe Hessamfar
Our favorite vintage venue ever! And the owners are amazing.
11 months ago Paula Bailey
What a great antiques store. Nice folks running it and always something interesting to see. Prices are quite good compared to what I usually see at stores like this. I'll be back again.
3 months ago David Davenport
Wonderful vintage shop with a warm staff and tons 9f unique finds priced well.
2 weeks ago Vue Vang
It was a nice shop. The lady behind the counter was a bit snooty when I asked her to grab something hanging from the ceiling.
4 hours ago RED DragonGod
LOVE this place....unique finds, friendly staff!
1 month ago Quynh Dang
Love that many shops all in one building
11 months ago Krista Olen
You'll always find something interesting but be prepared to spend some time in here, there's so much to look through!
7 months ago Tim Childers
It good stuff, kind people and some tasty treats too
7 months ago Jill Kitzke
I love this place! Fun to take a step back into time. The best thing is it's not like a museum where the inventory never changes. Seems like they are refreshing the place all the time with new treasures.
9 months ago Louis Sense
This is a cute little occasional shop (meaning it's open occasionally, therefore the hours are limited, so check before you go). The store is eclectic in taste, and offers vintage/antique knick knacks, as well as furniture, some vintage clothing, and other handmade Curiosities. I enjoy visiting the store as it has the thrilling feeling of going shopping at a museum!
9 months ago Krishnaswamy Ravichandran
Neat stuff and great prices.
6 months ago Shashi Anand
I Love bringing my Family here, we always find something to peak our interest. So many Beautiful things here and the inventory is always changing so you'll always find something you want.
9 months ago varsha chandran
OMG. Gotta stop in regularly. Always new fun things.
8 months ago Tayfun Pay
This place is quite easy to get to, plus easy to see from the main drag of Co. Rd. 41 through Chaska. I really enjoyed my visit. It was a beautiful sunny day, all their doors were open with a wonderful breeze drifting along. The "shop" welcomes you with a great ambiance of nostalgia... No matter where you look there are things that are vintage, antique replicas/remakes, actual antiques and those that have been refurbished/recycled in every nook you see. I encourage people who are interested in places like this to take the time to check them out. Granted their prices are top dollar on many items but there are a few great finds to be had if you look closely. This is one of the reasons why I gave them 3 stars... Spendy. Sure, if you look hard enough you can find some fair deals but a lot in my opinion as an antique collector is overpriced. The other reason... Like most vintage shops these people have absolutely No Idea on the value of a Breyer Model Horse! You must be a Model Horse Collector who knows the horse models, their value in mint condition as well as their make & model to understands their true value! Just looking them up online which leads to guessing is not fair or correct to the average collector...who are usually young girls that love horses. For Example: You (Shop 501), have a common Classic size chestnut "old" mold (commonly known as the "Ginger" mold) model horse that is somewhat yellowed, has some major scratches on both sides of it's body as well as hoof scuffs. This model was well played with....and you people want $12.00 for it, it was worth that when it was brand new in the box! Which brings me to another issue, you don't have the box or the make/name of the model. In truth, it's worth maybe $3.00 because its valued as a "played with" model that's from a common run mold. In other words... A well "loved" toy. So asking $12.00 for a very well used Breyer with no provenance is ridiculous. Don't get me wrong. I think this is a wonderful place. Great regular hours so there's no guessing about when they're open! The ladies that greeted me were very friendly and cordial. I actually did buy a few items. I just hope things improve on their knowledge of specific collectibles. As in taking the time to do their research on items they are not familiar with. I will be back...
8 months ago Sam Barghout
One of my all time favorite vintage stores! Their selection of finds is always top-notch, and the ladies are always quick to offer creative suggestions and other ideas. I love the character of the things I find here! Will continue to shop often - every time you stop in there's a ton of new things to see!
2 weeks ago Felix Bleyenberg
Fun place to shop and they're open three days a week, every week. The vendors rotate their items well, not too many market items
8 months ago Michael Sanichanh
Fun shop with lots of quirky finds. This is always the place that I go when there's something antique/rustic that I'm looking for. They have a little bit of everything!
9 months ago Sylvain Henaff
Never visited
7 months ago Jesse Royal
A wonderful store for unique vintage goods and antiques. Lots of hard to find items creatively displayed. This store is owned and run by five talented and friendly women. A must stop for the adventurous shopper.
3 months ago Lee Walker
Love this quaint little store.
5 months ago Adrianne Smith
Great place to shop. Love the ambience and great selection of items.
9 months ago MIKE VERMA
Lot of net stuff and great owners
7 months ago Terrance Michel
Really enjoyed the shop. Not the best prices but an interesting little place
8 months ago Lori Johnson
Great vintage finds, antiques, junk, parts and pieces. Great pricing and the owners are the best in the business. I frequent this place first, if they don't have it, they can find it.
11 months ago Michiyo Young
Beautiful place. Tons of finds! Fun loving women. A MUST VISIT PLACE IN CHASKA!!!
5 months ago Valerie Ware
A Chaska gem. Great place to get unique finds for your home.
2 months ago Kim Jones
Great variety, helpful and fun staff, goood prices!
10 months ago Kyle Moore
Great prices. Fun and eclectic mix.
2 months ago amanda eddy
Good variety, good prices.
11 months ago VNK MAN
Great store, friendly owners!
5 months ago Mo Man
Great shop and prices are very reasonable
2 months ago willy sosa
Awesome!
11 months ago Virginia Boertlein
Fun, funky and reasonably priced stuff
10 months ago Catherine Hosner
Awesome shop!
1 month ago Marilyn Gault
Awesome staff and great selection!!
5 months ago Victoria Cooperwhite
Ok.
8 months ago Atri Singgih
Don't miss it!
5 months ago Jose sanchez
Love this place!
11 months ago Jeanne Shaw
Loved the variety
5 months ago Luke H
Awesome shop!
2 months ago Bri Jamshidi
Endless enjoyment rummaging through treasures
10 months ago
Popular places from the category Antique store