American Topper & Accessories
Truck accessories store American Topper & Accessories, 1315 NE Broadway Ave, Des Moines, IA 50313, United States:
57 reviews
of users and employees, detailed information about the address, opening hours, location on the map, attendance, photos, menus, phone number and a huge amount of other detailed and useful information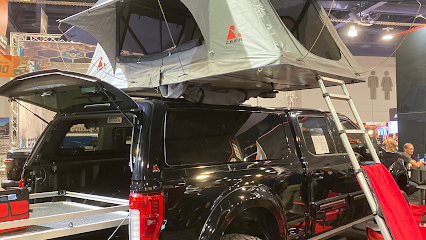 Address:
1315 NE Broadway Ave, Des Moines, IA 50313, United States
GPS coordinates
Latitude:
41.6435928
Longitude:
-93.6022158
Location on the map
Reviews Clay McCown
I am very happy with this team! They applied a bed liner to my truck a few years ago and just recently installed suspension airbags. They are always professional and explain everything well! Highly recommend
8 months ago Neil Yarumian
Friendly, no pressure, professional, clean! Ben is very knowledgeable and takes the time to discuss, research and help me find exactly what I need. I enjoy this location and staff as my new go-to. Strongly recommend. Thanks Ben.
2 months ago Jonathan Hartzell
Great service! Got exactly what i wanted.
8 months ago michael yaun
Great place very customer oriented took the time to explain and demonstrate how the product I was looking at worked and all the available options for that product. Highly recommend visiting for your vehicle needs
4 months ago Ana Sarmiento
Every time we come here Lance and his Staff are super helpful and friendly. They remember who we are and what we usually get and they always have everything we need and more. This is and will remain one of our top go-to places for our business needs ????
4 months ago tamonica Taylor
Great job on my bed liner
8 months ago Joshua Wilkinson
Staff was very helpful answered our questions. We left happy we returned to do business with them.
5 months ago amit patel
3rd time I've been there, impressed every time! Thank you!
5 months ago Stephanie Anderson
Wasn't able to find the parts I was looking for. The counter help were very courteous and went beyond reasonable service to try to locate the parts.
6 months ago LEVANartist
They did a great job. Nice knowing I have someone local if I have any issues. Had a piece come loose a few weeks after installation. Went back in and they set me up with a new part. Very friendly and helpful. Definitely would recommend.
8 months ago Joyce Distler
Ben Gressley is extremely knowledgeable, and provides you all of the information you need about all of his products so you can make an informed decision. You can tell after talking to him for a few minutes that the foundation of his business is all about ethics and transparency. We love our tonneau cover that was installed this week. Quick turn-around time, and phenomenal service. I highly recommend!
8 months ago Cecelia Cook
This was the first time that I had been there I had taken my father out there he needed to have a fiberglass tonneau cover removed from his pick up they even did it for free for Dad so now dad can put on his new roll-up tonneau cover !!! I would recommend this place to anybody who needs to have accessories for their pickup truck
7 months ago LeRoy Loney
I have had Linux bedliner years ago and a recent topper purchase and have been very happy with their service on both. I will definitely be back for future truck accessories and my next topper.
9 months ago Jupiter Harris
Love my new bed cover for my F-150 Crew Cab!
4 months ago petro humaun
These guys are great. Even if there is an issue they will stand behind their work and make sure you are satisfied. While things did not go right initially, they fixed it until I was completely satisfied. I will totally do business with them again. The owner Lance is dedicated to this company and its reputation from my experience.
1 month ago Quanta White
Great service and very professional.
4 months ago JulieinSeattle
They were able to get ladder rack wanted very nice staff
8 months ago Viktor Warhola
Quick turnaround, spray in bedliner turned out amazing! Thanks guys!
1 month ago cihan cimen
Great customer service!! I have always had a great experience here with purchases and service.
8 months ago Michael L
Great ????
11 months ago Shelby Wilson
Great business to take care of your needs. They went out of their way to extend service to me. I would rate them #1 in the Des Moines area for truck accessories and I have been to many others in the past.
9 months ago sarah stacey
They are very reasonable price wise. And they had my new truck bed cover installed in less than 45 minutes. Very courtois very friendly employees. My neighbor used them to and thanked me for letting him know about them.
1 month ago Joseph Murphy
Great service!
4 months ago Julia George
Very good service. Got us in and out quickly.
10 months ago Taejhia James
Been there several times. And will go back
10 months ago maria joseph
So, spent extra money to get Linex bed liner that matches the color of my truck, in less than 2 years the color has faded. Linex doesn't guarantee that the color won't fade. Went to store so they could tell me that, so what was the point!!!!! Be careful of what you pay for!!!!!!!!!!!
8 months ago Louise Osborne
Only reason I gave this company three stars is because my topper leaks due to o-rings that were not put on a couple bolts when ladder rack was installed, bolts were spaced apart unevenly when drilled, and no bolts were wrench tightened on the rack from the inside of the topper. Other than that desk clerk was very nice and treated me with utmost respect as well as working with me since I forgot piece to clamp topper to. 1 for installation and 5 for customer service
2 months ago Jasper Casto
Easy to deal with. Forthcoming with information. Overall it was a great customer service experience (thanks, Ben!) I don't know these guys from Adam, but while I waited in their showroom, repeat customers were coming in. Good sign.
5 months ago Michelle Abram
Ben is extremely knowledgeable with all their products. It was nice to work with him and find that he is a pro, their installers are perfectionist
7 months ago Michael Moran
You guys are great thanks for doing my window visors on my Ford explorer it looks great and will definitely be back if I have any thing done again
9 months ago vinniech
These guys took my half done fifth wheel install and wrapped it up for me on short notice. Can't thank then enough and they had great rates
8 months ago Tracie Crawford
Great customer service and quality products. They helped me find the best seat covers for my new truck and installed a great looking Line-X bed liner.
7 months ago Arthur Taylor
Friendly associates. They do outstanding work
8 months ago James Strait
I'm disappointed by the employees lack of authority to negotiate with customers. I prefer to buy local and support small business whenever possible and am willing to pay a small premium for it, but I couldn't justify an extra $90 on a Green Mountain Grill over Amazon.
11 months ago Teresa Brown
Helped me find the right product for my needs. Very helpful and friendly and priced Right.
9 months ago Jean Power
I am a returning customer to American Topper and Accessories. 1st time - Line-X bedliner with Access bed cover. 2nd time - Access bed cover with Raptor 5" ovals (stainless step-up bars). Each time, service was exceptional, product selection options are outstanding and working with Michele is easy/fun/low hassle. Very competitive pricing. Highly recommend this company and team - they are a pleasure to do business with and judging from the new trucks on their lot, several of the local dealers must use them as well. Thanks again to the team at American - will see you again in 2016!
10 months ago Nicholas Cosens
Great place to buy truck accessories and have them installed. Prices are reasonable, staff is knowledgeable and friendly.
1 month ago Nana Darkwa
Top notch enough said always quality work, and great service
10 months ago larry yanausch
From the very first contact thru many questions on accessories to final purchase of LineX for my new truck, each and every staff member I interacted with at American Topper DSM was outstanding! Very polite and knowledgeable. Thank you for the customer service the way it should be.
2 months ago Heather Lohmann
Great place to accessorize your truck
9 months ago Kristi Dickens
They like to order the wrong part at your expense
11 months ago Angelica A
Fantastic job on my truck. Is that Ben guy single??
7 months ago Shawn Siders
Excellent service and prices
9 months ago Kristi Barth
Great and friendly service with the knowledge of the service and products they offer.
1 day ago Catherine Yu
They didn't have what I was looking for but the people are friendly and helpful
3 months ago Catherine Armstrong
Nice people! Great service!
10 months ago Sir P
Great customer service and top notch products
1 month ago amy houser
Good service and timely.
11 months ago Jamie Langlois
Awesome!
9 months ago johnny theophilus
Quick service
11 months ago
Popular places from the category Truck accessories store