Ontario Airport Car Rental
Car rental agency Ontario Airport Car Rental, Rental Car Rd, Ontario, CA 91761, United States:
220 reviews
of users and employees, detailed information about the address, opening hours, location on the map, attendance, photos, menus, phone number and a huge amount of other detailed and useful information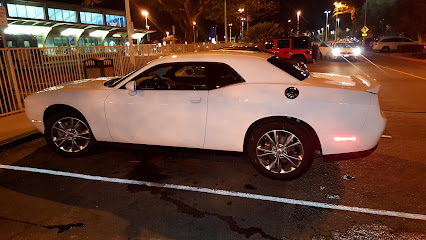 Address:
Rental Car Rd, Ontario, CA 91761, United States
GPS coordinates
Latitude:
34.0612064
Longitude:
-117.5775119
Location on the map
Reviews Julie Pinion
Great airport. Easy to walk around. When the line at the rental car shuttle is long airport staff begin to assist with managing the line and assuring people that their will be additional shuttles coming. Rental car center is easy to maneuver even during high peak times.
6 months ago Frank B
Received Free upgrade to a Dodge Challenger. Staffer who helped me was professional and polite
8 months ago Lucas Miller
Smoothe transaction although the back seat wasn't completely clean appeared to be some type of gel/oily like substance. Getting hints of cigarette smoke smells in a non smoking car. Otherwise very friendly staff and quick service.
6 months ago Rashika Guna
Got there early in the morning, there was no one waiting on line when I got there. Check in process was fast and easy. Staff was friendly and courteous, I couldn't have asked for a better experience. (This review is for Budget Car Rental)
6 months ago ybag mak
I've rented a vehicle from National and it was very fast and easy , clerk lady was also very nice and corteous , car was clean and in perfect working condition Return of the car wasn't complicated at all Very fast friendly and reliable service from National
1 month ago Mario G
Ontario Airport is one of California's best kept secrets. I will never fly into LAX again. I deplaned and was at the rental car facility in less than ten minutes. The rental car staff (Enterprise) were friendly and helpful.
6 months ago Nitin Bulsara
Good place to rent a car if you need your own ride on a temporary basis.
6 months ago Adolfo Lopes
As an Executive Elite member, I was told I couldn't choose a large SUV. Had to wait for nearly ONE HOUR to have a vehicle brought around to us. Finally ended up with a very nice Audi G7, but we had to wait for it and that was very disappointing!
6 months ago byron livermore
Great customer service had a couple problems when I went in but the manager took the time to help me he tookwell care of me very happy with the service at the Ontario airport notlike Enterprise Rent-A-Car in upland where they did not even want to help me
6 months ago Ana A
Despite the line and short staff it moved quicker than some airport rental locations.
8 months ago mohammad alaqeel
Place was awesome.. I had a bmw... They said I'd have to wait .. understandable .. I'll let u know what they give me .
8 months ago Kristie Killens
Much easier than expected! Lay out was easy to follow with clear signs. Look forward to the next time.
10 months ago Erik Carlson
Small enough to get in and out quickly, but big enough to have the major airlines. Love it.
8 months ago Morgan McQuown
The wait for a shuttle bus was too long. This caused the bus too be overpacked to standing room only with no social distancing.
7 months ago Linda Stevens
First Time At Alamo Rental...Was Good..Keep it up!!!!
8 months ago Margaret Toole
Horrible time. Make sure you don't book with a third party.
6 months ago Ali M
Easy check in, and out. A pleasure!
6 months ago Leda Mahmoodi
Great staff very friendly and even worked with me with a slight issue I had on my business trip Highly recommended ????????????
10 months ago Ilene Wells
I usually book a rental through National. However this facility is NOT 24hrs. The only convenient rental agency is Avis. They have a 24hr return lot whereas the others lock the gates and do not open until sometime between 5am and 6am.
5 months ago Bunny Carey
Shuttle runs between airport and rental car center at 30-45 minute intervals. Allow 90 minutes to get to flight on time.
8 months ago Doaa Habbeh
The service was very good. The car was clean and ready to go.
11 months ago Brian Webb
Took an hr wait to get a car from national car rental and apon return they werent open at 430 am for my 6 am flight. Never had this issue at any other airport
8 months ago Michelle Moore
Enterprise tried to say I was getting an upgrade from a midsized sedan(altima) to a Nissan rogue sport. Come on.
7 months ago Nicole Krol
Easy pick up and drop off. Like with all car rentals, be sure to take pictures of any and all damage to the vehicle before leaving the lot. You don't want to get stuck with a bill or an insurance claim!!
7 months ago Talha A
Fast, efficient, open late & great customer service
9 months ago Jose Jimenez
Went to pick up truck that was Reserved Supposedly get there and representative says "Ohh Ya was going to call you but was too Busy" No Apology not even concerned about our inconvenience.. Honestly can't believe People are like this... What Ever happened to Customer Service
1 month ago Jesse Galindo
Beautiful experience. I always rent my cars there Rana Insurance Facebook and Instagram
7 months ago Bingzheng Han
It was okay, they have made changes since covid-19 as well. I understand that they have emerged or Been purchase or something. I had a reservation and even once I approached the window I still had to wait 30 40 minutes before I was …
5 months ago Matthew Smith
Every time we rent from this airport they never have the car we reserve, not very helpful, then to top it off they want us to pay more money to upgrade. Very disappointed. Will never rent from this airport again
3 months ago Serge Stepantsov
Thirty Rental was a third party rental. Worse experience ever. First the reservation was made online and the $145 charge was deducted from the debit card. Only to find out at the reservation desk that there was a 24 hour wait before rental …
3 months ago Mahad Abedin
Good rates fair and very big selection will use again shortly.
11 months ago ME D
Speedy Service with Friendly staff:)
8 months ago George Lockwood
I had a question about hooking up my phone the day I rented the car so I ask the lady at the rental returns let me tell you she was the rudest person I have ever come across. She had a big safari type hat on, spanish lady kind of heavy set. I honestly will never rent from budget again due to her pure inexcusable rudeness!!!
3 months ago Cch Jinz
Very convenient. Easy ingress/ egress. Large open facility. Easy access to vehicles.
9 months ago Misty Farley
National was very efficient, good prices and a nice area to return the vehicle to.
1 week ago Align Design
They need to have a program that treat Enterprise plus renters with a priority line and reduce check-in time. It will be nice if they develop a contactless rental process
4 months ago David Munoz
There was only one guy behind the desk trying to help out about 5 different customers they definitely need extra help here
2 months ago scott snider
Friendly and helpful staff
6 months ago Michelle Ingram
Quick service at National. My first time renting here and I pre-booked on line first. I was in my rental 10 minutes after getting to the front counter. The car was clean and everything worked great. We returned it a few hours early with no hassle
9 months ago Lynn Mullet
They didn't give clear directions for where to go but we found our way and are driving the van right now :)
6 months ago Sembiyan Thamizh
Quick and easy...
7 months ago Chen Ting
What is up with price on rentals. It is a job to search for a low price.agghh
10 months ago Zach Snyder
Very professional and courteous. Best rental car company I've dealt with. They give you a choice of vehicles to choose from in the size of vehicles you had requested. Returns are a snap. They also let you swap cars if you decide you don't care for the car you originally rented.
7 months ago Carrie Stephens
Great customer service. Quick and easy check in and check out
2 months ago Raphaella Inoa
Terry ,very cordially friendly while being humble... Thank you....
1 month ago Laura White
Growing fast! But very quaint. Still easy to get in and out of. Great for Lake Arrowhead and Big Bear resort. We had a blast.
7 months ago Jabbar Jones
Always get a good deal. Clean cars.
4 weeks ago James Metsopulos
Easy to get in and out and food is good in tell you get somewhere
3 months ago Dustin Shewalter
National car rental is slipping. Gave me a jeep cherokee piece of???? Sounds like brakes have 100000 miles on them. Not very happy with this ride
1 month ago Janae Hudson
Shuttle was easy to find. Quick to rental desk and car.
4 months ago
Popular places from the category Car rental agency