Excel Learning Center #9
Preschool Excel Learning Center #9, 160 Huff Dr, Jacksonville, NC 28546, United States:
84 reviews
of users and employees, detailed information about the address, opening hours, location on the map, attendance, photos, menus, phone number and a huge amount of other detailed and useful information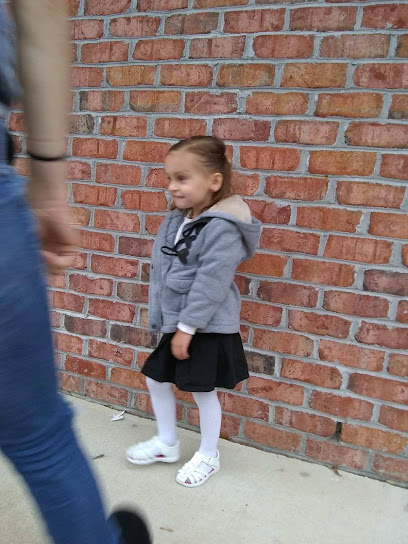 Address:
160 Huff Dr, Jacksonville, NC 28546, United States
GPS coordinates
Latitude:
34.7602339
Longitude:
-77.3799000
reviews allan ruskin
Love the staff at this location! They are much more attentive and engaged with parents and kids than excel 8. My child and I are greeted with a warm smile and welcome by Andrea and anyone behind the desk each morning. Although at excel 8a teachers in my specific children's rooms are personable and act as if they enjoy the kids the people in the office could do better with engagement and not just give off the perception that they are simply there to do paper, ratio, etc. and not for the kids and family's that spend so much money with the center, relationship is everything, Excellence in customer service goes a long way.
6 months ago Anton Kukoba
Excel 8 learning center is so great. My daughter is in the Panthers classroom and she loves her teachers. Ms. Hillary and Ms. Mary are amazing! They make my daughter feel so comfortable and they are so good at identifying the individual care needs of the children in the classroom. I feel so lucky to have them! I definitely recommend this center for anyone who is looking for a preschool facility.
8 months ago Jennifer Mixell
My 2 year old granddaughter goes here and she loves it!! It's always a little hard when she is dropped off but the teachers do a great job comforting her. They always have great activities for the kids. Recently they brought in a pony to take pictures with the kids dressed like cowboys sitting on the pony!! The pics were amazing!
8 months ago Serenity Revoy
My daughter has been attending this daycare for several years now and I always enjoy coming in as the staff is very friendly and takes time to greet every parent that comes in and out of the building. The classrooms are very clean and they spare no expense on toys for the rooms and maintaining the outside play areas. I definitely would recommend Excel 9 for any parent looking for a reputable daycare provider
8 months ago Stephie MGreeN
My son has been attending Excel 9 for 6 months now and I can't say enough great things about them!! They made me so comfortable leaving him there and their open door policy is just fantastic! The teachers in Guppies are outstanding and make pick ups and drop offs a breeze. My son absolutely loves his classroom and his friends!!! I would HIGHLY recommend Excel 9 to anyone looking for a great 5 star daycare/learning center!!
8 months ago Clint Barney
We absolutely love it here, My daughter is 2 years old now and before starting here she was just use to staying home with mommy. They made her transition to full days at daycare so easy for her and I both. They are patient , kind and keep you informed plus when you walk in there is always someone to great you. It is such a pleasant environment to walk into and know your going to have your child in. As a 1st time mom I don't think I could have picked a better childcare facility for my daughter! Thank you all ❤️
9 months ago Fedor Ponomarev
My daughter attended after school care here and on two occasions came home with bleach stained clothes (meaning they were not diluting the bleach they were using to clean!) after the first time this happened I was told they would be addressing it with the staff and then it happened again... of course. My daughter got in trouble on the van ride from school to the day care because she pushed a boy away from her while he was trying to kiss her. The teacher did not believe her and did nothing to make her feel safe from this type of situation. Lastly my FIVE YEAR OLD learned a very disgusting list of curse words while attending here. Definitely do not recommend.
3 months ago Elijah Grey
Both of my daughter went to Excel and I can not say enough good things about this center. The buildings are always clean, the staff loves and cares for your children like their own. The management takes the time to get to know each family. They say it takes a village to raise a child and this is the best village I could ever have my children in. Thank you to everyone at Excel 9 for all you do!
2 weeks ago Alex Hwa
My child has been going here since 3 school and now for pre k. This is the best school that my child has been at out of all of the other schools she has attended. Every teacher that she has had were awesome. Currently she is in The Panthers and we love it!! Mrs Hillary and Mrs Mary are so sweet and very thorough with the children. I love everything about the school from the cleanliness to the structure of things. Our sweet girl will be going to kindergarten soon. We will sure miss Excel 8!!!!
2 weeks ago Erin Marcuzzo
I worked for the same company for 21 years before moving to North Carolina last summer, I started working for the Excel Learning Center in Jacksonville (Excel 9) and every one has made me feel welcome and right at home. I felt comfortable almost immediately and have really enjoyed working for this center. I highly recommend working here or sending your children, it has been a great experience.
3 months ago Kristina Pines
My son attended excel as well as I worked for them for some time, we were very sad to leave when we moved but it was nice to be apart of the excel family. They are an excellent childcare with some amazing teachers! I would highly recommend them to anyone who needed Childcare for their little one! If we ever found our way back we would absolutely stick with excel!
3 months ago Diana Patterson
Ms. May and Ms Casey in the dolphin room are amazing. Always smiling and happy to see us. A happy face first thing in the morning makes us happy and starts our day off right. Constant information and attention to our student makes him excited to come in every day.
8 months ago Donna Matthias
My son has been going here since he was 6 weeks old. He is now 1. And I absolutely love everyone there and the best part is he really loves them too. It makes it so much easier dropping him off knowing that he is well cared for. They always go above and beyond!!!
3 months ago Arthur Hicks
My daughter is 2 and a half and has been at this center for almost 2 years now. I love the environment that my child is in and she always comes home excited to go back the next day. Every morning she goes in the classroom with enthusiasm and is excited to see her friends and teachers. The staff is great and I would recommend this facility to anymore looking for child care.
7 months ago Macie McCracken
We started at Excel when our other daycare closed. It was the best move we made... Our daughter LOVES her teachers Ms. Blair & Ms. Trina. She has learned so much from them. They let me know all about her day and will answer any questions I have. This daycare Facility has several activities and learning tools to advance your child. I would highly recommend this facility when looking for a safe & stable environment for your child. They are welcoming to both you and your child.
2 weeks ago Binal Shah
My son is in the Frogs class and he loves it! Mrs.Ellen and Mrs.Monica are so loving and patient. Mrs.Karen is very caring and nice. Thanks for taking such good care of my son!! I highly recommend this daycare to anyone seeking childcare.
8 months ago Abhipsa Biswal
I highly recommend Excel #9!! As a first time mom, I was extremely nervous and emotional about taking my daughter to a daycare! But all the staff were so supportive and made me feel really comfortable with the transition for the both of us. Ms. Trina and Mrs. Blair are AMAZING!!!! My daughter recently went through a lot of health issues so it was hard for me to be apart from her during that time, but they Always made me feel at ease and informed me everyday of how she was doing. I am beyond grateful and blessed that my daughter is in such good hands!!
9 months ago Bradley Lawrence
Excel is a great place to take your children. The Tigers room is a great room full of energetic toddlers along with their teachers. From the crafts to the games, there is always something exciting happening here! Definitely welcomes everyone in a happy exciting environment. :)
7 months ago vijay kubal
I have been working for Excel for almost 18 years now and I love it! I have a child who is 13 years old and another who is 5 years old. Both children have attended Excels since they were 8 wks old and have had great experiences. The teachers are top quality employees and love what they do. I would recommend any Excel to someone who wants excellent child care!!!
10 months ago Peter Riggs
A boy much bigger & older than my daughter physically attacked my daughter on the van ride to the daycare from school. Even with her crying and telling him to stop, the van driver had no idea what was going on. He left marks on her face and her cheek was a little swollen when I picked her up. When I told the director what happened she suspended him from the daycare for ONE day. When he came back on the van the following day from his "suspension" he was still allowed to sit by my daughter (the row across from her) and he continued to taunt her. You would think the van driver should have been made aware of what this kid did to my daughter and make him sit far away from her. Needless to say my daughter was afraid to go to daycare so of course I took her out of there. I am not going to allow her to go somewhere she did not feel safe. And quite frankly I did not feel she was safe either, considering they still allowed him near her and to continue to taunt her. My daughter didn't even get an apology from him. And for Excel to still have the audacity to charge me for 2 more weeks even after the circumstances is ridiculous.
3 months ago afroditi loukidou
My son is in ms Hillary and ms Mary class. They are awesome!!! They deeply care for every student. They are caring and involved in all there student . Love love love them wish they could follow my child through his entire high school. Go Panthers!!!
3 months ago Julia Eilers
My daughter and I absolutely love Ms. Ellen and Ms. Monica in the frogs room. They have been so supportive and always have a positive solution to any of my concerns. Thank you both for being such great educators, we need more just like you!
8 months ago Tahnee Howard
My son attends excel 8 and we have been in the area 5months and my son loves his class. He is in the frog class and it has been a great experience. The teachers are so friendly and let me know how my son is progressing everyday. Coming from overseas this is the best experience for him.
7 months ago Kimberly Doyle
I've been working here at Excel 9 about 4 months and I just love it. The directors are so helpful and supportive and the staff really enjoys the children. It definitely feels like an extended family here!
3 months ago Nick James
My son loves his school, his teachers Mrs Hillary and Mrs Mary and his classmates. He enjoys being apart of the Panthers team at Excel 8. I like how they make my son feel comfortable and makes school enjoyable.
8 months ago Jeffrey Mason
My granddaughters are in ms blair and ms Trina's room & my daughter has been super happy with their care. The girls transitioned very well from their other daycare which I was very concerned about. The playground is very spacious and I like that the different ages have their own area so the little ones are not overwhelmed by the bigger children.
9 months ago bee boy
My son is enrolled in this learning center and he is learning so much day by day. His teachers are always keeping us informed about his progression. I will definitely enroll my daughter in the pre k program. Go Cougars!
3 months ago Danielle Cullen
I am always greeted with a smile when I walk in to drop and pick up my infant. The teacher talk to me and ask me questions about my son and tell me about his day everyday. I love this place and the ladies there
9 months ago Nick Graziano
Ms. Tiffany and Ms. Rene in the Cougars Class are amazing teachers. Our family absolutely loves them, We've seen the growth in our son so much because of them and we couldn't be more thankful. ❤️
10 months ago Dawn Waxler
I walked right into the building, the doors were not locked and no one was at the front desk. I was turning in my paperwork for my children enroll but after walking right in with nothing stopping me from walking into a classroom we decided to find another, more secure place for our children. I would not recommend this place to anyone!
6 months ago Alex Montoya
My daughter is with the Cougars team. Ms. Tiffany and Ms. Reana are great with her. She loves being with them everyday and they keep me very informed on everything, when it comes to my daughter and school information.
8 months ago raf nini
I really enjoy the children ands the way that the teachers ensure that the children are learning and having fun! The staff is always available for you when you need something. I'm proud to be an employee at Excel 9!
3 months ago Sacha H
My son goes to the preschool here at Excel. He is in the Cougars classroom with Ms. Tiffany and Ms. Reana. I could not ask for two better teachers. They are a good mix of loving, caring, and instructive with the preschoolers. My son has separation anxiety ever morning and these ladies are so supportive, even when he cries every morning! I would definitely recommend this school to others.
9 months ago B Hay
Wonderful place to do an internship! I've been here for over a month and a half and I love it here. I feel like I'm part of the staff!
10 months ago nicole strite
I'm a first time mom to twins and I made a decision to move their daycare closer to me at work, and what a great choice. All the teachers are so nice and extra patient with the crazy mom who wants the best for her children! I thought going to a bigger daycare the girls wouldn't get the personal care they use to, but the teachers learned who was who quickly and even the front desk staff knows which one is which. If I ever were to have an issue I feel comfortable in bringing it to their attention. And I look forward to the girls learning and growing at excel 9!!!! Excel is becoming more like a 2nd family to me and my family!
7 months ago Jack Bellows
My child has been with excel since she was four months old. She has plenty of personality and always tries to be the center of attention! A lot of sass and additude also comes with my little ball of fire. Thanks to such wonderful teachers in the frogs class, Mrs. Ellen and Ms. Monica, for keeping her grounded.
2 weeks ago Mohd Waqar
My daughter loves it here. Her teacher Ms. Amber is great and updates me on her progress. It's a great school and learning experience.
9 months ago Jud Thompson
Best working environment EVER!! I've been with Excel for 9 years and wouldn't change my experience there for anything. Awesome teachers to work with and the families keep me coming back everyday!
9 months ago Peter Normand
I'm very pleased with Excel8. My daughter enjoys going to pre-k. She loves her class the Cougars, and her Teachers are amazing.
7 months ago Tammy
My daughter is in the Penguins classroom at Excel 9! We love the care that she receives here! Her teacher Ms. Virginia is so patient and great with her and her classmates!!
9 months ago Peter Couzynse
I am blessed to say that both of my young children attend Excel 8! The older of the two, J is in Ms. Mary & Ms. Hillary's class (Panthers) for the NCPK program. These ladies have been instrumental in helping to prepare J for kindergarten! Since he started in the fall I am consistently amazed at his progress! He is able to write ALL of the letters in both his first & last name (we are Italian and our last name is quite long!). He is also able to count, recognize & redcite the alphabet, and has made some really great friends :) The best part is that while he is learning all of this, he is having the time of his life!! His social skills have also improved, as well as his speech. We have had such an amazing experience with the teachers & support staff that even once we moved to a different town, we STILL bring our kids to Excel 8! Mrs. Chelsea & Mrs. Christi (wildcats) have been INCREDIBLE! I can not say enough wonderful things about their classroom; this year is our youngest sons FIRST experience with any type of care outside our home & I am thrilled with how well they have helped him adjust to this transition! K loves going to school(hes in their 3 school class) and he is learning so much! Since this year began he has thrived with learning through play! He can tell you shapes, numbers, letters, colors & has mastered many age appropriate life skills. We love seeing all of the projects the kids create! I highly recommend Excel 8 to anyone looking for child care!
2 weeks ago Michael Mahnken
Excel 9 is an awesome place for your children to learn. When my children were young they went to excel and enjoyed every moment. Awesome place.
8 months ago Christina Garcia
Absolutely amazing ???????? My boys love it there, the teachers are wonderful, and everyone there goes above and beyond what you'd expect from a daycare
6 months ago Marco M
My daughter has been going here for over 6 months now and her teachers and staff are all amazing. She is only 1 year old but she is always very excited when she gets to school and sees her director and teachers. I'm very happy about my decision to use Excel 9 as my childs daycare center. Would definitely reccomend !
2 weeks ago Douglas Noss
My son attends the 4 year old "Pandas" classroom and we love it. Teachers are very caring and attentive and communicate with parents about their children.
9 months ago Dugvk Hech
I love Excel !!!!! The classroom is wonderful and the teachers always greet me with a smile when I walk into the classroom. I love that my kids are able to enjoy their days and learn so much throughout the day.
9 months ago Marcella Britto
My bonus daughter is in Frogs with Ms. Ellen and it's wonderful. She's always coming home telling of what she learned and how much she learned with her teacher. I love that classroom. We've never had any issues between her or the teacher. I love her teacher. She's always kind and keeping me informed and she's always joking with me which I love & that makes me comfortable with dropping my daughter off everyday they're open. Love you Ms. Ellen!!
9 months ago Jason Wong
One of our twin girls has had the pleasure of being in the penguins class with Ms Kay and Ms Kaylee. Both teachers have made learning fun. Also has made our daughter more than ready for kindergarten. Our other twin daughter has had the pleasure of being in the sailfish class with Ms Kristy and Ms Nikita's. She has learned more then she needs to know to begin kindergarten. They have also made learning fun. Thank you to excel for hiring the best prek teacher's for our girls, The Lott Family!
3 months ago Eric Rawson
My son has been going here since December 2015 and he absolutely loves it. He was first terrified at the thought of school considering he did not have such a good experience at the daycare he first started. That experience ruined the thought of going to school for him. But I can't say the same for EXCEL. Everyday my son wakes up happy to go to school, he has been growing and learning so much since he started here. His teachers Ms. Kelly and Ms. Sasha are amazing they welcomed my son with open arms and always make he feel great.
3 months ago Brad Szczesniak
My daughter loves her classroom with the Leopards and especially her teachers Ms Kenleigh and Ms. Jessica ! Its a pleasure to have her in a great place to learn My son also attends Excel 8 he is in the wildcats classroom , and he cannot wait to go to school everyday to be around his friends and teachers Ms Chelsea and Ms Kristy
8 months ago
Popular places from the category Preschool