Bojangles
Restaurant Bojangles, 4505 Market St, Wilmington, NC 28405, United States:
220 reviews
of users and employees, detailed information about the address, opening hours, location on the map, attendance, photos, menus, phone number and a huge amount of other detailed and useful information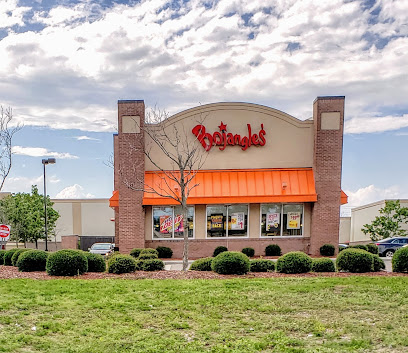 Address:
4505 Market St, Wilmington, NC 28405, United States
GPS coordinates
Latitude:
34.2434978
Longitude:
-77.8887485
Location on the map
Reviews Vinay Kumar
The staff was very friendly and the food was mostly fresh. We got the spicy tender meal deal, which was good. My only complaint is that my mashed potatoes came with sausage gravy that looked leftover from breakfast instead of the usual brown gravy. This is the second time that's happened.
8 months ago Edwin Lukas
Always busy but service is quick and courteous. Most importantly the food is always hot and fresh.
11 months ago Julie
Food is good. Drive through long but moves fast. Service nice. Get orders right. Biscuits sometimes hard and fries sometimes not hot. Overall good place though.
8 months ago Brian DiSalle
Food was cold and no seasoning on fries when asked at the board and the window. My father owns a chain of these restaurants and it's horrible how night shift is so much worse than day. Cajun was old, fries were cooked at least 30 min prior, and the biscuit was par baked (pre) which is a no-no until after 8-9 pm depending on volume
9 months ago Ignacio Montoya
The ladies at the drive thru were great! They were friendly and thoughtful. I told one of them that the fried chicken is for my dogs and she gave me the heads up the chicken is hot and to be careful since they are for my dogs. It's nice that she cared enough to mention it. One of my finicky dogs loved it! She ate all 3 pieces, piggy ????. I had some of the battered and skin, and it was delicious. I like the mild spice flavor. My other dog is extremely finicky who wasn't interested in the chicken. I will definitely visit another Bojangles in the future. Unfortunately, there is none where I live.
1 month ago Spikerspeed
Almost every time I come to this Bojangles the person taking the order is absolutely rude. I'm honestly shocked when I get someone nice. I love the food but the attitude makes me want to stay away after the girl tonight practically yelled at me that they were out of fries. How am I supposed to know that? I've worked drive thru's before and this is just unacceptable.
9 months ago Ruslan Muslimov
WORST fast food spot in Wilmington, cold food when I ordered here once after I waited 35 minutes for fries. - no phone pick up when you call - horrible door dash pick up you have to wait in the drive through and waste your time and money. - claims open till 2pm indoors but locked doors. April 23rd 2021 1:26pm
9 months ago Heather Cantrell
I don't like to leave bad reviews but sometimes it's needed to hopefully find improvement in a bad situation. This is not only the slowest Bojangles I've ever been to, but they rarely do I get my order correct. I hope the owners and management will consider fixing this problem.
8 months ago BodyRight
I've never had to leave a bad review anywhere because I also am a fast food worker, I get it, but I ordered a meal that comes with fries and added a small side of borounds and the lady over the speaker said "you want fries AND Borounds?!, she wants a side of fries AND borounds. You know that's a lot right?" and then I heard laughing and I've never wanted to die more in my life. It felt like when you're at thanksgiving and your mom starts calling you fat for getting a second plate. I kinda wanted to cry. Like maybe they were for a friend... they weren't, but they could've been. Needless to say I ended up saying never mind to the borounds so if you're on a diet, go here. If you're at all insecure about food and/or your weight like I am. Don't.
7 months ago Kevin Li
My wife and I decided to go to this bojangles tonight around 9ish because Google stated they were open until ten. We sat in the drive thru with several other cars lined up behind us for over 15 minutes. We circled around and saw employees working and got back into the back of line. After about ten more minutes my wife decided to call to see what was up as no one responded in the drive thru. When she called the lady answered with "we closed at nine" in a VERY rude tone. She did not say hello or anything. My wife tried to explain that their Google page said they closed at ten and the lady on the phone continued to be very rude. We left and went elsewhere. The hours need to be updated if they're closing earlier than it says they do. As we were one of many cars confused by this.
7 months ago Sojourn Sheikh
That new sandwich is great! Only 4 stars because i didn't get napkins, straw, or honey mustard. I did ask for it. But no biggie. I still love you bojangles!
6 days ago John Moore
I don't understand why this place 1) takes so long to make your food and 2) always gets your order wrong even when you have to say it twice. No sauces in the bag. Dry, disappointing supremes. Mashed potatoes that had a weird smell. Unsweetened tea when I asked for sweet. Awful service. If I could give zero stars I would.
9 months ago Emma Dudley
I'm a doordash driver, I've been dispatched to pick up two orders. Your customer's have already placed their orders through doordash. Yet I have to sit in a drive thru line that's wrapped completely around the building. I have tried to call no answer I knock at the door no answer. It's your customer that I'm trying to satisfy. You need to get on board with the rest of restaurants and open your dining room. This will be my last order I accept from doordash for any Bojangles
8 months ago Harpreet
They should prolly make time to hire. It is Unacceptable to wait in the drive thru for 20 minutes 5 of those minutes after ordering and then hear its gonna be another 10 minutes to cook 2 bo chicken patties. Especially when so many are out of work. BOJANGLES DO BETTER!!!!
8 months ago Zander L
One of my favorite places to get a meal but Covid has really hit some Bojangles location. They seem to not keep up with the amount of drive through and get your order wrong. Not worth your time.
2 days ago Robert Disalvo
Just got back into town and had to stop by and get my usual order. So happy I did, it was so delicious! It's great that they serve breakfast all day cause I'm always craving the breakfast sandwiches.
2 months ago Darlene Quinlan
This is by far the slowest place I have ever been to. 30 minutes in driveway just for a sandwich, and it wasn't Even the right sandwich when they gave it to me. Pathetic. The guy at the window was so disrespectful as well.... his name tag said Bart
8 months ago Timothy Reggev
That new Cajun sandwich was too spicy after the first bit. I could not eat it at all. Fries was very cold. Not a good experience.
1 month ago Tyler Harris
Service is always slow but gave it 3 because they were nice! I was in the drive thru for 30 minutes tonight... Schedule more people.
8 months ago Tony Thomas
My experience today was TERRIBLE. I waited about FIFTEEN minutes in line only to recieve COLD and HARD Bo'rounds and my Bacon egg and cheese was pretty awful too. Won't be going back.... I suggest you don't go either.
8 months ago raj miskin
Bos sandwich is my go to. Good service at this location.
8 months ago Andrew Liss
Worst Bojangles EVER!!! It's horribly managed no one ever works they always close there inside for no reason even though it's supposed to be open and it takes like 35 mins in the drive thru ever time I go!! This place needs a new manager and staff!!
9 months ago BePureFit Training
Delicious Management is great ???? Ben Smith owner Cape Fear Flooring of Wilmington NC
10 months ago Jasmine Castro
Ordered a four piece chicken supreme with honey mustard and a boberry biscuit on the side. Paid for the food, waited an excruciatingly long time to receive the food and then when I returned to my hotel I realized they forgot to put any sauces in the bag. Needless to say, chicken tenders without sauce is a no go. Fortunately I just used the delicious mashed potatoes and gravy as a dipping sauce. All food was great other than missing the finer details of my order.
4 months ago Rachael Hartman
It wasn't all good and it wasn't all bad do I did get sick with the food
8 months ago Tracy Vallance
Tried to order 20 pieces of chicken. Told me it's a 30 minute wait. I thought this was a fast food restaurant, I'm not waiting that long in a drive thru. I'll go to KFC.
11 months ago Chavon Rey
Loved the individual attention we received with a rather complex order. Thanks!!
8 months ago Philippe Spruch
I don't know who needs to hear this but Bojangles new chicken sandwich is just as good as Popeyes.
4 weeks ago Tom Bowen
Completely jacked up my order. Didn't get. The top on my drink so it spilled all over my truck.
1 month ago Tracy Richards
the potatoes with too much salt, the chicken quite small, the pieces looked like a bird, not chicken, it looked like yesterday's food reheated
8 months ago John Rolf
They forgot to put honey mustard in the bag then when I went back through the line the lady at the window was rude then told her co worker that she knew she had put it in the bag. Well she didn't.
6 days ago Steve Pchelka
I waited in a line of 5-10 cars for 30-45 minutes after I got off work, got asked "what do you want", and paid in full but they left out both my boyfriend and my BO-BISCUITS??!!! Tastes fine, but if you are closer to a different Bojangles.. don't come here! I would go back for the biscuits, but not worth another ALMOST FULL HOUR wait ????
5 months ago Gaurav rana
I'm from the Midwest and never had Bojangles. Beats Popeyes hands down
9 months ago Uday Posia
Service was slow and our fries were not even fresh. The young lady who took our order would not even let us finish ordering before she would interrupt multiple times.."is that it?!" We only ordered 3 meals, noting complicated.
1 month ago Lorena Longo
Drive through was rude and short with me and refused to give me a receipt
11 months ago Susan Williams
.mmmmmm chicken ???? ???? ????
9 months ago Cashton James
Drive thur is the only thing open it's always busy.. needs to open up the lobby at lease for take out only.. get some help .. get the line down ..
9 months ago Matt Post
Traveled all the way from PA Had to stop and get the famous bojangles Love it
4 weeks ago Alejandro Morales
Waited in line for 30 min for cold food. My food tasted like it was made and bagged as soon as I ordered it. The problem with that is it took almost 15min to get to the window after I ordered.
1 month ago Priya Amin
Hot and fresh biscuits. The drive thru was going really fast..
3 months ago Shannon Morrison
What can I say about this place? A must for anyone who has never experienced it before. Had the Supremes combo with mashed potatoes. Be sure to try the sweet tea!
9 months ago Anaiz Benavente
Got country ham and egg was great long line but that means people like it
7 months ago Caroline Chen
Wonderful. Ladies behind the counter are very nice and give you hot fresh food very quickly!
7 months ago Anneliese Kelch
This bojangles always somehow messes up the easiest orders. They move slow, they close early whenever they want, and they don't have great customer service.
2 months ago Anybody Xu
Picked up breakfast, which was 2 for $4, and they had a new drink which wasn't that good. Drive through moved quickly.
2 months ago DeShun Hogan
We left, the people that was taking the order were rude. Went to church's chicken and the people were super nice, and the food was better.
1 month ago Gail Jefferson
Quicker in/out than Chick-fil-A.
3 months ago Tiffany Barr
Ordered family meal and they gave us old chicken, old limp fries and the dirtiest dirty rice ever. The only reason I'm giving this place 1 star is because the biscuits were fresh.
2 months ago Lisa Melanson
Best chicken I have had in a long time everyone I came in contact with were the best very friendly if I get down this way again I know where I will be eating
4 months ago Kathy Riddle
Really unacceptable attitude. On memorial day weekend this employee approached us with a nasty snarl, as if we were some bums asking for free food. We don't need to feel like complete trash, we are paying with our own money, not asking for leftovers. In addition, whipping your phone out in the middle of taking our order and then not hearing what we wanted, I wonder why? It is not hygienic and then going to touch our food. This employee new what the job entailed, and we weren't even being impatient. Will be filling a formal complaint, you do not get to choose others in a condescending attitude just because whatever went on during your day, that is not my issue and you can't expect to get out of that scratch free.
9 months ago
Popular places from the category Restaurant