East Los Angeles College
Community college East Los Angeles College, 1301 Avenida Cesar Chavez, Monterey Park, CA 91754, United States:
138 reviews
of users and employees, detailed information about the address, opening hours, location on the map, attendance, photos, menus, phone number and a huge amount of other detailed and useful information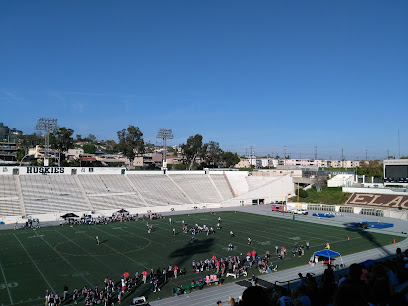 Address:
1301 Avenida Cesar Chavez, Monterey Park, CA 91754, United States
GPS coordinates
Latitude:
34.0413848
Longitude:
-118.1502645
reviews Amy Jones
Great school for transfers! ELAC has given me so many different opportunities. I have always been supported and guided by counselors and alumni alike. Given opportunities for internships, networking, federal work study, financial aid assistance, transfer talks, field trips with MESA, clubs, a safe environment, free food passes, a free shuttle, free tutoring, free merchandise, not to mention the low cost of tuition and other fees. Most of the professors here are really great. As of now I am transferring to CSULB to pursue my major in Computer Science. ELAC continues to strive for the best in helping ALL students succeed. I couldn't have asked for much more. You receive so much assistance here and it only continues to grow.. but you do have to go out and reach out for it. Stay engaged and you'll reap the rewards. Best community college in the entire district. Go Huskies!
2 months ago MishaShanelle
Too many young people caring on. Should be more professional.
1 month ago Assibey Blake
BEST SCHOOL I VE EVER SEEN IN MY LIFE
2 months ago Worldwide Tv
The covid test was quick and easy with an appointment
1 month ago Kev W
Fast and yummy... wait was 5 to 10 minutes...
2 months ago Steve Ming
Fastest covid test ever!! ????
1 month ago Doug Kristin
The student workers and supposedly Professional employees are rude and unhelpful. There's always Sherriff cars and officers patrolling the campus. Half of the time they're just talking to each other or flirting with the students so just be careful if you need help I don't know who will help you. The offices atmosphere are hostile too. The school mostly only cares for its Latino students instead of all its students succeeding. I only came here unfortunately because it's the closest to where I was living at before. Other than that I would've never came here, it's a mediocre education and school. They advertise everything to be inclusive and against bullying and sexual harassment but in reality it is all hypocritical because they do nothing about it. I have seen, heard, and experienced this all so that's why I am trying to warn y'all. Please choose your school wisely and do what is best for you!
3 months ago JOVON HARLEY
Wonderful community college. Great professors. Absolutely great place to receive a higher education. Guidance counselors are very helpful with planning the course of educational progress.
10 months ago Kyson Ackley
I love this campus! They offer more classes and time slots. It's renovated and beautiful. The vibe here is so positive!
6 days ago Bryan W
Well actualy I went to take a test cobid 19 and the guys help to us are nice and profecionals
2 months ago David Camp
Good college so far haven't had any problem, the only thing I hata was their office employees some were nice but others didn't wanted to help ..
8 months ago Darrin S
I took an online chinese class here. I was interested in trying to learn chinese but it was very hard and extremely hard to do in one semester. I registered for pass no pass. Even though the lacdd form says there is no deadline during the covid 19 there was 0 response from the admissions office. I even spoke to the person that process the forms he gave me his direct email and still did not get back to me. The service at the admissions is very poor even if you speak to them directly i have gotten zero reply about my form. My prof had to contact the head of there dept to have someone help me and im still waiting but at least they tried to. I am discouraged from coming in the future now. There own admissions people don't read!!
9 months ago Sylvie Roger
I would give it a low rating the only problems I have when I attend elac is the price. It's very expensive. Without financial aid you will not get help. You'll have to pay money out of your pocket for your classes. Only things I like in this college is the transit center, library, and views. That's it. I would only recommend this place for a semester. Otherwise look elsewhere. Not a big fan of this place.
2 months ago Karthik K
I did it!! AA Child Development ???? ELAC
11 months ago Naomi Sexton
Most of the teachers only are at their position because they kiss up to the administration, not because they know their subject. Be careful and double check the info, a lot of wrong and unethical info goes around Administration does not care about anyone or anything and wants to do anything constructive. The school has the potential to be a great school.but the indifference has put the college in a terrible shape. The classes are dirty, garbage is overflowing, and lies and unethical behavior is too much
2 months ago Allen Habtamu
Went for covid testing- easy n process was efficient
10 months ago Zach Sobaski
Good school. Classes were on the easy side. When classes at other community colleges are full it is worth considering coming here. The school was renovated a lot in past years. I missed the tennis courts. Did all my GE during the summers here.
8 months ago Merry Burge
I think that the student workers and ELAC staff are top of the line when it comes to welcoming a person onboard.Im adding to this review because I was reading a review on this page and there is this guy saying that it's expensive to attend here unless you get financial aid then why not get financial aid I know I didn't come here to compare myself to other students who have other ways of funding their own education unless he is trying to indicate that it's shameful to receive it hey as for me I am thankful and grateful to the Government of the United States for making this possible and of course East Los Angeles College.
3 months ago Miguel Nebot
Only recommend this place for the first 1-2years of college for the variety of activities there are for students. As a recent student on this campus I will give it a 1 star because of the simple fact that the math lab(studying area) needs professional positive help and 2 counselors have guided me wrongly. Overall my 1st year experience was great 4/5 this year is a definite -1. I've recently gone into the math lab for help on my homework and lately there is little to no help here. Literally lots of help for intermediate mathematics but only 1 or 2 for advanced maths. Aside from that the tutor only available for upper maths is harsh and has bad personality towards the people he helps including myself. I asked him a question and he got frustrated because I didn't know how to get my answers when that is his job. He is a tutor for a reason and I was very clear on what I was asking help for and he helped but with the most negative attitude. Negativity shouldn't take place in this area. Another bad experience was also recently where i went to see a counselor for my major planning to get my A.S. and they recommended the wrong classes which I didn't even need and had nothing to do with my A.S or transfer so now I'm facing to undergo more years in community college thankfully I'm transferring to another community college.
3 months ago Kyle Ballard
The professors at ELAC are the most amazing and caring individuals I have ever known. I thank you all for the support and guidance I received in all my classes.
5 months ago John Bundy
This school is the worst school you could ever attend they never have appointments for students to see their counselor and if you finally get an appointment the counselors aren't even helpful. You call the main campus and try to reach the counseling office and they have the audacity to have their machine literallt say "do not leave a message because we don't check them"? Excuse me???!!!!! How can you have an answering machine that says that why are you there for? why are people paying if you're not there to ASSIST!!!!!?????
3 months ago Chris Moss
A good place to study and learn with the professors help a lot
2 months ago Sandra Mac
Thanks to elac I got my first certified as a child development teacher in 1994 since than I am been working in a child development center and the knowledge that I obtener in elac plus the experience during all this years that I have been working with preschool children children is amazing
6 months ago Jane Jansen
The campus keeps getting remodeled, so it's modern but there are always having malfunctions either with the technology in the classrooms or offices and elevators. The campus advertises so many resources and services to help any student who is committed to succeed in their educational goals. Unfortunately when you ask for help though they give you all these obstacles or don't know anything except here's a flyer. They are not updated on new laws so they are behind in their requirements to transfer or graduate and don't have the students best interest it's just about money for them. I personally am disappointed in this campus, staff, facility, and student workers since they are unprofessional and biased. The police on campus are too busy flirting or eating to actually do their job in making sure the campus isn't damaged or that even though they post all about their rules the students can always break them. The parking is chaotic, the bus stops are convenient since they are close but they are always packed. Unfortunately it's the only one near so many of us so it's our to go option. They say a paper from school is important for better jobs so I go but if I didn't need to I wouldn't ...
4 months ago X Starr
Great environment for students and staff alike. There are plenty of resources provided such as a library, study rooms, and tutoring for anyone who needs it. The free wi-fi works like a charm and there are a lot of stores within the school and around the area.
5 months ago David Chang
This school is the most poorly run school I have ever attended. I called to make a counseling appointment because after transferring my records they never added them into their system. I had to call and submit a form for them to let me continue my classes. They make the process hard for students who did not attend their school from the beginning. I called counseling and the girl tells me I have to call Friday to schedule an appointment for next week are you kidding me? What kind of system is this? Not even my high school functioned this way. This school is outdated in the way it works instead of updating your buildings why dont you update the system the school runs under? It's ridiculous. Now I have to wait until God knows when to take my courses which will put me behind in order to apply for transfer. But they dont care since all they want is students to get funding. You will lose the students this way. Never seen so many students drop a course like they do at elac. I am very frustrated by how their system blocks the working students who have very little to spare. This is not right.
4 months ago William Maxwell
Great community college. Since the new building have been open to the students it is a pleasant experience to be a part of. Nice area plenty of shopping centers around the school. There are plenty of diverse culture in this college that i really enjoy being a part of.
3 weeks ago Raj T
Good school but you have to pay for classes and Especially the classes you really want.☹????????????p.s my first time at this school...
3 months ago Trinity Gilbert
The ELAC is my first school in USA.I really appreciate the help from every professors and classmates.There are a lot of nice guys.And the professors are very patient with each student.
4 months ago Lucy Rozell
For someone like me the experience there was very confusing and inconsistent. It was difficult to get classes and confusing as to what I should take and different counselors seemed to tell me different things. If you know exactly what you are going for though and willing and able to take any class time you can get to fulfill that it will probably work for you though.
7 months ago Sarah Nadeau
Good place to get some of your general ed classes done. Teachers are good but the rest of staff needs to be more helpful especially the financial aid department.
3 weeks ago Lon Porter
So far my teachers have been amazing. Psych 1, 63, and 64. Campus sucks so bad though a huge part of it is under construction so you have to take long detours to get anywhere. Haven't spent much time in any offices (counseling, financial aid ect.) But the library is great!
3 weeks ago Steven Aponte
Great place to prepare for transfer. I got a lot of help from professors and tutors.
2 months ago howard Bell
Beautiful campus very nice staff
3 months ago David Marlatt
Its a great school to move up in your professional life. I love how easy it is to register into classes. Professors have years of experience.
5 months ago Charles Colfax
This school has changed so much in the past 6 years. New buildings everywhere. A few more in the works and more planned for the following years. It is starting to look like a university. ELAC is actually the biggest Community College in California with so many resources to help you. If you have not taken advantage of these programs you are missing out. Get involved and use tools given to you. Do not expect them to do the work on their own. Hit me up if you need information.
6 months ago idris Rehimli
To go too school elac Ms lisa
2 months ago Markee Rousse
Ever since the renovations, the school has been looking good and easier to move around the campus. I'm studying different languages and have had no problem getting my classes, plus there's plenty of parking available.
10 months ago Ryan Ladd
The new and clean campus is good, professors good (so far) BUT the staff, specifically the younger office ladies(probably in their twenties?) in the ADMISSIONS OFFICE - can act quite unprofessionally. ELAC, PLEASE TRAIN THEM TO ACT PROFESSIONALLY and treat the students as customers. I don't expect them to do something out of the ordinary, just being polite is fine. The black lady (don't know if she's still there) in admissions and the younger hispanic lady in admissions in the Southgate campus were polite and helpful, though.
4 months ago Ramona Wallesch
My child attended night class's and I'm please with the safety area. He can't wait to attended day class to explore more positive result.
4 months ago Lisa Cash
I like Wyane Lu coaching badminton classes for many years to provide many good players. Good job!
4 months ago Jeff Whitfield
School and professors are awesome . The renovations and improvements have been very useful , they have new buildings ,more space and overall its a good place.
8 months ago Casual Floww
This campus has drastically changed over the last decade. It's now a modern beautiful campus, where it used to look like a high school.
9 months ago Laurie Stubbs
nice school. good place to learn English
6 months ago Alexis Ishenko
This place is ok. If you're wanting professors that are good, this is the place for you. Everything else such as the counseling and financial aid department are not so well organized, considering that you need to find a good time to talk with a counselor in the counseling department. Financial Aid on the other hand, that you need to becareful with considering that i myself called the financial aid office and asked them for when my disbursement will come in. They tell you the days, but somehow it doesnt come in. All i can say is that the classes are chill depending what major you take, and what class you will enroll in. Otherwise you will be fine.
6 months ago Veronika Kosikhina
Newly renovated campus, two locations with free shuttle, sports teams, Vincent Price Art Museum, guaranteed transfer to a four year college!
3 weeks ago DINESH VASAMSETTI
Great price per unit. But it would be nice if they had more classes as online only.
3 weeks ago ken heaning
Much improved after addition of new buildings. A great and underappreciated museum, friendly staff at the library.
4 weeks ago Bri Jamshidi
Honestly, I have only taken an online class here and never wanna go back here. The entire system is flawed. They make everything more difficult than it should be. I wanted to take some math courses but they wouldn't let me bc I had already taken some years ago. Fin-Aid office is okay, not that great. I honestly cried one day from how frustrated I was trying to get everything in order.I am taking some art classes at GCC and everything was a breeze. The only good thing is that the online class that I took NEVER had to meet. Everything was done in the convenience of my home.
6 months ago Man Man
Teachers are nice and helpful. Fun clubs to be a part of. Many places to eat that are near by.
8 months ago
Popular places from the category Community college