PrintWorks - The Polka Dot Printer
Print shop PrintWorks - The Polka Dot Printer, 2316 S 17th St STE 150, Wilmington, NC 28401, United States:
43 reviews
of users and employees, detailed information about the address, opening hours, location on the map, attendance, photos, menus, phone number and a huge amount of other detailed and useful information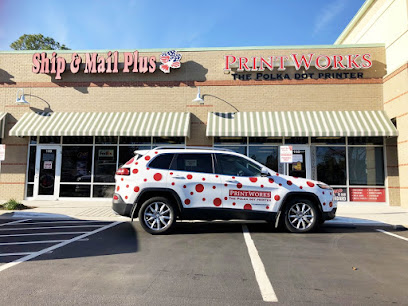 Address:
2316 S 17th St STE 150, Wilmington, NC 28401, United States
GPS coordinates
Latitude:
34.2009030
Longitude:
-77.9232318
Location on the map
Reviews Julie Jones
Amanda was very welcoming warm and friendly. 10 out of 10 would recommend. They made it a truly memorable experience. The atmosphere alone just made it all worthwhile.
10 months ago chris pyon
I have worked with this company for many many years. I have never had a bad experience. They are always willing to go above and beyond to help me with anything I needed and especially when I was in a pinch. Everyone there has been an absolute joy to work with. Amanda is who I work with most, she is always happy to help and has gone out of her way to make sure that we had everything we needed. The owner Joanna, always puts the customers first and makes sure you are happy when you leave. I will not use another printer in this town
1 month ago Stephanie Cesar
We just had a wonderful experience working with Printworks. We needed a graduation door banner for our daughter with a fast turnaround. Amanda was amazing! She had a proof ready within 24 hours; the banner was created and shipped in just 3 days. We are incredibly happy with the banner. Neighbors have stopped by to ask where it was made. We happily tell them that it was created by Amanda at PRINTWORKS. Thank you for helping us celebrate our daughter's graduation!
8 months ago Fernando Depaula
Amanda is the BOMB! She always communicates effectively and I always get a superior product. I trust her to make the best decisions for paper choices and other design aspects and she always comes through. Their pricing is competitive and their customer service and turn around time is above and beyond.
11 months ago Denise Washington
I'm so thankful I found these wonderful ladies. Amanda is great and I absolutely love their work. I would definitely recommend them for anything you may need. They're very friendly, fast and knowledgeable. I've found a printing company for life!!!
10 months ago Victor Perez
PrintWorks is the place for all of your printing needs - especially for wedding related items. I had my escort cards, rehearsal dinner place cards, reception dinner menus and my bar menus printed here and they are stunning. PrintWorks had the perfect color and weight of card stock I was looking for and cut my items perfectly. The entire PrintWorks staff are friendly, professional and efficient. I couldn't be more happy with my finished products and the service I received. I strongly recommend that you go to PrintWorks for your next project!
11 months ago eric ulrich
I'll never go anywhere else! The staff is professional, knows exactly what they are doing and are so friendly and helpful. It was such a pleasure working with them. Can't recommend this place enough!!!
9 months ago Shivangi Chak
I absolutely LOVE this place. I'd give more than 5 stars if I could! I looked and looked and looked for a place that could print my custom invitations and was never happy until I stumbled upon this shop. The staff is extremely friendly and helpful! They never make you feel silly for asking questions and they always do a job well done. Their turnaround is super fast also. Liz is my go-to girl! They printed my wedding invitations and I couldn't have been happier. I will keep going to The Polka Dot Printer for EVERYTHING!
10 months ago Mar Anadon
The best service and quality! I love the drop ship feature for shipping to different office locations and that our items are hand delivered here in Wilmington. The staff is an absolute pleasure to work with and always helpful and honest. Highly recommend!
9 months ago Dottie Smith
I am absolutely OBSESSED with PrintWorks! Aubrie and team treat me as if I am their only client - their customer service and level of attention is truly THAT GOOD. Their turnaround time? Unmatched. I can deliver a file to them and the product is printed & packaged up for me that afternoon. Flyers, business cards, stickers, magazines, presentations - you name it- all top notch, professional quality with PrintWorks.
11 months ago Constantly Learning
The whole entire team over at PrintWorks are printing wizards! They have the fastest turnaround time, and they are all super nice. I couldn't recommend them enough for any printing you need done.
9 months ago Asad Rehman
I've worked mostly with Aubrie on a variety of printing needs and she has always been professional, knowledgeable, creative and helpful in working with me. I've also had to check in with other workers and they too have all been helpful and accommodating.
8 months ago Graham Reimer
I absolutely love this place! Great marketing, which I appreciate but really the people and the customer service is what makes this business awesome. Amanda is exceptional and always does such an amazing job. I use them for wedding invitations, table markers, name card for my wedding planning business. I also use them for all my personal copies and printing that I can't do myself. Always accommodating and clear about turn around time and expectations. Love them!!!!
10 months ago Danny Hidalgo
This place rocks, very efficient, great service, and cool people. Amanda has helped me with numerous projects and the entire staff is very competent. Great location and solid pricing enhance the experience.
1 month ago lois gonzalez
My office has printed with PrintWorks for over a year now, and we will never go anywhere else! They do a wonderful job from business cards to special projects. We found them because we were extremely unhappy with our current printing company and I'm so happy we did! They always get things done quickly and know what good customer service is! Active Care Chiropractic highly recommends them! :)
11 months ago Dean Gogel
I can't say enough about the amazing team, shop atmosphere, customer service, print quality, professionalism, attention to detail and accountability. Amanda goes above and beyond for us weekly to ensure that our orders are being serviced in a timely manor and look amazing! I really could go on and on but simply put, they truly care about each and every customer as well as the quality and experience they provide.
10 months ago Jeff Bondra
Print Works makes all the custom marketing material for my husband's business. Professional. Great prices. We love the Polka Dot puppy that greets us when we come to the door. Always a pleasure!
7 months ago Karie Franceus
Our real estate office has used PrintWorks for several jobs and have been extremely impressed and satisfied with the finished product. We love to use a local business and their turn around time is hard to beat. Amanda Leimbach provides great communication and is five star. I would highly recommend PrintWorks.
3 months ago Rhonda Johnson
PrintWorks is wonderful! They provide exceptional service and products, along with extremely competitive prices. Their entire staff is so easy to work with! I wouldn't go anywhere else!
1 month ago Amy Schwanke
I began using PrintWorks, working mostly with Aubrie, when I purchased my business in 2014. They have since provided all designs and printing for our business cards, menu cards, promo cards, manuals, display brochures and all other print material that has help make my business successful! Their customer service is so personable, and are incredibly speedy at responding to needs, as well as the actual creation of the project. Great value and always consistent..highly recommend!!
1 month ago Jeremy Bilow
My husband and I both have used this AWESOME group of ladies for years now!! Love them, love their work!!!!! God bless them!
10 months ago Linda Phillippi
PrintWorks has been great to work with. They have provided excellent customer service and always exceed our expectations here at 101 Mobility. Their team always takes into account exactly what we're looking for and promptly produces a high-quality, finished product every time. We look forward to continuing our affiliation with them in the future.
1 month ago Rhonda Lunsford
This Print Shop is the golden example of good customer service, communication and consistency! I trust them with all of my small business printing needs and they do not disappoint!!
11 months ago Olivia Pond
I trust PrintWorks with all my printing needs. With convenient online orders, quick turnaround, superior quality, these ladies are a huge help making my small business successful. I never have to worry about the quality of a project I have given them, or if I am going to go a day without a business card. Running a small business is not easy, but thanks to PrintWorks I have one less thing to think about.
10 months ago Michael Maton
They are always very friendly and have an amazing turnaround time! We got two separate projects done with them and one was printed in 2 days and the other was printed in 1! I also couldn't figure out how to send them the files so they called me and walked me through it! Best printer in Wilmington, we will be using them for everything from now on!
1 week ago Dontavious Talley
Will never print anywhere else! I called in with a big dilema on Monday and spoke to Ms. Amanda. She was an absolute God send, who not only fixed my problem, but did it by noon, allowing me to get my prints in the mail THAT DAY! To top it all off, it was the cheapest price I have found to date. If that is not EXCELLENT service, with friendly staff, i don't know what is. Amanda far exceeded my expectations and Print Works has a customer for life!!!! Highly recommend, in every way, for any printing needs you have!
7 months ago David Lowry
Amanda was a joy to work with! She did an amazing job designing my business cards. She was fast and friendly. I definitely recommend PrintWorks!
4 months ago Marc Truesdell
I've been a customer for over 3 years. However, since they moved things have changed. Pricing has crept up without notice. On new orders the bill has been $5 to $10 more than the last for the same size order. Occasionally sizing and cuts have been wrong. Every time they have offered to re make the mistakes. However, I would just take them as-is rather than waisting more paper. I've asked for the price I was charged for items such as 8.5 x 11 b&w copies or cut charges. Answer, "I don't know". I asked if it was itemized on my bill... answer, "no". I understand overhead and costs may have gone up....but don't get short with your customers and give that kind of answer. In the past, Amanda and Aubrey always took care of our orders with speed and professionalism. Those 2 are awesome! I'm not sure if they are still working there or not... My recent order will be my last. It Should have been around $10 total but the bill was $28. When pressed I was told my 11x17 color copies we're now $3.25 rather than the usual 55¢. Explination, "paper costs went up and we have a lot of orders". When I spoke to the owner she was short with me and said "price was what it was". Ok... I get the message, take your business elsewhere.
7 months ago Darren Chance
Working with PrintWorks over the years has always been a joy. From the great personalities to the quick turnaround and quality products, PrintWorks is one of my favorite local go-to companies for any design work I create and need printing. The customer service is exceptional and they make sure to go above and beyond to deliver quality every time.
1 month ago game hero
Amanda is amazing!! She did our logo and business cards, and we couldn't have imagined anything better! She goes above and beyond and we are SO HAPPY with the results! Printworks and Amanda are the choice!! We will use them every time we need something!
2 months ago Grace Alexander
The ladies at PrintWorks always do a wonderful job with my team's mailings. They're quick and the best priced in Wilmington. I always recommend them!
3 months ago Melvin Oliver
Thank you so much for your professional service. I could not ask for better cards you printed for me.You have a great staff of people at PrintWorks and love your dogs you have in your place of work.........once again THANK YOU!!!!!! Harry G.
4 months ago Fischer King
The quality of their work is amazing. The staff is kind, courteous and very professional. I would highly recommend them.
11 months ago Vasilica Ristoi
Would definitely recommend Amanda for any and all graphic designs. My flyers for my event came out amazing and she improved on what I originally invisoned. Her friendly attitude is a direct reflection of printworks. Prices are reasonable espeacily since I'm assured that I'm getting exactly what I request. Having the pup in the front of the store is pretty awesome as well :)
10 months ago Nadia Belliaford
I had the best of experiences with PrintWorks. They are everything you want in a business. The customer service is excellent, the work done is professional, and their response time on emails was very helpful in expediting the process, not to mention the affordable pricing. I am so glad I chose PrintWorks!
2 months ago Ismaila Owusu
We have always had a great experience at PrintWorks. From the excellent designers to the printed materials, everything surpasses our expectations. We know our projects are in good hands at PrintWorks!
1 month ago Jake Robinson
I have been using all of the services that Printworks provides since 2004 and have never been unsatisfied with their work. I have asked for Printworks to consult on special projects that other printing services refused to handle and they have done excellent work. Whenever you ask for services or help they are only too happy to accommodate. I would highly recommend Printworks to handle your future printing needs.
7 months ago Kshetrimayum Gulson
I have been working with Printworks for my marketing materials for almost 3 years. They have quality products and ideas with superior customer service. Joanne and her staff will continue to get my business along with a strong recommendation.
7 months ago Jerry Keys
Tried a few local and online print shops in the past, but none of them came even close to providing the quality, speed and customer service that PrintWorks did.
4 months ago Sharon Hurt
Printworks is AWESOME! They are so nice, quick and affordable. They can do ANYTHING you need and do it awesome! I would recommend Printworks 100%!!!
7 months ago Egor Dissolution
I just picked up my save the date cards and they look great! The staff was helpful, knowledgable, and the friendly. Great prices too. I purchased a pdf file from Etsy and they easily printed it for me. Definitely recommend.
7 months ago said karim
Excellent service and quality. Highly recommend!
11 months ago Glen Maylone
Had to make lots of copies and faxes! The service was excellent!!
3 months ago
Popular places from the category Print shop