Dry cleaner VICK'S CLEANERS
Dry cleaner VICK'S CLEANERS, 2600 N Herritage St, Kinston, NC 28501, United States:
82 reviews
of users and employees, detailed information about the address, opening hours, location on the map, attendance, photos, menus, phone number and a huge amount of other detailed and useful information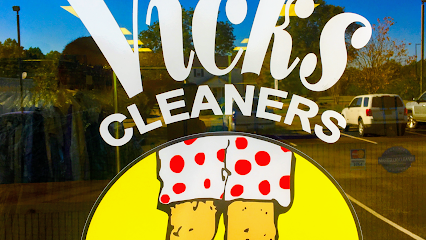 Address:
2600 N Herritage St, Kinston, NC 28501, United States
Website:
vickscleanersnc.com
GPS coordinates
Latitude:
35.2895443
Longitude:
-77.5887516
Location on the map
Reviews Reggie Jonaitis
Brought two rugs for cleaning. The people were friendly and courteous. Rugs were finished in good time, and they look and feel great. Excellent service.
3 weeks ago Candy Pena
I dropped off a purse with this cleaners and I must say the service was absolutely horrible! At drop off I specifically pointed out the stain that needed to be removed and was guaranteed that the stain could be removed and would be ready in 2-3 days. I received a text 5 days later that the purse was ready. When I picked my purse up I paid prior to looking at it unfortunately. The stain was still there. I pointed it out and the associate apologized and said they'd take care of it and let me know when it was ready. Several days pass with no follow up. When I reached out I was told the stain could not be removed. I requested a refund and was told the manager had to approve it. A week later I was able to reach management and was treat very poorly. The associate Benita that answered was extremely rude and the Manager Tim was even worse. He literally argued and raised his voice to me several times. He refused to refund $10! He created a negative customer experience and risked the company's integrity over satisfying a refund of $10 for a service that was promised could be done that wasn't. If you're looking for great cleaning service, or great customer service I wouldn't recommend this Cleaners.
8 months ago Mimi C
Based on earlier reviews I decided to give this place a try. Unfortunately I did not have the great experience other customers spoke of. The service was delayed and my items were not cleaned well. When I voiced my concern to management nothing was done and I was forced to pay before getting my items. There were no efforts to rectify the issue. They may have previously had great service, but that doesn't seem to be the case anymore. Very disappointed.
5 months ago ray ray
We have been using Vick's religiously for over 3 years, just about every week. We keep coming back because of the great customer service we receive by each employee and by the owner. It's nice to drive up, be greeted by a smile and your items put in your car all without leaving your car. My clothes are always done when or before promised. And the reminder text to pick them up is perfect. Vick's - good prices, quality job, timely service, friendly staff.
8 months ago MishaShanelle
Overall, this was very nice place. The workers were polite, one in particular, a girl named Hannah was extremely helpful. She handled the transaction well and then gave me advice on how to take better care of items when I asked her opinion. I had a pleasant experience.
5 months ago Michele McAtee
Love this place! Clothes always look great when we get them back and its always fast! Everyone is super friendly and helpful! I haven't been disappointed yet! Bonita is awesome!❤????
7 months ago Valarie McLeckie
????
6 months ago Rob Peabody
The best dry cleaning service experience I ever had! Having Vick's Cleaners pick up and delivery service for my dry cleaning was such a time saver for me as a busy business owner. Plus they were amazing getting my clothes clean (even some of the toughest stains) and they did it without ever harming my clothes.
8 months ago abacumoff
Highly recommend. Great results with everything I have ever taken. The staff and ownership are awesome people. And if you're not satisfied, they'll fix it.
7 months ago Pav Dhanoa
I been knowing about Vick's every since I was a kid and my Mom was a customer. Fast forward to now and me being a Adult now and I can see the reason why my Mom did business with Vick's. They do extremely good work and the employees are friendly,cordial, and cool. Every so often you might bump into the Owner Simon or his Sons who make you feel welcome whenever you see them.
8 months ago Reynna Lugo
Dry cleaning done right!
11 months ago Darvy
Great service and even better people. Go see Tim for all your needs. He will have you looking like a million bucks!!!
11 months ago Target Cordova
Staff is always friendly and courteous! Whenever I need something dry cleaned, I always use Vick's! Their service is exceptional and their prices are very reasonable!
9 months ago James Price
Great service! We love that they come to the office to pick up and drop off the dry cleaning. Very convenient.
9 months ago Braulio Lopez
A wonderful and clean place, found the perfect cleaners. Nohemy Hill is the person to go to over there. The makes sure to get you and your belongings taken care of right the first time. She treats all customers like family. Will be going back!
11 months ago Michael Jensen
I love Vick's Cleaners. I have been using them for 20 years and they always do a really nice job. They are really good at getting stains out of clothing. I have also had them clean seude shoes and a leather coat that had mildew on it and they looked like brand new after they cleaned them. I usually go by in the afternoon when I get off work and the afternoon staff is very friendly and professional. I would definitely recommend them.
7 months ago Oscar Paz
Vick's is very fast and efficient, the workers are constantly on go! everything is always tidy and neat and my clothes are always the best. very very please always here!
8 months ago Becky Green
I first visited on 3/7/19 and I have to say it was my best laundromat experience. Not too crowded, enough available washers and dryers for everyone, quick in and out. Very well lit and clean. Will definitely be back!
9 months ago OK AR
Stopped by in the morning (9:00 am)and ask if I could have a pair of slacks and a shirt pressed and pick up that afternoon. I explained that I needed them for a wedding the next day. I was told they could do this and would text me when they were ready. I called about 3:40 pm because I hadnt heard from them. I was told that they weren't ready and wouldn't be ready until Monday. I explained that I was told that they would be ready and the girl said " Sorry, it'll be Monday. They've gone home for the day." So I went and picked them up and pressed them myself. Wow! First trip there and definitely my last. Maybe they were having a bad day. I'm not sure.
8 months ago Ujjo Jay
Horrible Service! I wish I could give negative stars!
5 months ago Phyllis Thompson
They always keep my shirts cleaned and pressed to satisfaction. I always love to look and feel my best with Vick's Cleaners! 10/10
5 months ago Mark Peterson
They always do a great job with my items whether it's cleaning and pressing or alterations. The girls in the mornings are very friendly and know what they're doing.
7 months ago Jean Bry
I have been using Vicks exclusively since I moved here 8 years ago. The quality of the work and the service are the best I have ever experienced. Thank you !
8 months ago Ryan Scot
Always has a smile. That best prices around! And does a great job cleaning!
8 months ago Paul Cederstrand
Zoie is always so friendly and really knows her job well! Great customer service.
7 months ago Richard Hyler
Great service, friendly staff. I have always been pleased with the service, I only use Vick's
7 months ago Janice Rinaldo
I called vicks to see if they could clean a comforter took the comforter to be cleaned, all of the stuffing shifted. Took it back, they said the lady in alterations could fix it. Wrong. They picked it up and said it was fixed. Even said the staff had looked at it and it was good. Wrong. I am out a comforter as no all of the shams and pillows that went with it.they were very nice when we talked but could not fix the problem. I will not use them again.
7 months ago Ethan Crocker
Great service! Very nice staff. The upkeeping is very nice as well.
5 months ago Ryan Wing
Always great service! Nohemy and Bonita are who I mostly deal with and they are the absolute best! Won't go anywhere else!!!
7 months ago Manos Diakoumakis
Fast, Friendly service! They make sure your cloths look their best, and do a great job with stain removal.
7 months ago Caden Ohlwiler
Great job always, when you "Drop 'em and leave 'em" with Vick's Cleaners!❤ Best Customer Service- Many Thanks to Bonita!????
8 months ago Thomas Kelly
Each time I stop by to drop off or pick up, the folks at Vick's on Heritage St make me feel like I am their priority.
7 months ago Mark Cook
Excellent service and the staff is top notch. Especially Bonita. She always helps me when I go in.
9 months ago Norman Wise
outstanding service, friendly employees, all around good vibe. 10/10 will be recommending.
7 months ago Aric Way
Very quick turnaround and excellent customer service! Kinston and surrounding areas are lucky to have them.
7 months ago frank pontrelli
Great service. Never had an issue with anything I've taken there and Nohemy is awesome!!
8 months ago Magdalena Garza
Great company and friendly service. Always treats customer right. I only use Vick's Cleaners.
11 months ago Bruce Forbes
It's my opinion that Vick's Cleaners does a superior job on cleaning and pressing our clothes and other household items like comforters, etc. They are very professional and friendly. I would recommend them to anyone.
7 months ago Wanda Strickland
Vick's came highly recommended and they have not disappointed!
7 months ago Kayleigh Schoppe
Zoie is so good at her job! 10/10 would recommend
9 months ago Rita Peacock
This place is the best. Been going there for years and never once had an issue.
5 months ago Nicole Gauthier
They always do a great job on all my clothes. Vick's Cleaners's is where I'll suggest my friends and family to visit..
5 months ago Theodore Decker
Best dry cleaners hands down, great service and a great outstanding staff!
5 months ago Andy McNicoll
Great Service, Great Prices and Pick up and delivery service always on time.
5 months ago Archit Patel
Vick's was awesome~! Fast and great service~! Thank you~!
8 months ago Gazer Zhang
I dropped of a dress that had been in the back of my closet for years. When I got it back, it looked just like new. The employees and owners are super nice and hospitable. They really know what they are doing.
5 months ago GB B
Nice friendly establishment. Tim is very helpful
10 months ago Soovry
Always gets my clothes sparkling clean. They do shoes, leather, upholstery. And they even clean carpets now! I highly recommend this service to all of my friends. They guarantee sanitation! And they're excellent at removing stains.
11 months ago Corey Lau
Nice staff and good service.
8 months ago Zara Bode
Clean fast, service good, much good people, big WOWS.
11 months ago
Popular places from the category Dry cleaner