Quick-Dri Laundry & Car Wash
Laundromat Quick-Dri Laundry & Car Wash, 711 Erwin Rd, Dunn, NC 28334, United States:
33 reviews
of users and employees, detailed information about the address, opening hours, location on the map, attendance, photos, menus, phone number and a huge amount of other detailed and useful information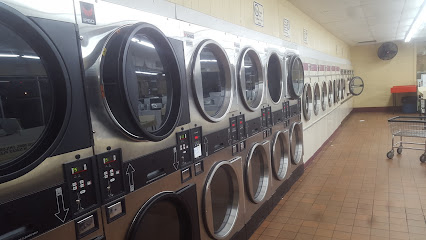 Address:
711 Erwin Rd, Dunn, NC 28334, United States
GPS coordinates
Latitude:
35.3143273
Longitude:
-78.6299222
Location on the map
Reviews Juan Gonzalez
The washing machines I had used did not quite get my clothes as clean as I had hoped nor expected them to. It was actually quite disappointing if you want my honest opinion.
10 months ago Mark Bentleybloke
The gentleman thats usually there is very kind and helpful.
9 months ago Kelsey Shemanski
This place has the biggest washers and hottest dryers that i know of.. Always clean and professionally operated.
3 months ago Nathan Nickerson
This place is amazingly clean. The machines are incredible. I used the commercial huge sized ones and was able to wash and dry all of my clothes in an hour and a half.
5 months ago Kelly Hott
Very clean and attendant was very helpful
9 months ago Janie Reyna
Awesome compared to doing laundry at the Pilot or Loves truck stop. It was cheaper as well. Good job to maintance person for up keeping dryer in tip top heating. Shaun ultize the carwash and vacuum he gives yall 5 star as well. WE AS WELL ENJOYED THE BIG PARKING LOT..
6 months ago John
We have been washing our clothes at the Quick Dry Laundromat for over 10 years, and it has never failed us!! We appreciate their highly functional washers and dryers and their friendly staff.
8 months ago Beth Smith
Always friendly service.
11 months ago Susan G
Been coming for a long time, the people that run it and own it are really good people.
5 months ago Anand kumar
I put 4 dollars worth of quarter's in the dryer my clothes was still wet????????
4 months ago Jae Yoo
Its ok...kinda sketchy after 8pm but it is what it is.
1 month ago Erin Flynn
Very quiet. Just wish the drifters would coming around bumming for money.
4 months ago Becky Green
Place is okay clean. But don't go late at night. The creatures come out lol.. other than that. I would go here again.
6 months ago John Moyers
This is a great place to do your laundry. It's cool, clean, and inexpensive. I love it!
11 months ago Dayron Garabito
I mean you can wash your clothes and it's a decent place. It's well lit and open 24 hours a day. The change machine even takes 20s so come in at 3am like me and it's the easiest laundromat experience you've ever not, not wanted to take part in.
1 week ago Catherine Keenan
We got no socks back,me and my boy are sockless..if you like you're socks dont drop off .
10 months ago p lin
Nice laundry facilities.. Didn't take to long to dry my clothes and the place was pretty clean.
10 months ago Zyan John
Washing machine not agitating turning half load of light whites. Go get attendent show her cloths not moving still in exact same place .oh it working walks away I ask for number of owner she says no it's my dad u not getting his cell. Walks back in her little space and back on her cell phone. Poor poor customer service .have to rewash my cloths no refund for that or my detergent . Take phone dad and teach some customer service.
1 month ago Bhavuk Khandelwal
Awesome done for you laundry service. They even called to tell us we had left a $100 bill in one of the shirt pockets!
4 months ago Tim Willingham
Nice place and its clean compared to other laundry mats
5 months ago Jordan Mackiewicz
Clean m friendly
7 months ago SHKEELI
Like it
11 months ago Jay McHugh
It's packed on sunday
11 months ago lord reyes
Clean
2 months ago Joseph Dighton
They clean.
4 weeks ago Shannon S
Wonderful place to wash cheap
2 months ago Nancy Ramos
Great service.
1 week ago Darcia Armstrong
Good service
8 months ago Yunior Ortiz
Ok besides the roaches
8 months ago Jim Paul
Good
4 months ago naslin pavithra
Nice friendly
8 months ago ming zheng
Very Friendly and clean!!
8 months ago Haresh Painuly
Excelent
11 months ago
Popular places from the category Laundromat