Spintastic Laundromat
Laundromat Spintastic Laundromat, 4231 South Blvd, Charlotte, NC 28209, United States:
215 reviews
of users and employees, detailed information about the address, opening hours, location on the map, attendance, photos, menus, phone number and a huge amount of other detailed and useful information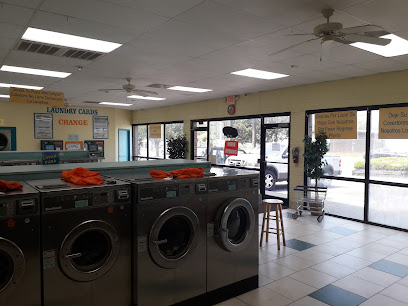 Address:
4231 South Blvd, Charlotte, NC 28209, United States
GPS coordinates
Latitude:
35.1850438
Longitude:
-80.8754140
Location on the map
Reviews Lizzy Sanchez
Great people abd facilities...An Easy to use card instead if currency to use for EVERYTHING. NO MORE POPPING IN QUARTER AFTER QUARTER TO WASH OR DRY... *******. Very Convenient ****** Safe, Clean, Relaxing and Affordable Laundry... Air Conditioned, pool table, couches, kids play area and multiple TCs with something for everyone.
7 months ago Mark Baran
First time here very clean plenty of washers and dryers available. The card system was easy to use . The dryer was great . 99 cent for eight minutes. Did 16 minutes and it dried the large load of clothes no problem.
3 months ago Patrick Sheedy
I always go here to do my laundry. They are very respectful and very helpful. Its a very diverse place to go to. I love goin here.
3 weeks ago Curtis Tyler
Very Clean, The attendant Janelle was very sweet and Professional and helpful!!
7 months ago Photomate
The people and facilities are in excellent condition. Shanell is THE BEST! She is very helpful, courteous - and smart! Thanks for everything!
11 months ago david eckes
Lots of machines. But too many people trying to use machines in just one area of the store and mask mandate not being enforced at all. I intentionally came when it was empty. But several others arrived while my machines were running, and …
2 months ago James Christian
Doesn't enforce mask mandate at all. Every time I've been in the past two months, never so much as seen an employee approach someone without a mask to ask them to put one on or wait outside. Guess I shouldn't be too surprised, as the staff …
3 weeks ago Carol Smith
I love this place!! Great people that work there!!! Love those ladies!!!
7 months ago Linda Littlefield
This is a great laundromat. There are almost always plenty of machines available (I would recommend avoiding Sundays, they can be crowded.) There are several TVs and lots of places to sit. I have always felt safe there, as there are usually …
4 months ago Mihnea Puiu
Clean machines hot dryers and during the week not that crowded
10 months ago Laurie Butler
Very clean, dependable washers and dryers very hot, 30 minutes max.
10 months ago Joe Chase
This is one of the nicest laundromats that I have ever visited. The children's area is a added bonus; Keeps your little ones occupied and having fun while you do laundry. Staff was friendly, knowledgeable, and accessible. Equipment was well up to date and the card over coins was great!
8 months ago Sean P
Spintastic is the best laundromat in Charlotte. The cashless machines are my favorite. I never have to remember to get change, they have a machine where you swipe your card to reload a laundry card to pay for everything there. The more you …
8 months ago Nico Helton
Clean. Good machines. Friendly
9 months ago Ilona Santiago
Good place to come wash clothes and dryer
11 months ago Carrie bither
What a great establishment. Pure southern hospitality!
1 month ago Chris N
Pleasant workers, clean, great hours and fast dryers. Would definitely recommend
3 months ago Nellisa Mayweather
Its always clean and great staff there ...I love going there
9 months ago Mary Lien
Walked in past the signs on the door saying "masks required", saw the employee sitting behind the counter just relaxing with no mask on, walked right back out.
11 months ago Matthew Hoover
Great help from employee, but using a laundry card they give tends to be a hassle for first timers
1 month ago Preston Blake
It is very clean. The management is Great. I would suggest this laundromat to anyone. At least try it out one time and U will want to keep going.
11 months ago Michael Ethier
I was in Charlotte working and needed a place to wash some clothes. I have not been in a laundromat in 10 years and boy have they changed. The attendant Chanel saw me struggling trying to figure out how to use the machine and so graciously …
11 months ago Michael Medlin
Myra is amazing. Patient, kind, and helpful. We played pool while we waited for our comforter to wash/dry and she helped pull the balls out from the pool table! And...the facility is clean, lots of working washers and dryers of all sizes, reasonable prices for machines, and abundant parking spots. Will definitely go back if needed.
8 months ago Mike Lynch
Nice facility, but doesn't actually enforce mask-wearing. Multiple customers not wearing them the last two times I've been in. Health risk honestly not worth it to keep coming.
2 months ago Dave Horvath
The machines worked well. The clerk was professional and personal. I like the small play area for young children.
5 months ago Mary Garvey
These people are full of it they open j close when they want to l...lie about hrs
11 months ago Timmy Bartram
Friendly. Clean and safe laundromat. I travel from South Charlotte via Lyft, Uber or bus just to come over here despite a laundromat being walking distance.
8 months ago Theresa G
Favorite laundry mat. Clean, well lit, very family friendly.
3 months ago Amelia Vegas
Clean...a little busy. Friendly, helpful staff
3 months ago Ashley Maleson
Spintastic is the cleanest laundromat and the only one I will go to. The staff are always friendly and working hard to keep the establishment clean and do everything they can to keep machines working efficiently.
9 months ago billy stout
I love this place, staff is super friendly, machines work really efficiently. They even have a credit card reader for payment; which is super convenient. They have cheap games there and great seating that's super comfortable and pass time …
8 months ago Clifton Jones
Do not go there the water is terrible after you wash your clothes and take them out the washer machine they will have a horrible smell.
3 months ago Hayri semih
Needed a laundromat while we were out of town and Spintastic was a great find! The service was outstanding!! Shanelle helped us out and she was so friendly and knowledgeable! Lots of different size washers and dryers and the place was clean and organized. Can't recommend Spintastic enough! Thank you again Shanelle!
8 months ago Chrissy Leavey
Shanda greeted us when we walked in and provided us with good customer service after. She also took the time to educate me about the city. Went the extra mile to tell me about local employment.
8 months ago Victoria Fonville
Pretty nice place. I come to wash and dry my clothes all of the time. I love that I can use a card and not a whole bunch of coins
8 months ago Brian Deel
Great place to get in do your laundry and get out
8 months ago gemma smith
I like this laundromat .
8 months ago Sidra Burget
Great Wash
9 months ago Haroun Rage
My washer recently broke and I've been doing my laundry here for the past few weeks. The facility is clean and well maintained, in addition the manager Shanda is very friendly and accommodating. I may never buy a new washer!
11 months ago Ricardo Rodriguez
Amazing service from Shanda and Tati! Everyone is friendly and equipment is always clean and up to par. Thank you for great service!
7 months ago Kris Y
Despite the multiple signs on every door and state mandate, Spinstastic apparently doesn't enforce mask-wearing. Just went today and at least five customers weren't wearing masks at all, and one of the employees repeatedly pulled her mask …
5 months ago Jim Arnold
Spacious, clean, and nice
9 months ago Roberto Clariond
Drove 20 freaking minutes to arrive to this place at 8:40 and we were stopped at the door by the Spanish man with Chinese tattoos, saying that they closed at 8:30 when Google's says it's open until 10pm. I only have one load to wash which …
7 months ago Gregory Martin
The laundromat is so clean and & Shanda was so helpful. I'm new to the area and I was looking for a nice, clean laundromat. I found my new spot! ????
1 month ago Chandler Thomas
I've been going to spintastic for about 4 years now. The Personnel at this laundromat is top-notch. Antonio and the crew at spintastic are clean their courteous and polite. When you ask them to handle your laundry for you, they do it …
10 months ago Terry Tyner
Proper notice before closing not on website,polite customer service does not allow hot wash time before closing it's 2 hours and I wasted my time
10 months ago Jeremy Webber
They host showers for the homeless. Five stars is not enough.
10 months ago Andy Price
worse customer service ever. I believe her name is Shanda, and she will give you an attitude all the time. All I asked was for change, I had a $100 bill, and I didnt know they had a machine that could break it. Well she responded very rude, and i will not return.
8 months ago Bruce Kinkade
Well I'll say. I can't speak for anyone else experiences. My early morning laundry day was a rollercoaster. It's hard to find clean good laundromats. Spintastic is that. Clean. Quite. Antonio! Who was probably over this "common sense" …
7 months ago Manuel Witrago
I love this laundry place it's clean and organized. The manager Shanda is very kind and always helping out she greets you with a smile she makes me want to keep coming back the atmosphere is great!!!!!
1 month ago
Popular places from the category Laundromat