Lee's Family Laundry
Laundry Lee's Family Laundry, 3316 Union Blvd, St. Louis, MO 63115, United States:
80 reviews
of users and employees, detailed information about the address, opening hours, location on the map, attendance, photos, menus, phone number and a huge amount of other detailed and useful information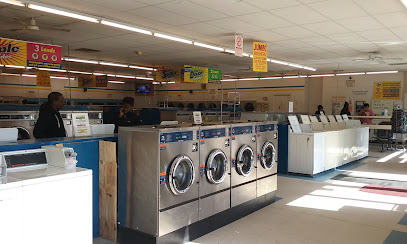 Address:
3316 Union Blvd, St. Louis, MO 63115, United States
GPS coordinates
Latitude:
38.6763548
Longitude:
-90.2600670
reviews SJ Ran
It's convenient and lowest prices to wash the only draw back is you have to pay to dry. I recommend this place and I think they have drop off service too!
1 month ago Kevin Smith
It is a wonderful place to do your laundry. The workers are very curtious
1 month ago Nikki Behnke
Nice experience. Good washers and dryers. Masks were worn on all people.
5 months ago Cassandra duCharme
Old School laundry. Coins only.
1 month ago Albert Brown
It was junky the dryers do not last longer than 5 minutes.don't never go back again
3 months ago Koffivi Koumako
I've been coming here for yearsl... one of the best laundries in the city.
8 months ago Vytas Puidokas
Very good service, very clean and great overall facility.
7 months ago Victoria Stockwell
Great place very peaceful & clean. Never crowded
10 months ago Ebony Walker
Been coming here off and on for years. Nice size clean n reasonable
11 months ago Corky Ray
Dryer takes to long to dry. Spent just as much on dryer then washer
6 months ago Puxuan Yu
I like everything about this laundromat I even like the fact that attendance informed me about what dryers and washers not to use before I loaded them I was very happy
8 months ago Grant Mitchell
Nice an Clean
2 months ago Elaine Baur
It was a nice place id go there again thanks
2 months ago Jhon Escobar
Ok
2 months ago Joseph Lyles
The employee was so helpful and friendly. He works days ❤
2 months ago Mykeal Drew
Quik n nice environment
2 months ago Lena Mulcahy
Good staff fair prices all around great place
2 months ago Devin Corley
I have been to 10 different laundry facilities, and you pay more to dry than wash. Lee's laundry dryers are good and hot..the way I like it. When they are open 24 hours its very convenient for me to do laundry at 3 and 4 in the morning. I would recommend this place.
5 months ago Bar Wolk
Wash my clothes good. All ways have some one there to help you. Nice and clean????
3 weeks ago Mary Hopkins
Great hours, nice staff and I left a small load of clothes came back and they were still there. Very nice establishment
4 months ago Madeline Brown
The reduced hours of operations have me visiting another laundry more often eventhough it is further away.
3 weeks ago Udit Singh
Dryers are outdated some of the dryers have 7 mins of drying time and some have 10 mins and also you have pay for 25 cent for drying and also some of the machines been down for months no repairs every since extremely unhappy with this laundry mat thumbs down !!
3 months ago peggy gray
Room to clean & fold your clothes.
11 months ago Rafael Martinez
I love this laundry facility. I live in North County and I come to the city just to go here and do my laundry. I environment is great and the staff are very friendly and helpful.
4 months ago Arthur Giangrande
Close to home
4 months ago Jessica Verastegui
The machines worked great and the price wasn't bad at all.
3 months ago vnptl
Always neat and clean
3 weeks ago Eric Z
Their the best!!!!
1 month ago Austin Lewers
Everything was in good condition and it was a peaceful and happy experience. Thanks
4 months ago Mark Davis
This place was great when my mother first introduced it to me...now when I go the dryers either don't get hot or don't work...a lot of the washers are always out of order...one week they had no hot water...the staff is very friendly and helpful but overall this place needs work.
7 months ago Ellen Brady
Lovely clean place with a rich history in the area. Workers are friendly and dedicated to keeping the place clean and keeping the machines fixed.
5 months ago Amir Abdallah
Very clean and a nice staff and very affordable it twenty-five cent to dry but dryer are good I put three quarters in there to be on the safe side it was worth it
3 months ago Jerrica Desjardins
Good for washing clothes but a get over because they have no free dryers like most places
4 months ago Jerrica Box
I always go early in the morning so there's not to many ppl...the lady that works there is super nice and friendly
3 weeks ago Venkata Gadamsetty
The other cleanest Laundromat, but the cleanest 24hr serviced mat!!!
4 months ago Jacob Frerichs
Convenient and close to home
2 months ago China Hughes
Nice clean environment charges too much to dry clothes
6 months ago Lamar Newsome
Cool space they left me alone
8 months ago Rodney
Cool place to do laundry nice people too be around
4 months ago Stiina H
Nice Laundry mat.
2 months ago Ayaka Kamei
The reason why I like it because the place was clean the laundry is clean there was no the captain Place very clean
3 weeks ago Nkosi Barrow
Ok
2 months ago pat rohan
Time for an upgrade on this laundry. Convenient located.
5 months ago First Last
Be careful here
3 months ago Shay Palmer
Very nice and clean. And quite. ;*)
10 months ago John Burke
The blue drivers in the back get really hot
3 weeks ago Mikaela Thibault
Nice place
4 months ago Jeremy H
A good place to do wash clothes
4 months ago Mark Gallego
Cheap place to wash clothing
2 months ago Candace
Very good washers
3 months ago
Popular places from the category Laundry