Auto body shop Chaz Limited Collision Express
Auto body shop Chaz Limited Collision Express, 511 Harold Bentley Ave, Fairbanks, AK 99701, United States:
66 reviews
of users and employees, detailed information about the address, opening hours, location on the map, attendance, photos, menus, phone number and a huge amount of other detailed and useful information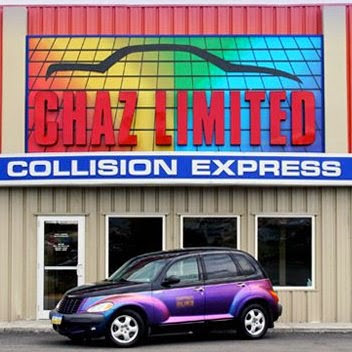 Address:
511 Harold Bentley Ave, Fairbanks, AK 99701, United States
GPS coordinates
Latitude:
64.8595444
Longitude:
-147.6922378
Location on the map
Reviews Hannah Mayo
Friendly staff. Provided timely and quality work. They took the time to go through the invoice and explain where they were getting parts.
6 months ago Shunamrajit Sen
Chax exceeded my expectations! A+ work!
5 months ago Kelly McLanahan
Quick turnaround with a new front axle and body work. They were also able to do a quick battery replacement while I was in the shop.
6 months ago Douglas Schaffer
From the moment I contacted Chaz to the moment that I was notified that my vehicle had been finished early, the experience was flawless. Great customer support and the repair staff took painstaking care to explain every step of the repair to the body. I could not be more satisfied!
9 months ago Laure Debure
They replaced 2 doors and a headlight on my vehicle as well as painted the doors. Finished and returned a day earlier than anticipated and detailed my vehicle. Overall absolutely wonderful experience and would return/recommend to anyone needing repair or maintenance.
9 months ago Shanth Kumar
Fast and professional work done. Even cleaned out the interior which wasn't in the scope of things that needed doing, but greatly appreciated.
7 months ago Lawrence Poulakos
Was able to drop off my car before a vacation and pick it up right after. Service was quick and easy.
7 months ago Mark Mahar
I used Chaz to do body work on my vehicle after hitting a moose. I was pleasantly surprised when they were able to start on my vehicle the same day I went in just for the insurance estimate! I was back in the driver's seat within the amount of time they projected, and I was updated about my vehicle's status throughout the time it was there. After reviewing the statement and other paperwork they gave me upon pickup, I could see that Chaz was extremely thorough in everything they did for my suburban and left no stone unturned, and they gave it back to me in even better shape than it was before my accident! Additionally, the detailing was amazing. The inside looks and smells great. I know I can rest assured that if anything goes wrong with the repairs made at Chaz, they will back them with their generous warranty. Thank you so much for taking care of us so well!
2 months ago janice jones
They took pictures of work I wanted completed for an estimate. I literally have called them for the past 5 weeks and talk with a different person each time. Never received an estimate and will be headed to another location.
7 months ago shemeka carter
Very professional and great work! Staff communicated often and kept me up to date. They were flexible and made this an easy and convenient repair for me. Very satisfied and would definitely use them again.
10 months ago Jay Jakovic
Eric kept me well informed of the status of my vehicle.
5 months ago Bradley Mock
Chaz Limited kept me very informed and up to date on everything that happened with my truck. They always called to ask about what would I like to be done to make sure we approved. My truck looks brand new now and it's 9 years old! Amazing work and can't recommend them enough!
1 week ago Susan Hutchson
The employees at Chaz were very courteous and professional and the quality of their work was outstanding.
6 months ago Chuck Hurd
I had my damaged windshield replaced; promptly, properly, and professional, and was treated like a valued customer, too.
7 months ago Carole Raney
Great customer service, very clean inside the building and they do honest work!
7 months ago Allen Young
I can not stop saying how helpful these people where when I took my car in under insurance after a wreck. They where patient with my wave of questions, where kind to my constant calling and helped answer some questions. 100% will always go through them for any autobody work needed.
10 months ago Pratheep Kumar
Eric was very helpful and kept me informed every part of the repair. Very clean and nice shop and office. Would highly recommend this shop.
1 week ago Maryann Yin
They took great care of me and my truck. They truly appreciate my business and I truly appreciate their outstanding body work!
11 months ago Maggie Shore
The people that work at Chaz were very professional and made sure to keep me informed as my vehicle was worked on. They even got it finished one day early. I would recommend their services to anyone!
3 months ago Carla Castaldo
Very professional, very fast, even detailed the inside of our truck which was a really nice touch
11 months ago Pakeezha
They did inspection on spot when asked. They stayed open past their time when i was waiting for the ental car place to get.me and my young children because kathrine did not want my young kids waiting out in the cold! They are very friendly!
10 months ago Mani Daroou
These guys are great every time I use them. The last time i had work done it actually ended up costing less than the estimate.
4 months ago Teryn Berard
Very pleasant great service clean lobby and shop.
2 months ago Joe Mello
Outstanding customer service and efficiency! Great repair job
4 months ago Bill Mechnick
Very thorough, highly professional!
3 months ago Michael Kunzmann
Well we've taken 3 o our rigs for repairs and the work was spectacular and flawless.I tell all my friends to take it t them if they bend a fender.and will post pics of most resent to be finished any day now
6 months ago Louis Nash
I am happy with the actual body work performed on my truck. And the friendliness of the staff. I took two stars off because..... - Things still needed to be done. such as the parts for the step rails and the CV boot. - My steering wheel is now off by 6 inches after the alignment was done. I would assume that making the steering wheel straight is part of an alignment. Since this was done by a third party, A quality assurance check of the third parties performance would have been appropriate. - I reminded the staff that the CV boot needed to be done, Twice. I would have assumed that my request was written down. Or at least caught during the wheel replacement and the alignment. - I was told by the staff that I would be given text updates on the status of my truck during the repairs. I did not receive any text of email for status updates. I received two phone calls. One to let me know that the truck was ready, however it still need a new tire. And a second call saying that the truck was completed. However I still need work done on the truck.
8 months ago Rosalyn F
Great and fast work. My car is good as new! I was never left in the shadows because they always kept me informed. Chaz also has a super friendly and helpful staff!
11 months ago vipin pk
Very nice and professional staff. Genuine pleasure to work with and very good quality of work as well. I highly recommend them!
8 months ago Lisa B
Chaz was great to work with. Process was smooth and on time!
5 months ago Miroslav Niznik
I took my truck in for insurance adjuster to inspect and Chaz to do their estimate to replace the rear bumper. When I picked my truck up. it appeared to have been ransacked with stuff missing. I went through the truck and finally found everything, but stuff had clearly been removed from my door pockets, center console, from under the seat and put back in different spots. There was also a greasy stain in the driver's seat. The manager''s only response was that it couldn't have been any of his staff, that it must have been the insurance adjuster. I should have read the other reviews before taking it to Chaz. If you take your vehicle here for repairs, then be sure to remove all of your possessions before leaving it with them!
7 months ago Lucy
The work they did on my husband's chipped tailgate was meticulous and perfect. Another problem arose in the course of the job; his truck was brazenly picked clean of all road safety equipment he carried. It cost him $700 to replace. So, great collision repair service. Horrible integrity.
7 months ago Rachele Eschenburg
Great communication and professional service
2 weeks ago Sunil Mushran
Quick service. Was originally booked for up to a week to make all the repairs, they were able to knock it out in less than 24 hours. Worked with my insurance company without any issues. Work done looks great, vehicle looks like it did before the fender bender (new). Friendly staff, worked around my schedule and needs. I would go through Chaz if I were ever in need of auto body repairs again.
10 months ago Dahlia Adair
The customer service was outstanding and more importantly, the truck now looks brand new. I was kept informed on the progress and it was delivered on time. A+ all the way through the experience. Thx for a job well done.
9 months ago Peter Suk
Chaz is awesome! They gave me updates regularly, they explained the repair process in a way I could understand and they were so kind! Will definitely be referring everyone to Chaz. Thank you for the wonderful experience!!!
8 months ago Jay Reyes
Friendly staff and great service!
3 months ago Shawn Davlin
Super fast work! Outstanding job. Great communication from start to finish.
7 months ago BillionPig
I have a 2018 Subaru Impreza that was side swiped. My car needed new doors and fenders. Chaz was professional, answered all of my questions, and i truly felt that my concerns mattered. After removing parts a little more damage was found requiring more parts to be shipped in, it only delayed completion by a week. Eric and Kathy kept me in the loop and my car looks AMAZING!! I wouldn't go to anyone else.
9 months ago alexis lane
Took alot longer then projected almostby a month but good costumer service and they stand by there warranty
7 months ago Chuck Carter
In my opinion, and experience with collision repair / body shops, this particular Chaz Limited Collision Express Fairbanks location was top-notch. Taking into consideration all others (local competitors and those in the lower-48 states), I received awesome customer service and superior satisfaction with repairs. I highly recommend this Chaz Limited Collision Express in Fairbanks, AK. Not only is their work backed by a guarantee, but the results are guaranteed to impress. Able and willing to work with the customer's needs, they went above and beyond their understanding of urgency to put me back on the road in no-time. So, here's a hUgE THANKS and sincere appreciation to the excellent staff for making me a very satisfied customer. ~Eric M.
5 months ago Viviana Jianopoulos
Great results, techs explained what they would do, how they would do it, and how long it would take. Quality craftsmanship apparent in repair work.
9 months ago Daulatsinh Gadhvi
Love this place they do an excellent job and are great at letting you know where you are at in the repairs.. would recommend this body shop to anyone
9 months ago Cristal Tailor
Used them at least 6 times and am always 100 % happy!
9 months ago sam watson
I wish I could give them a negative star! They are two faced. They'll do anything to get your business and then screw you over. Our truck was an easy fix and we were told that it would only be in the shop over night. They never called, they never updated their app that showed where the process was. When my husband went to check on it, the truck was outside the shop with the door open running for over 10+ min when it was -30! So in the end in our truck being left in there parking lot, unsecured for 4 nights. Just glad it didn't get broken into. I will never got back to them or recommend them to anyone!
11 months ago Agsey Main
I've used Chaz a couple of times and each time I was satisfied with their work. I've also used another place in town and I much rather use Chaz than them. Chaz is usually pretty timely and the quality of work is really good.
11 months ago Brenda Lundquist
fast and friendly service! very satisfied
8 months ago Alan Garza
Loved the quick turn around time. Everyone was friendly and helpful
11 months ago Tynyl Barnes
Nice people, no long wait times in office.
8 months ago Danica Boyd
Will i just informed Chaz that they will not be doing the work on my truck because i have been waiting since June that is 7 months to order parts. I cant believe they are a complete waste of time and effort.
9 months ago
Popular places from the category Auto body shop