Big O Tires
Tire shop Big O Tires, 3193 E 17th St, Ammon, ID 83406, United States:
220 reviews
of users and employees, detailed information about the address, opening hours, location on the map, attendance, photos, menus, phone number and a huge amount of other detailed and useful information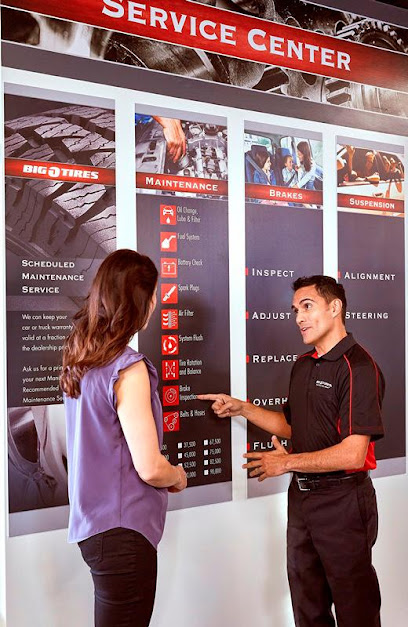 Address:
3193 E 17th St, Ammon, ID 83406, United States
GPS coordinates
Latitude:
43.4822971
Longitude:
-111.9705137
reviews Victoria Rieth
I went in to have my suspension looked at for my Mazda, they told me it was only lower control arm bushings and needing new tires is what I needed, once they got a little deeper in, they said they needed to just get brand new control arms because the other ones had been mangled. They were very apologetic, and replaced them for no extra labor costs and only had me pay the cost price of the part. They had it done the day after I took it in and was excellent work. 5/5 would go back again.
6 months ago Brad Kingsbury
I have always had great service from Big O locations....but this location goes above and beyond! I was in a pinch one time where my whole hub assembly basically melted and we barely rolled into the lot!! Lance — the manager — helped me work out a solution. Ever since then this is my definite Go-To place.
3 months ago Carmelita Mendoza
These guys are great. Online reservations for basic services are a huge plus. Fast, friendly and fair priced.
7 months ago Michael Schiele
Great service from Cody! Thanks for your help.
9 months ago Russell Longyear
I have been going to Big O tires regularly for about 5 years. The main reason I started to go there was because their mechanics are honest. Everyone who has ever had a car worked on knows then an honest mechanic is worth their weight in gold. Specifically the Ammon location is the store I prefer. Jeff is absolutely amazing and running a great location.
9 months ago Bridgette Hamilton
Only use this place if you can drop off your vehicle and pick it up the next day. They are constantly packed and have a habit of over-promising and under-delivering. If you are waiting, plan for at least 2 hours, no matter what they say. If you need something done quick, this will never be accomplished at the ammon location.
9 months ago Shanth Kumar
Always very helpful and willing to cooperate with customers. Never had a problem with them. Been coming here for years and will be for years to come. Great job
8 months ago Harriet Foster
My rotors were shot. Cody made his assessment and exhibited professional and friendly customer service. As a woman, it can often be a daunting task to handle things like this and be taken seriously. Cody treated me with respect, honesty, and fairness. He even took the liberty of finding a better price on the parts my brakes needed, without me asking. From the moment I walked in, to the moment I walked out, the customer service was top notch. If you need brakes, tires, oil change, etc...I highly recommend this Big O on 17th street in Ammon. Thanks again! So happy my brakes are back to tip top shape.
7 months ago Kelley Padgitt
I like this place. They take good care of you. It is often busy and there is regularly a bit of a wait.
6 months ago Nott Creation
Top quality excellent service.... Very attentive with absolutely no hassle would definitely stick with them....
7 months ago Wayne Baker
Big O has great prices, even comparing to places like Costco and Sam's Club. However, their customer service is absolutely horrible. I was told to drop off my vehicle in the morning and it'd take a couple hours to put on my tires. 3 1/2 hours later I call them to check in and they tell me it'll be done in a little over an hour. I come in about 1 1/2 hours later and they haven't even pulled my car into the shop. I talk to one of their guys and he gets it pulled in and says it'll be done in an hour. An hour later they call me and say it's ready for pickup. After arriving I logged a complaint with the customer service rep because the manager didn't want to bother being part of the conversation and had a "is what it is" attitude towards me. I went as far as to ask for a concession since it took them 6 hours to complete the work on my car with multiple follow ups and false promises. The customer service rep wrote me a card for $20 off an alignment which is honestly just a cop out and at that point I decided to never come back to Big O. They underestimate their work and their customer service is 100% lacking. They need to get new management in place and listen to their customers as I'm not the only one who has had issues with them like this.
11 months ago Rahid Hantal
This place is a high disappointment. Went in a few weeks back to get tire rotation and inspection. Called me several times about the same filters. Spent 30 on them, the oil change took hrs, was quoted an hr. No where outside the building to park or drop off. Mostly upset because my tires need replaced and I went on a trip needing them done and I wasn't told by big o I needed tires. I would have got tires before my trip. Your name is big o tires and you missed the tires in the inspection. Won't waste my time with them again.
3 months ago Jeff Kyle
Ego is always been very professional and has helped me I highly recommend them
7 months ago Cynthia Greene
Always professional, good pricing have never tried to push other services on me
9 months ago Kristina K
Every time you have work done here, you will have to come back to have your lug nuts tightened down or your wheels will fall off, not sure why they can't just do it right the first visit...
6 months ago Freedom Ranger
Make sure you get your quote in writing. When I went to pay, the man behind the counter assured me that they would never quote such a low price (which quoted price was less than competitors which is why I went there) so I ended up paying more than I expected. I went out of my way to go to this tire shop so it was disappointing, but the work they did was great. Had I known what they were going to actually charge me, I would not have gone there.
3 days ago Sergey Tseona
I would like to let everyone know that I have been personal friends with many tire shop owner's being a car enthusiast. And the staff at the Ammon Big O on 17th is top Notch the staff is super friendly and always willing to help , very professional . One of the managers Steven is always helpful and gets me in and out . Highly recommend this location best in town.
9 months ago Merideth Vaughn
Look, I worked at a tire shop, I know what it's like when things get busy. That's why you under promise and over deliver. I checked in at 2:50 for a simple flat repair and tire rotation. I had to wait since I live 30 minutes away. They told me they couldn't start until 4:00 at 4:45 they hadn't even pulled my truck in. So I went and complained and they finally pulled it in. These guys are amateurs. I'm done with Big O. I get it's an estimate but 2 freaking hours just to get in a bay. Then the when they finish 2 hours and 25 minutes after I check in the technician apologizes and says they gave me a discount for taking so long. Flat repair and rotation are free services at Big O! Read the real reviews these guys have a chronic problem with underestimating how long it will take to get you back on the road.
3 weeks ago Karl Davis
Very busy place that tries there best to get you in and out quickly.
11 months ago Sweta Jariwala
People are very friendly and nice but the service is horrible. Went in to get new tires with an appointment. 3 hours later I called and asked for an update. They said the car was recently done and they tried to call me. Which was a complete lie. They never tried calling me. If you have an appointment plan on leaving your cars for hours. Per other reviews this is very common thing. They over book themselves just to make the sale and then just leave without a vehicle for multiple hours.
2 months ago Steve BV
Sent my college daughter there to get a tire patched that had picked up a bolt in the center of the tread. They told her they could not patch it and then told her she needed to buy 4 new tires. Mind you the tires are nine months old. They said replacing just one would ruin her car. No wonder the majority of women hate mechanics and tire stores and do not trust them. I warned her of this issue before going so lucky for her she was prepared. She went and spent my money somewhere else.
7 months ago Enny Suarez
They take care of your vehicle needs and are great people! Only place I take my vehicles!
9 months ago sean hodges
Service was great at Big O in Idaho Falls. Jeff, Dave, and all the crew was great. Nothing like Big O in Jackson.
3 weeks ago TJ Henkel
They always provide the best and most courteous service. Top quality tires at best prices as well.
2 days ago Chad Cossin
Excellent customer service!!! I left the wrong keys with them and they change all 4 tires in the parking lot. I appreciate their commitment to doing good work! Justin helped us and has great customer service skills!!
6 months ago chanee nelson
My favorite place around to get good quality tires
9 months ago Sruthi Kumaran
Always a good experience buying tires or wheels or both from Big O. Always got a great price and great service. Best if you plan ahead and get an appointment. Today we replaced car tires with the same kind we bought last time. It was a 50,000 mile tire we had 62,000 miles on and probably would have ran a few more months but winter is coming so better to do it now.
8 months ago Jennifer weller
Far better service and price than Les schwab and way more courteous. Guess I know where our next tires are coming from
3 months ago Channing Cornett
Level of service never disappoints. These guys take care of you!
1 month ago John Ferguson
Pulled up to get air in my tires, which I bought from Big O. Went in and told them I needed air. They said they would send someone right out... I waited 15 minutes!!!! Also watched 5 employees walk by, look my way and said nothing... I know you are busy, I know it is cold, but 15 minutes seriously!!! Finally I left with no air in the tires!!
11 months ago Samuel Jose
Dave is a wealth of knowledge and a great customer service manager.
10 months ago Jordan Creed
good old big o
6 months ago LeRoy Loney
I have been going to this big o for years. In the last year they have really drop quality. It should not take 3 hours on a scheduled oil change when I'm told 30 to 45 min. I dropped off my car at 10 was called about my tiers at 11 and the oil was changed around 12:45 ish. They can do the job you need but, no accurate indication of time that it might be done.
3 months ago Lissett Davila
I have used this location 3xs. Hoping each one would be better. It wasn't. The prices were good but service was weak or completely missing. I had to follow up for updates. Last time I went in they scheduled me for 8am done by 10. Dropped off at 8am Went to Dr appt had breakfast shlowed up around 10:30 and they hadn't started. Got done around 11:30. Than was not given any breakdown of needs or even an alignment check. All had been promised. Turns out reaer air shocks were completely blown. You could see the bladders torn. Left front outer axle boot blown, grease sprayed all over. Won't be going back. I don't like working so hard. I had tires done on my other car. They said they would call when it was done. End of the day I called and asked if it was done and they said it had been done for a couple hrs. If you want tires swapped and don't care how long its gointg take this is a great place to go. If you want service and follow up find another place. Lastly called to get quote on vehicle with blown air shocks. Never heard black. Dropped the ball again. Prices great service sucked.
3 months ago Malcom Ward
Went in for a tire rotation And to get a quote on some front end work, my visit took from 2p.m to almost 6p.m was told it'd take maybe 2 hours, what a joke will be going to les schwab
11 months ago Marie Hutchinson
The staff was very friendly, but my overall experience was painfully slow. I called earlier today to make an appointment, and I dropped it off at this time. When I asked, they said it would be 45 minutes to an hour. We ended up waiting for an hour and 45 minutes :(
9 months ago Zoe McElroy
Great people ????
6 months ago DJ White
Jeff and his crew are the best
9 months ago Jennifer Joseph
Great service and honored my free flat repair coupon from competitor when the other guys wouldn't. Definitely will be back
4 months ago Neyce P
Mask cult here. Will never reccomend this store to anyone
10 months ago Brian Umble
Second time getting tires here. Decent prices, friendly service. Took a little more than an hour from walking in to get five tires mounted. First set have held balance and pressure for over a year now, and they fill tires to manufacturer specs, which is a nice attention to detail. Probably won't be my last set of tires through this shop.
7 months ago Brenda Rone
The service was great. Jeff quoted me a couple of hours and a decent price. The price stayed the same and it only took an hour. Thanks guys you're awesome.
7 months ago Michael Bishop
Great place! They treat me right and take care of all my vehicles.
4 weeks ago ronald abangan
Jeff helped me out and got me a good deal. Great service and most affordable quote I got so I went with them.
7 months ago Pamela Rossetti
Lance and all the guys working there appear to have knowledge and fun and are courteous to answering questions while working on the car. I appreciate their knowledge skills and abilities and this is coming from somebody who makes a living in the customer service industry for the past 25 years. Thanks guys keep up the great work
7 months ago Kwesi Buabeng
These guys are great. Great customer service. On our way out it was pouring rain. Lance grabbed an umbrella for me and my 3 little girls so we wouldn't get soaked. The place to go for all your tire needs.
6 months ago Sowmya Lingala
Steve, our representative was very helpful at ordering a unique set of tires that needed to be shipped. The tires came as scheduled and we were back on our way. The crew that did the work were courteous and efficient. My wife and I are very happy with the service here and would go back again in a heartbeat.
9 months ago Dwight Simmons
I hate shopping for tires. Big O takes the pain out of it for me. I have counted on these folks for many years. They never let me down. You can count on them for great quality tires and work. I got in and found the tires I needed. Got a good price on them and was out the door with the tires on the vehicle in no time at all. The staff is very helpful and knowledged on their products
7 months ago Ronnie Turner
Free air! Trevor is a good guy.
2 months ago John Strang
Mike is terribly rude. We were quoted a price in the morning but ended up $150 more.
2 days ago
Popular places from the category Tire shop