Chevron
Gas station Chevron, 279 N 2nd E, Rexburg, ID 83440, United States:
53 reviews
of users and employees, detailed information about the address, opening hours, location on the map, attendance, photos, menus, phone number and a huge amount of other detailed and useful information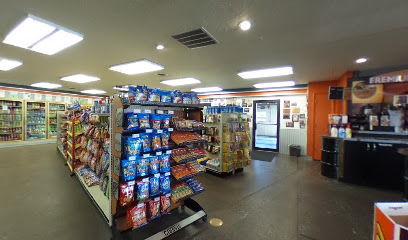 Address:
279 N 2nd E, Rexburg, ID 83440, United States
GPS coordinates
Latitude:
43.8320247
Longitude:
-111.7783997
Location on the map
Reviews Emily Laubach
The Chevron I've ever been to! They pump your gas! Have a great customer service! The employees are so nice! It's very clean!
11 months ago Warren Newsome
Great service!
5 months ago Pamela Moss
I only go to Chevron for any of my gasoline, car wash or air in tire needs! Not only are the service people always so nice and helpful, Chevron is just convenient cus I can get everything I need for my car in one spot. I always have the HARDEST time getting the caps off the air on my tires. The guys tonight (9/14/2020) and all the service people before are always super helpful in getting them off for me. The guy tonight even answered my dumb questions about tire pressure. They're just awesome, nice people. Next thing to try: their car detail shop!!!
6 months ago Jeffrey Hudspeth
Amazing gas station. I got out to pump my own gas a nice young man that was willing to do it all for me awesome customer service and you can get your car washed at the same time amazing company!
8 months ago Claresa Kuhlman
Bought a monthly pass a month ago. been washing the car at least weekly. Still the same mud under the wheel wells. Asked them to scrub under there and said "yeh not a problem" still have the mud. Went to the vacuums to take care of the interior nad after 30 minutes of not enough suction came home and used my shop vac. The place was a huge mess, hoses laying everywhere and someone even left their baby seat. I called to complain. Told my story to two people and was told that they will talk to the boys in the wash. I asked what they were going to do about the month that I got bad washes and gave them all the chances in the world to make it right. Not a thing.
6 months ago Seiji Lahud
I received a full detail and my car looks PHENOMENAL!!! Amazing customer service and everything was done in a timely manner. Will definitely be back! I had no idea my car could look this good again!
8 months ago Cindy Zhu
Prices went up and services are totally hit or miss. new ownership introduced a negative work environment and incompetent, self-serving management - complete with a zero-trust employee surveillance system. Facilities are constantly in disrepair or lacking essential materials.
8 months ago Carissa Stone
I set up an appointment online for a simple detail for Saturday at 1:00pm. When I brought my vehicle in, they said the detail would take 30 minutes and they would call me when they were done. It was 5pm that evening and I still hadn't heard anything, so I gave them a call to check up. The girl that I talked to didn't ask my name, didn't ask what type of vehicle I brought in, but proceeded to tell me that they just started on my vehicle and that it would be done in an hour. She then told me that she would talk to the detailer and give me a call in a few minutes with more information.She kept giving me all kinds of excuses why it wasn't finished. We didn't hear anything before they closed that day, they are closed on Sunday, so I finally gave them a call Monday morning. The gentleman who answered the phone was apologetic, but once again gave me all kinds of different excuses why the car wasn't completed. Needless to say, we still don't have our car back. Horrible customer service. No communication. I am extremely dissapointed and will never do business at Ray's again.
10 months ago Reinette Smith
Ray's is all around fantastic. As a local, it's nice to get gas, a car wash, a vacuum and some snacks every now and then. Honestly, I mostly go for the car wash and vacuum though. The gas has pretty good prices, and they are better when you go through the car wash. I think it's worth it to fill up every time you need a car wash.
1 month ago gajal dhoju
The service at this station is exceptional! They are quick to offer assistance with anything! They even noticed I was using the free air to air up a low tire and one of the staff members came out to assist so I could get in my car out of the cold. I've been impressed each time I've visited.
1 month ago Van White
AMAZING DETAIL JOB!! I took my wife's car in for detailing. It's what she wanted for her birthday. Steve and the gang at Ray's made it look almost brand new! She was tickled! Thank you Ray's. for taking care of her car like you would your own!
8 months ago Steven Coggins
These guys are the best! Went through the car wash and my back wiper got tore off, not sure if my wiper was at fault or not. Tyler the mechanic/service guy ordered me a new wiper, actually went to my work and put it on in the parking lot! Came in told me it was taken care of...awesome haven't seen customer service like this in a long time! Thanks you.
9 months ago Angie Miller
We always get our oil changes here! It's fast and prices are fair. We also get our cars washed here. $9 for a good wash plus free vacuums is an amazing deal in my opinion.
5 months ago Kaylin
They pump your gas for you!! That's so dope!!!
6 months ago sharon peace
I love Rays and what they stand for. I love that the offer to pump your gas and wash your windshield. The automatic car wash is great quality. The pressure wash problem areas by hand as you're pulling in and as you're using the free vacuums after, some comes and dries your windows for you. They also provide free air for tires. Excellent, long lost, quality customer service.
8 months ago Megan
By far the nicest and exceptional staff that are more than willing to help with any needs you may have, but I chose four stars due to the outrageous prices of the detailing bay and the manager that I had to deal with that seemed uninterested and didn't care about anything I had to say. He was very pushy and rude to the staff, even though they seemed to be trying their best and didn't once smile or help. Other than these problems that I had to deal with, the atmosphere is great, and is a good place to get a car wash and petrol.
8 months ago John Bellesfield
Each time I visit Ray's Chevron, their immediate and truly caring customer service never ceases to amaze me. My first week in Rexburg this is the first place I went to for gas. I only had time to merely open my car door after pulling up to the gas pump when an employee literally ran up to me and offered to pump my gas for me! I handed him the money, he ran inside and back out not a minute later to proceed through all the gas pumping steps. He did leave to greet other customers who pulled up, offering to pump their gas as well, but it was surprising to me that he kept coming back to check on me every 20 seconds. The second time I pulled up to Ray's Chevron I experienced the same, if not better, customer service. I was not even required to open my door this time as the employee pushed the pump buttons for me. On both occasions, he wore the most delighted smile I have ever seen. What an impression it made on me the first week in this wonderful town! Great customer service from start to finish creates life-time customers and Ray's Chevron has exactly what it takes to win the heart of the entire town. Thank you!
4 months ago Mark McGillis
Like an idiot, I forgot my wallet when I visited Ray's Chevron today. I noticed their door said that they took Apple Pay. They goodness I have that set up on my phone, and was able to walk inside, and prepay no problem. Thank you rays chevron for being technology forward enough to support this! Much better than 90% of Rexburg. Excited to see this feature hit the pump physically!
2 weeks ago Adam Lavoine
I was impressed by their service. They didn't rush me, and were very thorough. They competed with other auto service providers. Very fair price. They didn't do anything without consulting me first. They gave me the quoted price and kept it. I liked their Oil change service. Best price among the top 5 auto providers that I called. They didn't talk down to me neither. Good show.
2 months ago Teri Pate
I have brought my vehicles to Ray's since 1999. There have been a few hiccups along the way but we weathered through it. However, today I was really disappointed. I am a disabled senior citizen and I appreciate the help I get pumping gas. Living on a fixed income means that I can't always afford to fill my tank. I recently spent almost $50 for an oil change and today I asked for $25 in Plus (87) the young man was more concerned with whether I had a savings discount with Albertsons rather than how much gas I had asked for. He never offered to clean my windshield but just stood by the pump. When I heard the pump click I asked "did you fill the tank? I only asked for $25." He just shrugged his shoulders and said sorry. While it's only $18.95 more than I planned, that means I'm now unable to get my medication at the pharmacy. That being said I'm sorry to say that I most likely will not be returning to Ray's. I simply cannot afford to pay for someone's inattention. Twenty years is a long time to be a customer and I'm sad that I have to end this relationship.
8 months ago Rachel Allen
Always the cleanest C Store in town. I go regularly to fill up with fuel when traveling, as I get little bit better mileage. I also enjoy the car wash and always feel they do a good job.
3 months ago Damon Washington
I was just there to get gas and their customer service was wonderful. While I was putting in my card to pay, a worker came up and asked how I was doing and if I needed anything. I ended up having to go inside to pay (my credit card doesn't work outside no matter where I go) and had a pleasant time putting money on my pump. The workers acknowledged me quickly and pleasantly despite working on something else when I came in. When I went back outside I decided to clean my front window and the original worker came over and offered me a nice towel to use to dry (I had been using the paper towel near the pump). I told him some stupid story and he listened and genuinely seemed interested. Awesome experience because of amazing customer service. My husband has been raving about this place— their workers, gas quality, car wash, and car maintenance— for quite some time and I finally listened to him and tried them out. I will definitely continue going there and suggesting to others that they do so as well.
1 month ago Raul Avalos
I went to their car wash a few weeks ago, and thought it was a fun experience. You pull in and the guys are out there scrubbing and spraying your car. I enjoyed getting my car washed, and vacuums are free with every wash. ;)
4 weeks ago Ernie Johnson
This is the only place I will wash my car or get it detailed. They have been extremely fast and have never missed anything. I have always had a good experience there because I know I'm not wasting my money. The employees are always nice/prompt as well.
2 months ago Sarah Singh
My husband took my minivan to Rays for an exterior buff and wax job last weekend. We were not pleased with the job that was done. The top of my minivan wasn't touched at all, there were bugs still on my front bumper, bird poop stains on my hood (which they claimed were tree sap spots and couldn't be buffed out), and only one of my headlights had been touched. We won't be using their detail shop again.
3 months ago Lamont Barlow
There are gas stations and there are service stations. Ray's is an excellent service station. Cashiers and attendants are helpful and clean cut. I've never been to another place that is even comparable.
8 months ago Cynthia B
There is a reason that these folks are the on only ones to touch my truck. For years I've only used them to do my full synthetic ams oil changes. This last time there a was hiccup but the way a business takes care of their customers when they make a mistake (which happens to everyone) says everything. They bent over backwards to make things right and even better than before with my pickup. I will will continue to go to them. No questions asked.
11 months ago hedayat oladunni
Ray's is one of the best things about living in Rexburg! Every time I've been there, they go above and beyond what I expect. The guys at the car wash are helpful and friendly, and they took care of the little things that I didn't even think of. The oil change is a great value--I drop my car off, they take me to work and return my car when it's done. The waiting area is clean and bright, and they sell fun, unique stuff. I can't say enough good things about Ray's...it is definitely a place that excels at customer service!
8 months ago Patricia Williams
The people here are very friendly! We had an all around great experience with their Amzoil service; plus the price and speed was unbeatable in our opinion. Highly, highly recommend--they did a great job!
4 weeks ago Sara Ledesma
I have been a patron of Ray's Chevron for as long as I can remember. I am always greeted with friendly smiles and receive top-shelf service every time. Whether you're looking for a great car wash/vacuum, detail service, oil change, or fuel, Ray's Chevron is definitely the place to find it all!
5 months ago Rustem Izbassarov
The store is great and the service is great too. I stopped here everyday for gas at my summer job. Always had good experiences.
2 months ago Ayanna Smith
Awesome place to get your car cleaned or serviced with an exceptional staff. The detailing is precise and the prices are reasonable. I will always be return customer.
5 months ago Umida Anwarowa
Overall, they did okay but probably won't be returning. There are three reasons I get my car detailed: I want my car really clean and done right, I'm too busy to do it myself, and I just don't like doing it. I first bought the $9 car wash. It looked good when I was done; however, there were still bugs all over my front bumper and side mirrors. Afterwards, instead of using the free vacuums I decided I was going to get the inside detailed. I told the attendant that I wanted the inside all wiped down, windows cleaned, and everything vacuumed. He told me it would be $13 so I proceeded with getting it done. They did it really fast which I was impressed with; however, I wasn't pleased with the finished product. As I looked over the finished job, there were still crumbs on my back seat, only the dash board was wiped down, there was trash still in my driver side door, and the trunk wasn't vacuumed at all. I had to pull into the free vacuuming section and do it all over again myself. I then went home and wiped down the inside of the car myself. All of this totally defeated having my car DETAILED. I was also disappointed that once my car was finished, there was no one there to hold the door open for me and thank me for choosing their business. The sad part for them is that I had a tip ready to give to the attendant; however, no one was there to accept the tip. My overall advice would be, be more thorough and pay attention to detail and see your guests off when they pick up their car. You will have more loyal customers and you will make a lot more in tips.
8 months ago Tanaya Williams
I grew up getting my car washed at Ray's anytime I was in Rexburg. I no longer live near Rexburg, but any time I am in town I swing in to get my oil changed, car washed, and the inside of my car detailed. They take great care of your vehicle and work to make sure you are pleased with their service. I recommend Ray's as the place to go in getting your car cleaned inside and out!
5 months ago Alexander Tgreat
They detailed my expedition. It is 15 years old, with 150,000 miles. It came out looking new inside.
3 months ago Sean Larusse
This place is clean and neat all the time. The employees are polite and clean cut. This is pretty rare for gas stations.
5 months ago Talisa Jayaraman
Specifically towards the car wash I went in and signed up for the month car wash offer. First of all, to get your moneys worth you need to go in on the first of the month because they wont "start" your month in the middle of the month. They dont have the resources i guess to know when a customer starts there monthly pass to start it the day they buy it. So because i went in two days before the 1st of the month, they added an extra 10$ to my charge without telling me because i wanted to wash my car that day.... little did i know i would have to wait till the first to actually start my unlimited pass I also specifically told them, and wrote on the contract, that i only wanted the pass for one month.... i specifically told them i wouldnt want it renewed come next month. Just checked my bank account and saw i got charged again. Awesome job staying on top of things guys! ive been charged a total of 80$ just for one 35$ purchase
8 months ago Andrey Obukhovskiy
i came in on jan 30th wanting to buy a car wash pass. A younger female behind the counter was nice enough to help me. She explained to me how you guys run your monthly pass system, and frankly its a horrible system. If you start a monthly pass even one day before the first of the month yall tack on an extra 10 dollars? and if you come a day after you are just losing money based on your system. What kind of a system is that? She however was not going to charge me for one day of carwashes, and i was set to get a monthly pass till some other guy came out and said no, that i would have to pay $10 more as a pro rated cost, and then went on to shut out the gal that was helping me. Yall are just losing my money now. The return on a dollar given away is much more than the return on a dollar earned. yall cant keep track of when people come in to get monthly passes, so you make them pay more or straight up lose money. i wont be back.
8 months ago Carol H
Perfect service...!
3 months ago Jesse B
Had my SUV washed three times and each time I find a new scuff from whoever is hurriedly banging their brush at my car at the initial phase. The washing portion is okay, but I leave with my windows still full of water. My side view mirrors and back portion end up still dirty. The drive thru car wash that I used to go to in Chubbuck spoiled me I guess....
3 months ago Iaroslav Strasevici
Terrible, terrible car wash!!!!! Do NOT use their car wash unless you want to be launched out of it and have a couple of $1000 damage happen to your vehicle!!!!! So sad Mr. Oakey will not take any responsibility in making this right, when it is very obvious his car wash was not working properly????
4 weeks ago kamaraj krishnaswamy
Hard workers. Great place for car wash
8 months ago Aiza ejaz
I left not realizing my truck was still covered in mud after 12 dollar wash. I could've done better with a garden hose.
8 months ago Jea Bond
Took in a brand new black tacoma to get washed. Now I have scratches all over it...
8 months ago haydenpontdulac
Love the carwash and the service! We never go anywhere else.
8 months ago Meghan Black
Great car wash and the nicest employees!
6 months ago Yi Tang
Great service most of the time.
4 months ago Vishal Patel
Their pumps are terrible always having errors, And they are always $.10 more expensive for the same gas you can get anywhere
11 months ago Oula Angeria
Over priced, low quality job and Rude employees. Spend your money and time else where
2 months ago ItsStephyy Babyy
Not happy with detail job, I should not have to come home and clean the spots that were missed
3 months ago
Popular places from the category Gas station