FedEx Office Print & Ship Center
Shipping and mailing service FedEx Office Print & Ship Center, 418 3rd St Suite 5a, Fairbanks, AK 99701, United States:
24 reviews
of users and employees, detailed information about the address, opening hours, location on the map, attendance, photos, menus, phone number and a huge amount of other detailed and useful information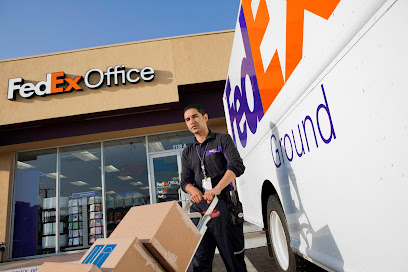 Address:
418 3rd St Suite 5a, Fairbanks, AK 99701, United States
GPS coordinates
Latitude:
64.8468594
Longitude:
-147.6984523
Location on the map
Reviews Susie B
This place is a bunch of losers do your job. I blame the employer.
8 months ago newlife s
Poor customer service. Disrespectful & lied about contacting other personal and how they should answer the phone. Said there was nothing she could do to help me find my package. I will not be using this store or fedex again. I have personally walked in the store and seen multiple employees sitting on the counter. Very unprofessional.
1 month ago James Rickrode
I usually get bad experiences with any post office. But everyone here was super nice and helpful!!
3 weeks ago Dan Nordmann
Best Experience I've had with a shipping company in Fairbanks. I didn't get the gentleman's name, but I went there around 5pm on the 24th. This guy was so helpful, helped me package the stuff and mail it. Honestly, some of the best service I've gotten in fairbanks. I highly recommend over other shipping outfits if you value service.
10 months ago Paul Wallimann
The manager is Nina was unbelievably rude and short with us acted like we inconvenienced her on any question we asked. I bet she's making that place lose money and probably employees too ! They really should look into who they hired
10 months ago Robert Douthat
Carried two boxes in from my store since I needed them shipped ASAP and didn't have time to wait for my delivery guy. I put the packages on the counter and the lady noticed that my barcodes were a little odd. She called over her manager who took a 5 second glance at the label and said, "we can't ship these with this label." I told her this is the label that printed from the fedex website, she then repeated her statement. She didn't try to scan them, she didn't try to print me a label that would work in her eyes, nothing. I took the boxes back to my store and scheduled a pick up for the next day. Guess who had absolutely no problem picking up and scanning the labels I had printed. The manager at the fedex store is an absolute waste of the owners money and needs to be schooled on how to do her job. She is costing the business money with every lost customer.
11 months ago Halo WarpsTOURx
This is by far the worst store in Fairbanks! The manager is crazy, we had to call the police on her. If I could give this place 0 stars I would. She needs to be fired! She is making FedEx look extremely bad, she is embarrassing! The manager also refused to give our package to us, and she tried to keep my wallet. I actually had to call the police on her. She is very unstable!
10 months ago Ashley Edmonds
First of all I was hung up on after explaining what it was I was calling about. Then when I called back and the lady I spoke to didn't say I'm sorry you were hung up on. She just said "what is it you need"... Turns out they can't do anything to do with tracking FEDEX packages. I'm already upset that I have been waiting five days for my package to be delivered because I can clearly see its sitting at the Fairbanks location waiting to be delivered. They could not find my house even after I called to give them step by step directions. I don't even think they tried to deliver it a second time. It was just sitting at the facility and I have to go pick it up now.
3 months ago John Bowers
Absolutely clueless about shipping firearms. The poodle on antidepressants behind the counter insisted I needed an FFL to ship my rifle action to a gunsmith and then back to me. Quick to tell me no no no. Typical wage slave who hates her job. Your better off going to the post office...or are you?
10 months ago Chrysta Lienczewski
If I could give this facility 0 stars I would. I unfortunately had to speak with Nina today and she was the most degrading, condescending, disrespectful person I've ever spoken to. Not only was it the stores fault they lost my package, but she accused me of lying about dropping it off. Her solution? Nothing. I will never return to this establishment because of her again. Thanks for nothing, Nina!!
11 months ago Tiffany
I walked into the store and I immediately felt like the associates at this location couldn't be bothered to acknowledge my existence. In particular, the manager, Nina, was extremely unfriendly and unwilling to help. Although she wasn't assisting any other customers at the time, she ignored me until I finally got the attention of an associate, who's shift had just ended, thereby, forcing Nina to finally "help" me.
7 months ago Jessica Rieser
I strongly advise against using this Fedex for printing and delivering cards. A month after I placed my order, the cards have still not arrived and I've been going back and forth for 2 weeks still attempting to get a refund.
11 months ago Brooke Maier
Never had to wait long. Staff is always amiable and helpful.
10 months ago Lance Humphreys
The manager was rude from the start being snippy and talking over me. Eventually I got the transaction almost completed then said I wanted to declare value. Long story short she accuses me of trying to use a loop hole when all I did was repeat what she said so I ask for clarification and responds same way. So I say oh you misspoke and she says no then we go back and forth again, still asking for clarification between the looks and accusations, she says no will not admit she has changed her story and is just turning her head away looking up and say like a child. Finally I give up and leave. Also I told her I just came in last week and had no issues and she asked my declared value, I told her and she informed me and the entire store loudly that this worker would be in serious trouble. I then informed the manager that she was in fact standing next to the salesperson and she completely dismissed that fact. The previous week manager was also very authoritative and talking over me and salesperson.
4 months ago Abel Rodriguez
The Kinko's in Fairbanks, AK is just horrible. They opened at noon, but they were still putting the tills into the drawers at 1215. The girl at the counter didn't know how to ship a package, so the line for three customers was about a half hour wait to get to her. When I finally did get to the line, I couldn't ship my package. It was a simple bill recipient, and she didn't know the difference between bill recipient and a COD. I ended up just paying for the box and shipping the next day at the Kinko's in Anchorage.
10 months ago Sandy D
Amazing Jessica b is always friendly and willing to help!!!
9 months ago Roger Wins
I had a very friendly and customer service oriented experience
10 months ago Liam
Always have an awesome experience, helpful and informative staff. The girls there are a getter done crew.
2 months ago William Bloom
Good staff and efficiently-structured to get in amd out.
1 month ago Bianca Beato
Worst customer service ever!!! The red head was so nasty and rude, extremely unprofessional with the worst negative behavior I've ever seen displayed at a public professional place of business!!! WOW! Did not expect to be treated that way, especially after spending over $200.00 to ship 2 medium size boxes!!! I will NEVER go back and certainly will not recommend them to others!!!
7 months ago Chris Walls
Unhelpful employees, lady with red hair was very rude. Was charged for service that I didn't receive. I don't recommend go there.
1 month ago Fangyue Zou
Lady wouldnt even leave her computer to try to assist me.
11 months ago Brian F
Better off going elsewhere
11 months ago Carson Mills
Jill was very friendly, fast and efficient!
11 months ago
Popular places from the category Shipping and mailing service