Costco Wholesale
Warehouse store Costco Wholesale, 3656 Wall Ave, Ogden, UT 84405, United States:
220 reviews
of users and employees, detailed information about the address, opening hours, location on the map, attendance, photos, menus, phone number and a huge amount of other detailed and useful information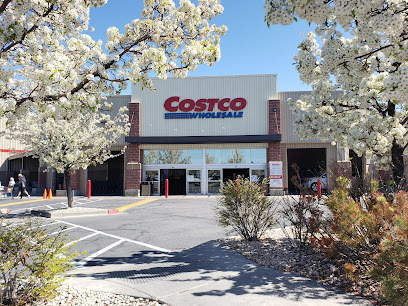 Address:
3656 Wall Ave, Ogden, UT 84405, United States
GPS coordinates
Latitude:
41.1957751
Longitude:
-111.9783320
Location on the map
Reviews Pierres Lead
I love buying my fruit and berries here. Things are always so fresh. They also have beautiful cut flowers. I buy a bunch every week for my entryway. Just avoid shopping here on Saturdays. It's nuts!
9 months ago Kimberly Porter
Great deals and products. The Kirkland brand products are great quality and value. This location can get pretty busy and hectic with parking.
1 month ago Kenton McNeill
Love this place. Miss their apple streusel muffins though....they were this families favorite! They check your items out pretty quickly. lines move fast even when they are long. That parking lot though!! Ugh!!! If they had just one more access to wall nearer to the fuel station, it would be so much easier to get out!!
9 months ago Nilima Bhavsar
It's been a while since I was in Costco (before the pandemic), and I remember the lines being fairly long usually. But now they have self check outs, which I think is amazing for people, who like me, like to run in and grab one or two things before leaving.
9 months ago mohammad imam
I will avoid this Costco in the future. It's way too busy. I forgot my Costco card at home. They wanted me to wait in line for 30+ minutes at the member services desk to get my Costco card. The employees were nice. The store was insane. I …
2 months ago Catherine Keenan
Excellent place to find so many fabulous items. Fantastic food and a great place to take a family.  It's a clean, spacious atmosphere fit for anyone. The lines inside move rather quickly.  Ordering online is very intuitive For about any …
10 months ago Anouk Maskevich
Well organized, wide variety of products, low prices, and great tire service. Leave a little time, though, when working with the tire center as they are extremely busy. Best to make appointments.
9 months ago Justin Conacher
The Ogden Utah Costco is my favorite location. I've been to a few, especially in the state of Utah. Hands down the best is the Ogden location. Everyone is friendly and I've never had a bad experience shopping there. I appreciate that each employee smiles and goes above to make your shopping experience a great one.
10 months ago Jason Elliott
All the great things about Costco are true here except their Deli food. I've had it good a few times, but the pizza I got today was literally soaked and dripping in grease. The toppings started sliding right off! I wish I could say this was the first time, but it's typically the norm!
10 months ago Andrew Zizza
Very Poor Customer Service! Tried to get a receipt printed from an expensive item for a warranty claim. Drove quite a ways to get here because the phone conversation with the store prior said it'd be no problem to print the receipt. They …
10 months ago Ariana Kithes
Mandatory masks are gone. Supply is good. Clorox wipes are back
9 months ago Arunkumar GV
Clean and well kept warehouse store. Selection of items is good and staff is friendly. The only criticism I have with this location is the parking lot. It seems as though the planning committee played a game of pick up stix to design the …
10 months ago Marcella Semone
I appreciate that they are still keeping the senior shopping hour. It's makes it so much easier to navigate the store. The addition of self checkout registers has also made a huge difference in facilitating the checkout process and eliminating the traditional bottleneck upon checking out..
11 months ago Crystal Morse
I've always enjoyed this store. Compared to the other Costco stores I've shopped at this one seems to have a better selection of inventory. It's always a disappointment when they stop carrying a product I love; but, that is going to happen at any of them. The employees are always polite and the store is always clean and organized.
10 months ago Aziz Ahmed
I love Costco! The only place I get my milk and my bread and my eggs. I do get other stuff from there like razors and stuff but I definitely love Costco. I can never get out of there without spending a lot of money though but it's okay cuz I usually stay stocked up. I only get my toilet paper in my laundry soap from here too
9 months ago Danica Boyd
Everything you would expect from Costco. I love that they have self servr tire fill stations
9 months ago Demi Willett
This place is good. Parking lot is a huge joke. Everyone rushing and being pushy with parking spots. After 10 minutes of driving around just to find handicapped parking because my friend is on oxygen, they went in the store. I didn't go in …
2 weeks ago Alema Fazlic
Left my new reading glasses in the cart and Greg walked thru the store where no one had seen them. He kept on searching all the cart racks and finally found them in the locker where a worker had left them. Great customer service!
3 weeks ago Chase Eliason
We love the kirkland brand and what is sold at Costco. They have some of the best deals we can find. We've bought things for the outdoors, home, and vehicles there. The only downside is how crowded it always is. We wish there was one closer …
10 months ago Gods Children
One of the cashiers had a horrible attitude. My mothers debit card would go through probably because it is old. She rolled her eyes and was so inpatient. I asked her if she could put in the numbers? The Smiths store we went to before did …
11 months ago Oleg Voronenko
Do nice. Great people. Although they couldn't pass out samples when I went, I got to order my prescription glasses while I was there. Great selection too.
11 months ago cherrie hight
I understand some people can try and rip off the system but this doesn't mean you treat everyone of your members like a thief. Y'all need to remember how to treat people.
9 months ago Tracy McLaughlin
You spend $100 just walking in the door, I swear. Warehouse shopping at its finest, though without the wine because, Utah. I hope they've fixed the tire place, because I sadly bought a set of tires there, and it's not worth the return trip to get them rotated and balanced.
10 months ago Anthony Hibbard
Even though the parking lot is like anxiety in the physical form, the friendliness of the staff makes it better.
9 months ago Ashley Ryan
Place was clean and staff were helpful! I come in for a few things and leave with a shopping cart full lol. Love this place
10 months ago Trevor Deschaine
Churros are back! My boyfriend was so excited he stole a bite and eat the paper so I guess their that good
9 months ago Deborah Farrar
There is so much to buy! The workers are always ready to help with anything you need! Great place to shop!
11 months ago Chad Ross
55" LG OLED TV + 2009 Hpnda Civic Coupe = no problem! #onlyatcostco
11 months ago Cpt Dave
Great selection of product. Seemingly low prices. Receiving clerk is a little bit rude though. Could use more customer service.
6 days ago Vernon Mays
I wore a mask but down below my nose. (You don't have to agree but there should be a choice) the workers and manager were very rude, discriminating and I left. I will never shop there again.
10 months ago Bonnie Nugent
I just love this place! I could spend hours here!
9 months ago Leonard Chatham
This Costco is a smaller one but it's a really good one employees are great and it's clean and it's easy to shop in.
10 months ago Nicole Anguiano
Costco is becoming the new Target for my wife. We go and get lost in there but love how clean and open it is, usually pretty well stocked for all items and who doesn't love $1.50 hot dog and MTN Dew. Have a plan when you go in because otherwise you'll be dropping your upcoming paycheck with all the finds!
10 months ago Norman Manos
If you are member of a minority plan on taking extra time at the exit. They will inspect item by item sometimes twice . People from the predominante group in utah goes to the receipt checking process in no time( even if they have more …
11 months ago Nicole Simoes
I bought my bed here and we love it. Awesome store chicken baked are great, & we love the prepared meals, especially the chicken tacos
11 months ago Momo Momo
It was a busy Friday, for sure. The lines ran smooth and fast. Great customer service.
2 weeks ago Lloyd Evan
Nice experience. The store was clean and better stocked than I anticipated. Other stores In the past few weeks have had alot of bare shelves. Costco chicken street tacos are the bomb diggity!
11 months ago HumaneRescue
Lots of people but not too bad. Saved a lot of money on allergy meds. Best deal in town.
11 months ago Meredith Schindler
Love Costco, selection, value - PLEASE BUILD IN CACHE VALLEY
9 months ago Michael Graubart
Love to shop here but will not come back till masks are not required
10 months ago David Curtis
Agreed to the executive card, loved the first two small trips. The first time we went to buy in bulk, $195 and our card declined-they don't take Discover, which is our main card. Then two more cards declined because they only take Visa …
11 months ago WarHamster
Honestly, Costco knows how to take care of their customers. The parking lot is awkward here, but the store is always well kept and employees take really great care of the customers
9 months ago David Bolle
I love shopping at Costco! I went and got gas and stopped in the store to look around.
9 months ago Baani
I absolutely love this place. Billy is awesome. Everyone here is so friendly and helpful. We have a big family. We also only eat organic. Coming here has helped us save so much money and with the amount of organic there is something for everyone. I'm here every 2 weeks. I also use Costco for my baking business needs.
7 months ago James King
Great Costco. Lots of parking. A bit of work turning into the parking lot from the main street.
11 months ago Nanni Cook
Great warehouse store full of friendly workers and staff. The carts are always full and I just grab one, a cart attendant (Jace?) was very nice and handed me a cart without me even asking. Inside the staff is extremely kind, the samples inside are always tasty
2 months ago John Zoellner
Ogden Costco is pretty ghetto and very unorganized but I mean they have bulk stuff
9 months ago Borislav Zamchev
Prices for things I need in bulk are pretty good compared elsewhere. I have been able to get the things I need to take care of my daughter, in more supply here
11 months ago pamela klemenz
Went to go in the cosco this morning and was told it's 65 years and older only util 10 it was 9:30 which is fine if they enforce it for every one. I saw at least 5 teenagers walking around inside the store When I pointed this out I was …
2 months ago Sawyer Grashel
Costco always meets our expectations and we like shopping there.
10 months ago
Popular places from the category Warehouse store