HooDoo Brewing Company
Brewery HooDoo Brewing Company, 1951 Fox Ave, Fairbanks, AK 99701, United States:
160 reviews
of users and employees, detailed information about the address, opening hours, location on the map, attendance, photos, menus, phone number and a huge amount of other detailed and useful information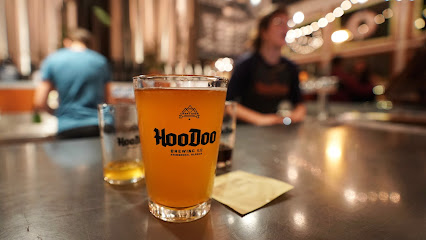 Address:
1951 Fox Ave, Fairbanks, AK 99701, United States
GPS coordinates
Latitude:
64.8481808
Longitude:
-147.7593487
Location on the map
Reviews Yurika Romero
Good beers and cool atmosphere. Make sure to check out the guy who makes knives next door.
7 months ago Maninder Singh
Seriously, one of the best overall breweries I've tried in a long time. Great, truly beer-focused brewery (vs restaurant or...whatever "breweries"). Each style of beer tastes the way it should, which is becoming rare these days. I'm a pretty hard critic and I could find no fault with any of the six I tried. The Kolsch was one of the..top 5(?) I've had around the world, including Köln. Delicious, light, easy drinking, but quite flavorful. It's a great universal beer that would pair well with so many things. I can recommend the Stout as well; smooth, creamy, and old world delicious. No weird flavors or additives. I was told it's often on Nitro. I can imagine that would lift it even another notch. Staff were all great and the entire place gives off a really relaxing vibe, even with COVID (also hard to accomplish). Rotating food trucks, call ahead. A real gem in far off Fairbanks.
2 months ago Nikita Kelly
Beer wasn't too bad and the food truck was good. Staff was helpful and the place itself is nice. I was a little bummed dogs weren't allowed because back home every brewery allows them, but that's not a deal breaker. I wish there were vegan options for food available, but overall no major complaints.
2 months ago Tab Bryan
This place great beer, friendly staff, and good atmosphere. Highly recommend.
8 months ago Althea Romero
I just found my new "Guinness. " 341 is definitely an acquired taste, its smooth vanilla flavor is followed by a thick bitter Bourbon flavor. If you enjoy stouts or dark beers give this one a go foso. It seems more of a stay at home and sip beer than a distillery social drink. Follow me if you like my reviews ????????
8 months ago Andrea Cerioli
Wow, what can I say! Hoodoo is an amazing place! Thankful for my very helpful bartender Emily! She helped me find my keys! 10/10 experience! Cheers friends!
9 months ago Mola Acid
I was here as a grumpy tag along with someone who had to grab some 'To-Go' bottles, in case they like....I dunno, maybe had withdrawal symptoms or whatever? I dont drink beer (gasp, shock horror) Ive noticed that some older men that have drunk beer for many years, well...they have very round tummies that stick out alot. It looks as if they may give birth very soon, what would they give birth to I often wonder....???? Anyway, back on topic....apparently the beer here is so amazing its worth a trip out in the middle of winter, at night (when its colder than the day) to restock. So you always have some on hand + you dont get withdrawals and all that ????‍♀️ I liked the open fire, so took two pics ????
4 months ago Amy Sandy
My favorite brewery in town. Hands down good, every beer they got. Try 'em all.
9 months ago Thanh Dao
We were unfortunately unable to get there to enjoy the festivities when they were open due to our planned time in the city. However we took a chance and called a few hours before they opened in hopes of grabbing something to try. They were gracious enough to open up for us a few hours before the posted time and were extremely welcoming! Can't wait to enjoy some of their specialty brews and sport the merch! Thanks HooDoo Family!
3 months ago Mariya Makeeva
Great atmosphere inside or out. They do a great job! Was not the biggest fan of their stout but the porter was amazing. I did travel here with a good sized group and can be a little crowded; however it didn't dampen the experience. Go with the porter!
7 months ago Karen Stos
Wonderful local beer selection! Full of joy and cozy!
11 months ago Kayla Hannah
My Favorite place to go with friends and family. Good food trucks and great beer!
10 months ago Lori Hudy
Loved this place. Great beer ! Great atmosphere!
9 months ago Youssef Salloum
Great and fast service despite being booked. Only had one of their brews and its a huge hit for me. The Belgian Pale, must taste if you like great tasting standard brews. Cool spot and delicious cerveza.
8 months ago Mallory Dobbs
We found it by chance and it was a really great evening, with nice local people and a wonderful beer selection!
5 days ago Elisha Cooper
Best Brewery I have ever been too. The Kolsch is amazing and is my absolute favorite.
1 month ago Test Google
The building is new and the design is awesome. Big outdoor space with food truck for food. The beers I tried were tasty and they have the coolest cans with a wide mouth for sale!
11 months ago Ingo Christ
This was the first place recommended to visit during our alaska trip. Great atmosphere and tasty beer. Bobby gave an very informative tour of the brewery.
9 months ago Kristy Biermann
Great place with spacious outdoor seating. The beer is very crisp and refreshing and the merch is awesome.
2 months ago Yulanda Akhigbe
If you are new in Fairbanks and to have a taste of something typical, you should order this seven pack. All of it has an great taste. And being in a brewery was an interesting experience.
9 months ago Janie Smith
HooDoo is one of my favorite places to go for an afternoon beer. Great environment, local food trucks and outside seating with fire pits when it's chilly.
3 months ago Kaytlyn Brooke
$11 for a flight of 6 (count 'em six!) 4 ounce pours. $10 growler fills, too. Nice variety and all quite good. 5 of the 6 were not dark, but all very flavorful. So impressed.
11 months ago TechWith Todd
Awesome brewery with fire pits outside and a food truck most of the time that I've visited. The Common is pretty good. They have 5k runs every Thursday at 6 and after 10 runs (stamps on a card) you get a discount on merchandise i believe
11 months ago Rob O
Great place for a classic Alaskan beer. Large rotation and selection. Food trucks offer good food options when available.
11 months ago Stephen Gowler
So much fun good bears fun people. Worth it. Environment is nice too. Very friendly.
3 months ago Jen Raber
Great place to have a couple of beers. Nice atmosphere.
3 weeks ago Kory Korkz
I wasn't the one drinking but seems to be good. Atmosphere was enjoyable!
7 months ago fawzi sami
Belgian Golden Strong Ale is delicious! Bummer their patio isn't dog friendly though.
3 months ago Julio C
Fun place and good beer!
11 months ago raquel jimenez
HooDoo is a great local brewery. In recent years, they have developed the front patio with seating, tables, a overhead shade, and some firepits for the cooler times. The beer is fresh and of course, delicious. Theres always a bunch of taps available and a few seasonal ones. If course they sell the merch and growlers as well, and the growlers are relatively inexpensive to fill when compared to other breweries in Alaska. If you're a local, stop in. If you're visiting, I highly recommend stopping by and enjoying a beer, in the summer with abundant sunshine and in the winter ter, without.
5 months ago Alyssa Nardi
Love this place. Great beers and staff is amazing. Nice place to spend after work time.
2 months ago Annesta Russell
Great place. Excellent beers and food truck was good and ready to go at opening time. Had a flight and then a pont of our favorite. Would go back for sure.
5 months ago Oscar Obando
Fantastic beers, great food truck! A must visit in FBX!
4 months ago Scott Carroll
One of the best, if not best IPAs I have ever had. Definitely not a hop head IPA. Great notes and smooth finish. Very unassuming location, but fitting for a small brewery that creates a friendly vibe. Unlike previous reviews, I think the staff was amazing and unfortunately they remembered me when I tried to get a 3rd beer. If I was staying for more than a night, I would return in a second. Congrats to the beer master for making such delicious beer.
7 months ago Timothy Grokowski
Good beer, and doing extra sanitation of growlers, but no masks on employees, and I was only customer with mask on when in line for service. Sadly I won't be back till pandemic is over.
8 months ago Jasdeep Mahil
Great beer. Spice It Up food truck served great lamb and rice. Really like that Hoodoo offers different size glasses. Have a pint or sample all the beers with their 4 or 8 oz glasses.
8 months ago Susan White
Very original flavors
9 months ago Lisa Grigsby
We had an issue, the manager reached out to us, and we felt better after hearing his point of view. We do appreciate his response. HooDoo has a great reputation because they really are an awesome place. Thanks for writing back.
10 months ago C D
Loved this place, potentially my fave in Fairbanks. Very nice servers and great beers. Enjoyed hanging in the courtyard.
7 months ago Cindy Campbell
Love their beer!
5 months ago rus pohmel
No food. No id no service. Babies welcome. It's a bit of a sausage fest. Decent beer, met expectations.
7 months ago Cathy Perry
The Kolsch is my favorite drink in town. The crew there is amazing and their whole vibe is cozy.
7 months ago Sylvia Zebrowski
Outdoor seating is nice in the summer.
3 months ago Jana
Friendly staff with good beer. Have a limit on beer to stop drunk drivers (which I personally agree with). But allow the purchase of growlers if you want to take the party back home. Please enjoy these privileges responsibly, people.
7 months ago Aimee Mattera
Great brewery and beautiful seating. Good selection and rotation of beers. Outdoor seating area is beautiful and inviting. Love that you can taste the new beers before you decide to purchase. Servers are great and friendly.
9 months ago Stacie Fraz
The most amazing beer on this snow covered earth!
5 months ago Yasin Kaya
Awesome beer & friendly atmosphere... love the outside patio. 1st stop for my son's 21st birthday!
8 months ago wayne kelly
The beer here is amazing, and food trucks never disappoint! Hoodoo staff is always happy to see you and more than willing to let you taste any beer for free in case you're not sure about one. Plus, it's such a reasonable price.
9 months ago Matthew Liu
i love the beer and the workers they are super nice and grest environment
11 months ago Jessica Melkus
Lamb and rice recommended by one of the ppl here was a good review because i tried it myself and it was delicious. Will be back
7 months ago
Popular places from the category Brewery