Book store BookViking
Book store BookViking, 155 W Main St #10, Rexburg, ID 83440, United States:
220 reviews
of users and employees, detailed information about the address, opening hours, location on the map, attendance, photos, menus, phone number and a huge amount of other detailed and useful information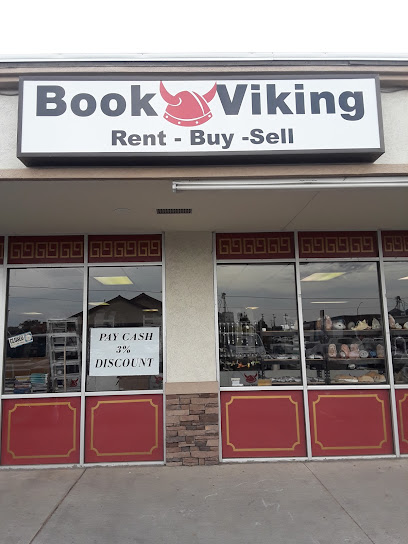 Address:
155 W Main St #10, Rexburg, ID 83440, United States
GPS coordinates
Latitude:
43.8251442
Longitude:
-111.7884913
Location on the map
Reviews Chris Gardiner
They have great pricing and a lot of fun and unique things, along with their textbooks.
7 months ago Joy Polk
This place may very well have saved me from a debt filled life. They are very kind and understanding. Their prices are easily half that of what the university sells them and they have cool rocks/minerals... where's that collection bookstore??? They are flexible on returns and actually sound like they want to help you out.
2 months ago Oceanne Aza
Prices are fair, and it is true they are cheaper than campus. I purchased a book instead of renting and was given one that was damaged (literally a sticker on the back that says damaged, so they knew). Also, don't go in there if you are allergic to cats. Even with their fast service, I am still leaving there sneezing.
9 months ago Elaine Hedstrom
Great prices and service! They also have a lot of cool rocks, crystals, and butterflies!
9 months ago Elizabeth Lopez
They are definitely cheaper than campus. Depending on what classes you're taking, you can probably buy your books cheaper online at AbeBooks or ThriftBooks than it costs to rent them at BookViking. Overall though, they're always super nice, and the process is quick and painless. Not a bad option!
10 months ago Zedo Zedo
Great place. Love all the crystals.
6 months ago Debra Petrey
What a great gem. For the service they provide, they are a great business & have a lot of useful resources for students. I have been attending BYUI for a yr now - not once have they ever been unhelpful, rude, or dissatisfying. They have every textbook I have ever needed in stock or ready to rent/buy immediately. I have compared the prices myself, they are the place to go if you want to see a big difference in your wallet while attending school. Plus- they have really cool rocks & stones you can buy, so the energy is great. I'll say once again, what a great gem!
2 months ago Michael CORCORAN
This was my first time visiting the store. I called ahead and spoke with an exceptionally polite worker who answered all my questions. When I came in, there were plenty of people who directed me and explained what the next step was. Personally, there were a tab too many people that it got a little overwhelming. Thankfully, they were all so nice. The computer system was a little confusing. I ended up having to log in twice because the window closed five times on me. They have a discount deal for if you pay with cash. Definitely wish I had known about that before I came by. Regardless, the textbook I got was fairly cheap.
4 months ago Matthew Buotte
Save money every time! The prices really are less than renting or buying on campus. If you're allergic to cats though, maybe send a friend. *takes benedryl*
6 months ago Surti Swad
Exceptionally well, the people that work there are fine for the most part. Helpful, very helpful in aiding me in finding my books
10 months ago Janelle Jesse
Cheapest textbooks in Rexburg. Why even bother getting them on campus
6 months ago K G
The owner is very nice, they're crystals are awesome! Really great prices!
9 months ago Claude Bolduc
Book Viking has always saved me money on my books for school! The employees are super nice and the whole process is super slick. You pay even less if you pay with cash! I only paid $28 for all of my books for this semester! Totally worth it. ????????
2 months ago Jerry Stafford
Terrible refund policy. Last day for a refund is only 4 days after semester starts. Kids are still changing classes then!! At least make the last day correspond with the last day to register fir full classes. Terrible service.
6 months ago Laraine Schwartz
Always friendly. It great quirky place to rent your books for a good price.
11 months ago fernando montejo
The staff was helpful. They have a lot of signs saying that it is cheaper than the BYU-I bookstore, but my book was more expensive at the Book Viking than BYU-I. Unfortunately BYU-I was sold out of the text book. Edit in Response to ower: I bought in on Monday the 14th. My first name is William and I will hould be under that name. The book is Feedback Control of Dynamic Systems by Franklin, Powell, Emami-Naeini. It cost me $148.40, BYU-I sells it for $142.50 (that is without tax, so they are probably comparable in price)
4 months ago Angela Gut
Wow this place is great! They have books for school at super low prices. They also have neat Knick knacks to look at. Sheliese was so kind and friendly! She wanted to ensure that I made a good decision in buying books, and she did the same for other customers. Hope more students will consider them for their book needs ????
2 months ago Ricardo O
Good prices for textbooks and lots of awesome rocks to buy.
10 months ago Peter Knocke
They make it really easy to get everything you need and it really is cheaper. Nice people that run it.
1 month ago Dianne Isabelle
Book Viking has great prices on books! I went to them just to support local businesses, but was pleasantly surprised at their cheaper options! The were 25% cheaper than campus! I highly recommend checking with them first on any books you need.
7 months ago Roman Liscenko
Great discounts on books!
6 months ago Bonnie Noel
They sell a lot of cool rocks and minerals, great selection.
1 month ago Chris Griffin
He was knowledgeable about the books he could buy back and paid me more for my textbooks than any of the online resources I could find.
4 months ago Thomas Brake
This store is amazing! Their process is SO efficient. We were in and out in no time at all, even as new customers. Their employees were top-notch, and they gave us candy for being new customers! Also, the prices were incredible. I rented 4 books for $20 (obviously price varies based on the book), and they said that if I really like the books, I can come back and pay the extra cost to keep them. They also offer a short-term return policy if it turns out you don't need the book. Highly recommend this company!
8 months ago William Sauro
Went above and beyond at the end of my semester. I had rented a book and forgot to return it by the due date so I was just going to buy it, but I had to leave town. I was planning with them to buy it once I got back but life happened and two weeks later I was contacted again reminding about the book. Due to a family emergency I was unable to purchase the book at the time we planned, which was after hours. So he said he would just drive to my place and pick it up with no fees or anything! Book Viking is the best! Thanks again!
5 months ago Dana Ploof
Better prices than the university store and has helpful staff. They almost always have any book you need. You are likely to find the same books cheaper on Amazon. The store itself always seems cluttered and not that clean.
7 months ago Andrea Moore
Great place to get books cheaper than on campus.
5 months ago Dan Robes
The Staff here are great! They help you get the books you need and for a cheaper price. This was my first time renting a book from them and I really liked how friendly Everyone was. They even gave me a slice of pizza which was pretty sweet.
9 months ago Triston Brobst
It's an alright store, they undersell you on any book buy back and resell it as if it were new. I'd suggest renting books if you really need them, but their prices aren't very competitive. There is a cool mineral and fossil collection up for sale that's visible from the parking lot, it's all pretty neat. But yeah, over all it's pretty average. Nice cat though.
8 months ago Barbara Davis
very clean, super friendly workers. fun knick knacks and things to buy and cute pets hanging around!
9 months ago Florin Cimpean
Love this place to get my books for the semester! Super low prices too! My book costs went down from a total of $300 to just $35! Everyone there is so helpful and sometimes you get to see the little cat. 11/10 would recommend to anyone looking to rent or buy their books. They also will buy most of your books off of you if you take them in! Definitely going back to Book Viking when I need books again for my next semester.
7 months ago Eddie Villarreal
They are fantastic with their customer service! Great at communicating. At the beginning of the semester I had a book that they needed to order and although there was a mistake in the the delivery (that was not their fault it was the delivery company) they offered a refund or anything they could do to since I was book less for a couple days. In the end it all worked out and I have never been happier with Book Viking. If you need books for school, this is the place and they'll do everything they can to help!
8 months ago pretti crissy
Book Viking might be a little walk, but they will save you money even if they only have one or two books for you to use. I've always had no issues and quick visit there and I have saved over $200 on book Rentals.
5 months ago Anna Strimas
Cheaper than any other local textbook service. Not a very nicely organized place (I'm pretty sure I've seen a cat chilling out behind the front desk) but all you're doing is renting/buying used textbooks, not a huge need for it to be fancy. Usually seem to get a discount for a local food place.
6 months ago Mike Mathieu
These guys are pretty good, they know their stuff and have pretty good book prices. They also have all kinds of fun gem, sculptures, etc. for sale.
9 months ago Marilyn Markel
Very affordable prices. I've gotten all my books here since starting school 4 years ago.
1 month ago Stephane Lecuyer
I love Book viking! It's close to campus and their prices are unbeatable! Also, if you want great customer service, this is the place to go!
7 months ago Anna Nebel
Great place! The textbooks are in great condition and the prices are fair and balanced! The owner gave me some great advice for getting a job over the summer and overall it's just a good place to do business with in my opinion.
8 months ago Mitchie Bailey
They gave me $1 for my organic chemistry textbook that was in really good condition which, on Amazon is sold for $100.69. I don't know why they have such good reviews. Maybe they rent out books for super cheap, but I will never sell to them again.
9 months ago Blanca Castaneda
Better prices than anywhere and never had a bad experience!
5 months ago Deborah Beckett
This is a great place to buy, sell and rent textbooks. I have never had trouble returning or selling books here, unlike the campus bookstore. As a perk, they offer coupons and vouchers for pizza or churros from local shops every semester.
9 months ago Renia Zenna
This place is great! The staff are so great. I'm always in and out in minuets. They find all the books you need for you on the spot!
9 months ago Charlie Daboub
Loved saving money here. Either they don't have the book you need or they are cheaper than the university. Great service.
7 months ago Valentin Volkov
This place is fantastic! I used to work here, so I understand the system. They will almost always be cheaper than the schools books, yet the quality will be just the same (new is still new, used is still used). On top of that, the employees are super friendly. The process is painless as long as you return rented books on time. I don't see why anyone would rent anywhere else!
8 months ago Jhoy Ross
Always a reliable place! They may not have every book up but you'll save a ton on buying or renting them here. I come here every semester for my books
8 months ago Callum hewitt
Very helpful and friendly staff members here. It is also quite affordable and convenient. I would definitely recommend coming here for your textbooks.
7 months ago Allison Fields
I have loved working with book Viking! They have always had the book I needed and at a really good price! The workers are all so friendly and welcoming!
7 months ago Melissa Cahall
They're quick, easy, efficient, and a lot cheaper than other options. They also give free pizza when you turn your books back in! Love this place.
11 months ago Omobola David
I love that I can get my college books cheaper here than at the University Store. Plus you can rent them and if you decided to buy them later you only have to pay the difference unlike the University store. The people working there are amazing too!! ???? 11/10 would recommend.
1 month ago Gael Nath
Super cool concept. Rented a scientific calculator for my Son. Saved me a ton of $$. Kind of quirky environment.
6 months ago
Popular places from the category Book store